Ettore Sottsass
Ettore Sottsass & Sottsass Associati
Marie-Claude Beaud + Adrien Rovero, October 20, 2008
Ettore Sottsass (1917-2007) was one of the leaders of contemporary design. In the 1980s he renewed the design scene by creating the Memphis movement which became the international model for anti-modernism. Mudam presents an exhibition devoted to him in collaboration with the Manufacture nationale de Sèvres and DuPont and with an original exhibition design by Adrien Rovero. The exhibition Ettore Sottsass & Sottsass Associati concentrates on two distinct projects. The first is a series of ceramics composed of nineteen vases that was created in collaboration with the Manufacture nationale de Sèvres between 1994 and 1996 and subsequently from 2005-2006. Presented under the title "Songs and Landscapes", it translates both the mastering of Sèvres techniques and the progress of Sottsass's research. Each of the forms, that the Manufacture persists in calling "vases" in order to respect its tradition as a creator of objects of practical use, is named after a literary or mythological heroin: Lolita, Juliette,
Salome, Diana etc.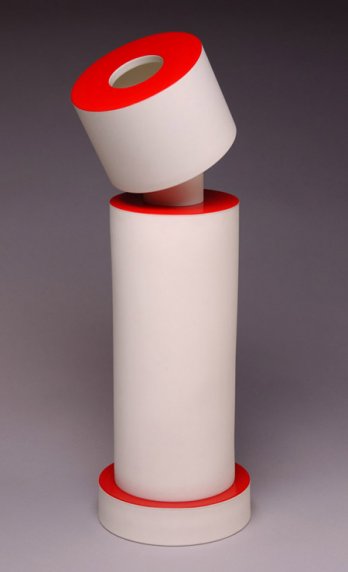 ETTORE SOTTSASS & SOTTSASS ASSOCIATI/Sottsass_Juliette.
The second project, "Exercises in Another Material", involves a group of fourteen large-scale architectural objects produced by the designer's agency, Sottsass Associati, between 1999 and 2000 at the invitation of the DuPont company and using Corian®, a material invented in 1967. For Sottsass, design implies the search for a sort of balance between tradition and the future. The objects made of Corian® show how an innovative modern material can create forms that defy time. He also questions the way in which certain materials are systematically limited to precise uses. Sottsass's "exercises" challenge our perception of things and show how the only limits in design are imposed by our imagination.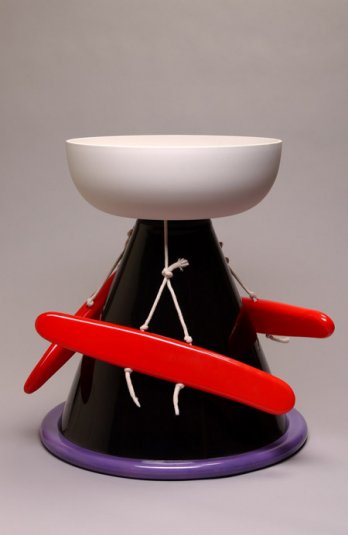 ETTORE SOTTSASS & SOTTSASS ASSOCIATI/Sottsass_Rababah
The two projects illustrate the experimental nature of Ettore Sottsass's approach, from the point of view of colours and shapes and the material used. They come together through the same use of refined shapes, effects involving the material and new combinations of colours.
"I conceive the colours like words. In the same way that words have a vocabulary, one can imagine that there is vocabulary of colours. With them, you can create an object or paint an environment like writing a novel or, if you want, you can make a statement."
(Ettore Sottsass on his "exercises") The setting of the exhibition, produced by the Swiss designer Adrien Rovero, Prix du jury Design Parade 2006, uses all the space in the Grand Hall of the museum. By placing the Sèvres ceramics on a raised platform, Rovero creates a veritable landscape of vases which interact with the architectural forms in Corian®.