Frida Kahlo & Diego Rivera...
Passion, Politics and Painting
H.H., April 9, 2012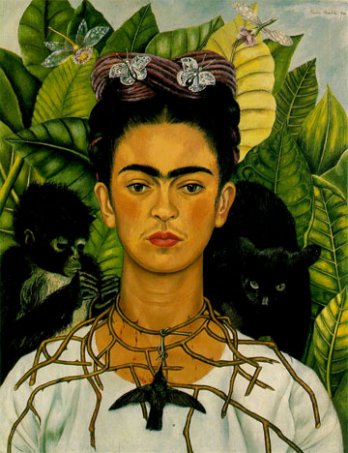 Frida Kahlo_Self Portrait, 1940_Mexico
A poster child for Freud's theories, she adored her father and resented her mother. Frida had three sisters, and though her status as daddy's favorite set her apart from the others. During her recuperation, her father lavished attention on his favorite child, who had once been an energetic tomboy. He helped Frida exercise and, in an attempt to find ways of entertaining her, he gave his daughter some paints. It was during Kahlo's convalescence from the bus accident that she began painting. She began to express her explosive feelings trough painting. Her dramatic work consisted primarily of self-portraits, although she did capture her family and friends on canvas on occasion. At that time, she painted mostly, animals, fruits from her garden or the local market that could be placed on a table by her bed. Kahlo identified herself with nature by personifying these fruits. The small flagpole that jabs the flesh of the green orange in the foreground recalls the arrows, nails, and thorns that pierce her flesh in various self-portraits. The skull-like coconuts feel her pain and weep as she does.
Frida Kahlo_Fruits of Earth, 1938_Collection Banco Nacional de Mexico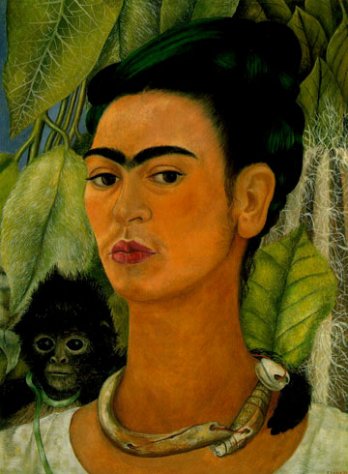 Frida Kahlo_Self Portrait with Monkeys, 1938_Albright Knox Art Gallery_Mexico