Tomorrow Now
When design meets science fiction
Alexandra Midal + Björn Dahlström, December 24, 2007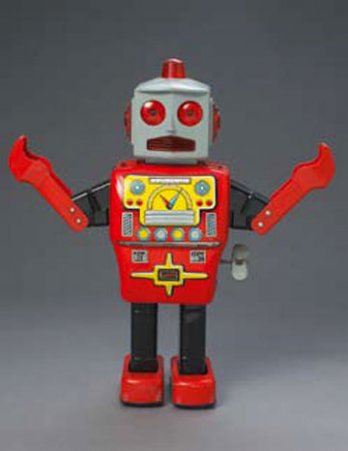 Yonezawa_Mighty Robot, 1960_Japan
Technophilia
Against modernism, with its leitmotiv of "form follows function", the technophile 1960s and 1970s tended towards a design that Ettore Sottsass qualified as "sensual, exciting", at the service of the liberated individual. This critical approach is situated between two extremes: on one side an exalted belief in technology, close to popular culture, and on the other a more pessimistic dystopian vision that warns against standardisation and untrammelled industrialisation.
"Technophilia" is based on a feeling of confidence in technology and innovation, a subject as much of design as of science fiction that gives the impression that there is a technological solution to all problems. It conceives of a future aesthetic applied to the present that is made up of automatism, mobility, immateriality, miniaturisation, air-conditioning and gadgets, etc. Technology does not simply transform Man, it becomes Man, and by reflecting the will for absolute control, postulates that everything is objectified and subjugated to human designs.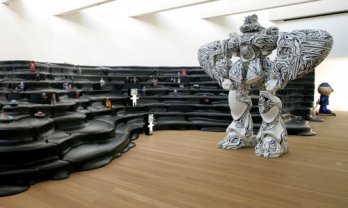 Jean-Luc Moerman_Zoloat, 2007_Collection Moerman_Jens Ziehe
In the 1960s it was believed that the repercussions of the space age would be immediate and universal, applied everywhere and to everybody. Everything took the form of globes, bubbles and spheres. Whether it was lamps, armchairs, radios, crockery or houses, everything, without exception, seemed to anticipate the next moon landing. The Satellite lamp by Yonel Lebovici (1937-1998, France) provides a link between the conquest of space and the Earth, consisting, as it does, of a bubble set in transparent circles, creating the illusion of the weightlessness of a planet surrounded by satellites (indicated by the traces that underlie the plastic material).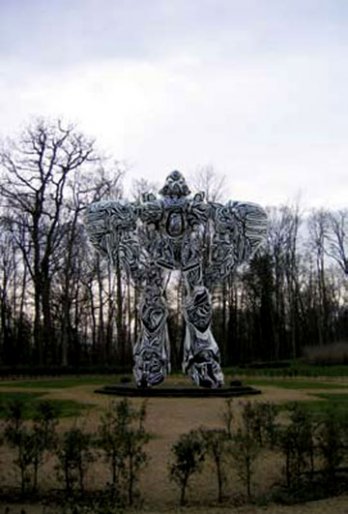 Jean-Luc Moerman_Zoloat, 2007_Collection Moerman