Pierluigi Piu
OLIVOMARE + OLIVINO (en anglais)
P.P., le 9 novembre 2009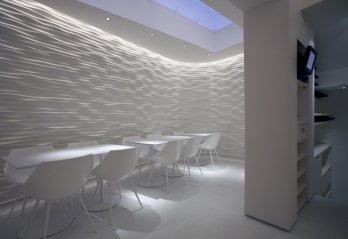 Pierluigi Piu/Olivomare Restau_G.Dettori
Bio_Express
Pierluigi Piu was born in Cagliari (Sardinia, Italy) in 1954. He later pursued his studies at the University of Architecture in Florence, in which city he lived until 1989. Here he also establishes and carries out - between 1982 and 1985 – the design practice and production company 'Atelier Proconsolo', under the auspices of which he participates in various exhibitions and trade fairs, both in Italy and abroad. Since 1985 he works as an associate consultant (for Product and Interiors Design) at the firm ACME Consultants (Association pour la Création et les Méthodes d'Evolution), based in Paris, taking part in the development of products for firms such as Gaz de France, Essilor (a leader in the world of spectacles), Fiat-Iveco and Paris Airports, amongst others. In 1990 there followed a collaboration with the Belgian architect Pierre Lallemand, at his architectural practice "Art & Build" in Bruxelles.
Pierluigi Piu/Olivomare
In the course of 1991 he carried out, under his own auspices, his first assignments in England, before returning to Cagliari , his birthplace, where he opened his own office and began working in the field of interior design and architecture. In 1995 he undertook a new project in London. Then, from 1996 until 1998, he was back in Bruxelles, where he had been summoned by the architect Steven Beckers to collaborate on a project for the reconstruction and refurbishment of the Berlaymont Palace, the historic seat of the Council of Ministers of the European Community, and so undertook - working together with a specially formed international equipe - the supervision and coordination of the aesthetic and formal language for the interior design of the entire building...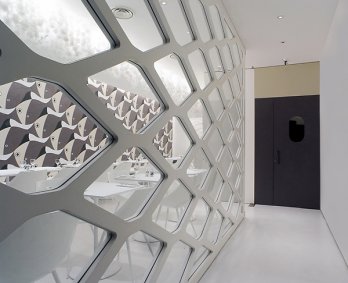 Pierluigi Piu/Olivomare
... In 2006/2007 he carried out the design of two new commercial projects in London, for which he was assigned the "Russian International Architectural Award 2007" in Moscow, the "International Design Award 2008" in Los Angeles and the "Archi-Bau Design Award 2009" in Munich, Germany. Mainly based and working in Cagliari, he continues his professional career most particularly in the fields of private residences and of commercial space as well as working on overseas projects. His designs and works have been reported on in several specialist books in Italy, Europe, Asia and the United States and in some of the most important national and international trade magazines.
Pierluigi Piu/Olivomare
Restaurant OLIVOMARE - London
OLIVOMARE is the last born belonging to the well known London brand OLIVO, and is a restaurant serving seafood. Apart from his name, such peculiarity is highlighted by the formal and decorative language adopted here to focus on its aspect using more or less clear references to the sea world and environment. The most explicit among them undoubtedly is the wide wall that characterizes the main dining room, entirely covered by a large cladding featuring a pattern inspired by the works of the visionary artist Maurits Escher, in which each single portion of colour is laser cut out of a sheet of opaque laminated plastic and juxtaposed on the vertical surface exactly as if it was a huge jigsaw puzzle…
Pierluigi Piu/Olivomare
...To counterpoint it, in this same room, from a channelling recessed in the fake ceiling drops down a linear sequence of tubular luminescent tentacles (made out of an extra thin nylon net) evoking a stray shoal of jellyfishes or of sea anemones, while in the wide lozengy glazed partition dividing this room from the entrance lobby somebody could vaguely recognize the meshes of fishers' nets. In the small dining room at the rear (flooded by natural daylight copiously dropping down through a wide skylight expressly open in its roof), the cladding of its only continuous wall – which also includes a large curve – is characterized by a wavy relief meant to evoke the sandy surface of the beach when moulded by the wind, while in the toilets lobby the intricate branches of a coral reef closes in around any visitor coming from the bright and open adjacent room...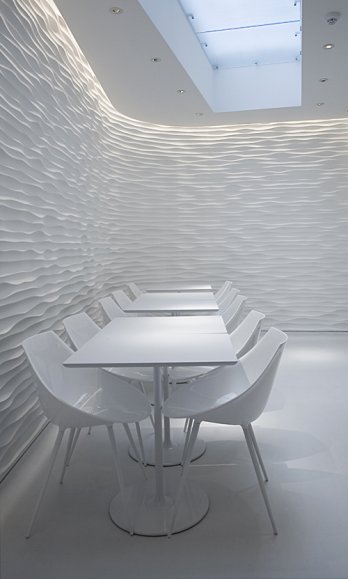 Pierluigi Piu/OlivomareG.Dettori
...Such decorative pattern is obtained by engraving a double layer (white and red) of thick opaque laminated plastic laid onto either walls and ceiling, and its entanglement, when combined with the hidden doors giving access to the toilets, adds a sense of momentary disorientation to its aesthetical surprise. A sea of white colour has been used to enhance and link all these elements, flooding all surrounding parts, from walls to ceiling, from the resin floor to the Corian® made bar counter; a white sea working in this environment as an undifferentiated neutral background that intentionally disappoints any predictable expectation for blue colour.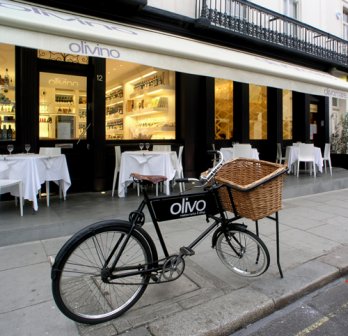 Pierluigi Piu/Olivino
OLIVINO, delicatessen shop - London
OLIVINO is a delicatessen shop complementary to the newly open restaurant OLIVOMARE, with which it shares the appealing aubergine coloured shopfront as well as a graphic taste for its interiors design. Of rather small proportions – if one only considers the part of it accessible to customers – this shop is limited within an about 40sqm room facing the public way. On its left side, as to the entrance, a staircase protected by a full height frameless glazed partition leads to the storage located in the basement and is adjacent to a perimetrical wall entirely covered by a cladding finished with a double layer (white and black) of thick opaque laminated plastic on which has been engraved a decorative pattern of variously oriented bottles and glasses, which highlights the predominantly sold product in this shop, i.e. wine...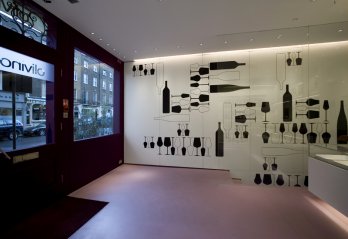 Pierluigi Piu/Olivino_G.Dettori.
...On the opposite side a system of overhanging shelves - laid out on the wall surface according to a labyrinth geometrical scheme – allows, thanks to their recessed linear lights too, to set off the pre-packed goods displayed on them, while not long lasting food needing to be sold in portions is shown in a custom made refrigerated counter which features a lower section covered with white Corian ®, an upper glazed showcase equipped with sliding display trays and a working top made out of a thick solid afrormosia wood board, three sides of which have been squared, while the fourth one has been left as rough as the edge of the tree was.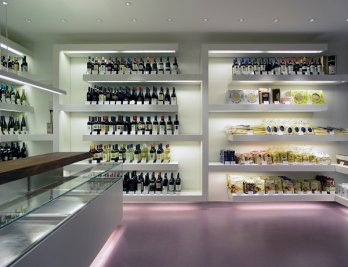 Pierluigi Piu/Olivino_G.Dettori.
This last element, while alluding to the traditional cheesemonger shop because of its "chopping board" look, with its natural appearance also counterbalances the algid uprightness of all other surrounding materials. An heavy-duty stainless steel made back-counter with back lit glazing and shelves, as well as a light purple resin floor, complement all the above described features.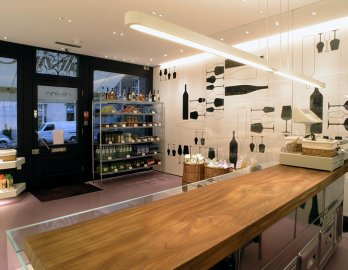 Pierluigi Piu/Olivino
Pierluigi Piu/Olivino_G.Dettori.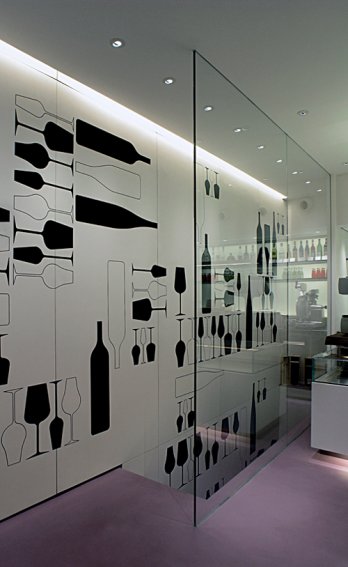 Pierluigi Piu/Olivino_G.Dettori.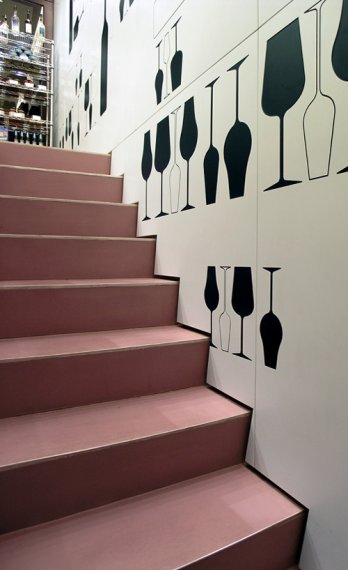 Pierluigi Piu/Olivino_G.Dettori.
www.pierluigipiu.it