Why Design Now?
Le design comme solution aux problèmes du monde
Laurie Olivieri + Jennifer Northrop, le 27 août 2018
AlphaBetter Student Desk. Tim Skiba (American, b. 1961), Sunway, Inc._concept Abby Brown (American)_Manufactured by Safco Products Company. US, 2007
Community
In response to ever-expanding sprawl in the developed world and escalating urban density in developing areas, architects are creating rooftop villages, urban farms and mixed-use housing developments that employ local materials and encourage harmonious, energy-efficient living at close quarters. Highlights of the design projects on view include the H20tel in the Netherlands, the first hydrogen-powered hotel; Oslo's new, environmentally friendly opera house, which provides city residents access to the waterfront for the first time; vertical farming initiatives such as the Eco-Laboratory; and the Mapungubwe National Park Interpretive Center, built using local materials and labor.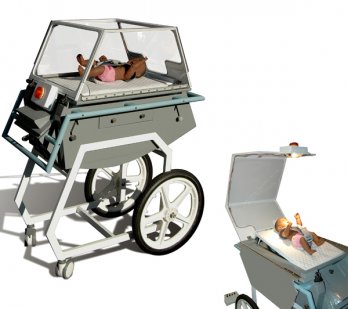 Car-parts Incubator, prototype. Timothy Prestero (US, b. 1970), Design that Matters, Inc_Center for Integration of Medicine and Innovative Technology, Global Health Initiative
Health
From creating prosthetic limbs controlled by the human mind to devising new ways to deliver health care to remote rural populations, designers are improving physical, mental and social wellness for everyone. Among the featured projects in this section are the Solvatten Safe Water System, which uses UV light to make water potable; affordable corrective eyewear that is self-adjusted by injecting various amounts of fluid into the lenses of thick glasses; a low-cost neonatal incubator made from car parts; a condom applicator; and the Zon Hearing Aid, which is nearly invisible when placed behind the ear.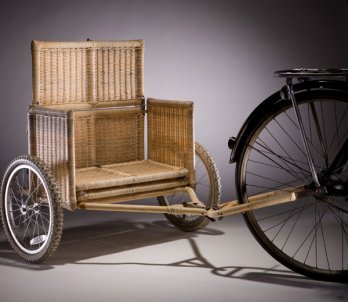 Samarth Bicycle Trailer, prototype. Radhika Bhalla (Indian, b. 1983). Designed United States, deployed India, 2008–present. Locally sourced bamboo, rattan, iron, jute, coconut fiber, wheels_Vahe D'Ala
Mobility
Allowing people to travel across town or over a continent while conserving resources requires fresh design solutions and an examination of mobility patterns and components. The exhibition will feature works such as Coulomb Technologies' ChargePoint—a broad network of vehicle charging stations connected to the energy grid and installed in public and private lots; on-demand electric vehicles like MIT's CityCar; urban transportation forms such as foldable bicycles and DIY bicycle trailers; and France's recently designed AGV high-speed self-propelled train.
giubbotti peuterey
Peuterey Outlet
giubbotti peuterey
peuterey online