Why Design Now?
Le design comme solution aux problèmes du monde
Laurie Olivieri + Jennifer Northrop, le 27 août 2018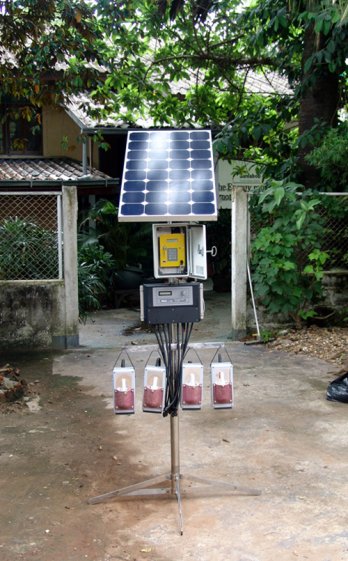 Solar Rechargeable Battery Lanterns_Nishan Disanayake (Sri Lankan, b. 1982), Simon Henschel (German, b. 1981), and Egbert Gerber (German, b. 1974)_Sunlabob Renewable Energy Co. Ltd
Energy
Around the world, scientists, engineers and designers are seeking ways to harness energy from the sun, wind and ocean tides and create new products and structures that use energy efficiently and self-sufficiently. Among the projects on view in this section are the Z-10 concentrated solar-panel system, which intensifies the solar energy harnessed through the use of mirrors and tracking devices; the bioWave, an enormous underwater machine that mimics the swaying motion of seaweed and is designed to capture the kinetic energy of ocean turbulence; the Power Aware cord, which provides a real-time way for consumers to visualize their energy consumption; and the experimental desert city Masdar in the United Arab Emirates, which will be the largest and most advanced carbon-neutral community.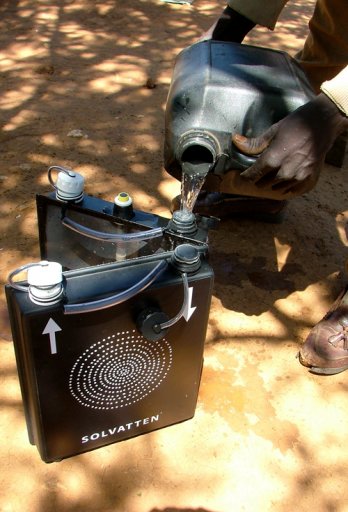 Solvatten Solar Safe-Water System. Petra Wadström (Swedish, b. 1952), Solvatten AB_Manufactured by Mälarplast AB. Sweden, 2008. ABS plastic, acrylic_David Wadström
Materials
Great efforts have been made in the past decade to address the need for more sustainable materials, which reduce the amount of energy and fossil fuels used in manufacturing. Chemists, engineers and designers are inventing everything from biodegradable, petroleum-free plastics to foam insulation that grows in the dark like a mushroom, requiring minimal energy to produce. Products are also being made with post-industrial and post-consumer recycled content, ranging from IceStone's colorful and durable pre-cast concrete slabs that contain 100 percent recycled glass to items by fashion designer Martin Margiela who repurposes used objects into couture clothing. New information systems, including Ecolect's Product Nutrition Label, are also helping consumers find goods with a clean biological record, such as materials made from reclaimed waste, from non-toxic substances or from rapidly renewable agricultural products.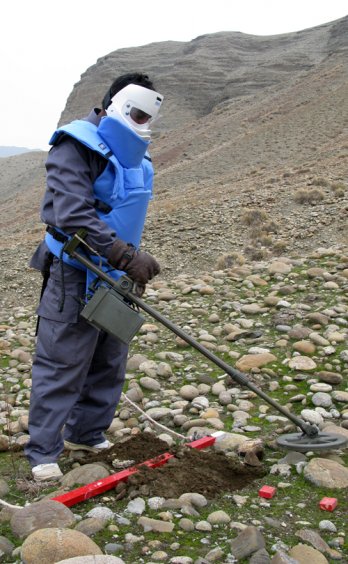 Armadillo Body Armor and Facemask. Leif Steven Verdu Isachsen (Norwegian, b. UK, 1972), KODE Design
Communication
Smart phones, digital reading devices and social networks are changing the way people use and produce information. Designers are helping people understand the world's problems by visualizing complex data and by delivering urgent messages about safety, equality and the environment. Works on view include industrial designer David Chavez's prototype for a Braille wristwatch; One Laptop per Child's XOXO laptop, designed by Yves Béhar, which is targeted specifically for the developed world and can be held flat, angled or like a book; Amazon's Kindle, which offers a new way to experience books; Etsy, a global online marketplace for craftspeople, artists and designers; and the Etón FR 500 radio, an emergency radio charged via hand crank or solar panel, which works when or where the grid fails to function.
giubbotti peuterey
Peuterey Outlet
giubbotti peuterey
peuterey online