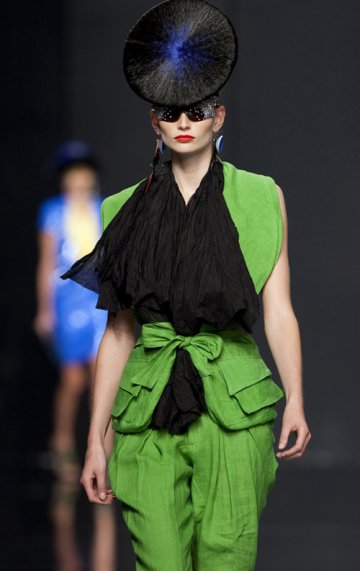 Jose Castro
Touche hispanique (en anglais)
Z.B., le 23 août 2010
It is an escape from the politically correct; it is a journey towards exoticism; an abundance of creativity and freedom. A search for new forms of beauty through the real, animal and virgin world. A rupture with the formal, the known; a journey which intoxicates our senses.

It is the freshness of freedom, an ironic and positive attitude towards the current situation where recycling and decontextualisation join together with the ostentation proper to mating birds. The exaltation of the unconsciously abusive thus becomes a metaphor, that of the aesthetically incorrect. An analysis of the normal and the abnormal aspects of everything that has been inculcated by a sanctimonious society. More than ever we must seek new alternatives and learn something positive from the moment as now is the time for change and ingenuity.
JoseCastro_Cibeles Madrid Fashion Week Sept 09_Getty Images
José Castro Bio_Espress

Designer José Castro was born in Galicia. He studied at the Arts and Technical Fashion School in Barcelona and completed his training with a Master's degree at London's Royal College of Art in 1997. He was soon developing projects for a number of fashion houses, winning first prize in a Dolce & Gabbana initiative and working for Alexander McQueen and Givenchy. After returning to Barcelona, José Castro freelanced for brands like Marina Rinaldi, Mac&Co and Mikel Rosen&Co.
In 2000, he launched his own brand, Agenor Tabaré, designing cutting-edge collections. From 2001 to 2004, he worked on Antonio Miró's second line, Miró Jeans, and in 2004 moved to Spanish brand Desigual, whose collections he still creates today. He combines this job with teaching at a number of fashion schools and with his own couture collection. Castro's own brand recently made its international debut at Paris Fashion Week, where he presented his autumn-winter 07/08 collection, El Cuervo [The Crow].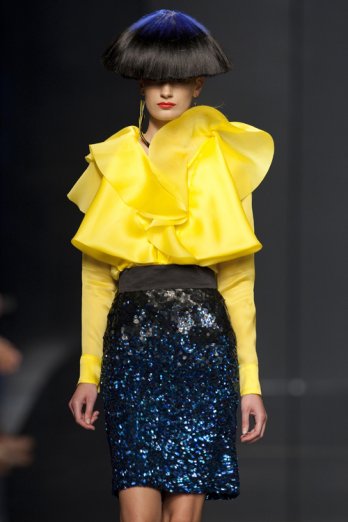 JoseCastro_Cibeles Madrid Fashion Week Sept 09_Getty Images
Castro's style is a combination of extreme concepts. But whether elegant or ragged, heavy or sophisticated, organic or artificial, all his work is characterised by exceptional patterning. The Gothic look he favours turns chic and romantic in his hands. His skill with denim is apparent in his garments where it is masterfully combined with other more sumptuous fabrics. José Castro clothing is on sale at Spanish multi-brand retailers in Barcelona, Murcia and Salamanca. It is also available in the town of Christchurch in New Zealand.
giubbotti peuterey
Peuterey Outlet
giubbotti peuterey
peuterey online