Hamansutra
Tout ce que vous devez savoir sur Hamansutra en 20 questions...(en anglais)
Zanoah Bia, le 10 mai 2010
Portrait_ExpressHaman Alimardani (hamansutra) was born in 1977 in Tehran, Iran. He moved to New York with his family in 1978 but was principally educated in Germany (he has German nationality) so English is his third language. His brand name and working name of hamansutra is a mixture of Indian and Persian influences. Haman was the prime minister of the Persian king Ahasuerus, also known as Xerxes, who reigned from 485-465 BC. Sutra means a joined thread, but also instructions or discourse; in this meaning, it is probably best-known in the West in the Kama Sutra (a discourse of instructions for sexual positions. Hamansutra was introduced to graffiti in 1989 through the Munich underground scene; in 1993 he formed an artists' group with a streetworker and obtained funding from Munich City Council. He began to study graphic design in Munich to develop his style further. During this period hamansutra held exhibitions of graffiti art and illustrations on canvas and paper at locations in and around Munich (Pasinger Fabrik arts center in Munich in July 1995, Groebenzeller Buergerhaus arts center in June 1996). He would later continue this work in June 1999, organizing an exhibition of Fashion and 3-Dimensional Illustration at Blocherer Schule fashion academy in Munich.

From 1993 Hamansutra funded his studies by working as a DJ at various clubs playing Soul, House, Rap, etc. and by contract graffiti artwork, some of which was published in the book "Graffiti Writing in Munich". During his graphic design studies he was able to fully unfold his potential in working on the themes of fashion and accessories, where he could successfully synthesize his Persian cultural background with fresh ideas. In 1996, during his graphic arts studies, hamansutra began to look more closely at fashion. The students were given assignments such as writing campaigns for snowboard clients – so hamansutra started to design the clothes to go with them. hamansutra launched his own hamansutra label in Munich in 1996 and established it as a company in London in 2004. The label aimed to present clothes as artistic objects rather than commodities, regarding fashion as part of an overall concept, the ceremony of clothing oneself.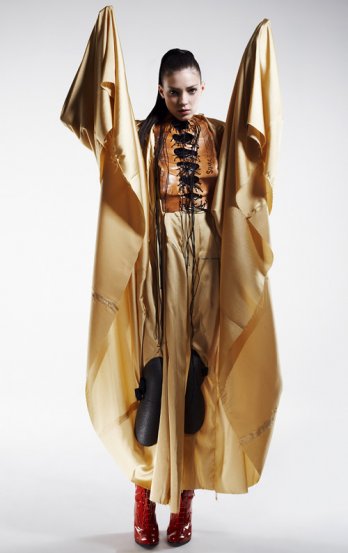 Hamansutra_Artificial Skin Collection_Denis Pernath
Hamansutra developed his own philosophy from his own personal passion for instructions and from the endlessly changing positions in the game of fashion, adopting the slogans "A thousand moves in the game of fashion" and "Because perfection is protection" to express these ideas. Inspired by kids' heroes like "Hercules" and "Master of the Universe - He-Man" (which sounds like Haman…), hamansutra started to experiment with leather accessories in 1995, using himself as a guinea-pig and model to find out exactly how these accessories feel, how people respond to them and how they capture the attention. During this process hamansutra discovered that he was less interested in how people responded to his designs: it was the actual function of the designs that he found so fascinating. At the same time, he began to use the name hamansutra on stickers which he stuck up everywhere to publicize himself – like the tags of graffiti artists.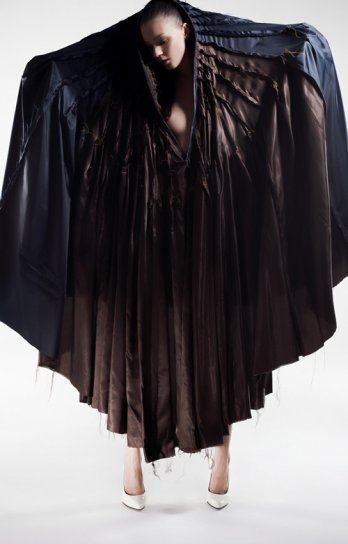 Hamansutra_Artificial Skin Collection_Denis Pernath
In 1998 Hamansutra worked as a graphic designer for the well known advertising agency Jung von Matt in Hamburg (Germany), with Audi A3, Deutsche Bahn (German railway company), and Benson & Hedges Silver among his clients. Work there included fashion briefings, e.g. designing "Lingerie for the year 2000" for premium German underwear brand Mey, selecting outfits for a Mey shoot, etc. He was encouraged by his art school tutors and Creative Directors in the advertising agency to study fashion design at Central St. Martins, with the idea that the courses would best reflect his previous study background as well as his personal style and that London would be a good starting-point for exploring the world of unconventional design. Hamansutra therefore decided to finish at Jung von Matt in order to study fashion design at St. Martins School of Art; he successfully completed the first year of the BA (Honours) in Design Technology for the Fashion Industry at London College of Fashion in 1999-2000 and subsequently joined Central Saint Martins in October 2001 for the second year of the Fashion Design with Marketing course.
giubbotti peuterey
Peuterey Outlet
giubbotti peuterey
peuterey online