Tea House
Écologiquement A1 Architects (en anglais)
A.D., le 11 mars 2013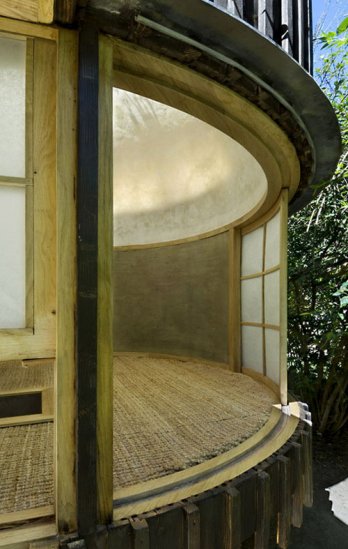 Tea House by A1 Architects_Ester Havlová
Natural material
The inner walls are constituted on one side by a view of the garden and on the other a clay parget. Guests set themselves down on the matt and the hearth is welded black steel. The dome laminated within is pasted with paper, through which light shines and invitingly illuminates the space inside.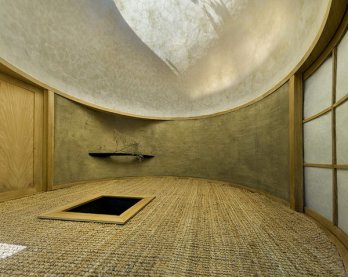 Tea House by A1 Architects_Ester Havlová
Minimal place to gather
The Teahouse serves as a place for gathering with guests. The invitation itself begins a certain tense moment of anticipation, during which we would like to present our guests with a enjoyable experience. The moment of gathering where we share our feelings and impressions - our own mutual closeness which I think can not be better depicted by anyone other than master Sen no Rikyú.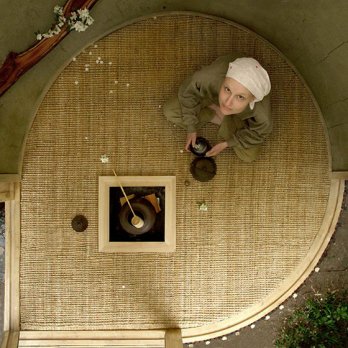 Tea House by A1 Architects_Ester Havlová
Building and construction
Carpented oak construction stands on stones from a nearby pond. Burnt larch facing creates a mimic colouring effect of a building in a garden because the attention of the gathering itself is focused on the inner world, which one discloses only upon entering. The master of construction is Vojtech Bilisic with whom I built the Teahouse in 35 days during the months of April and May 2008.
Acknowledgements
For great help I thank first of all my beloved Lenka, Vojta, sister Marta, professor Terunobu Fujimori, who visited during construction and Petr Holý, who heartedly interpreted our rendezvous.
giubbotti peuterey
Peuterey Outlet
giubbotti peuterey
peuterey online