Récipiendaires des Médailles du Gouverneur général en architecture pour 2008
Et les gagnants sont…
Donna Balkan + Sylvie Powell, le 19 mai 2008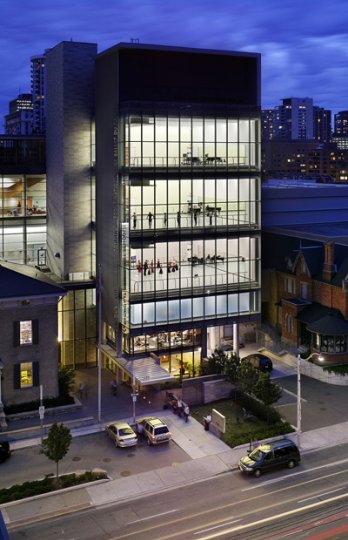 Canada's National Ballet School Project Grand Jeté_Kuwabara Payne McKenna Blumberg Architects & Goldsmith Borgal & Company Ltd. Architects, Architects in Joint Venture (Toronto, ON)_Tom Arban
Kuwabara Payne McKenna Blumberg Architects & Goldsmith Borgal & Company Ltd. Architects, architectes en consortium (Toronto, ON) - Architectes concepteurs : Bruce Kuwabara, FRAIC et 
Phil Goldsmith, MRAIC
École nationale de ballet du Canada Projet Grand Jeté
Le nouveau centre de formation de l'École nationale de ballet du Canada crée un campus vertical comportant trois éléments transparents qui entourent une résidence patrimoniale. Le concept fusionne l'architecture, la danse, le mouvement et le spectacle grâce à une série de plateformes horizontales étagées qui amènent le spectacle de la danse à la ville. L'attention portée à tous les éléments, qu'il s'agisse des grands volumes des studios ou de l'ergonomie des barres de ballet, crée un environnement propice et inspirant qui stimule la créativité et l'innovation. Le concept est un bel exemple de coexistence harmonieuse de l'architecture patrimoniale et contemporaine, et il offre une solution métaphorique au dilemme du ballet qui consiste à préserver sa forme artistique tout en la remettant en question.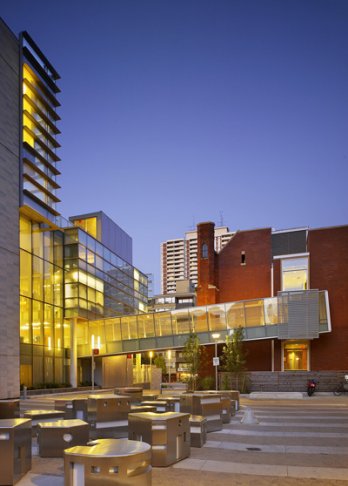 Canada's National Ballet School Project Grand Jeté_Kuwabara Payne McKenna Blumberg Architects & Goldsmith Borgal & Company Ltd. Architects, Architects in Joint Venture (Toronto, ON)_Tom Arban
Le Groupe Arcop (Montréal, QC)
Architecte concepteur : Ramesh Khosla, FRAIC
Jaypee Institute of Information Technology
Le Jaypee Institute of Information Technology est un établissement d'enseignement aux dimensions modestes dont les critères de conception furent dictés par les conditions plutôt difficiles inhérentes au pays, soient : le peu de terrain disponible, des coûts en énergie élevés et un budget limité. Malgré toutes ces contraintes, il en
résulte un projet de qualité et durable,
qui optimise le coût du cycle de vie. L'esthétisme du détail architectural charme le visiteur des lieux, qui a l'impression d'être dans un endroit privilégié. Arcop possède une vaste expérience à l'étranger et se sent aussi à l'aise de réaliser des bâtiments haut de gamme que des bâtiments très économiques dans le sous-continent.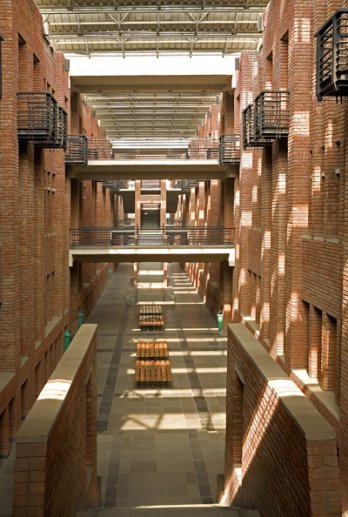 Jaypee Institute of Information Technology_Le Groupe Arcop (Montreal, QC)_Eye Piece Photography & Design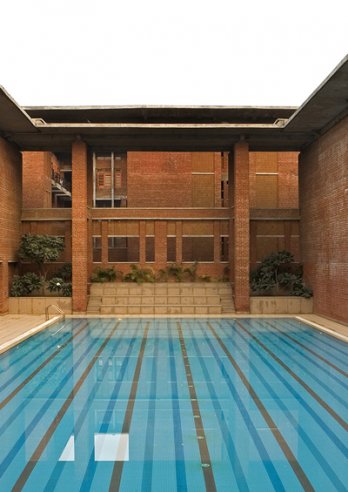 Jaypee Institute of Information Technology_Le Groupe Arcop (Montreal, QC)_Eye Piece Photography & Design
giubbotti peuterey
Peuterey Outlet
giubbotti peuterey
peuterey online