Eero Saarinen
Retour vers le Futur...
Donald Albrecht, le 25 décembre 2010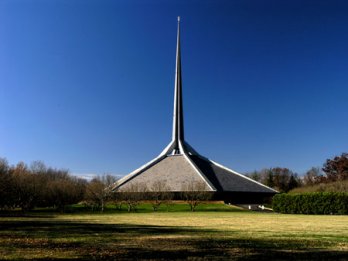 Eero Saarinen_North Christian Church_USA
Par contre, Kresge Chapel (1953-56) de forme ronde et en briques, conçue pour le Massachusetts Institute of Technology, et les Morse and Stiles Colleges (1958-62) en pierre et béton imaginés pour l'université de Yale, se tournaient clairement vers le passé faisant ainsi référence, par le travail sur l'image, aux enseignements de ces universités, à savoir respectivement les grottes anciennes et les villes de montagne italiennes.
Eero Saarinen_Deere and Company Administrative Center, Circa 1963_Harold Corsini_Moline, Illinois_USA
Le style de Saarinen représentait l'idéal américain d'après-guerre d'une société ouverte offrant un choix et une diversité illimités. Ses clients visionnaires - des hommes d'affaires tel que Thomas J. Watson d'IBM et Frank Stanton de CBS, qui sont à la base des développements technologiques tels que les ordinateurs et la télévision, ont permis la matérialisation de ses idées. Travaillant en étroite collaboration avec ses maîtres d'ouvrages, Saarinen a développé à parts égales une construction progressiste et des systèmes mécaniques pour de nouveaux immeubles de bureaux installés dans des parcs d'entreprise aux allures bucoliques. Parallèlement, Saarinen incarnait lui-même l'individualiste libre et créatif. Saarinen et son oeuvre ont représenté ensemble l'image de l'Amérique capitaliste, toujours nouvelle et dynamique, contrôlant parfaitement son domaine.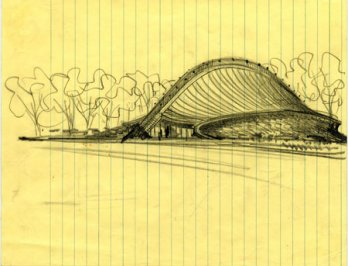 Eero Saarinen_Croquis de David S. Ingalls, Hockey Rink, Circa 1953_New Haven, Connecticut_USA
giubbotti peuterey
Peuterey Outlet
giubbotti peuterey
peuterey online