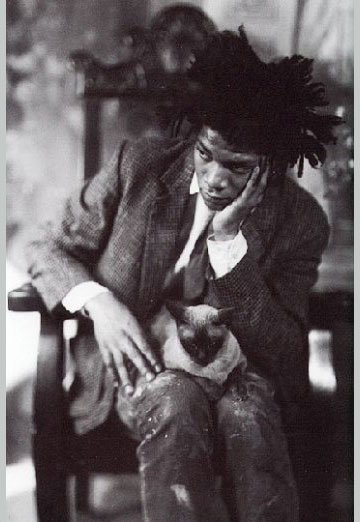 Basquiat
SAMO the shooting star.
P.O., February 27, 2019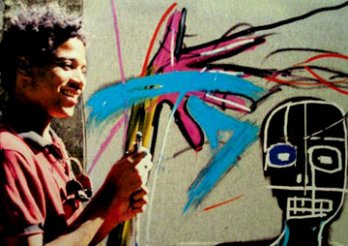 Jean-Michel Basquiat_Lee Jaffe_New York_USA
"I don't think about art when I'm working. I try to think about life..."
Nothing predisposed Jean-Michel Basquiat to appear in the catalogues of museums nor in the private collections. Born in 1960 in Brooklyn (New York), Basquiat belonged to the "racial minorities": a Haitian father and Puerto Rican mother. After the divorce of his parents, he met a difficult scholastic education interrupted by many escapades.
He was then very far from the world of art. An early rebel, he drew the benevolent attention of his parents and the professors of the many private schools he attended. He possessed a gift for drawing and was encouraged by his mother, with whom he went regularly to the Museum of Modern Art and the Metropolitan Museum of New York. She gave him a copy of the classic illustrated human anatomy book, "Gray's Anatomy". The book became a determining gift that accompanied him in his many works devoted to the anatomy of the human body. "I'd say my mother gave me all the primary things. The art came from her." he said.
As a young man, Jean-Michel Basquiat embarked on several adventures which included his first introduction to drugs. These experiences coincided with a fierce determination to become famous. When he was eighteen years old he left his family home.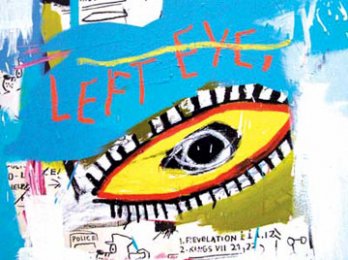 Jean-Michel Basquiat_Left Eyes_New York_USA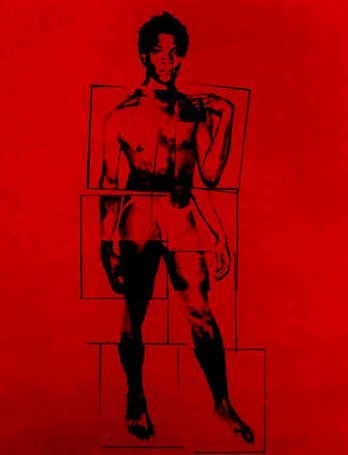 Jean-Michel Basquiat_Andy Warhol_1984_New York_USA
The Graffiti Movement expressed in the streets and subway cars of New York was organized in a hierarchical manner. The authors of Tags (signatures) must accomplish all kinds of tests before being able to 'register' the name they choose as their identifier. Jean-Michel Basquiat created "SAMO" surmounted by a crown as a sign of the copyright he used to scratch on the walls and buildings of downtown Manhattan, although he never tagged subway cars. The publication,
"Village Voice"
noticed his art, and in order to live, he began drawing, selling postcards and illustrating sweatshirts.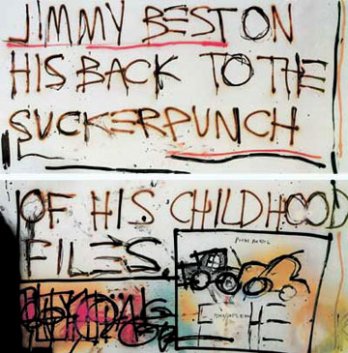 Jean-Michel Basquiat_Jimmy Best, 1981_New York_USA
In 1980 he became one of the main taggers who scratched the walls of buildings. Two taggers became particularly memorable exponents: Keith Haring, who gave rhythm to his tags drawn on surfaces, and Jean-Michel Basquiat, who chose violent and persecuting tags, spoiling detailed aspects of the material tagged. Both were similar to the work of artist Andy Warhol. They found their inspiration in the authentic popular culture active in 1970's New York: the life of the streets and the New York subway.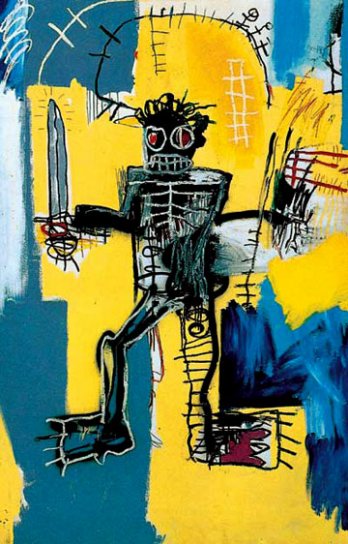 Jean-Michel Basquiat_Warrior, 1981_New York_USA
The grafitti of Jean-Michel Basquiat expresses his search for identity and his revolt of the poverty of the multi-ethnic communities living in ghettos within larger cities composed of exaggerated mediatisation and an exacerbated consumer society. "Every line means something." said Jean-Michel Basquiat.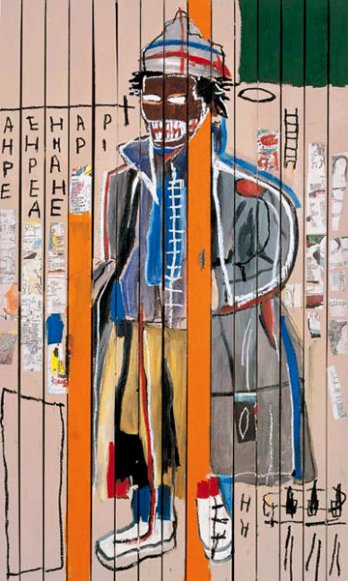 Jean-Michel Basquiat_Anthony Clarke, 1985_New York_USA
The question of racism haunted Jean-Michel Basquiat from a young age. The majority of his works evoked the difficulty of being black. His creolity made it difficult to find his place in a society of predominantly white people. His paintings express this reflection on black identity captured so well by Aime Cesaire in his speeches and poems about "negritude". His poem translated says:
"My négritude is not a water slip died on the dead eye of the ground , my négritude is neither a tower nor a cathedral it plunges in the red flesh of the ground, it plunges in the burning flesh of the sky , it perforates the opaque overwhelming pressure of its line patience."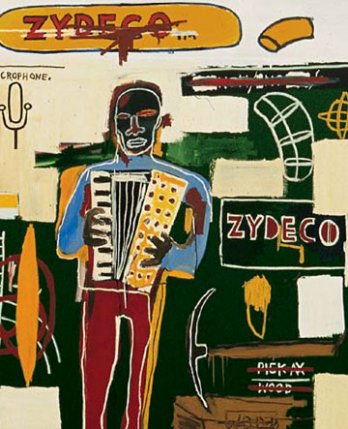 Jean-Michel Basquiat, Zydeco, 1984_New York_USA
The 'disallowed' activity of the taggers proceeded to make great performances as they erupted into the artistic world. The New York exhibit, "New Wave", exhibition. Moved onto canvas, the grafitti works were for sale. Some of the grafitti authors became 'artists' as galleries became interested in exhibiting their productions, replacing the austere 1970's paintings and works. Jean-Michel Basquiat was recognized as a great artist; he flew from one success to another. He started with an exhibition in the Mazzoli Gallery in Modena (Italy), then to the Anina Nosei Gallery in New York, followed by several others. At the age of 22 years he took part in Dokumenta 7 in Cassel along with exhibitors Gerhard Richter and Sigmar Polke. Jean-Michel Basquiat was the youngest artist of this great exhibition.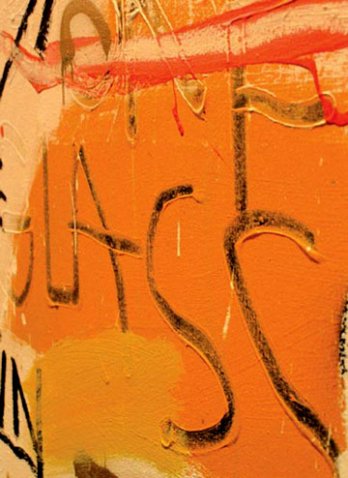 Jean-Michel Basquiat_Untitle, 1982_New York_USA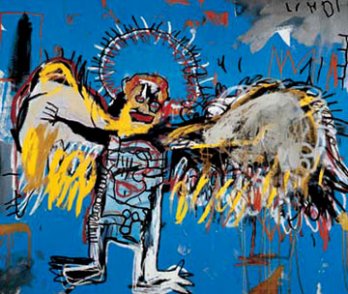 Jean-Michel Basquiat_Fallen Angel, 1981_New York_USA
Far from grafitti, Jean-Michel Basquiat's works were considered paintings and were associated with those of the Italian transavantgarde (he would go on to collaborate with painters Francesco Clemente and Andy Warhol). Photocopied colours were applied on the canvas in some places, while in others dark and grotesque figures were drawn, along with words or formulas, more or less decipherable signs intersecting with harsh colours. Quotations extracted from the media were written, autobiographical fragments also appeared (the crown of SAMO), and elements were borrowed from voodoo cult (assertion of "negritude").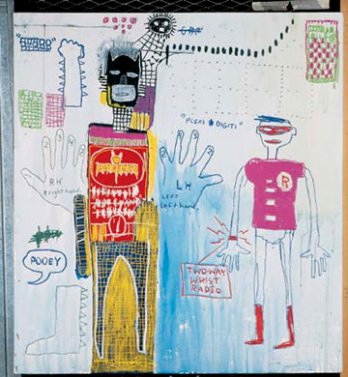 Jean-Michel Basquiat_Piano lesson for Chiara, 1983_New York_USA
The painting of Jean-Michel Basquiat refers as much to art primitivism, Rough Art or Cobra as it does wtih the great American tradition of Robert Rauschenberg and Cy Twombly. Keith Haring, a plastics technician and friend of Basquiat, affirmed in 1983: "It made the second revolution of New York art after the assertion of the women in painting." " Posting a "bestiary of words" according to the critic David Shapiro which compares the art of Basquiat with the "medieval chanson de geste, he is "a poet of the street who penetrates in the living rooms of the high society".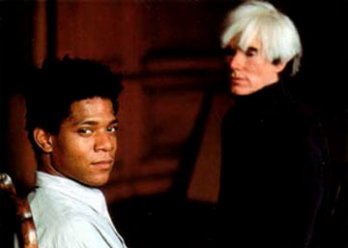 Jean-Michel Basquiat and Andy Warhol_Richard Schulman, 1984_New York_USA
In 1981, Jean-Michel Basquiat was introduced to Andy Warhol. It was the beginning of a great friendship between these two men, both simultaneously seduced. Basquiat spent the nights philosophizing with his idol. The free exposure Figuration France/USA organized in 1984 by the Museum of Modern Art of the Town of Paris was officially devoted to "free figuration" and included: Remi Blanchard, Francois Boisrond, Robert Combas, Herve Di Rosa, and was infused with the generation of "graffitists of New York" -- Jean-Michel Basquiat, Crash Landing, Keith Haring, Kenny Scharf. One can measure on this occasion what joins together but also what distinguishes the American and French painters.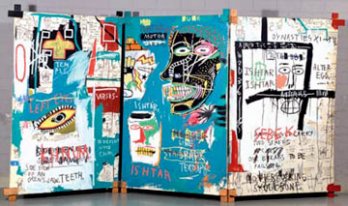 Jean-Michel Basquiat_Isthar, 1983_New York_USA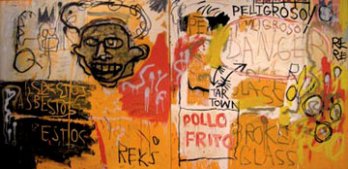 Jean-Michel Basquiat_Polo Frito, 1982_New York_USA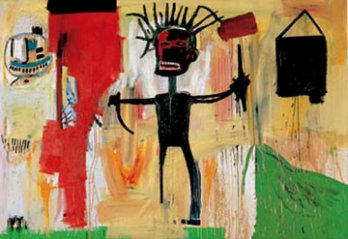 Jean-Michel Basquiat, Auto portrait_New York_USA
The Grafitti Movement of New York would lose their two leaders in less than two years: Jean-Michel Basquiat died from a drug overdose in 1988 (August 12, several days before what would have been Basquiat's second trip to the Cote d'Ivoire), and; Keith Haring, who died of complications from AIDS on February 16, 1990. Never had an artist
experienced such a fast success. At 25 years of age, Basquiat had been painting for only five years, and had already made the cover of New York magazine. Two European museums devoted a retrospective exhibition
to him; fantastic! Jean-Michel Basquiat now belongs to the Pantheon of the famous blacks along with his two idols, the boxer Sugar Ray Robinson and the saxophonist Charlie Parker, whom he named, "King Charles". Jean-Michel remains not only a legend, but also an emblematic figure of the 1980's. He would have celebrated his 50
th
birthday this year.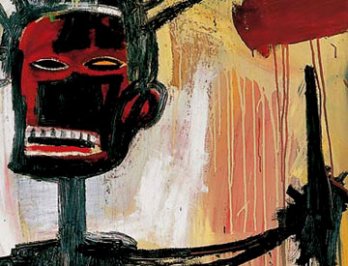 Jean-Michel Basquiat_Tsheng Kwong Chi, 1987_New York_USA
Some majors works:
Cadillac Moon (1981, coll. part.)
Crowns (1981, coll. part.)
Six Crimee (1982, Los Angeles, Museum of Contemporary Art)
Baptism (1982, coll. part.)
50c Piece (1982-1983, coll. part.)
Sienna (1984, coll. part.)
Because it Hurts the Lungs (1986, coll. part.)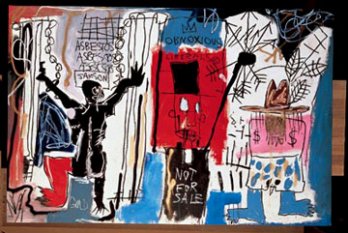 Jean-Michel Basquiat, Obnoxious Liberals, 1982_New York_USA