Wangechi MUTU
The Anthropological Art
B.P., August 19, 2013
"We categorize what we're afraid of"
Exhibited regularly since the late 1990s, Wangechi Mutu's collage-drawings depicting black women, tampered with and prey to strange bodily mutations, attracted attention that has not abated since.


Since the late 1990s, Wangechi Mutu has been creating socially committed art concerned with the depiction of women, questions of identity and the African diaspora. To deal with these matters, she initially turned to anthropological studies, which seemed to provide a way of answering such questions, but eventually realized that it was through art that she could best express herself. In her drawings and collages, as well as her sculptures, installations and videos, she tackles the stereotypes of women purveyed in fashion and porn magazines, geopolitical inequalities, the hegemony of the West and the issue of African identity.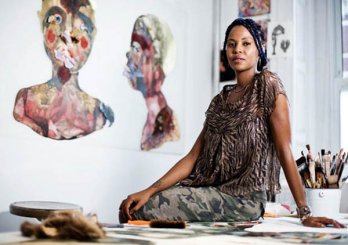 Wangechi Mutu/Wangechi Mutu by Chris Sanders
The centrepiece of the exhibition at Le Musée d'Art Contemporain de Montreal, which comprises some twenty works, was the remarkable installation Moth Girls (2010) recently acquired by the MAC. Composed of 246 hybrid half-human, half-animal figurines with leather wings, feathered antennae and female legs, this installation is laid out in the form of entomological plates suggesting notions of the classification and hierarchization of species and, by extension, of genera (woman, animal) and peoples.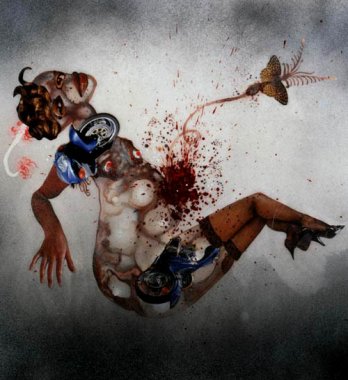 Wangechi Mutu_Untitled 2004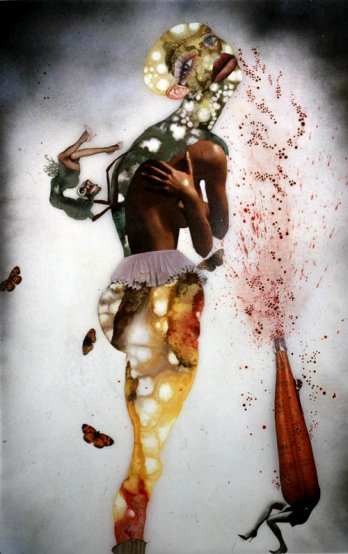 Wangechi Mutu_Untitled 2003
Wangechi Mutu_Prolapsus of the Uterus, 2004
The configuration of the work evokes a classroom in an African school. Pinned to the walls in rows, the Moth Girls form a disturbingly beautiful bestiary inspiring contradictory feelings. Moth Girls is displayed in the centre of the exhibition space, which has been completely transformed for the occasion: the walls are covered in felt and a shimmering curtain invites visitors to walk into a video screening. Also prominently displayed is a series of collage-drawings depicting black women, tampered with and prey to strange mutations, which have earned the artist international recognition.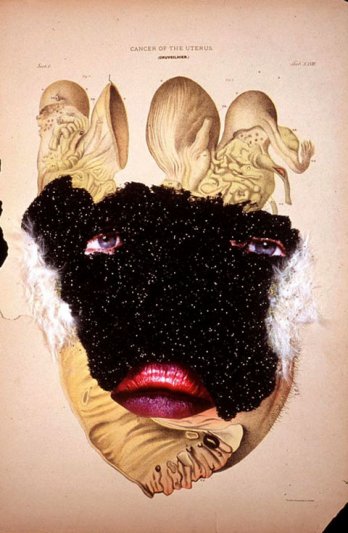 Wangechi Mutu_Cancer of the Uterus, 2005
Bio_Express
Wangechi Mutu, born in Nairobi, Kenya, in 1972, now lives and works in New York. She studied at Yale University, Cooper Union for the Advancement of Arts and Science, where she honed her interest in anthropology, and the United World College of the Atlantic. She first made her name in 2009 when she participated in the group show entitled Collage: The Unmonumental Picture, presented at the New Museum, New York. This is the artist's first exhibition in Québec.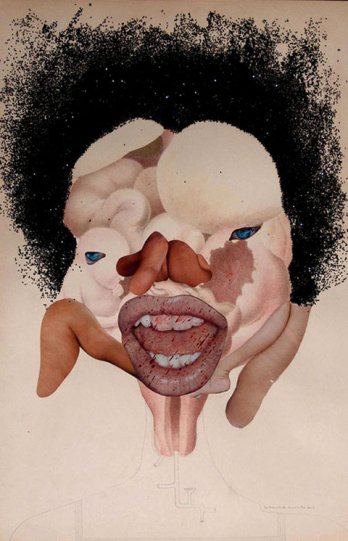 Wangechi Mutu_Ectopic Pregnancy, 2004
Wangechi Mutu_Female sexual organs, 2005
Wangechi MuTu at Guggenheim Berlin
In her work, New York-based artist Wangechi Mutu addresses issues related to black female identity between Western consumer culture, African politics, and postcolonial history. She became known for her collages that vacillate between beauty and horror. By using various materials such as glitter, tape, or animal fur in combination with magazine clippings, she creates idiosyncratic pieces that present the female body in a distorted, seductive, or commanding way and in a state of constant transformation. Presented by Deutsche Bank,
Wangechi Mutu
was the first solo exhibition of the artist's work in Germany.
Same for the city of Montreal.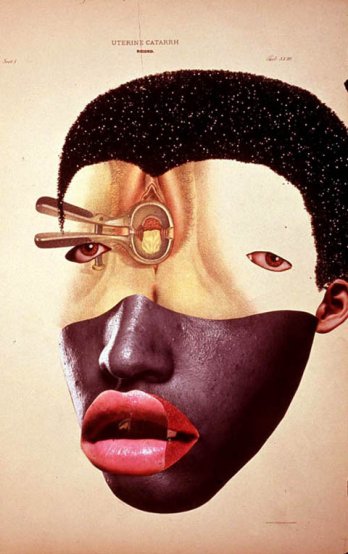 Wangechi Mutu_Uterine Catarrh, 2004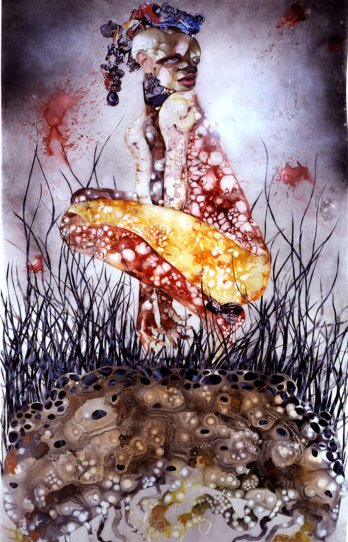 Wangechi Mutu_Backlash Blues