Do not disturb - Drake Hotel
The Drake Hotel in Toronto
Samira Azzahir, February 12, 2007
You are surrounded by old memories the moment you step into the lobby of the Drake Hotel. The re-opening of this iconic boutique hotel on Valentine's Day, 2004, has marked a small scale renaissance in the community of Queen Street West. This 115-old hotel has seen both its share of joy and melancholy. Thanks to new owner, Jeff Stober, the decaying, flophouse of the past has been lovingly brought back to life. Since its inception, The Drake has become a cultural community centre for travelers, artists and local residents alike.
The Drake serves as a kind of metaphor in terms of the mysticism, the fantasy, the escapism of what a hotel represents along side the historical referencing of the relationship between artist and hotel.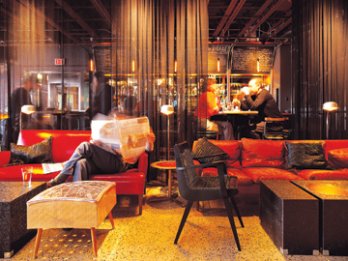 P. Andrej Kopac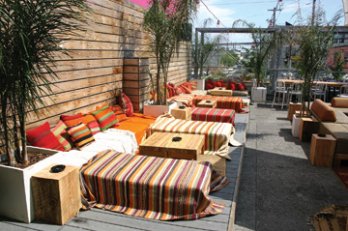 P. Jessica Rose
After an elaborate interview process with numerous architectural designers, Stober sought out the intuitive 3rd Uncle Design team in 2001 to complete the renovation. Recently awarded "Designer of the Year" at the 2005 Toronto Interior Design Show, John Tong, a partner with 3rd Uncle, has worked with Stober in the past and clearly understood his artistic vision and the importance of preserving the architectural integrity of the Drake.
A deep sense of history permeates the contemporary design; beautiful terrazzo floors remain original to the hotel as it first opened in 1890. The remnants of and old crumbling mural and distressed brickwork lay bare and exposed alongside vibrant lounge-inspired wall coverings and the latest local artwork. Weaving post modern design in with classic retro, the space has taken on a personality all its own, honouring its historical legacy and giving it the freedom to evolve with the neighborhood's burgeoning arts community.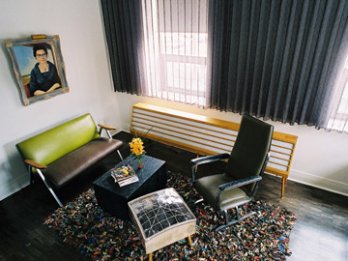 P. Keith Pace Asciak
The grand staircase leads up and out of the communal revelry. There are a modest 19 rooms at the Drake and each one is skillfully designed to make the best use of the small space. The tone is understated with clean simple lines, multi-functional amenities and muted colours. The décor is spare but bright and playful incorporating local artists and craftsman to add whimsical touches of their own. The atmosphere is relaxed and unpretentious.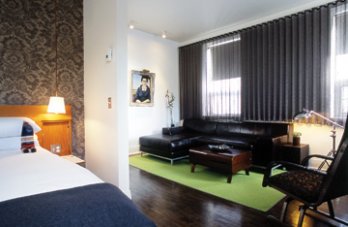 P. Keith Pace Asciak
...The hotel has mastered the art of re-invention: fresh style that comprimises none of the Drake's raw spirit.
www.thedrakehotel.ca