The Design Firm
Satish Nayak Residence
The Design Firm, November 30, 2009
EGODESIGN MAGAZINE - THE TEAM - LOVE THIS HOUSE.
Architects:
The Design Firm
_Location:
Kengeri Satellite Town, Bangalore, India
_Project Head Architects:
Sujit Muralidhar & K Krubha Karan
_Project Architect:
Phanindra, Antony Justus
_Client:
Mr.Satish Nayak
_Models:
Dinesh G
_Structural Consultants:
Sigma Consultants, Mr. Satish Shanoy
_P H E Consultants:
P K Consultants, Mr. Prasanna Kumar_Contractors: Vivek and Co.
_Site Area:
204 sqm
_Project Area:
279 sqm
_Budget:
Rs.35 lakhs
_Project year:
2009
_Photographs:
The Design Firm
.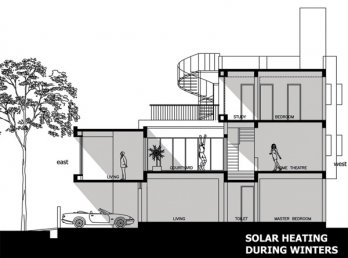 Satish Nayak Residence by The Design Firm/Solar heating
The architecture of this building is to create a dichotomy of cultural, futuristic, aesthetic and function. This dwelling takes the maximum advantage of light although to the detriment of its function. The objectives of this project has to do with economy and also with the perception of the areas designed to be enjoyed by senses. Though the house is located near to a busy road on the rear of the property the front of the house are tranquil. The evolution of the design came from a simple geometric compositions which complemented to the spatial and distinction of layouts.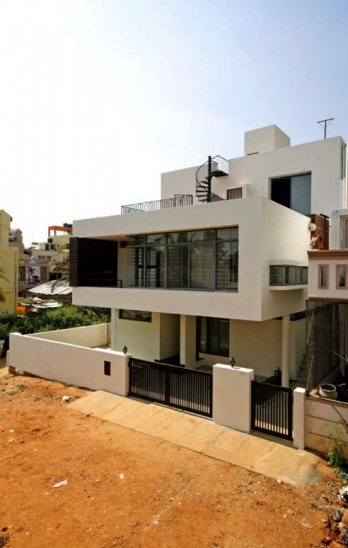 Satish Nayak Residence by The Design Firm/The Design Firm
The image of "containers" placed on top of another occurred when it was decided for two families and was situated at the end of a corner road. The concept applied intended to combine 2 houses with different economies and distinct housing layouts, one of which have to integrate for rental occupancy with limited economy.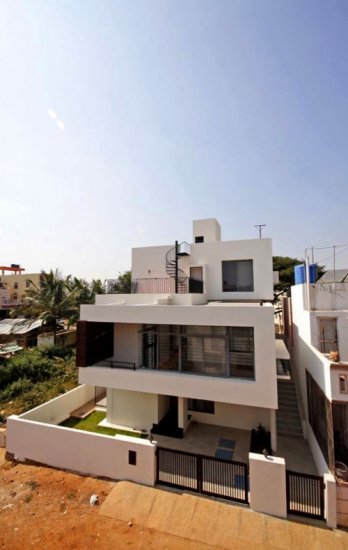 Satish Nayak Residence by The Design Firm/The Design Firm
The plot measuring 2200 sq ft, located at the end of a corner road in an upcoming suburban layout of Bangalore. This east facing house is divided into 2 sections as lower house comprised of a 2 bed dwelling unit purely for rental occupancy, whereas the upper levels comprised of a formal lounge, courtyard, and bedrooms on second level.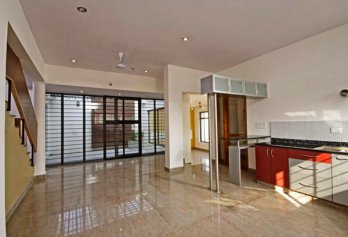 Satish Nayak Residence by The Design Firm/The Design Firm
This SN house is an attempt for climatic and applied energy efficient principles in architecture. Its simple, compact planning integrates accessible construction technologies with simple design solutions. It demonstrates that energy effectiveness results not of the exhibition of means – technological or material but of its capacity in answering rationally to many requirements of human living.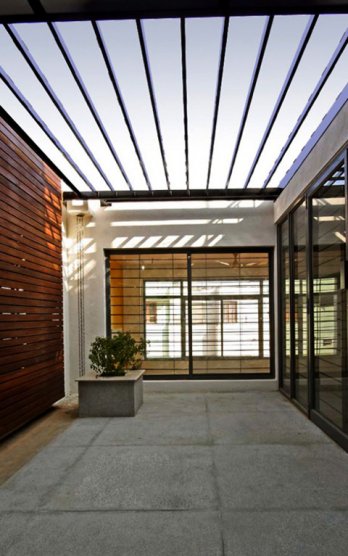 Satish Nayak Residence by The Design Firm/The Design Firm
From Architectural design to adequate definition of particular solutions, the SN house shows that its possible to integrate contemporary technologies to sustainable solutions – good design as the support to good human comfort. The result is remarkable for its simplicity, sense of adequacy and economy, respecting the greater values of environmental sustainability that served as inspiration.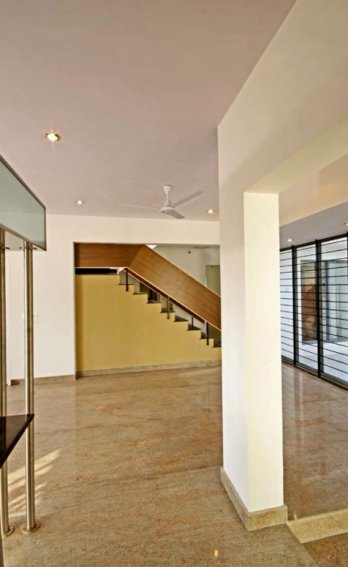 Satish Nayak Residence by The Design Firm/The Design Firm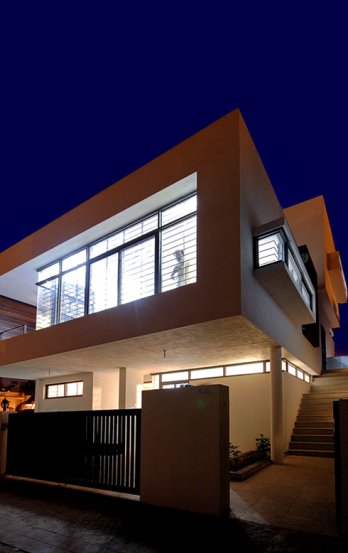 Satish Nayak Residence by The Design Firm/The Design Firm
www.thedesignfirm.in