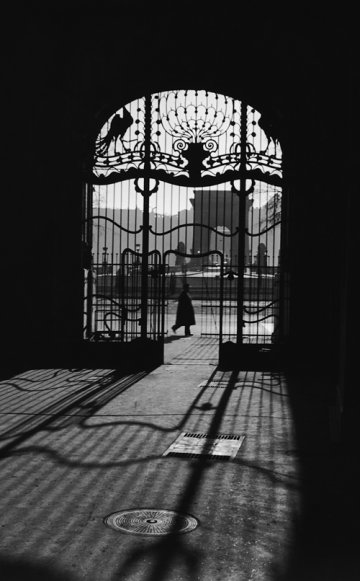 Gabor Szilasi
The Eloquence of the Everyday
David Harris, November 7, 2011
"My subjects in photography really deal with every day life, mostly with people and their environment whether it's indoors or outdoors and that is what always interested me. I like … how everything changes, how everything is in eternal flux … you know signs change, buildings are demolished, new buildings constructed, same thing with people. If you walk into an interior to take a photograph, if you come back the next day it's not the same anymore. It might be just one object moved in the room but this constant change interests me and that's one reason that I'm interested in social documentary."
Gabor Szilasi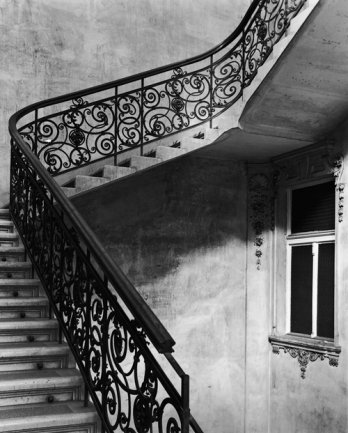 Escalier, Lörinc tér 2, 8e arrondissement, Budapest, sept.-oct. 1995_Musée canadien de la photographie contemporaine, Ottawa_Gabor Szilasi, 2009
Over the last 50 years, Gabor Szilasi )bonr in Budapest in 1928) has created one of Canada's most significant and influential bodies of photographic work, comprising environmental portraits, domestic and urban views of Montreal and Budapest, and images of rural Quebec. His photographs have been sustained by an unwavering belief in the humanistic and documentary value of the medium.
This photographic journey of 124 photographs celebrates Szilasi's achievement and reveals the essence of his artistic vision through his observations of urban and rural life and his recordings of the connections between culture and community. In order to represent the evolution and reach of Szilasi's work, more obscure and never-before-exhibited photographs are shown alongside better known, more iconic images.
Musique Archambault, 500, rue Sainte-Catherine Est, Montréal, novembre 1979_Centre Canadien d'Architecture, Montréal_Gabor Szilasi, 2009
Bio_Express
Gabor Szilasi - Gabor Szilasi - Born: 3 February 1928, Budapest, Hungary - is a documentary photographer renowned for his humanitarian vision. His fascination with daily life has led him to search for images that show the traces of man's presence - be it photos of people, interiors, vernacular architecture and urban landscapes.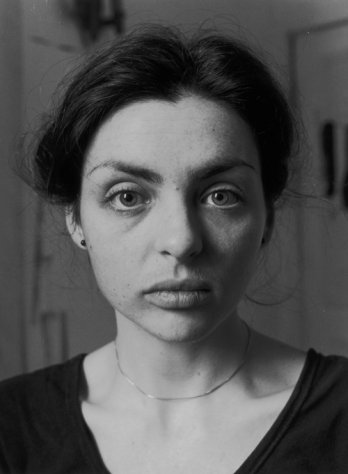 Linda Dornan à son appartement, Montréal, décembre 1979_Gabor Szilasi, 2009
Largely self-taught, Gabor Szilasi started to photograph in Hungary in 1952 when he purchased his first camera—a Zorkij. In 1956 he documented the Hungarian Revolution in Budapest and shortly afterwards fled the country, eventually immigrating to Canada in 1957. From 1959 until 1971, Szilasi worked as a photographer at the present Office du Film du Québec, photographing a wide range of subjects including Expo '67. During these years, Szilasi's technical and practical experience, and extensive travel in Quebec grew through a wide range of assignments. The photographer Sam Tata introduced him to the work of the French photographer Henri Cartier-Bresson and encouraged him to abandon pictorialism for social-documentary photography. In 1966, he was introduced to the work of the American documentary tradition as practised by Paul Strand and Walker Evans while taking a course at the Thomas More Institute. Parallel to his artistic practice, Szilasi was also a dedicated teacher: from 1971-1980, he taught at the Collège du Vieux Montréal and from 1980-1995, at Concordia University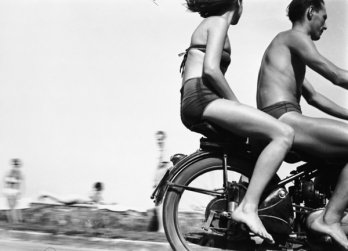 Motocyclistes au lac Balaton, 1954_Gabor Szilasi, 2009
Szilasi's personal work during the 1960's includes a rich mixture of street scenes in Montreal, portraits of friends and family and images taken at exhibition openings. In the 70's, Szilasi embarked on an extended series of projects documenting life and cultural change in rural Quebec. He first focused on the Île aux Coudres and the Charlevoix region, then the Lotbinière region from 1976 to 1977 and the Abitibi-Temiscaming and Saguenay-Lac-Saint-Jean region between 1976 and 1979. In these works which he shot mostly with a view camera, Gabor focused exclusively on street views, and the interiors of residential and commercial buildings. From 1977-1979, he also worked on a series that documented storefronts, chaotic signage, and commercial buildings of Ste-Catherine Street. This project led in 1980-81 to a series of Montreal street panoramas achieved through his use of a panoramic banquet camera.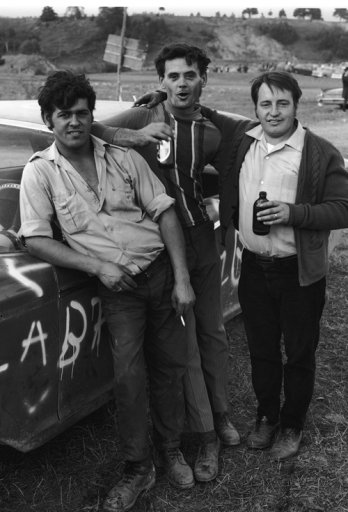 Luc Simard, Édouard Guay et Joseph Lajoie devant un stock car, Saint-Urbain, Charlevoix, sept-oct. 1970_Gabor Szilasi, 2009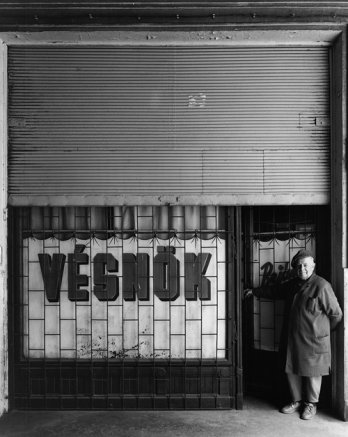 La boutique du graveur, Gozsdu udvar, 7e Arr, Budapest, sept.-oct. 1995_Gabor Szilasi, 2009.
Szilasi's fascination with the city's signage and advertising also inspired the Lux series (1982-84) in which he used colour photography and restricted them to illuminated signs that had been individually conceived and manufactured. From the 19080's onward, Szilasi did much of his work abroad, undertaking projects in Hungary, Italy, Poland and France. In 1980, Szilasi returned for the first time to Hungary, and visited again in 1994 and 1995 to specifically photograph the city, places and people he had known.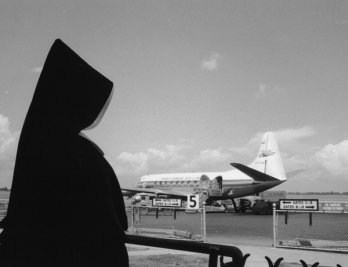 Religieuse à l'aéroport de Dorval, Montréal, août 1959_Musée canadien de la photographie contemporaine, Ottawa_Gabor Szilasi, 2009
Portraiture, which began in the 1950s with portraits of family and friends, has permeated Szilasi's entire photographic production. In Montreal, from the 1960s until today, Szilasi continues to make portraits of artists, family and friends. From 1977-79, Szilasi took a new approach with the Portraits/Interiors series in which he created diptychs consisting of a black and white photo of the sitter paired with a colour photo of the room in which the photo was taken. In 1992, he embarked on a new approach to portraiture, using a view camera and photographing his subjects at extremely close proximity, tightly framing the sitters' facial features. In 2003, he undertook the first of two projects at Les Impatients, an art therapy centre for people with psychiatric disabilities, where the artist and participants took turns in exploring the roles of subject and photographer, creating portraits and self-portraits.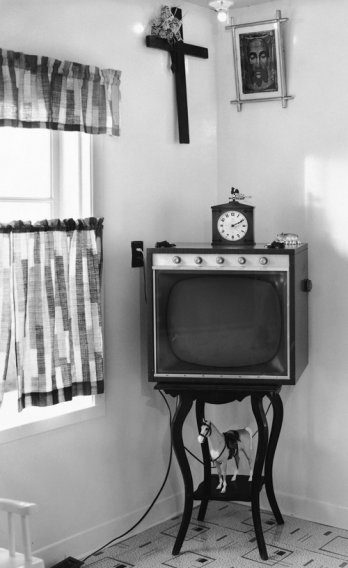 TV avec crucifix chez Léon Lajoie, Île aux Coudres, Charlevoix, sept. 1970_Musée canadien de la photographie contemporaine, Ottawa_Gabor Szilasi, 2009
cmcp.gallery.ca