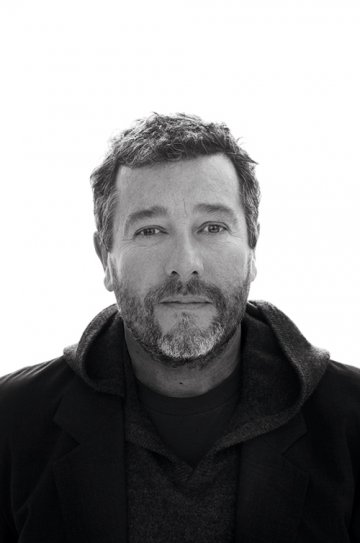 Philippe Starck
Design in time of crisis
Floornature, September 20, 2010
This interview was made by
www.floornature.com

Bio_Express"I like to open the doors to people's brain." - Philippe Starck

Whenever we discover an object or a place designed by Philippe Starck (born in 1949), we enter a world of wall-to-wall imagination, surprises and fabulous fantasy. For more than three decades, this unique and multifarious creator, designer and architect has been a part of our daily lives by creating unconventional objects, whose purpose is to be "good" before being beautiful, and iconic destinations that take the members of his "cultural tribe" out of themselves and, most importantly, towards something better.
His father, an inventor and aeronautic engineer, gave the young Philippe Starck the desire to create and the capacity to dream. Several years and several prototypes later, he was commissioned to work for President François Mitterrand. This was also when he began designing furniture for leading Italian and international firms. Philippe Starck designs his hotels and restaurants in the same way a director makes a film, developing scenarios that will lift people out of the everyday and into an imaginative and creative mental world. His hotels have become timeless icons and have added a new dimension to the global cityscape.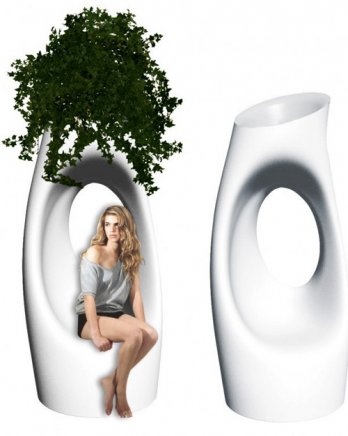 Philippe Starck_Holly All.
When Philippe Starck imagined "democratic design" - quality objects at lower prices so that more people can enjoy the best - he was a lone voice at a time when design was turned exclusively towards an elite. There are few areas of design he hasn't explored, from furniture to mail-order homes, motorbikes, mega-yachts, even artistic direction for space-travel projects, to name but a few. Philippe Starck believed in the power of green long before ecology became fashionable, out of respect for the planet's future. Early on, he imagined the Good Goods catalogue of non-products for non-consumers in tomorrow's moral market, and set up his own organic food company. More recently he developed the revolutionary concept of "democratic ecology" by creating affordable wind turbines for the home, soon to be followed by solar-powered boats and hydrogen cars.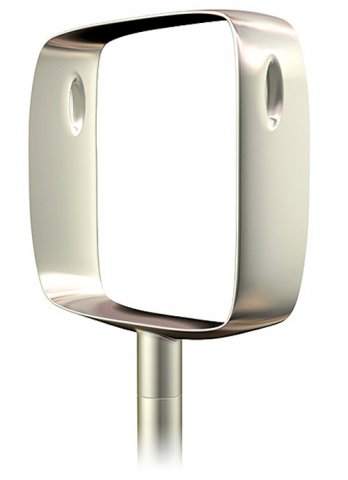 Philippe Starck_Eolienne.
Philippe Starck is a tireless and rebellious citizen of the world who considers it his duty to share his ethical and subversive vision of a fairer world. He stays tuned in to our dreams, desires and needs - sometimes before we get there ourselves - by making his work a political and civic act which he accomplishes with love, poetry and humour.

Let talk Mr. Starck…G.T.: Mr Starck the first question is about design in time of crisis.Philippe Starck:
All my life for me it was clear that capitalism is not the right system and for the first time we see it clearly and all people start to say, "Oh my God, probably capitalism doesn't work." We know that. We know that. That's why for me I am very sad for the victims of the crisis, but I am so happy to hope that perhaps we shall ask ourserlves questions about capitalism. For years I have been waiting for somebody in the political landscape who will say, "You know perhaps it's time to reinvent a political party or a movement based on sharing. I don't hear that; that's why I expect these next days, next months, to see somewhere somebody say, "Ok, we shall share, now we shall invent a new structure for sharing." That for me is the most important thing.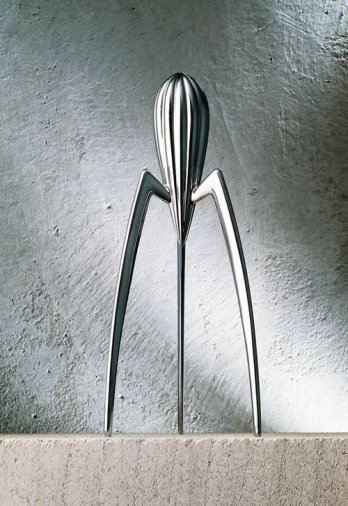 Philippe Starck_Juicy Salif
The crisis is a terrible thing; the crisis is the right time to go a little higher, to stop the television, to not read magazine for five minutes, and to say, "Ok, perhaps we have the incredible opportunity to reinvent this society." That is two big things for me. Now, for the crisis... I am not a banker, thankfully. I am very happy not to be a banker. That's why design does not have real power. What I invented thirty years ago, the democratic design, was in advance an answer to the crisis because in thirty years I have tried, and I think I have finally succeeded, to raise the quality of the product, to decrease the price, and to make all these products very easy to find and easy to use.
Today, if you compare what was a chair twenty years ago, the quality of a chair was lower and the price was so much higher. Now if you compare something like that, which is unbreakable, which is comfortable, stackable and at the right price - which could perhaps be a bit lower. But we shall see that now, theoretically, it is possible but it will be not made for a terrible thing which will arrive, if you want we can speak about that; it is a next crisis. The next crisis for me ... (ok this one I tell you; I am not a banker); the next is more important for me, like [as] a human being, like [as] a designer and like [as] somebody who has tried so much to help people to have a better life. The next crisis will be in thirty years, when it will be the end of oil. When we shall have no more oil, we shall have no more gas for our cars. Perfect! I hate cars. That means I don't care that we shall have no more gas to put in your cars. We shall have electricity, hydrogen, cold fusion and things like that. But no more oil means no more plastic and today nobody is speaking about what will be the post-plastic society. Because we have all forgotten that 80% 90% of our comfort, our necessities, comes from plastic. If billions of people today have minimal comfort it is because plastic exists.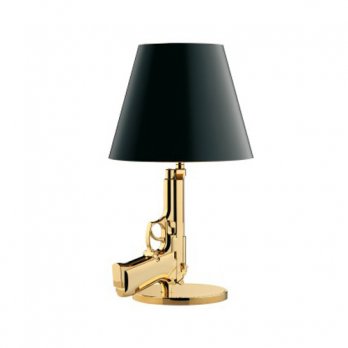 Philippe Starck/Bedside gun
G.T.: And what about recycling?Philippe Starck:
Some stupid people will say, "Oh, no problem." Recycling? No, recycling is absolutely not the answer. Recycling is a fake good idea, a fake concept invented I think by very cynical marketing people twenty years ago to finally give an opportunity to continue to produce and to give the opportunity to people to continue to consume and overconsume. Because, I say, "You can continue to overconsume, no problem: we shall recycle all your shit." It is not true. Recycling, first, is very costly in energy and recycling produces shit. You cannot make a chair like that today in recycled plastic. That means it is a fake idea. Some other people, more fashionable, will say that we shall use bio-plastic. Bio-plastic means that we shall kill billions of hectares of trees, of fields where people make some things they can eat, just to put, to make corn, or I don't know what, to make gas to [for] our big SUV 4X4 cars. It's an obscenity. We have to refuse bio-gas. We have to refuse like designers bio-plastic. All bio-materials are a crime against humanity.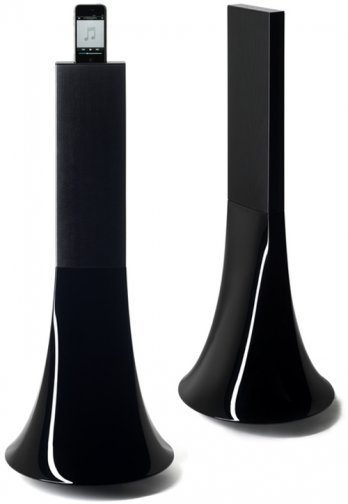 Philippe Starck_speakers Zikmu.
G.T.: One question about the new materials' shape and concepts.Philippe Starck:
The duty of a producer of ideas like me is to always have a very far vision first on our mutation - from the amoeba [that] we were, to the super-monkey we are, to the I don't-know-what we shall be in four billion years when the sun will implode. We have a duty to understand that. If we don't understand the mutation we can't understand this big picture and we cannot create the right product to help the quality and the speed of mutation. That's why we have also to be coherent with the mutation. We have to understand very long time before [much sooner] what are the next technologies. I follow, because sadly I am not a scientist. I am obliged to observe and follow all the technologies. There are some I have been observing for forty years; some of these things which started to arrive, that will arrive now on the market. I shall not speak about all these next miracles but just to give you an image of the finality of materiality, there is (there is even no name), imagine you have something completely soft, I don't know what, a sort of mold in your hand like that, you put it on the table and you think, you do nothing else but think: 'I need a plate to eat,' and you see a bup...bup..., and that makes a plate. You use it like plate and then "finished!", bup...bup..that comes back something like that.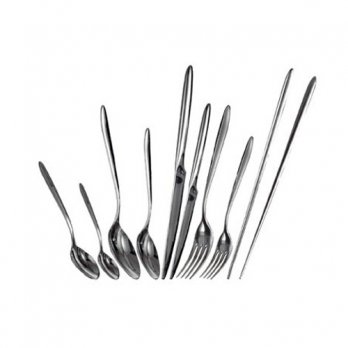 Philippe Starck_Miamiam cutlery
This is the material you can order by the power of your brain. It's not a joke, it's not a dream; both exist. They are laboratory pieces, but they exist. The order what you need by the brain exists since more than twenty years, almost thirty years. The memory, I don't know what, starts to exist since ten years. That means there are products which will be on the market, for the first one, in ten years, the second one, in less than twenty years. If you take the example of the computer - everybody has a computer - the first computer was very weak; it was a building. The second one was weak and it was a room. The third was a big armoire [and] after it was a big suitcase. Two years ago it was a briefcase, now it is an envelope, like the Apple, some now are big like a credit card, and [in the] next ten years that will be under the skin.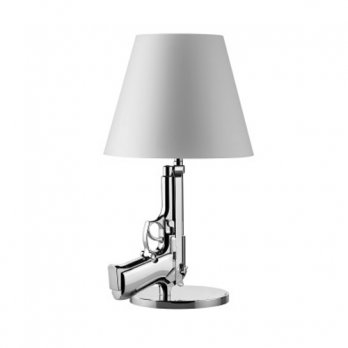 Philippe Starck/Bedside gun.
G.T.: And designers, will they disappear?
Philippe Starck:
That means there is no more design because we are today in a design fair. There is no more design because there is no more object; it's a dematerialization strategy. The next designer is not me; it's your coach, your gym teacher, it's your dietician. That's why in Alias we present today the new collection called Home Gym Office. It is how in artistic, aesthetic easy way, because the next product, the next design, is your body.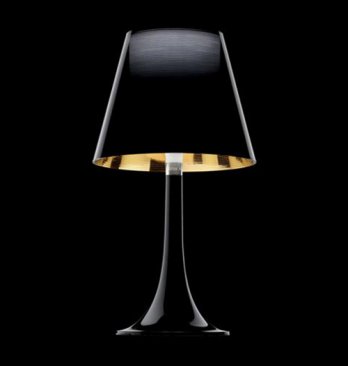 Philippe Starck/_Miss-K-00
G.T.: So, what's the future of your job?Philippe Starck:
My profession is...first we must know what exactly is this profession. Today I am not sure of what it is because there are some designers who are just the help of marketing to sell more. It means there are some soldiers who follow the very old and obsolete idea of Raymond Loewy, who said in the fifties in [the] US, the ugly is a bad sell ("Le laid se vend mal") and these people just help to make more sexy products that people buy more, produce more and things like that. That is called venality and it is very cynical and completely obsolete. After, you have designers who think they are artists; that means they just design art for other designers. Nobody understands what they do. After, there is now the new generation of designers who are ashamed to be designers; they are ashamed to design a chair; they want really to be artists, they make one piece at one million dollars for one person. I don't know if it is coherent with the crisis also. I don't know if it is really honest and very elegant because I think that the only modern elegance is sharing good ideas. If you haven't a good idea you shut up but if you think you have a good one, you have the duty to share it. After, you have designers like me and, I hope, older than me and better than me who think they have the duty to answer clearly to the real questions, the real needs, the real urgencies.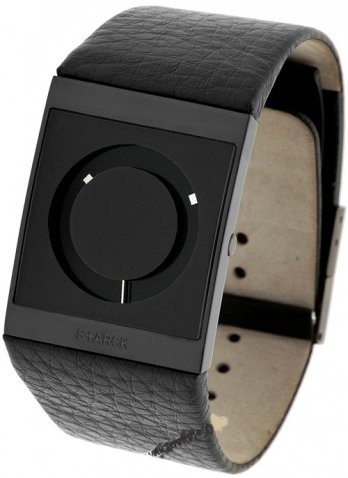 Philippe Starck_PH5001
Designers that bring, like me, always a sort of political action - I think that's why we are here today - which brings some direction, like what we presented in the last years, democratic ecology, that means affordable products, easy to find, easy to use, things to produce energy. The first will be on the shelves in September, with a primaire [major] company. After, [with] the next company we [are] creat[ing] now a high tech ecological prefab house with very low cost, to cut, to kill, the cost of housing, because today it is absolutely ridiculous that the second expense of your life must be a home, to be [stay] out of cold and out of rain. The first expense is food, ok, but the second is just to have a home, to have a roof. It's incredibly supid. Expecially today we have a big trend of architecture. Everybody makes buildings more and more exceptional, incredible and more and more costly. Nobody is thinking that during [at] this time there are more and more homeless. When you compare today what is the price of a house and what is the technology of a house - which is zero - to the price of a car and the technology of a car, I can tell you, I hate cars, but a car is incredibly more intelligent and more honest than a house today. If we apply the way of thinking of industry like for a car, like for a product like that, to housing, to home, to architecture, we can improve their price.
G.T.: What about contemporary needs?Philippe Starck:
The first attitude today in life, in society, is first to have some doubt of what we need, and to have some doubt before we shall buy. Maybe we buy things we don't need. But ok, imagine you need a sofa: your first duty now is to look if the design is stainless, for example if you have not to put it in the garbage in two years because it is out of trend and if the material is enough strong, first you to live all your life with and to hope that you will give that to your children and to your grandchildren. That means we bring all the incredibly revolutionary idea, which is so old and so obsolete, of transmission and heritage.
www.starck.com