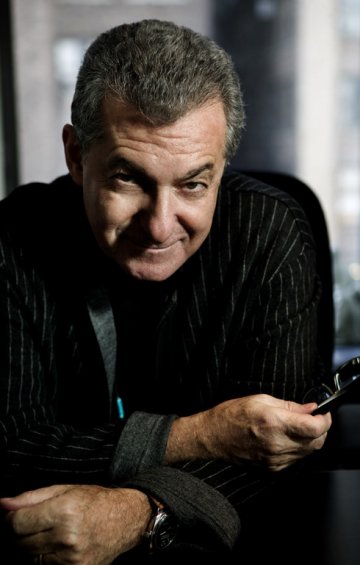 Adam D. Tihany
Hospitality urban design
Floornature, July 12, 2010
This interview was made by
www.floornature.com


Adam D. Tihany is widely regarded as the preeminent hospitality interior designer in the world (design industry) today.Bio_Express

His sophisticated, often groundbreaking, designs are the result, in part, of his unique global perspective. He was born in Transylvania in 1948, raised in Israel, and earned his architectural degree from the Politecnico di Milano (School of Architecture & Design) in Italy. He moved to New York City in 1976 to become design director of the firm Unigram, and established his own multidisciplinary design studio in 1978. Today, Tihany Design is a boutique design firm that encompasses all aspects of design and has distinguished itself by its cutting-edge approach to hospitality design. Tihany has conceived interiors for some 300 luxury restaurants - many for celebrated chefs - and boutique hotels. In New York City alone, Tihany has produced startling individualistic interiors for the new Per Se for chef Thomas Keller, Jean Georges, for Jean-Georges Vongerichten, and Le Cirque 2000 for Sirio Macchioni among many others. His own Remi restaurant has been a Manhattan favorite since 1987. Tihany has been a major force Las Vegas' development as an international gourmet capital. Since 1993, he has conceived seven restaurants there including Aureole at the Mandalay Bay (with the illustrious Wine Tower). His revolutionary new design for Cravings, the all-you-can-eat buffet at The Mirage, will set a new industry standard.
Bar restaurant design-lounge_Sketch
Recognized for his design versatility, Tihany has conceived innovative restaurant concepts in many of the world's most cosmopolitan cities and exclusive resorts. His more significant projects include the signature C restaurant for chef Charlie Trotter at the One&Only Palmilla resort in Cabo San Lucas, the restaurant and bar at the Mandarin Oriental Hyde Park in London, the Aleph hotel in Rome (winner of the 2003 European Hotel Design Award), the historic King David and the Dan Eilat hotels in his native Israel, and, for the Maccioni family, Le Cirque in Las Vegas and Mexico City, and Osteria del Circo in New York and Las Vegas.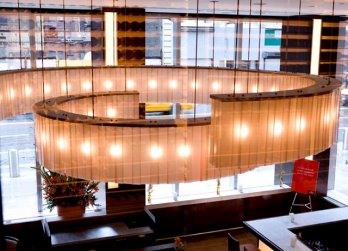 Charlie Palmers
Tihany's retail projects include Fred Leighton, the Madison Avenue jeweler. His first major architectural commission, Hangar One, a private aviation club in Scottsdale, Arizona, took off in 2003.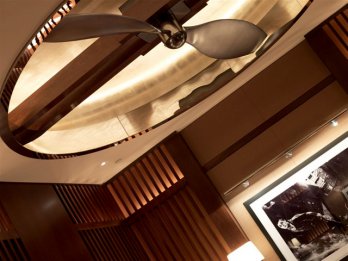 Joule, lobby
Over the years, Tihany has collaborated with select manufacturers, such as Christofle, Frette and McGuire, to create products of contemporary elegant design. He has curated and designed two major exhibits in conjunction with the Milan Furniture Fair: In April 2004, his interactive Dining Design explored the cultural phenomenon of restaurant design; his GrandHotelSalone in 2002 simulated a boutique hotel lobby. Tihany's outstanding contribution to the world of design has been recognized with numerous honors and awards including an Honorary Doctorate from the New York School of Interior Design. He was named Bon Appetit's Designer of the Year in 2001, and was inducted into the Interior Design Hall of Fame in 1991. His monograph, Tihany Design, was published by Monacelli Press in 1999. Tihany Style will be published by Mondadori Electa in May 2004.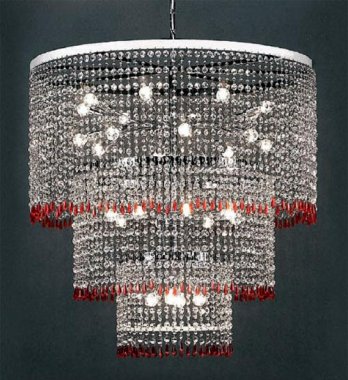 Chromed lamp with Swarovski spectra crystals
Hospitality (urban) design
Adam Tihany, world-renowned for his work as an architect in the field of hospitality design, about strategies and approaches to work in this specific sector, with a special focus on the identity of places.

A.F.: Mr. Tihany, could you tell me about the design lounge project?Adam D. Tihany:
Well the design lounge as you can see is a living space designed to be used, not to display. It's divided into three sections... umm... The first section, the orange one, is dedicated to the Veuve Cliquot brand and it constitutes of a bar and a restaurant actually. The orange is the brand color and it is meant to be lived in versus just observed so it's not just a visual communication, it's a full immersion communication. The second, the middle part is a communication center, which is pretty neutral. The third one, which is dedicated more to the zona Tortona is red because that's their logo and is divided into a library and an information center so it's a multipurpose space that, you know, sort of mingles between one another but it's very much for design to be used not just to be observed, which is quite a bit different than most of the exhibitions. So, you know, when you design something that is actually being used, different considerations versus, you know, don't touch just look so that's what we did here.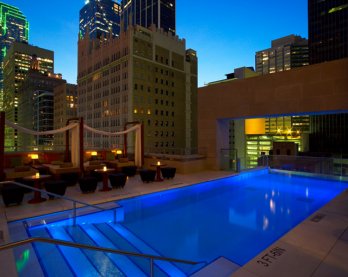 Joule Hotel, Dallas_Courtesy of Joule Hotel
A.F.: Which are the current trends of hospitality design? Can you give us your own definition of this activity?Adam D. Tihany:
Well hospitality design, as your viewers know, is everything that has to do with restaurants, hotels and, as we say in Italian, luoghi comuni. It's public spaces, spaces, again, being used, frequented by people. In the last, should I say... ten years, the emergence of design trends that started in hotels and restaurants has become a movement. I mean it is so powerful and ... the main - in my opinion, the real reason behind it is that restaurants and hotel lobbies are gathering places. They are choice places for people today - young, old, medium, large, small, extra large - to get together and meet. It's safe, you can eat, you can look at things, you can, you know, be in the center of something different. And as a result, people, the operators give a lot of importance to image because design is everything. Design today is a definition of yourself. I mean, show me where you go and I tell you who you are. So it's an important, you know, moment in the history of, you know, the luoghi, the places, are defined by design not just by service or by quality of food or by quality of experience. It's all about design and how design manages to draw, you know, people who are seeking a different experience. And because of that, it has become extremely popular. The other point, which is very simple and most people don't remember, is that there is a tremendous amount of fantastic design in the residential end of the profession; however, residences are not open to the public. People can't really see and experience it, you know, maybe they see some in a magazine.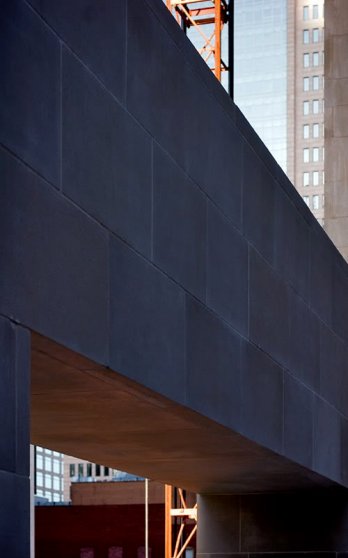 Joule during the renovation in Dallas lunar
But in a hotel lobby, in a restaurant you can actually go, sit, touch, feel, get some ideas, see some new things, you know. So, you know, it's extremely popular and I think it will continue being so because people are just insatiable about design; everybody wants design. I mean, you know, you look at simple objects of every day use: a regular phone and an iphone. Why would you buy an iphone? It does the same things as a regular phone. You buy it because it's design. Because suddenly if you own it you belong in a group of elite, of people that have good taste or that can make a difference because they're cool. It's a cool object, it's sexy, it's lovely. So, you know, as design enters into all aspects of life today, hospitality is the showcase. It's the showroom where you can actually experience it, not just look at pictures; you can actually live in the middle of it. So, I think that is a tendency or a trend that will continue because until somebody invents another public space where you can go; until maybe somebody designs a fantastic movie theatre that you don't sit in the dark and you can eat and smoke and talk and watch a movie and do all kinds of things. Maybe then people will move to the movie theater to see design but right now they go to hotels and restaurants.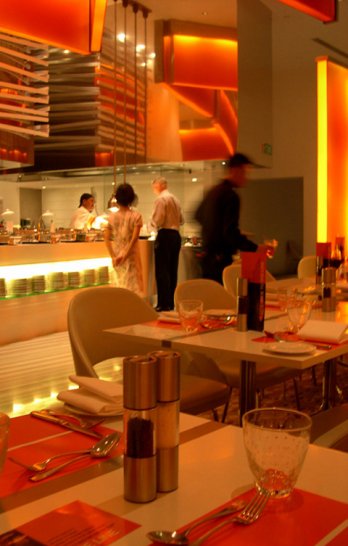 The Line restaurant
The environmental context and the materials of the project

A.F.: How have you applied materials to your current creation, even in an expressive way, especially on surfaces and floors?Adam D. Tihany:
Well, I have never been accused of being a minimalist. I mean I love materials, I love surfaces, I like things that are not manmade, that are, you know, made by nature, take them and make then look even more interesting. Combinations of surfaces: wood, glass, metal, stone, you know. I welcome all of this. In all my projects I like to use local materials, first of all, because what they do is anchor the project in a local reality, which makes it site-specific. So in Capetown, for example, we used local stones and local wood, obviously, local fabrics. All the fabrics and the furniture made in Capetown. All the furniture was made in Capetown, all the woodwork, everything. Luckily you work in Africa so they have beautiful wood. There is beautiful metalwork. There is beautiful craftsmanship and we love to put all of this in the project because that's what it calls for. I mean, you can see when people come in they say "Wow, this is great! Where is it made?" I say "It's made locally." They say "Fantastic, I never thought about this." So, I would say, doing a big project in Milano is a dream because you can use all kinds of fantastic materials. Everything comes from the area: the craftsmanship, the local stuff. So, I have no problem, you know, getting involved very intimately with the product and with the surface and with the material and with the artisans. I me, to me it's all part of one expression. The greatest projects are always a mix of, you know, artisans, craftsmen, great materials, great ideas put together in one blender and you mix the whole thing and you get something fantastic. So....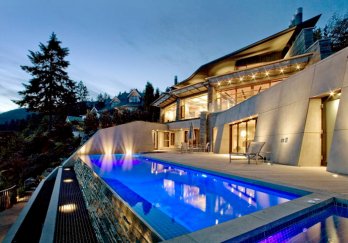 The Joule_Ocean front residence
A.F.: When you have to work on existing places like the Westin-Chosun in Seoul, how do you insert new elements?Adam D. Tihany:
Well, again, we did a lot of historical interiors. We worked in historical buildings. Some of them, for example, Le Cirque, in New York, you could not touch anything because the interior was a registered landmark. The interior... There are only three... four interiors in New York that are registered landmarks so the landmark permit doesn't give you permission to do anything. So you can restore the place, you know, you can fix the lighting, you can do it but you can't touch anything. So the challenges in these places vary. When you work in a landmark place like this, what we did was something quite, you know, interesting, that turned out to be from a disadvantage to an advantage because what we did is we did a removable interior. There was nothing attached to anything. Everything was freestanding, even the curtains in the window were with tension rods. There were no screws, nothing. It was all removable. Then, you know, I said to Maccioni, I said, listen, you know, the idea is actually right because the circus, you know this is a circus. It comes to town, put the tent, open, everything inside. When they leave they close the tent, they go, the piazza is still the same. So this is very appropriate for the concept of the restaurant. Other projects that are historical depends on, again, what's the permission how much can you do, how much you can't do. So it starts with the legal process and then we try to interfere by either creating something that is completely in contrast with the historical location or something that goes with it. It all depends. So, we are flexible as much as the program is flexible.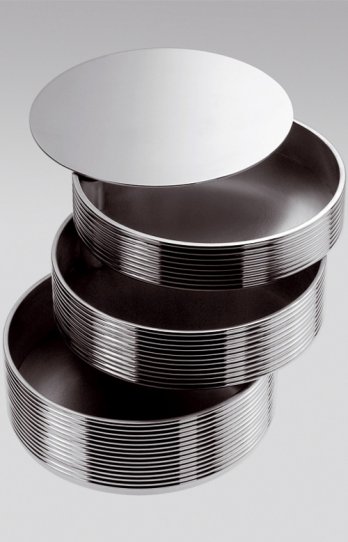 Tihany Design
Designing for the contract

A.F.: Which are the positive and the negative aspects of designing for the contract?Adam D. Tihany:
Well, the greatest positive aspect, in my opinion, is also the negative aspect. Is an issue of schedule and budget. Contract projects have a beginning and an end and that is the greatest thing for me. But it's also the most difficult one because you have to conform to a schedule and to a budget. The other great thing about contract work is that you don't have a housewife that drives you crazy. You have a client that drives you crazy but not ... A person that deals more from a business decision-making process versus an emotional. When you do a home for somebody, I mean, you know, it's all about emotion. When you do a contract project it's all about schedule and budget. So it's two different worlds completely.
A.F.: Your projects: what is the relationship between architectural space and interior space?Adam D. Tihany:
It's one and the same. It's always one and the same. I mean we.... My background is architecture so I can't distinguish between interior and architectural space. The interior envelope is architecture. When we get involved in big hotel projects we usually are called to participate very early, when the building is almost not designed and we discuss with he architect of the building our needs, how do we envision the public spaces of the hotel for example, what's size of the room, what kind of corridors we want. Because the customer actually experiences the interiors most of the time, not the exterior. The exterior you view but what you actually experience is the interior. And the relationship between the two, if it's clear from the beginning, it goes very smoothly, you know. The problem comes when you find an existing space and you have to try to carve, you know, a volume that will respond to the kind of experiences that you want to give to the customer. Sometimes that is difficult because, you know, the height of the window, the way the light comes in, the skylights, the proportion. That's always my main concern because if the box works, everything else works but if the box is not good we have a problem, you know.
www.tihanydesign.com