Kengo Kuma
Japenese contemporary architecture
Yoko Seki, June 22, 2006
Japan's contemporary, post-war architecture can be broken down by generation. Kengo Kuma is one of the leading architects of the fourth generation. The first generation was led by Kenzo Tange; the second included Fumihiko Maki, Arata Isozaki and Kisho Kurokawa; while the third generation honoured Toyo Ito, Itsuko Hasegawa, and Tadao Ando.
Kuma was born in 1954 and, after graduating from Tokyo University, continued his studies at Columbia University in New York. He established the Spatial Design Studio in 1990 and Kengo Kuma & Associates in 1999. Kuma has been honoured with numerous domestic and international awards, including the prestigious Architectural Institute of Japan Award in 1997; he is also a renowned author and speaker in the field of contemporary Japanese architectural theory.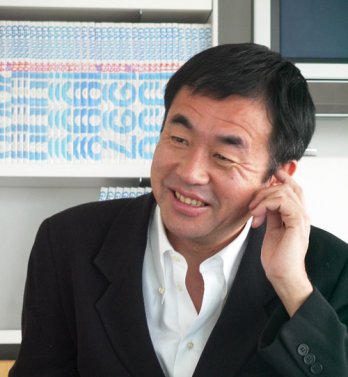 Kengo Kuma
After the collapse of Japan's "bubble economy", Kuma sought to rediscover traditional Japanese techniques and materials by working among old-time craftsmen throughout Japan. The experience profoundly influenced his architecture, especially in the use of locally produced materials. It also gave him a deeper respect for a location's dynamism and history, as well as a conviction that architecture should always fit into a continuum, rather than interrupt one.
"I want to blur the boundaries", says Kengo Kuma, "I want to erase architecture". Kuma feels that architecture should not appear as an isolated object but as an element of the environment. Buildings should be able to melt into the surrounding landscape. Architecture itself can break down boundaries: a bridge, for example, can serve, both literally and figuratively, as connector between beauty and genius, between nature and man. These ideas are explored further in one of his recent books, Defeated Architecture.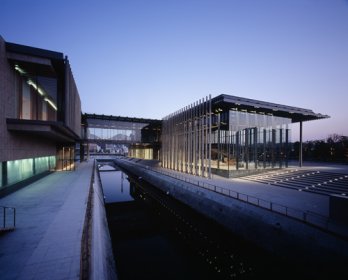 Nagasaki Prefecture Art Museum P. Daici Ano
This blurring of boundaries has become Kuma's trademark. The distinctions between interior and exterior, natural and manmade, tangible and conceptual, experience and experiment, tradition and technology – all are challenged. His Water/Glass villa (1995), in Atami, Shizuoka, is of particular interest: facing the Pacific Ocean, it appears to be floating somewhere between the sky and sea. The surface of the water reflects the light directly from the sun or through the glass; natural and electric lighting is mixed to give the transparent structure a spiritual aura.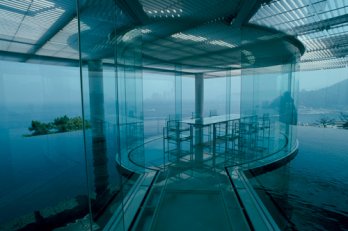 Water/Glass Villa P. Mitsumasa Fijitsuka
Keywords in Kuma's architectural vocabulary would include "detail", "void", and "material". His works are often described as having a light and delicate simplicity. Nonetheless, we should add that his detailing is both bold and distinct, and able to survive the elements. If a certain type of wood changes color and shape over time, Kuma will account for these predictable changes in his plans.
Kuma treats traditional materials with reverence, establishing an almost personal bond with the handcrafted cedar, bamboo, stone and paper he uses for most of his work. His Nagasaki Prefecture Art Museum (2005), for example, features stone louvers – an architectural nod to the site's history. Light can actually penetrate this sliced stonework, offering a classic example of his blurring technique, this time between clear and opaque. Many works are named after the featured materials such as Stone Museum, Bamboo House, Plastic House, and the Water/Glass villa.
Kuma's projects sometimes even expand the definition of architecture, such as a recent creation that changes shape according to temperature, where visitors can see and feel the metal as it morphs. Another experimental project is the T-room, a contemporary interpretation of the Japanese tea ceremony, which uses synthetic skin as a material, offering visitors a most unique sensation.
Kengo Kuma's flow of genius shows no signs of letting up. When asked about his dream project, he replied with a laugh, "I have thousands of them!"