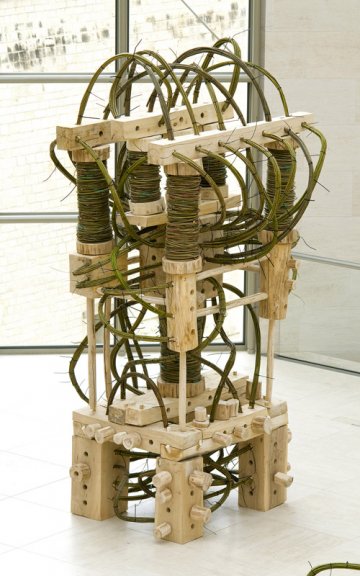 Nikolay Polissky
Large Hadron Collider
Valerio D'Alimonte, July 6, 2009
In 1990, Nikolay Polissky (born in Moscow in 1957), a ceramist by trade and predominantly a landscape painter, moved to the small abandoned village of Nikola-Lenivets (literally Nicholas the Lazy), in the region of Kaluga, approximately 200 kilometres from Moscow. He forged a close alliance with the villagers there and started working on artistic projects involving Land Art, architecture and walk-in sculptures. Over time various tower-like structures have come and gone, some taking on the Babylonian shapes of the ziggurats, others evoking medieval fortresses, another the famous broadcasting towers of Moscow, etc. These projects, carried out with natural materials sourced on the spot, integrate into the landscape and anchor themselves within a territory. Above all, they are characterised by a community dimension essential to the artist, both in their implementation and the use that they provide.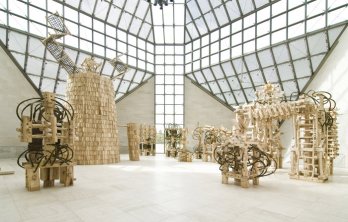 Nikolay Polissky/Large Hadron Collider, 2009_Andres Lejona
They are ephemeral works, evolving according to the seasons, as they decay and are recycled, even set alight to mark popular celebrations such as Mardi Gras. Beyond this transitory existence, however, they remain etched in the collective memory and embody a form of social utopia. Polissky's projects in this village have resulted not just in an increase in activity but also in other artists taking up residence. Furthermore, 2006 saw the creation of the international architecture festival ArchStoyanie, enabling this rural province to enjoy a cultural upswing.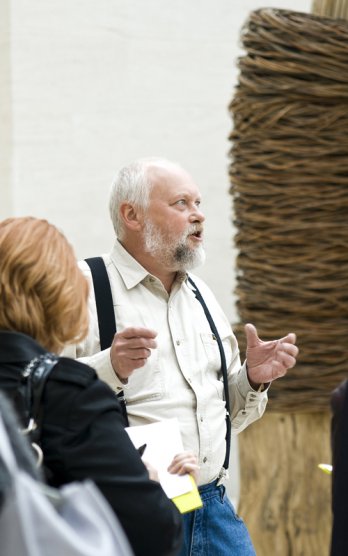 Nikolay Polissky_Andres Lejona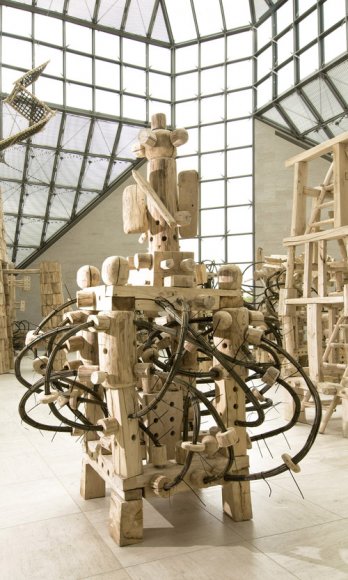 Nikolay Polissky/Large Hadron Collider, 2009_Andres Lejona
Polissky designed Large Hadron Collider on commission for
Mudam
. The work was freely inspired by the world's largest particle accelerator bearing the same name, which was inaugurated in 2008. With this series of monumental constructions in elm wood and rush, the artist occupies the Grand Hall as well as one of the former moats of the fortress on which the museum is built: various futuristic machines, reminiscent of power stations equipped with powerful generators from which thick bundles of cabling emerge, project over the visitor. The handcrafted workmanship and rustic features of these structures evoke ancient objects from a long tradition of popular art, while also calling to mind the Russian modernist and utopian architectures of the 20th century. Large Hadron Collider marks a reorientation in Polissky's approach while remaining a collective adventure firmly linked to Nikola- Lenivets, during which the artist and his team collected the wood and produced all the individual parts of the structure before reassembling it at the museum.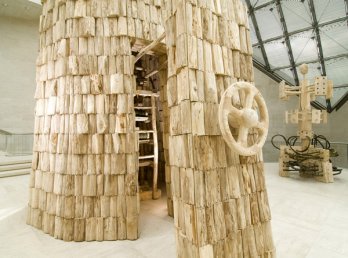 Nikolay Polissky/Large Hadron Collider, 2009_Andres Lejona
www.mudam.lu