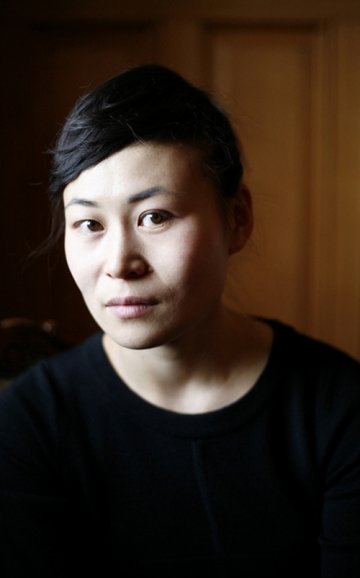 Ying Gao
Fashioning the intangible: the conceptual clothing
Zanoah Bia + Anne-Sophie Gauclin_Volume2, November 4, 2013
The UQAM Centre de Design is presenting an exhibition devoted to the clothing creations of Ying Gao, fashion designer and professor at UQAM's School of Design and École Supérieure de Mode. From November 14 to December 15, Montrealers will have the opportunity to discover Gao's fascinating works, which have been shown around the world. Mediating between the body and its physical and social environment, some of the pieces integrate different technologies and respond to their immediate surroundings.


Encompassing art, fashion and technology, the creations of this Montreal designer give substance to the immaterial through the interaction between matter and the imaginary,as curator Renee Baert notes, "between the tangibility of the body and the infinite expressivity of its embellishments."
Fashioning the intangible: the conceptual clothing of Ying Gao
This exhibition assembles the Montreal designer's latest creations, which combine the conceptual rigour of an artistic practice, advanced technical research and a critical dialogue with various fashion discourses.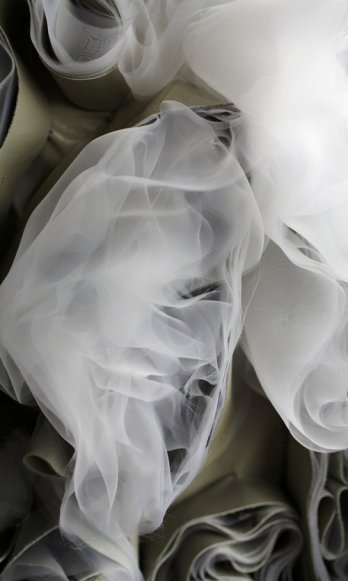 Ying Gao/Pod_Dominique Lafond
The intangible is a key component in both the creation and fabrication of Gao's works. Elements that can't be grasped, such as the air of a diaphanous fabric, are an integral part of the structure of her pieces. Other impalpable elements include work activated by a voice, a glance or a flash of light.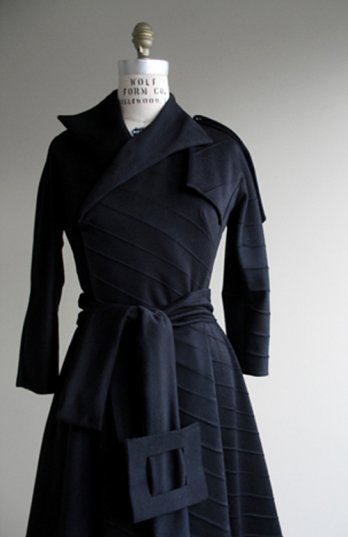 Mimique_Dominique Lafond
The Intangible is also manifested through the idea of mutation in the designers's work, in which clothes change and transform, notes the curator. These physical metamorphoses also are related to the innovative use of materials. Baert likens Gao's validation of the intangible to "a philosophical position, an alternative to the predominance of presence and visibility in Western traditions. The aesthetic grace of Gao's work – subtile, delicate and elegant – expands the definition of the ethereal to encompass beauty."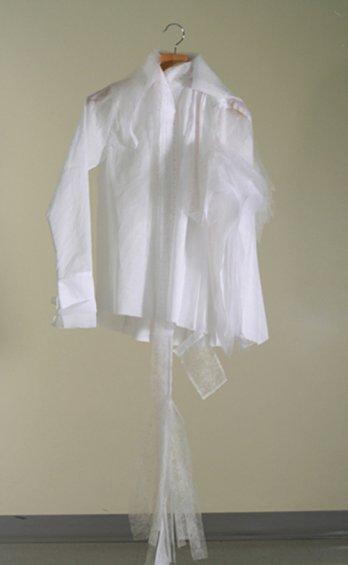 Michel Laforest
Creating "modulatable" garments
Ying Gao's project proposal is for a study trip involving a reflection on the function of apparel. Her original and rigorous creative approach challenges the notion of garments as we know them. Her work investigates the modular nature of clothing and its construction by observing transformations in urban spaces. The conceptual and esthetic framework of her designs will draw inspiration from the cities of Berlin and Nagoya, especially their impressive mass-transit systems. Ying Gao will be developing her project in collaboration with two Berlin-based designers as well as the Japanese industrial firm Amaike Textile Industry, inventor of the world's lightest fabric.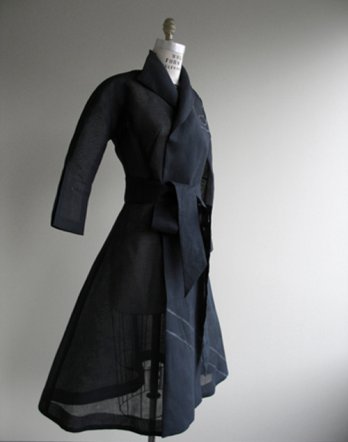 Ying Gao/Mimique_Dominique Lafond
The production phase of the project will extend over the next eight months. Ying Gao will present the outcomes of her research in Montréal by means of exhibitions, conferences, publications and teaching, and will also give presentations in Berlin and Nagoya.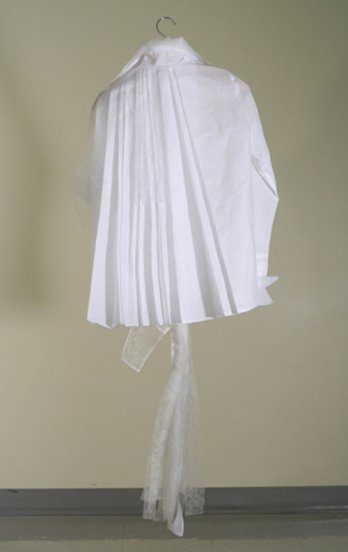 Michel Laforest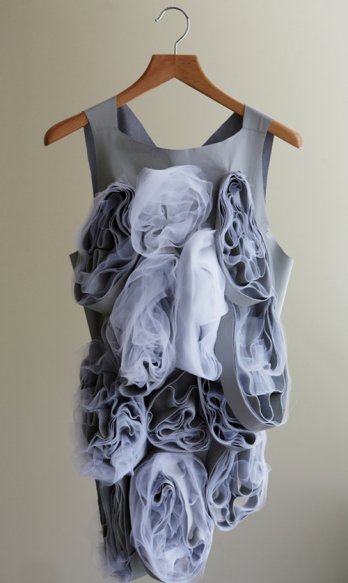 Ying Gao/Pod_Dominique Lafond
Twenty things you should know about Ying Gao...
EgoDesign: Who are you / How would you describe yourself?
Ying Gao:
Designer and professor at UQAM (Université du Québec à Montréal). - Ying Gao is Director of the Exercices de style design laboratory and a professor at UQÀM's Graduate School of Fashion as well as its School of Design. In 2002 and 2003, she completed a double project that included two clothing collections, "Pékin" and "Accidents de parcours," inspired by the traditional hutong architecture of Beijing as well as the city's newer urbanization. Returning to Montréal in September 2003, Ying Gao tackled the projects "Cardigan météorologue" (2005) and "Indice de l'indifférence" (2006), in which she investigated the relationships between individuals, their cities and their climatic and social environments. Ying Gao created two new projects, "Walking City" and "Living Pod," in 2007 and 2008. These involved two types of interactive garments, one inflatable and the other light-sensitive, developed as a tribute to the British architectural collective Archigram. -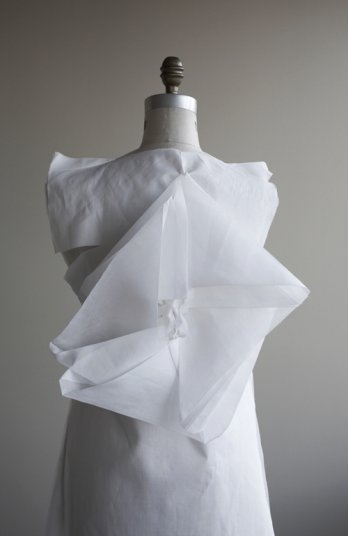 ing Gao/Walk_Dominique Lafond
E.D.: Tell us more about your avant-garde approach to fashion design, linking it to transformations taking place in cities?Y.G.:
For the
2009 Phyllis Lambert Design Montréal Grant
: This is the development of four items of modular clothing making referrence to two cities belonging to the UNESCO Cities of Design network, Berlin and Nagoya. In collaboration with designer Karl Latraverse, this project is a reflection of the garment-wearer in the non-places of over-modern metropolis`. It is the influence of over-modern architecture on contemporary clothing. According to the anthropologist Marc Augé (1992), over-modernism is producing "non-places" which explain the recent changes in the relationship of the individual with time and space. Non-places are defined by the facilities supporting the accelerated movement of people: airways, highways and large distribution areas. The conceptual references and aesthetic design of these garments will be inspired by two UNESCO Cities of Design, Berlin and Nagoya.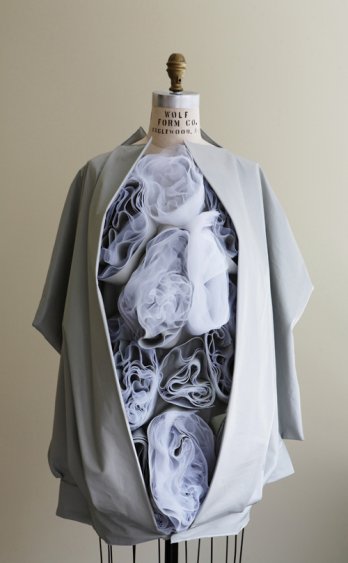 Ying Gao/Pod_Dominique Lafond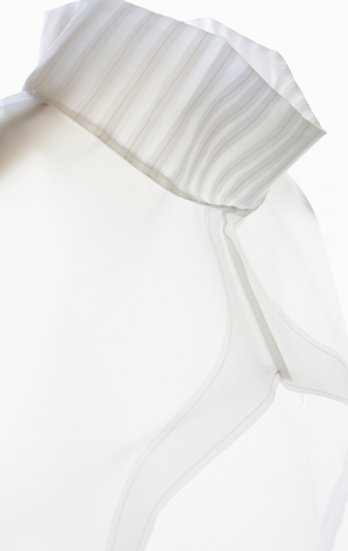 Ying Gao/Swiss_Dominique Lafond
E.D.: Is there a philosophy behind your work?Y.G.:
Sensitivity and rigor

E.D.: What do you consider your influences, what inspires you?
Y.G.:
Cinema, music, typography
E.D.: How would you explain "modulatable" garments? Y.G.:
A garment that reappropriates it`s volume after having been transposed into other forms / functions / applications.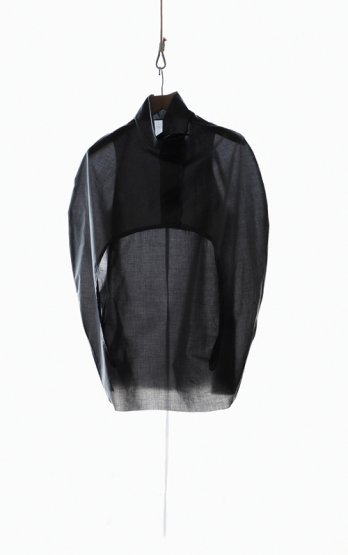 Ying Gao/Pod_Dominique Lafond
E.D.: Your favourite materials in design, fashion, architecture and why?Y.G.:
Film:
Le ballon rouge
(Albert Lamorisse),
Playtime
(Jacques Tati). Architecture:
Arab World Institute
(Jean Nouvel) for their wealth both conceptually and formally.
E.D.: Are you feel concerned by ecology?Y.G.:
Not really, because all too often in fashion it`s used everywhere. Environmentalism is hot right now but it possesses an outrageous lack of sincerity at the moment.
E.D.: And chic, what do you feel it is?Y.G.:
Precision.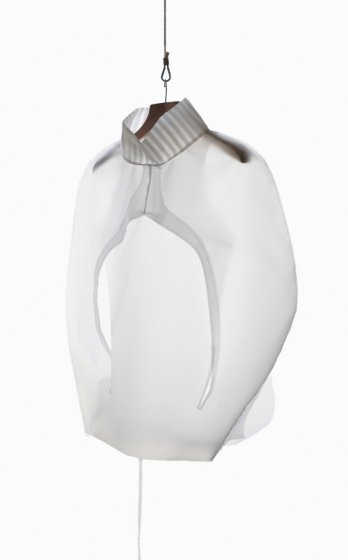 Ying Gao/Swiss_Dominique Lafond
E.D.: Which artist / architect / designer do you admire most?Y.G.:
Photographer, Raymond Depardon. Equally I like the work of Lanvin`s Albert Elbaz
E.D.: What are currently your favourite brands or objects, and why?
Y.G.:
The fridge and all of its contents

E.D.: Can you describe an evolution in your work from your first projects to the present day?Y.G.:
No, The evolution of my work isn`t huge, but it is mostly constant.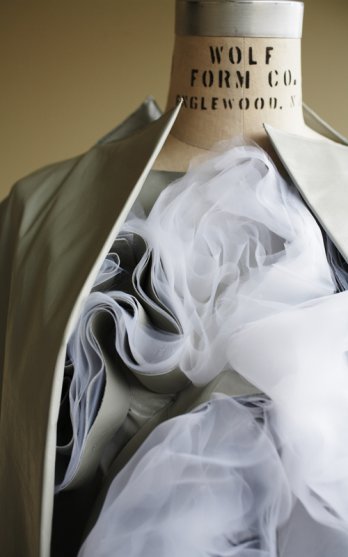 Ying Gao/Pod_Dominique Lafond
E.D.: Your dream project?Y.G.:
To have eternal life, and to die of exhaustion
E.D.: What is your favourite example of the use of sustainable fabrics/products in fashion design?
Y.G.: Do you really think that a product (any else) could be ecologic?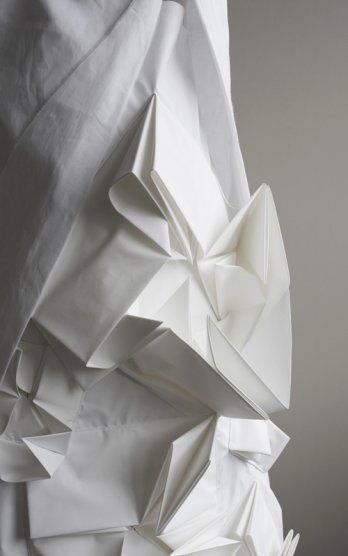 Ying Gao/Walk1_Dominique Lafond
E.D.: What design accessories, fashion items you would never have and why?Y.G.:
Jewelry because it`s too « supplimentary » on me.

E.D.: What your favourite items in fashion? Y.G.:
A grey tank top, brand : K.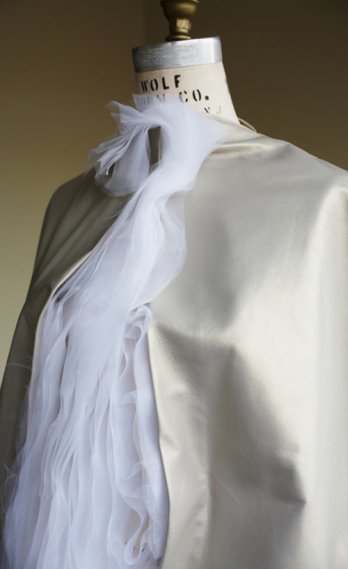 Ying Gao/Pod_Dominique Lafond
E.D.: What fashion design project would you never design and why?Y.G.:
I would never design : a wedding dress
E.D.: What you hope your current work will bring to people, humanity?Y.G.:
Encourage people to reflect on the importance of innovation.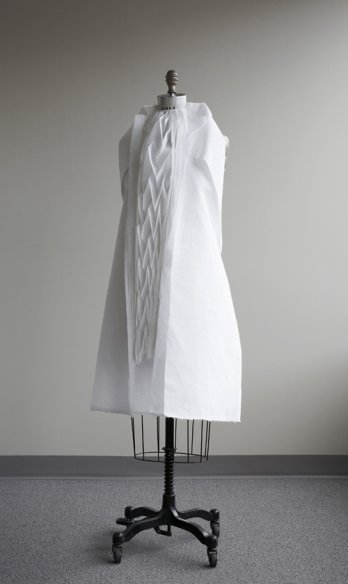 Ying Gao/Walk_Dominique Lafond
E.D.: What invention would best improve your life?
Y.G.:
A machine to dissuade people from complaining too much about nothing...

E.D.: Which city resembles you the most and why?Y.G.:
Montreal for it`s amazing music scene.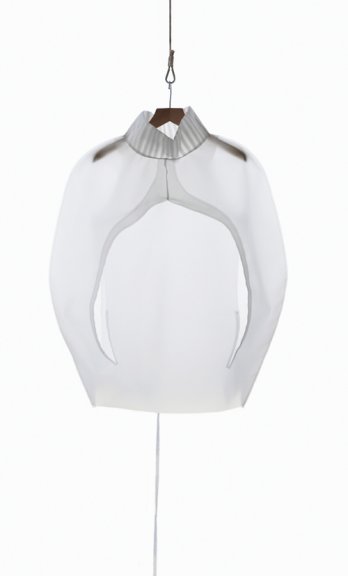 Ying Gao/Swiss_Dominique Lafond
E.D.: What couldn't you live without?
Y.G.:
Water
E.D.: Finally, which 21th-century architects/designers/artists would you invite to a dream dinner?Y.G.:
Lino (illustrator), Philippe Lamarre (Urbania), Dominique Lafond and Eve K. Tremblay (independent photographers), Raphaël Daudelin (Feed), Céline Studer (Plug.in); all friends and sometimes neighbors, people of talent-- I am sure they will want to eat at my place!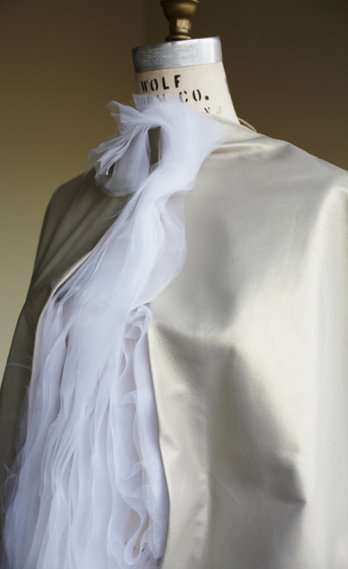 Ying Gao/Pod_Dominique Lafond.
Bio_Express Ying Gao
YingGao-4-DominiqueLafond-1Winner of the Phyllis Lambert Design Montréal Grant in 2009, her creations integrating technology and interactivity have been shown around the world and are the subject of numerous publications in journals and books on art and design. Her project Playtime is featured in the film The Capsule, directed by Athina Rachel Tsangari and screened at several major festivals, including the Sundance Film Festival (2013) and the Toronto International Film Festival (2012). Ying Gao has taught at UQAM's School of Design and École Supérieure de Mode since 2003.
yinggao.ca