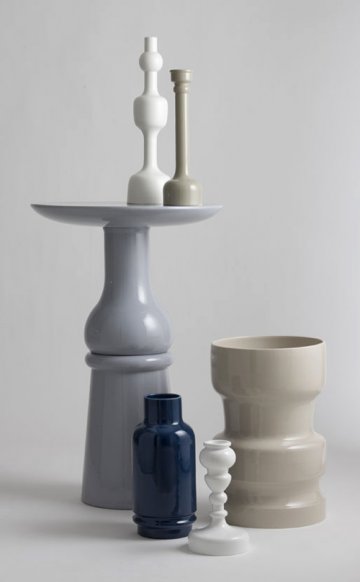 The Minimalism in Ornamentation
Making a comeback to bolster design and conquer new markets
Jean-Marc Barbier, June 3, 2019
Special Feature

After several decades during which minimalism has dominated design, ornamentation is finally coming out of its purgatory. This is the consequence of free, creative inspiration and has been helped by the development of new technologies that are continually pushing back the boundaries of what is possible. As a differentiating and value-adding factor, it is proving increasingly popular with consumers - and they are more and more aware of it. Last but not least, in a global market France is entirely justified in using its historic expertise in matters of ornamentation and the decorative arts.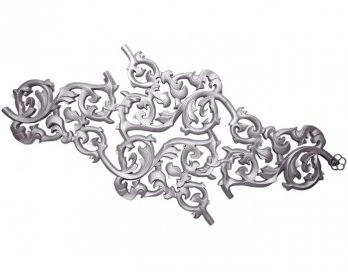 "Heat wave" radiator, design by Joris Laarman, Droog Design
Archaeologists see the advantages of
ornamentation
and rightly so, because the field of exploration is so vast. Excavations in Asia Minor have brought to light painted vases, some shaped like women with inlaid obsidian for eyes, that date back to between 5,500 and 5,000 B.C. This puts the geometrically shaped pottery of the Greeks from around 1,000 B.C. in the shade in terms of its historical importance! One thing is clear: every civilisation obviously feels the need to decorate objects in ways that change over time. Sculpted, painted and marquetry furniture is also, by its ornamentation, a means of expressing regional craftsmanship and of representing power. The great silver furniture from the courts of Europe on display at the Château de Versailles last year (November 2007 - March 2008) is a wonderful example of this. "Incidentally, it was during the 18
th
century, before the rise of workshops (which would only be seen to produce luxury goods today), that the profession emerged that would come to be known as ornamentalist in the 19
th
century," says Stéphane Laurent, a lecturer at Paris University 1 Panthéon-Sorbonne. "It would be more precise to talk about designers who were part of the King's private staff such as Berain or Meissonier; the former was famous for his grotesque creations, the latter as the inventor of the rocaille style. Yet it is as early as the 16
th
century and the rise of printing that we can see the emergence of a need to make compilations of models so that jewellery and other fashion accessories can be continually renewed."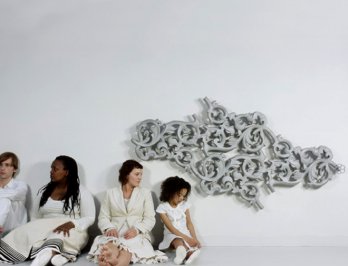 "Heat wave" radiator, design by Joris Laarman, Droog Design
In (stately) homes, one style followed on from another, much to the joy of cabinetmakers. First shells, then fluting and finally lion's paws; ornamentation set the tone. Nevertheless, Percier and Fontaine, who laid down the annals of the First Empire, began to worry from 1812 onwards that industry might start to make the ancient canon - their spearhead - a common occurrence by producing furniture in base materials and at a lower cost. The idea that the tastes of the few might crumble when confronted with those of the many had already encouraged Kant in his Critique of Judgment (1790) to define his principle that only a few selected people had the necessary refinement!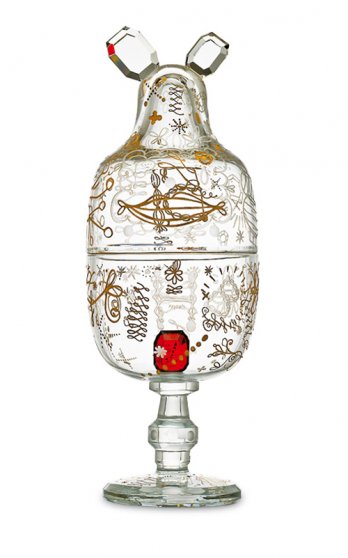 ed.BACCARAT design Jaime HAYON.
On the other side of the Atlantic, the Shakers, who had come to the New World in 1774, practised a form of Christian communism. They followed rigid moral precepts and banned any form of ornamentation from their furniture and household objects, which had to be practical above all else. Their pure aesthetics still have their disciples today, and they have even come to form a distinct movement within the decorative arts.
"Selma" chair, design by Front Designers
However, the 19
th
century witnessed a last-ditch struggle by ornamentation with the troubadour spirit and the Louis-XVI-Impératrice style as well as the naturalist energy of Art Nouveau. It then came under direct attack at the beginning of the 20
th
century, this time for purely practical and intellectual reasons. In 1905, a cabinetmaker from Dresden, Karl Schmidt, "asks his architect brother-in-law to design a chair for him that he might reproduce in his workshop, and whose style and shape should fit in with the constraints set by a machine". In his pamphlet Ornament and Crime (1909), the architect Adolf Loos takes a stand: "Ornamentation is no longer a natural product of our culture but a relic of the past or a sign of degeneration." Worse: "it has throughout the ages represented a squandering of human health and energy. Nowadays, it is also represents a squandering of raw materials." These are dark times for ornamentation, all the more so since "cubism and the first abstract painters will provide the inspiration for the modern architecture of, among others, Le Corbusier, Mies van der Rohe and Breuer," says Jocelyn de Noblet. "The magazine L'Esprit Nouveau in Paris, the Bauhause movement in Dessau, the De Stijl group in the Netherlands, and constructivism in the USSR were all fertile breeding grounds for a new architecture.
"Martin" secretary, Mobilier de Compagnie, design by Rachel and Benoît Convers
But it was at the C.I.A.M. (or International Congress of Modern Architecture, of which the first was held in 1928) that the movement really began to grow in cohesion. From 1925 onwards, the movement spread to all the decorative arts." There was also a social or even political dimension to this: "Abstraction was supposed to be democratic. Precisely because it belonged to no particular culture, a purely abstract design could speak to anyone and not only to those who were familiar with the conventions and symbols that were the basis of older styles." We're a long way from the elitism Kant dreamed of…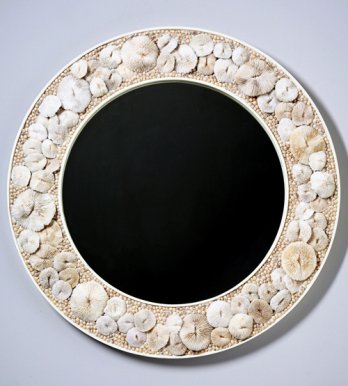 Thomas Boog_Design
Apart from intellectual reasons, the industrialisation of the following decades put an end to ornamentation. "All the more so since, in the 1960s and 1970s, the developing European production system is still very rigid, and a very smooth and clean formalism in design is well suited to product lines that are meant to fit into an ever more rationalised environment." Of course, in the 1920s and 1930s, Italian futurists such as Giacomo Balla and the Surrealists experimented with their various creative whims, but they were unable to influence the overall trend. Nor, in the Fifties, can "the comeback of architects, decorators and interior designers influenced by Ruhlmann, who presented furniture and decorations that were a continuation of the Art Deco style as it had looked in 1925 and which might be termed 'late modern'. […] They received orders from the national office in charge of furnishing official premises, as well as orders from shipbuilding companies and some hotels. […] But they no longer innovate and for the most part carry on reproducing the same things as before the war without looking for new clients."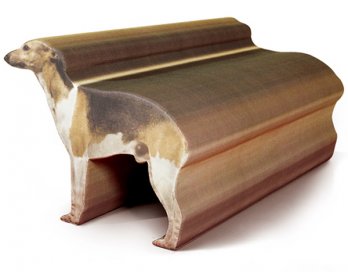 "Whippet Bench", design by Radi Designer
First banished, then rehabilitated, the popularity of ornamentation has swung back and forth like a pendulum with changes in designers' tastes, according to Gérard Laizé, the managing director of the VIA. "At the very beginning of industrial design, ornamentation - the quintessential decorative art - was disparaged by designers because it was intended for rich, private clients (who owned yachts and stayed in luxury hotels), used rare materials and took a huge amount of working time to make. Industrial design went along with the post-war social movement based on the principle that everything should be accessible to everyone. Its fundamental principles were mass production, standardisation through the application of Taylorism, and affordable prices. This led to ornamentation being judged 'decadent' because it was superfluous and therefore out of place for anyone who believed in economies of scale."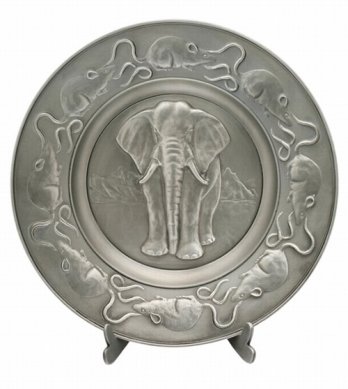 "t.e. 15" pewter plate, design by Studio Job
With the 1973 oil crisis, there were the first signs of an emerging post-modernism. This probably first became visible through a return to figurative painting and then by "design looking once more to art". Jean-Paul Aron spoke of the "museum-drunkenness". In 1980s Italy, Gaetano Pesce worked on the notion of diversified series. Memphis set out a "new vocabulary of shapes and colours in response to the stereotypical trivialisation of institutional design, which has been unable to renew itself."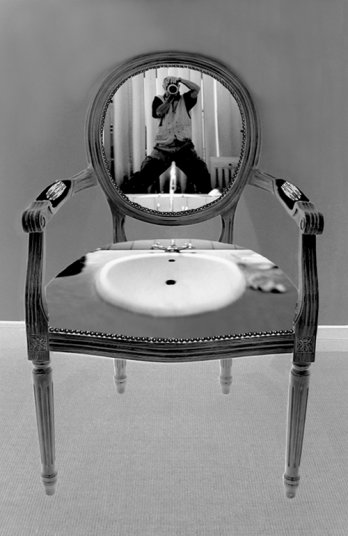 MauriceRENOMA Ateliers Philippe Coudray - SST
Design took a short time out… and then gradually began its emancipation "from the minimalism all around, from the black and white that is still dominant at the end of 1983 when we launched 'Waiting for the Barbarians' (www.barbares.com) to produce designs by the duo of Elisabeth Garouste and Mattia Bonetti," says Agnès Standish-Kentish. "We wanted just the opposite: to live out our dreams and whims by creating products that were oriented towards a very primitive form of modernism and that were later, at the end of the 1980s, ornamented as a variation on the 19th century. The economy, which has a great impact on people's tastes, was flourishing. The 1993 economic crisis sounded the death knell of this baroque spirit in favour of a climate of austerity that took no risks and emphasised ecru and plain wood." So what about now? "Items that are a little bit out of the ordinary and have at the same time been produced with great attention to detail - in France - have almost become a gesture in support of national heritage. This is particularly the case with Garouste and Bonetti, whose profile rose when they separated." And she adds with a smile: "Even Andrée Putman has added a baroque touch to the precious sobriety of her boxes we will be exhibiting in April (7-25 April 2009)."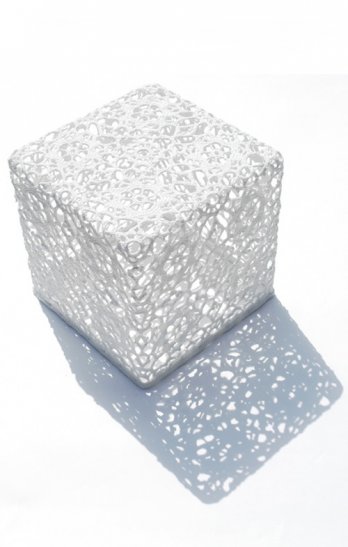 "Crochet Table" occasional table, design by Marcel Wanders, Moooi
"Neo-baroque design claims its place in the purest ornamentalist tradition for which France has always been a stage," Gérard Laizé continues. "In the 1980s, it offset the mainly minimalist design that was dominant because the industrial process constantly looked for gains in productivity. It has now become an advantage for customising small runs." Jean-Paul Jubineau, managing director of Arcasa (www.arcasa.com) has observed that "there has been a clear trend towards a very contemporary style of decoration from our suppliers for about a year now, even going as far as the inclusion of gold. Along with Philippe Starck's mirrors with silkscreen-printed frames, I'm also thinking of the Italian models by Glas Italia and Fiam. And the public likes them, especially at the very top end of the range."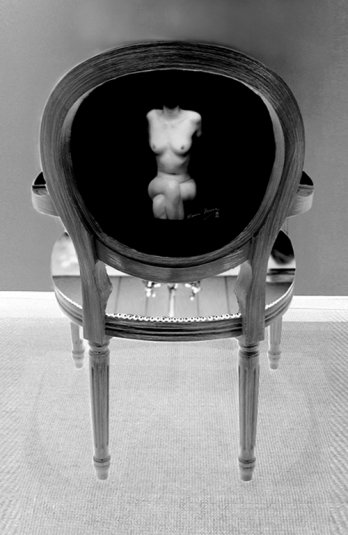 MauriceRENOMA Ateliers Philippe Coudray - SST
Even better, "yesterday's critics of ornamental details are now enthusiasts," Gérard Laizé confirms. "Even the Italians, who have mainly built their reputation for design on minimalist forms and plain finishes. There are, indeed, many reasons for this such as public demand for customisation, the need for manufacturers to stand out from the competition, and the use of new technologies that make it possible to create decorative effects at moderate cost."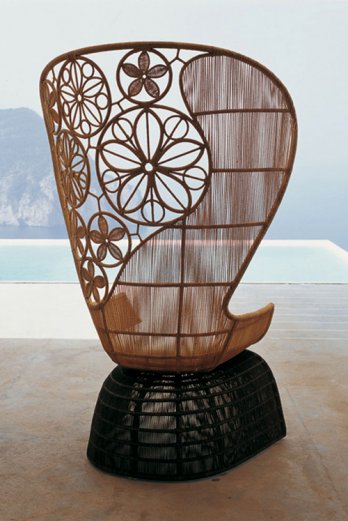 Fauteuil "Crinoline", création Patricia Urquiola.
This trend is confirmed by Forum Diffusion (www.forumdiffusion.fr) where François Basilien, the showroom manager, has noticed "a return to richer forms. This is a response to realism based on the cultural fusion between contemporary product lines and the furniture and accessories the customer has inherited. This is an important change that involves swapping the fashionable for products whose ornamentation functions as a link and gives the home more soul. Consumers are looking for good quality products that last. And although there are less orders, individually they are tending to cost more." We need to mull over Jean-Michel Franck's "luxury of nothing" in the words of François Mauriac as reported by Jean-Louis Gaillemin. At Serpette and Paul Bert (Saint-Ouen flea market), the traders show no hesitation in collectively promoting the extravagant 19
th
century cave and garden furniture. At the Bergé-Saint Laurent auction, Eileen Gray's Dragon Armchair, which has nothing minimalist about it, sold for 21.9 million euros, a record for a piece of 20
th
century decorative art. This goes to show how rare it is, but also of the current level of enthusiasm for this type of object.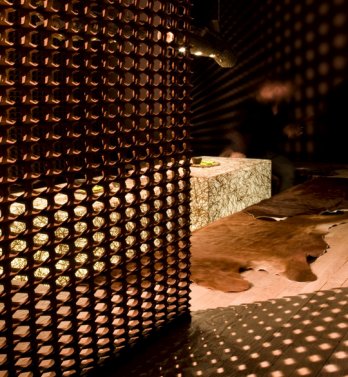 Store "Parametre", 3Form.
Some designers, like Olivier Gagnère (www.gagnere.net), Mathias (www.mathias-paris.net) and Hervé van der Straeten (www.vanderstraeten.fr) have followed their own thoughts and been pas-de-deuxing with ornamentation for years. "Against the current of the diktats of good taste but consistent with the narrative world in which I grew up midway between East and West," explains Jean Boggio. He is a trained jeweller and goldsmith and shows great optimism as he casts his luxuriant motifs in bronze or porcelain - "the best antidote in times of crisis". Thomas Boog has taken a similarly unusual path; for the last twenty years, he has been working shells and coral into "works that are always practical". Enthusiasts of his curios send orders from all over the world via Internet. "I'm sure they're not just following like sheep; you can't force people to spend their money on shells!"
Outline mirror, design by Piero Lissoni
These are free spirits in the same way Marcel Wanders is. François Basilien emphasises that "this new cultural fusion between the classical and the contemporary is to a great extent down to him." Jean-Louis Gaillemin goes further: "The new stars of the current international design shows, from Miami and Basle to Milan, are those who finished top of the class at the Eindhoven school […]. The dry humour of the Dutch is popular all over the world." Droog Design is designing more and more mischievous products where ornamentation is entirely, but unexpectedly, justified, such as the now famous radiator by Joris Laarman. Staying in the Netherlands, t.e. (Thomas Eyck) has initiated an approach with a double stage trigger. Several designers have been invited to come up with ideas that make use of both the know-how and the materials of local manufacturers. This exercise - which can only benefit the Made in Holland brand - allows everyone to give free rein to his or her imagination.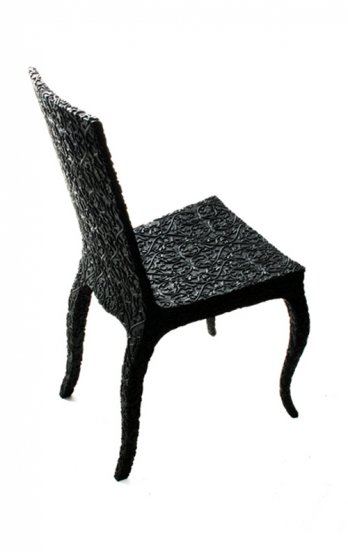 Carved Chair", création de Marcel Wanders
The increasing number of joint projects between high quality, traditional workshops and the fresh energy of outside projects, generally spectacular ones, also have the advantage of attracting new customers to these established brands. This can be either due to healthy curiosity or by an interest in investing in something original and rare. Ornamentation very naturally adds a special touch to a workshop's know-how and a designer's creativity. This is demonstrated by recent products by the Baccarat glassmakers with the Spanish designer Jaime Hayon (2009 VIA Label) or by the Portuguese porcelain manufacturer Vista Alegre with Sam Baron. As they attempt to make products that stand out from their competitors' (especially when these competitors are from abroad and can produce more cheaply), producers and manufacturers have everything to gain from giving designers carte blanche, as can be seen from the elegant patterns of Patricia Urquiola's furniture for B&B Italia Outdoor.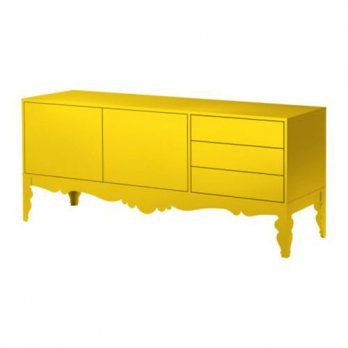 "Trollsta" sideboard, design by Hanna Brogård.
"This is all the more true because technological progress, in particular developments in graphic art (transfers from film, silkscreen printing, sublimation, laser and water-jet cutting) make it easier to produce decorative effects industrially, often aided by computer, making it possible to produce a range of variations at no extra cost," Gérard Laizé explains. The Versailles table (2008 VIA Label) brought out by Compagnie has a Ductal® concrete tabletop (Lafarge) that reproduces matt and gloss effects (inspired by an embroidered tablecloth) used a special mould. A whole generation of designers are working to design products that are affordable and/or offbeat. Now that they no longer have the pressure of minimalism bearing down on them, they have introduced decorative effects and ornamental details into their vocabulary to express their own personal style. "When we set up Ibride eight years ago, we wanted to move away from a formal Esperanto and a hyper-industrialisation to write our own story," say Rachel and Benoît Convers. They combine "the ornamental and the useful to give every object two uses, one when it's not being used and the other when it is." Their ancestral portrait trays are made from a laminate that has been digitally printed. Their Mobilier de Compagnie in solid laminate has been cut out using a digitally controlled device. "We wanted to give living forms a contemporary function." Radi Designers have also drawn inspiration from animals with their Whippet Bench whose "shape was generated by extruding the profile of the dog; the covering is printed by sublimation." The Vase-Vase bud vase uses "a trompe-l'oeil effect created by an optical film which duplicates the image of a bud vase placed inside a large glass cylinder".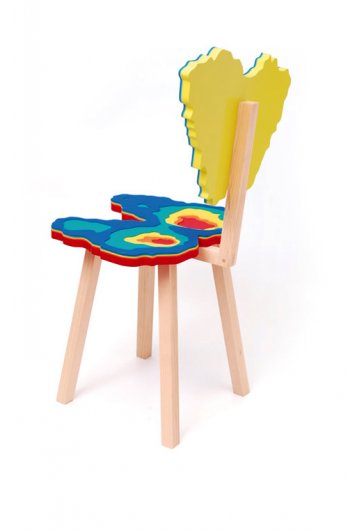 Valet de chambre "Size clone", collection Cloning, création 5©5 Designer
The material is rendered even more beautiful by technology. For Cinna, a simple shiny stainless steel tabletop by Martine Poulet has been decorated with a delicate matt design by laser. For SCE Editions, delicate floral patterns have been cut out of the white lacquered metal lights for the Solène collection (2008 VIA Label) designed by Valérie Boy using a laser. Arzu Firuz uses everyday materials such as vinyl and, more recently, (polypropylene) plain truck and building site tarpaulins in unexpected ways, cutting elegant patterns from his mixed French and Turkish heritage into them ; "they can be used to curtain off part of a room while still allowing a play of light." The sideboard from the Spider collection at Roche Bobois has interior lighting that highlights the decorations engraved on the solid Corian doors.
Hervé Matejewski ignores all conventions and simply follows his nose for a mixture, "questioning without shocking". He has re-coloured a toile-de-Jouy with fluorescent ink that makes it light up in black light. The delicate faces step out of the paintings by the mannerist painter François Clouet like flashes of paint on the immaculate plates (this technique is based on printing a film onto a surface before re-firing). It is a joyful concertinaing of two worlds… Renoma also uses digital printing for mythological themes with which it upholsters stylish chairs from the Street Art line by the Ateliers Philippe Coudray. And there are also Cristian Zuzunaga's textiles printed with a mosaic of pixels that cover the strict lines of Christophe Delcourt's chairs (www.chistophedelcourt.com and www.cristianzuzunaga.com).
"The elite brands set the fashion and the trends then work their way down level by level with the help of retailers until they reach mass production," says François Basilien. "Even the Scandinavians, who are accustomed to simplicity, are getting heavily into decorated styles!" Thus Ikea's latest models include stylised cutting and the Selma chair has narrative cushions recreating textile styles of four different periods.
This boom in decoration invites designers to free themselves of all constraints, and this is particularly the case of manufacturers who have already shown their skill and expertise. For Prouenat Ferronier, Nicolas Aubagnac has designed the Olympe collection, a fine tribute to the opulent, inventive lines of Poillerat. As decoration becomes accessible to the many, top-of-the-range customers intend to differentiate themselves by making innovative choices. Moissonnier moves back and forth between the centuries to come up with a hybrid creation that is "Merovingina-inspired Neo-Gothic and 1900 in the spirit of Carlo Bugatti"!
Anthropomorphic, geometric, plant-like, zoomorphic: French heritage contains an abundance of different models. It's just that art schools stopped giving classes in decorative composition in 1968," says Stéphane Laurent with regret. "It's paradoxical, because events like the National Heritage Days are popular with everyone. People fought against classical learning and the imitation of existing models under the pretext that they got in the way of one's own creativity. The fact that the ornamental tradition has not been handed down is detrimental to students' education, especially those who received few cultural references due to their family situation. They thus socially 'marked' in a manner that is likely to hinder them in their careers. Our ornamental past is a incredible asset to give a 'French touch to design'… It is a sign of our identity that we should promote and it has enormous commercial potential, especially on markets where ornamentation is important like the Middle East and emerging countries." At the margins of this extraordinary heritage, new technologies have extended the decorative repertoire almost infinitely. The Israelis Nir and Ada Simhon of On On Surface are conducting almost fundamental research into textiles and the effects of cutting, which they then apply using computer-controlled machines. The result is "the enormous satisfaction of creating decorations that exceed our imagination!"
The disgruntled might well fear that the creative process will come to be dominated by machines, but 3 Form's response is that the materials that are developed in this way are environmentally friendly and satisfy a demand for customisation. As for the 5.5 Designers collective, it seeks to "provide honest and affordable consumer alternatives with every one of our designs and constantly seek to turn the everyday into something special." The Cloning project is meant to be "a service to design objects that resemble each and every one of us by taking physical data directly from the subject's body and thereby determining the aesthetics of the object". This approach is made possible by the flexibility of digital prototyping technologies combined with the know-how of craftsmen who adjust their technique to fit each order. Rather than contributing to aesthetic standardisation, Cloning aims to put human nature back at the centre of matters." Who could possibly complain about that?
www.via.fr