Sophie Ristelhueber
Temporal + spatial + Images
J.D.P.M, March 9, 2009
Since the early 1980s, Sophie Ristelhueber has been building up a body of powerful yet restrained images that take an allusive approach to the complex realities of the contemporary world. She has extended this rigorous practice into other media, always working with great economy of means, making films and videos, sound pieces and installations. For exhibitions, she often enlarges her photographs to "tableau" or "painting" size, and sometimes sticks them directly on the wall like posters. She has published a dozen artist's books, which she designs (layout, size, choice of texts) with the same care as her exhibitions.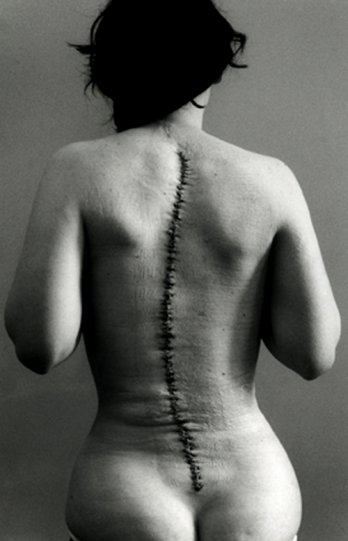 Sophie Ristelhueber Every One # 14, 1994
In
Fatigues
, made for what is her first solo exhibition in France, she films her own images and confirms the experimental dimension of her work. This exploration of her photography in its dialogue with the exhibition context continues throughout the Jeu de Paume as she mixes formats, media and series, making the most of the natural lighting and the views of the Tuileries gardens.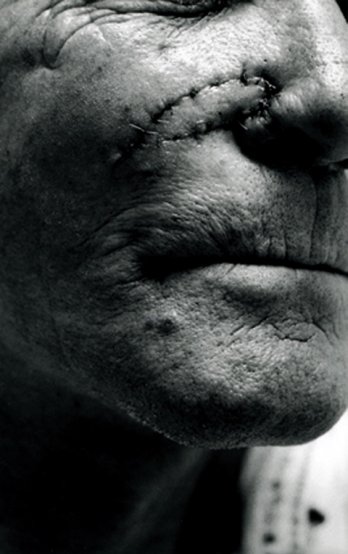 Sophie Ristelhueber Every One # 8
Born in Paris in 1949, Sophie Ristelhueber studied literature at the Sorbonne and École Pratique des Hautes Études in the early 1970s and went on to work in publishing and the press. Looking for a new direction, in 1979 she was commissioned by Belgian artist François Hers to write a text for his colour photographs of social housing, which he titled Intérieurs (1981). In the end, she did not write the text but instead made her own black-and-white photographs of the inhabitants. In 1980 she made a film, San Clemente, with Raymond Depardon, which was released in 1982. Also that year, she went out to Beirut and brought back a series of images that were radically different from the kind of photojournalism seen in the media.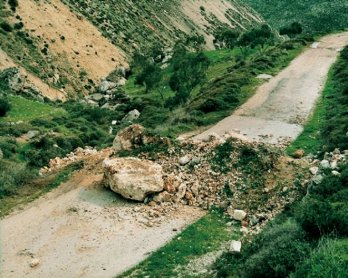 Sophie Ristelhueber/Sophie Ristelhueber_WB # 7, 2005
Photographic diary
Beyrouth, Photographies, 1984
Empty structures, façades shattered by bullets and shells, and no human presence: far from the pathos and spectacle of war, this series in black-and-white simply records effects and, by linking war ruins to ancient vestiges, makes the ravaged city seem timeless. In 1984 a book of these photographs, with a text by Lucretius from De Rerum Natura, was published by Hazan in Paris and Thames & Hudson in London, provoking strong reactions. This would be the case with several of her emblematic series, in which the medium does not evacuate but mediates the lived reality.

Vulaines, 1989
Chosen from set of even, these three diptychs each combine a recent colour photograph of the artist's family home, taken from a child's vantage point, with an enlarged detail of a black-and-white photograph from a family photograph album. The temporal, spatial, technical and formal differences between these images manifest and evoke both the interplay between different periods of time and the construction of memory.
Fait, 1992
During the 1991 Gulf War, Sophie Ristelhueber was intrigued by an aerial photograph of the Kuwaiti desert published in Time Magazine and decided to do a piece of work that would dispense with all notion of scale or difference between the macroscopic and the microscopic. In October that year she travelled over the Kuwaiti desert on foot and by plane, then spent several months selecting 71 images from her many photographs to go into a paperback book and an exhibition of large-format prints. These ephemeral traces of the war on the desert surface bring to mind scars on the body but also the abstraction of Dust Breeding by Man Ray and Marcel Duchamp, which is a seminal image for Ristelhueber.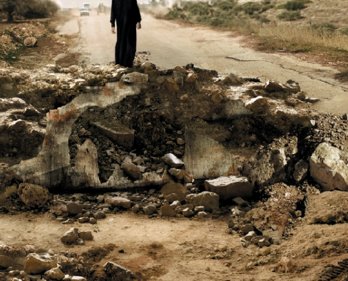 Sophie Ristelhueber/Sophie Ristelhueber, "Beyrouth, Photographies
Every One, # 8 et # 141994
In July 1991, Sophie Ristelhueber travelled to Yugoslavia with writer Jean Rolin. However, she did not come back with photographs of the fighting between Serbs and Croats; instead, two years later, and after much thought, she started work on Every One in a Parisian hospital. Also published in book form, these giant format photographs of bodies bearing their recent stitches, which seem to have no direct link with war, become an allegory.

L'air est à tout le monde I, 1997
"The air belongs to everyone" is a phrase from a game played by Ristelhueber as a child, which she has broken down into 19 small frames, each one containing a letter from the title. Also under this title, the artist has created three different installations [2000-2002], each one consisting of a large-format image installed in the corner of the exhibition space, accompanied by a sound recording made when the photograph was taken.
1999, 1999
To make this very humorous sound (sound, 1'12") piece, the artist asked an auctioneer in New York State to put the year 1999 up for sale in his customary singsong voice.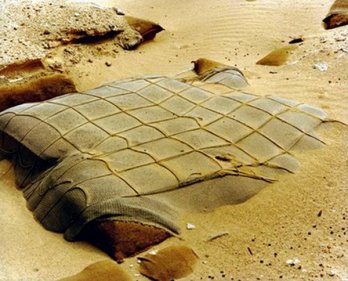 Sophie Ristelhueber/Sophie Ristelhueber Every One # 46, 1992
La Liste, 2000
In spring 2000, when asked by the Hôtel des Arts in Toulon to produce a work about the department of Var, Sophie Ristelhueber took 22 large-format colour photographs and stuck them directly on the walls of the space, playing on the relation between interior and exterior. She also asked actor Michel Piccoli to recite a list of over 2,000 department place names, as if this could somehow reassert the region's identity. Here, as they listen to these names, visitors can see one of those large format photos from La Liste around the picture window affording a view through the Tuileries all the way to the Louvre's Pavillon de Marsan.

Irak, 2001
In January 2000, during a trip to Iraq, cradle of Mesopotamian civilisation, Sophie Ristelhueber discovered a huge palm grove that had been smashed and charred. She decided that this was the vision she would bring back from her journey. It is presented here in triptych form.
WB, 2005
In winter 2003–04 Sophie Ristelhueber conceived another project dealing with the violent treatment of the earth, this time by observing all the different forms and material used to cut off roads in the West Bank (hence the initials of the title). The score of images here were chosen from the full series of 54.
Sophie Ristelhueber/_Portrait.
Eleven Blowups, 2006
As is often the case with Ristelhueber, the idea for this work was set in motion by a photograph, that of the car bomb killing of Rafic Hariri in Beirut on 14 February 2005. The presentation of this piece is adapted to its space. Here, 3 of the 11 images in the series are stuck directly onto the walls of the entrance hall in an "edge-to-edge" dialogue with the Tuileries gardens. Since it was impossible to travel to Iraq, Ristelhueber spent long hours at the Reuters agency in London studying rushes of videos by Iraqi cameramen showing car bombings in Iraq. The ground-level views of the huge craters caused by the blasts inspired these images which sometimes use bits of the landscapes she photographed when travelling in Iraq in 2000, or a mixture of elements from previous journeys.
Le Chardon, 2007
video [Beta digital], colour, 6', sound_When invited to make a work in the Vercors natural park, Ristelhueber chose to make a film. In this work three travelling shots closely explore the texture of the black rock in a gorge and that of a mended road. Over these images we hear Michel Piccoli reading an excerpt from a Tolstoy story, a recollection evoking nature's vitality and ability to survive the destruction wrought by man.
Fatigues, 2008
video [Beta digital], colour, 5'44'', sound_Made specially for this exhibition, this film closes the sequence. The title refers both to moral and physical state of fatigue and to the clothes worn by soldiers to do various chores. Ristelhueber filmed three photographs from earlier series which she blew up to a giant scale and stuck to the wall or floor. The camera movements and sound track highlight the questions that inform her approach, and enact her probing of the physical scale of territories, while including her own body in the process.
www.jeudepaume.org