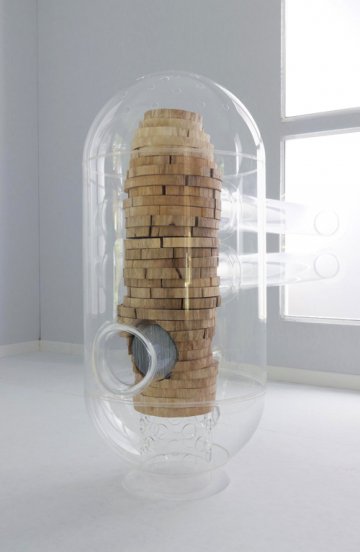 Design available for production
13 VIA Projects Assistance Grants
Yves Gradelet, February 16, 2009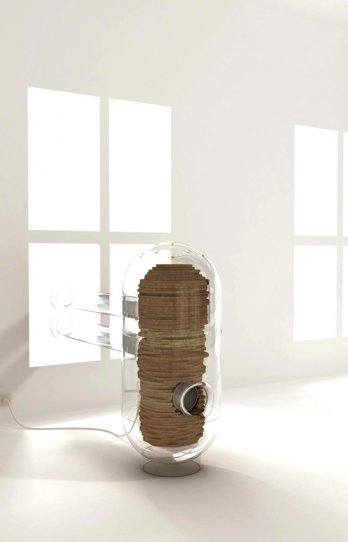 Philippe RAHM_Ventilation, 2009_A. Dupuis
In its role as a discoverer of young talent,
VIA
analyses all the projects that are spontaneously submitted by designers every year. A committee composed of well-known figures from industry, distribution, creation, education and the press reviews these projects and selects those that appear to be the most relevant and innovative in terms of design, technique, aesthetics and environmental. Financing for the construction of prototypes is then allotted. This enables direct dialogue between the designer and the manufacturer or producer, with an eye to finding a market opening. VIA project assistance thus provides a valuable means of expression for all young design school graduates. Apart from the promotion aspect, designers also benefit by the fact that
VIA
puts them in direct contact with manufacturers. At the same time,
VIA Project Assistance grants
give manufacturers, producers and distributors the chance to discover and meet the talented people who are designing the products of tomorrow.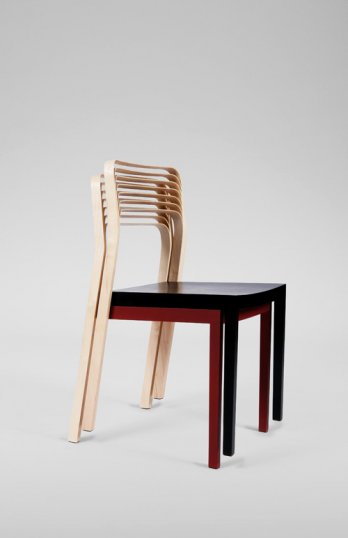 Samuel Accoceberry_Air Chair, 2009_Marie Flores
Samuel ACCOCEBERRY - "Air chair" stackable chairs
The technique for this piece relies on the close interlocking of seven curved wooden laths aseembled in decreasing height. The splay of the laths constitutes the back, their joining low down forms the rear base. Material is honed to the strict essential, but the rhythm of the laths creates a visual effect. Stacked Air Chairs save space and provide graphic and colourful animation. Wood, the recyclable material par excellence, is joined using biological glue.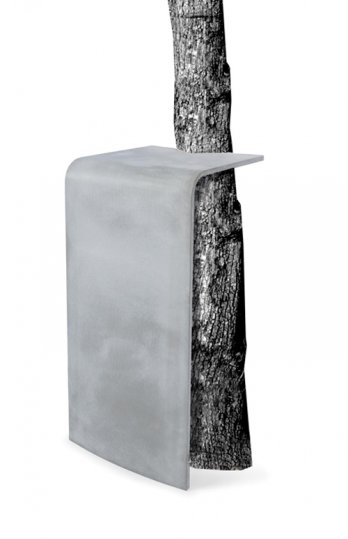 Blackmamouth_Arbre à table, 2009_Marie Flores
Blackmamouth (Mathieu GALARD, Cédric HABERT and Frédéric POISSON) "Arbre à table" outdoor furniture element
Simply moulded, the concrete shell, used as a mono-bloc, is fitted to the tree trunk, a natural and inseparable support for the console. The smooth horizontal top curves in at its centre so that liquids will run off and for ease of maintenance. The grainy texture of the vertical base invites lichens to come on board and complete insertion in the natural milieu. A utility surface for taking a break or sharing convivial moments, Arbre à table finds its place as street furniture or in a private garden. Elementary in its technique, its concrete can be poured in situ to eliminate ecological impact caused by transport.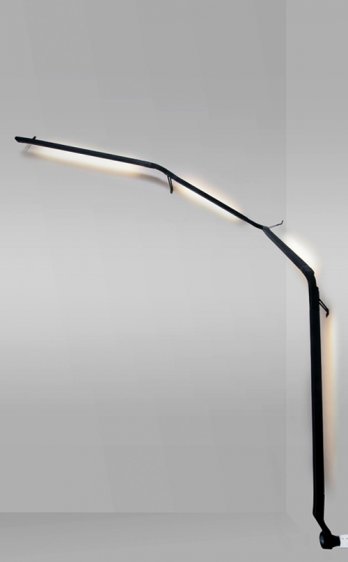 Joran BRIAND_Lampe grimpante, 2009_Marie Flores
Joran BRIAND - "Climbing lamp"
Sold in a kit, the principle of this strip lamp relies on fluo tubes assembled in 3D articulation. The user chooses the number of modules to be used (there are 8 in all) thus designing a luminous chain the graphics of which obey spatial constraints. Fixation points enable the lamp to hug walls and ceiling. Each strip can be adjusted to a given direction to ensure optimal quality in lighting according to needs. F luorescent technology was chosen for the good ratio if offers between long life, low consumption and cost of components.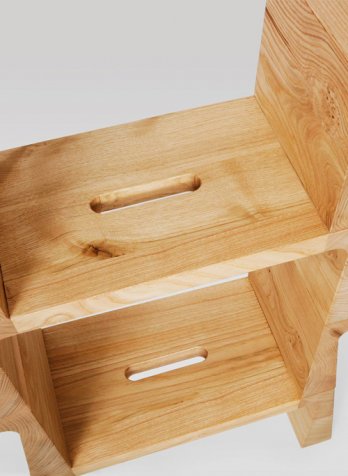 Itamar BURSTEIN_Bibliotheque unit3, 2009_Marie Flores
Itamar BURSTEIN - "Unit" bookshelf
An all-wood bookshelf, Unit is an evolutive solution that can be built up in phase with needs simply by buying and adding the necessary modules. Two pieces of wood assembled by dowel pins form the open-ended structure. The profile of these elements unfolds in continuous lines with no break. Various options for combinations offer decorative and functional freedom.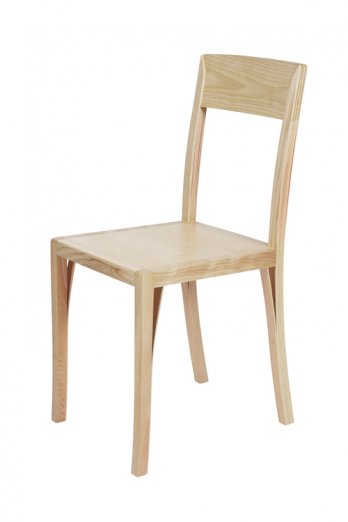 Salomé de FONTAINIEU & Godefroy de VIRIEU_Lamelle Decolle, 2009_Marie Flores
Salomé FONTAINIEU and Godefroy DE VIRIEU - "Lamellé décollé" chair
An unusual interpretation of the glulam technique, this unglued-lam offers controlled flexibility. Zones exempt from glue allow movement up to tension block point. This technique takes clever advantage of the technical properties of wood. The process contributes to aesthetics that are sophisticated and discreet.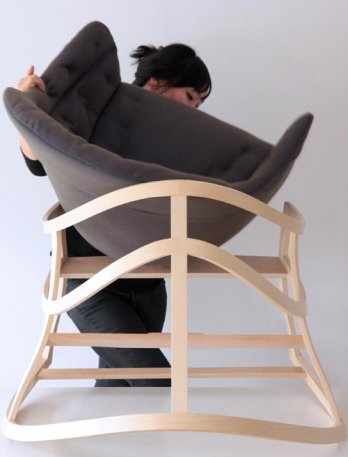 Constance GUISSET_Dancing Chair, 2009_Marie Flores
Constance GUISSET - "Dancing' chair" rocking chair
The graphic strip structure in wooden laths delimits an ample yet light volume over which fits an upholstered shell. Dancing Chair is a contemporary interpretation of the rocking chair, and part of its interest lies in its excellent workmanship.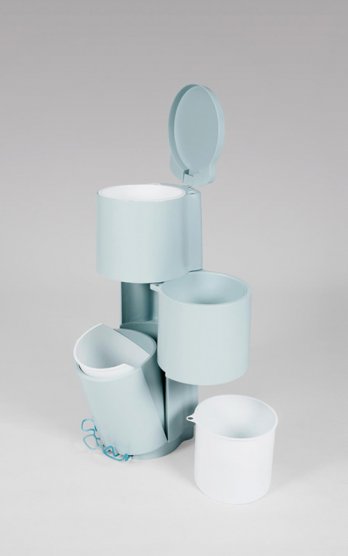 Constance GUISSET & Grégory CID_cid_tri3, 2009_Marie Flores
Constance GUISSET and Grégory CID - "Tri3" recycling bin
This waste disposal unit responds to daily needs for selective separation. The stacking of three distinct receptacles, each commanded by its own pedal push, limits encumbrance of floorspace. Two of the trays are offset from the central axis at different angles, the lower one for glass, the middle one for paper. Organic wastes go in at the top simply by lifting the hood. Controlled cinematic sequences developed from actual body movements during usage simplify a complex system.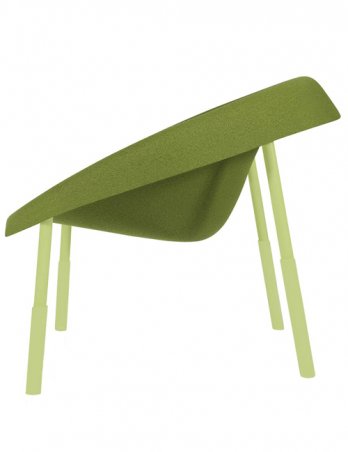 Bruno HOUSSIN_Sesta, 2009_Marie Flores
Bruno HOUSSIN - "Sesta" seat
The innovating principle of this seat lies in the simultaneous presence of a heat-moulded polyester shell covered by foam and fabric. The sandwiching of all three materials ensures solidity, thinness, liberty of shape, and comfort. The seamless textile cover makes the seat's line all the more fine and clear. Dissociable and stackable shell and structure facilitate transport and storage.
Philippe NIGRO_Twinchairs, 2009_Marie Flores
Philippe NIGRO - "Twin chair"
Based on the idea of two-in-one, these twin chairs remain functional even when stacked. The difficulty in putting them together lay in the juxtaposition of two materials that have distinct physical properties. Fitting the two chairs together means cutting down these materials to the absolute minimum while retaining mechanical resistance, which required knowhow in both joinery and metalwork. Mono-materials – wood and metal – ensure that Twin Chairs are easy to recycle.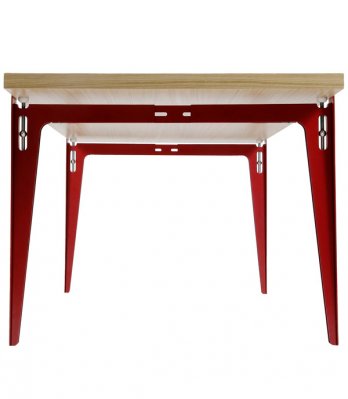 Philippe NIGRO_Pietement, 2009_Marie Flores
Philippe NIGRO - "Universal base"
This trestle-like solution for a multi-use base adapts to all types of plateaux, regardless of thickness, width, length and material. It brings together a clamp-type assembly system and a sliding principle that allows adjustment of width. For an extra-long top, three bases are used. The supports are made of folded and welded steel, thus bringing industrial workshop codes into habitat. They enable installations that are personalized, permanent or adaptable.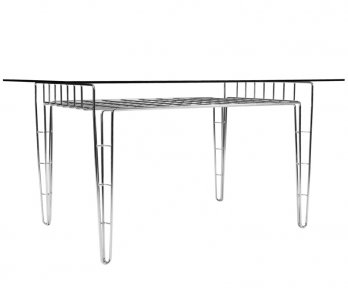 Antoine PHELOUZAT_Tablemesh, 2009_Marie Flores
Antoine PHELOUZAT - "Mesh" table
Mesh offers many functions: storage, meals, work. Its resolution relies on the same industrial technology as that used for building supermarket trolleys. Mesh transposes this technology in open-ended configurations suited for the home, going beyond the dimensions generally used for this fabrication process. The steel mesh is either coated with Epoxy paint or an electro-polished stainless steel finish, both solutions having no toxic chemical agents.
Renaud THIRY_Corniche, 2009_Marie Flores
Renaud THIRY - "Corniche" suspension
The components of this piece are made using the industrial process for extruded aluminium profiles. Renaud Thiry integrates these profiles to interior decoration as mouldings, reinterpreting their aesthetic codes. The decorative aspect is imparted by both profile and colour, which enter into dialogue with furnishings and architecture. Functionality is enhanced by including a fluorescent tube in each segment of Corniche. Feasibility of installation is studied before cutting the profile, after which the semi-finished product is mounted on site.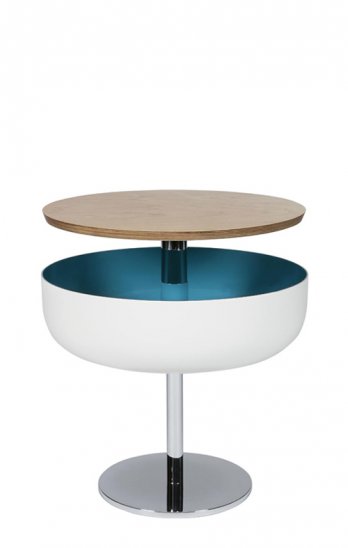 Marc VENOT_Pelican, 2009_Marie Flores
Marc VENOT - "Pélican" bedside unit
Marc Venot explores body movements and storage needs for everyday objects in bedsisde table contexts. A simple hand movement activates rotation of the receptacle on a central axis, and opens the compartment. Ditto for closing. The fixed plateau serves as hood and table top. Pelican is made of wood and chrome steel finish for exterior, with lacquer finish inside. The principle adapts in dimensions and extends to other uses.
www.via.fr