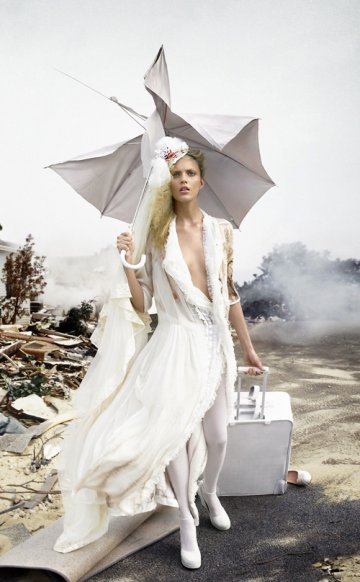 David LaChapelle
Retrospective
Gianni Mercurio + Fred Torres, February 9, 2009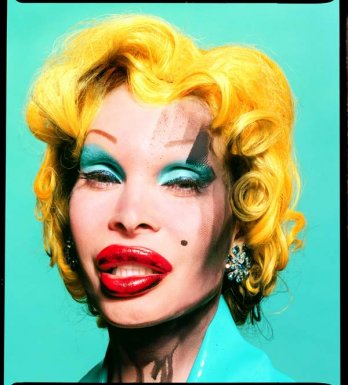 David Lachapelle/Amanda as Andy Warhols Marilyn_2002
This exhibition is the most comprehensive dedicated to the famous American photographer. Nearly 250 works are exhibited, including the first public presentation of LaChapelle's newest series of works. Inspired by Michelangelo's famous depiction of the flood on the ceiling of the Sistine Chapel, the cornerstone of the series is The Deluge; LaChapelle's contemporary interpretation of the Michelangelo's masterpiece of the same name. The premiere of the new series also includes 13 "Awakened" images and Museum, Statue and Cathedral. The body of the exhibition will include his most iconic works including world famous celebrity portraits and images from his work from the pages of renowned international publications. These works confirm a deep and strong emotional involvement of the artist regarding topics which always lead men to meditation: fear, death, the meaning of the existence itself, the presence of the divine and the idea of the sublime. With the ideas as his driving force, revisiting style and contents, he has become one of the most important interpreters of all time, and he creates images with an extraordinary evocative strength. The exhibition, arising from a deep critical study of LaChapelle's art, presents thirteen sections, which allow an in-depth comprehension of the artist's life and work.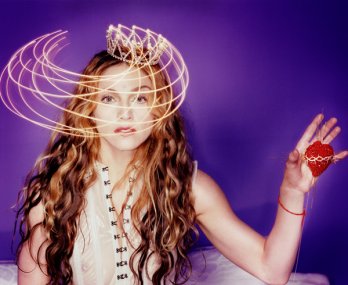 David Lachapelle/Madonna_Time Lapse Photograph_Spiritual_Value,1998
This kind of retrospective-exhibition is divided into parts about different themes. The most of his work is composed by provocative photos about our consumer society and our fixations with material things and the decline of traditional values. Into the exhibition you can find also music videos he has realized for famous performers as well as Gwen Stefani, Elthon John, Moby, Jennifer Lopez and commercial video (H&M). I like this artist because he has a similar vision of society of mine and he reproduces it very well into his works. He has everything to be considered an artist like Dalì. (Dalì, one of my favourite artist. In 2004 in Palazzo Grassi Venice, I saw a retrospective who celebrates the centenary of his birth. Masterpiece!)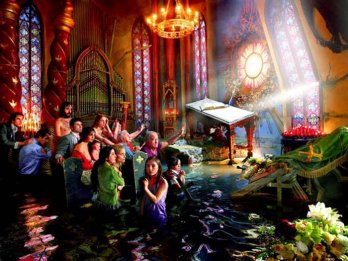 David Lachapelle/Cathedral_2007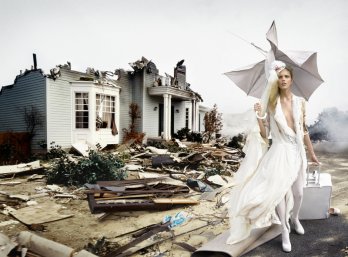 David Lachapelle/When the World Is Through_2005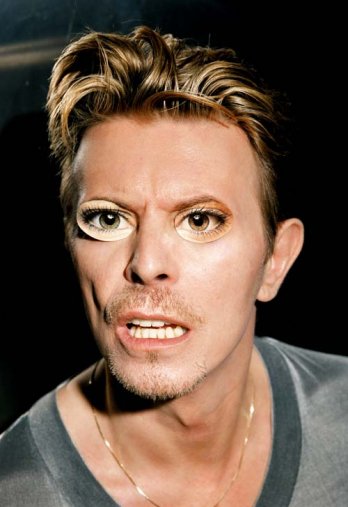 David Lachapelle/David Bowie_ Eyes that cannot see_1995
The exhibition is made possible by work of two excellent curators ; Gianni Mercurio has been the curator of some of the most important solo shows realized in Italy in the last years. A fine connois-seur of American Art, from the 60's to the contemporary, he was the curator of Andy Warhol Show, Keith Haring Show and the Jean-Michel Basquiat Show, a huge trilogy that took place at the Triennale Museum in Milan. In 1996 he founded and was the director of Chiostro del Bramante in Rome. Now Mercurio is the responsible of the exhibitions of the Carlo Bilotti Museum, where he presented the shows of Damien Hirst/Jenny Saville/ David Salle and Willem de Kooning. As a co-curator with Demetrio Paparoni, organized Eretica exhibition at the Galleria d'Arte Moderna in Palermo and Timer01 Intimacy at the Triennale Bovisa in Milan. Fred Torres co- curator has been an associate of David LaChapelle for fifteen years. Having started as the executive producer of LaChapelle's photo shoots, Torres is currently LaChapelle's art representative worldwide. He has been fundamental in developing exhibitions of LaChapelle's work at the Helmut Newton Foundation in Berlin; the Museum de Arte Latino Americano Buenos Aires and furthering the scope of LaChapelle's audience as an artist.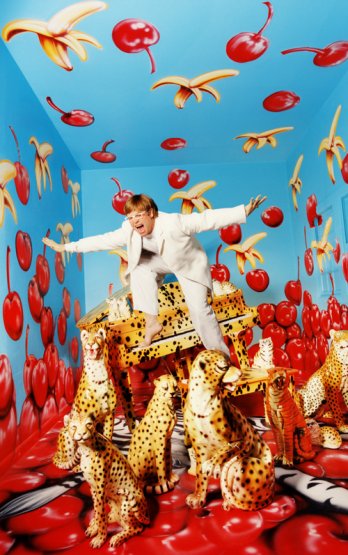 David Lachapelle/Elton John, Never Enough Never Enough_1997
DELUGE
The most recent works of David LaChapelle are exhibited in this section. Deluge, inspired by The Deluge painted by Michelangelo for the Sistine Chapel, is a criticism of the consumer race, the decline of such universal values as kindness and empathy, and the growing attachment to material goods. In Museum, the art system and the idea of art ownership is the object of LaChapelle's criticism; in Cathedral he denounces the loss of spiritual value and finally in the Awakened series LaChapelle affirms that the road to universal rebirth passes through individual destiny.
HEAVEN TO HELL
This section takes its title from the artist's latest book, published by Taschen, which concludes the trilogy that began with LaChapelle Land, 1996, and Hotel LaChapelle, 1999. It presents a series of three photos dealing with the theme of everyday death scenes in contrast to the most famous of all death scenes, the Pieta. LaChapelle portrays the death of an average man in the arms of an average woman in the position of this religious scene repeated countless times throughout in art history.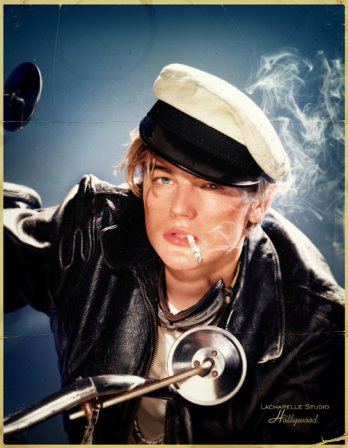 David Lachapelle/Leonardo DiCaprio_Nostalgic Styling_1996
MEDITATION
LaChapelle's preference for transcendent themes, such as the divine presence in everyday matters or the inevitable moment of our death, is well represented in this section, of which Jesus is My Homeboy and What Will You Wear When You Are Dead are a part.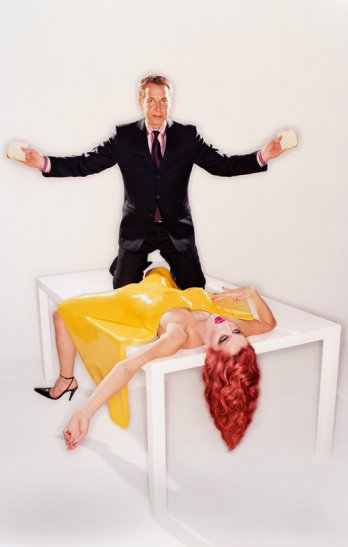 David Lachapelle/Jeff_Koons-Sandwich_2001
RECOLLECTIONS IN AMERICA
These photos from the seventies show groups of friends meeting up for family parties and other occasions. LaChapelle's manipulation of the photos analyzes ironically the American middle class and its own values.
ACCUMULATION
The drive for affluence, produced by advanced capitalistic cultures, and the easy access to every kind of consumer good, create the conditions for a kind of compulsive neurosis for accumulation: buying, collecting objects of all sorts, sharing in a limitless network of contacts and interpersonal exchanges are the typical behaviour of Western society that David LaChapelle portrays with a pitiless and ironic gaze.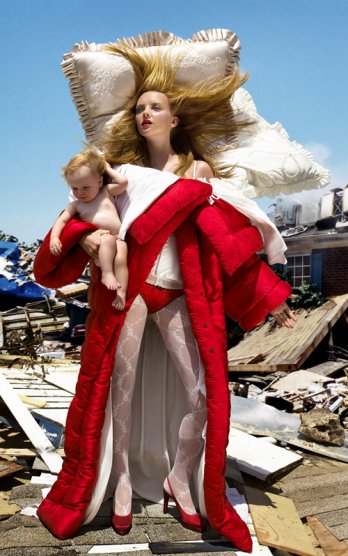 David Lachapelle/The House at the endof the world_2005
DESTRUCTION AND DISASTERS
This section gathers together a series of photos, shot at different periods of time, showing visions of the apocalypse or of destruction. Reality and imagination interweave in compositions of landscapes devastated by natural disasters or technological catastrophes, by the rapid spread of pandemics, and also by the blind fury of individuals against objects and persons.
DREAM EVOKES SURREALISM
A tendency to the oneiric, dreamlike dimension, and a deviation from reality characterize a large part of David LaChapelle's work, but this section gathers together some of his most overtly surreal images in which imagination unites with poetic paradox.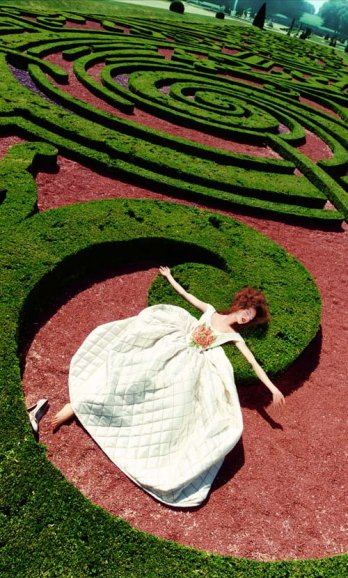 David Lachapelle/Collapse in a Garden_1995
PLASTIC PEOPLE
This section presents the passion for plastic surgery, bodybuilding, and any other kind of undertaking aimed at gaining physical perfection; a passion that in excess quite easily degenerates into an obsession.
EXCESS
This section presents, reinterpreted in a glamorous way, the vices and obsessions that afflict the brilliant world of famous celebrities. LaChapelle who, in his work, never expresses moralistic viewpoints, displays sexual fantasies and tendencies, exhibitionism and violent attitudes; he shows how excesses, whatever form they take, are closely related to the wish for self-assertion.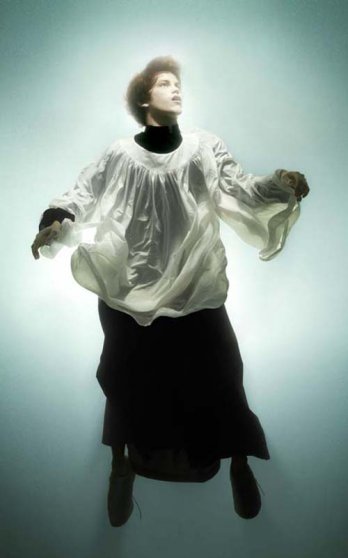 David Lachapelle/Awakened Jesse-2007
CONSUMPTION
If desire is one of life's driving forces, then its fulfillment seems to contain the seeds of its own dissolution: they progressively weaken the sense both of the object desired and the person who desires it, impoverishing it. Consumption, or consumerism, is the beginning and end of a social force that causes the individual to be both more disposed to the purchase of material goods and, at the same time, increasingly overwhelmed by this very obsession for possession.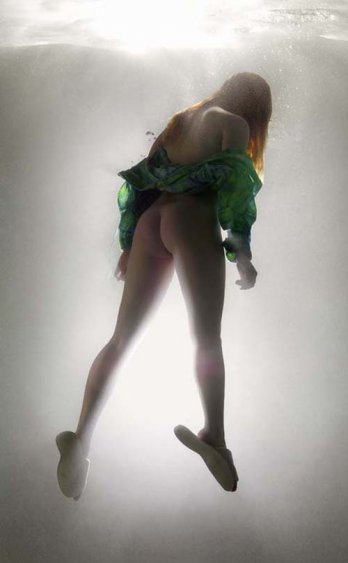 David Lachapelle/Awakened_Sara_2007
STAR SYSTEM
For every famous person, their public image is their most important visiting card. LaChapelle knows this very well and aims at capturing this aspect in order to describe, exuberantly and wickedly, their narcissistic nature and their exhibitionist attitude. Normality is simply out, and every type of excess is in.
David Lachapelle/Awakened_Abigail_2007
POP AFTER POP
For LaChapelle, Pop culture finds its fulfilment in a language aimed at a wide public. In certain works references to Pop Art are explicit and they contain direct references to the iconographies of James Rosenquist, Claes Oldenburg, Tom Wesselmann, Allen Jones, Richard Hamilton, Wayne Thiebaud and, of course, Andy Warhol.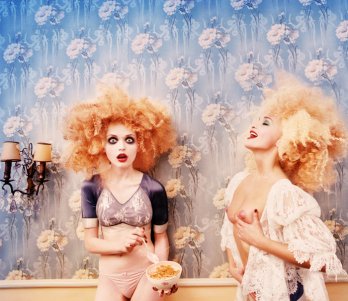 David Lachapelle/Milk Maidens_1996
VIOLENCE AS ENTERTAINMENT
LaChapelle freely reconstructs certain famous sequences from two cult movies: Taxi Driver, 1976, by Martin Scorsese, and Scarface, 1983, by Brian De Palma. The images are a mirror of a violent society in which marginalization and frustration proceed along parallel paths, and they display scenes of crime, prostitution, and exploitation, and play with the juxtaposition of inventions and allusions to movies, simulated- truthful news and fiction.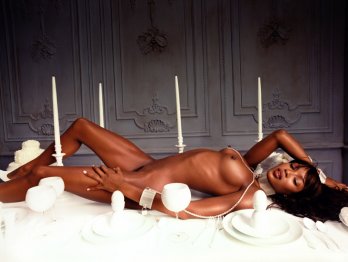 David Lachapelle/NaomiCampbell_Bon Apetite_1999
David LaChapelle Bio_Express
David LaChapelle was born in Connecticut in 1963. He trained as a fine artist at North Carolina School of the Arts (in 1977) before moving to New York. Upon his arrival LaChapelle enrolled at both the Art Students League an the School of Visual Arts. Not yet out of High School, he was offered his professional job by Andy Warhol to shoot for Interview Magazine. LaChapelle's images, both bizarre and gorgeous, have forged a singular style that is unique, original and perfectly unmistakable. He has photographed personalities as diverse as Tupac Shakur, Madonna, Amanda Lepore, Eminem, Philip Johnson, Lance Armstrong, Pamela Anderson, Lil' Kim, Uma Thurman, Elizabeth Taylor, David Beckham, Paris Hilton, Jeff Koons, Leonardo DiCaprio, Hillary Clinton, Muhammad Ali, and Britney Spears, to name just a few. Once called the Fellini of photography, LaChapelle has worked for the most prestigious international publications and has been the subject of exhibitions in both commercial galleries and leading public institutions worldwide. Recently ranked among the Top Ten Most Important People in Photography in the World by American Photo, LaChapelle has continued to garner numerous awards. His photography has been showcased in galleries and museums worldwide, including Staley–Wise; Tony Shafrazi Gallery and Deitch Projects in New York; the Fahey-Klein Gallery in California. Internationally at Artmosphere in Vienna; Camerawork in Germany; Reflex Amsterdam; Maruani & Noirhomme in Belgium; Sozzani and Palazzo delle Esposizioni in Italy; The Helmut Newton Foundation in Berlin: and at the Barbican Museum in London, to this day the most attended show in the museum's history. His uncompromising dedication to originality is legend in the competitive and harsh judging worlds of fashion, film, advertising and contemporary art. His striking images have appeared on and in between the covers of magazines such as Italian Vogue, French Vogue, Vanity Fair, GQ, Rolling Stone and i-D. In recent years LaChapelle has expanded his work to include music videos, live theatrical events and documentary film-making. His directing credits include music videos for artists such as Christina Aguilera, Moby, Jennifer Lopez, Britney Spears, The Vines and No Doubt. "It's My Life" with Gwen Stefani won the award for best pop video at the MTV Music Video Awards and LaChapelle himself garnered the MPVA's Director of the Year award in 2004.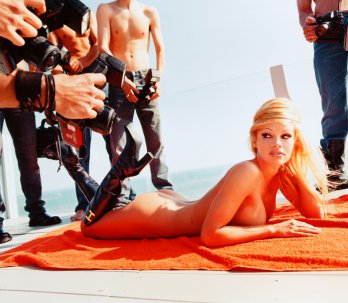 David Lachapelle/Pamela Anderson-Voluptuous Attentions_2001
His stage work includes Elton John's The Red Piano, the Caesar's Palace spectacular he designed and directed, and which was the top-selling show in Las Vegas for 2004. His burgeoning interest in film led him to make the short documentary Krumped, an award-winner at Sundance from which he developed RIZE, the feature film acquired for worldwide distribution by Lion's Gate Films. The film was released in the US and internationally in the Summer of 2005 to huge critical acclaim, and was chosen to open the 2005 Tribeca Film Festival in New York City. LaChapelle's work continues to be inspired by everything from art history to street culture, creating both a record and mirror of all facets of popular culture today. He is quite simply the only photographric artist currently working in the world today whose work has transcended the fashion or celebrity magazine context it was made for, and has been enshrined by the notoriously discerning and fickle contemporary art intelligentsia.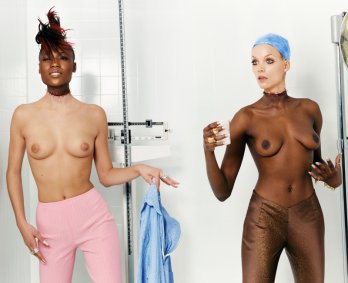 David Lachapelle/Xenophobia_1997
www.monnaiedeparis.com