Ray Caesar & Kosta Kulundzic
The Outsiders
Fanny Giniès, February 9, 2009
Ray Caesar_Descent, 2008
Ray Caesar
This artist is back in France after having spent the year 2008 visiting international art scenes with new original pieces. All of his works plunge us in a rococo, as well a surrealist universe, yet with a futuristic flavour.

The visitor enters a strange fantastic world that he has trouble placing : is he wandering through marvellous realms, an enigmatic world where technique is king ? Because mechanics are a recurring theme in Ray Caesar's works. They're even a starting point for the visitor's questions, and they arouse a perpetual to-and-fro between past and future. The past appears in the making of the digital works : the grain of the paintings recall that of 18th century oil paintings, and the metal mechanical structures remind us of the prototype machines invented at the beginning of the century.

Deformed heads and disproportioned bodies that impress yet don't frighten are the protagonists of his paintings. It's as if these dolls held the key to a deep truth no one can attain, a revelation on human cruelty.

Ray Caesar tells us he's often able to enter his creative subconscious when he finds himself dreaming awake. His work in such an oneiric world as well as his sometimes disturbing dolls undeniably make Ray Caesar part of the Surrealist Pop movement. He works with Maya, a 3D modelisation software thanks to which he can create his characters, worlds and atmospheres.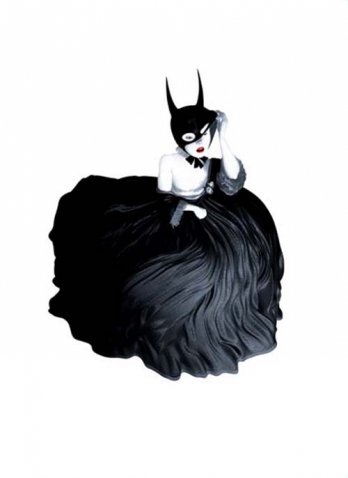 Ray Caesar/Day break above, 2008
Ray Caesar creates fantastic, grimly hopeful and gravely whimsical images of wizened people who radiate an enigmatic serenity. Sprouting bio-mechanical limbs and appendages, the figures are otherworldly, a melding of sci-fi fantasy, lush landscapes, and Victorian sensibilities. Having worked in the Art and Photography Department of The Hospital For Sick Children in Toronto, Ray documented the truths of child abuse, surgical reconstruction, psychology, and animal research. The artist explains, "I often awake in the middle of the night and realize I have been wandering in the hallways and corridors of the giant hospital. It is clear to me that this is the birthplace of all my imagery." These experiences continually haunt him and appear in his dream-like images, which draw inspiration from the works of Frida Kahlo, Salvador Dali, and Paul Cadmus. Ray's work is astonishingly digitally created. Most people assume they are looking at paintings due to the seamless blending and "painterly quality" of the work as well as its unique emotional impact. Creating models in a 3D modeling software called Maya, he then wraps them in painted and manipulated texture maps. Each model is set up with an invisible skeleton that allows him to pose each figure in its 3D enviroment. Digital lights and cameras are added with shadows and reflections simulating that of a mysterious and strange "real" world.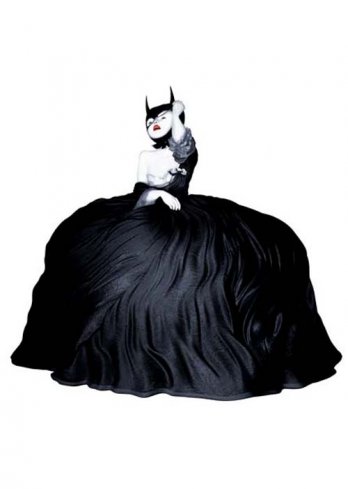 Ray Caesar/Day break, 2008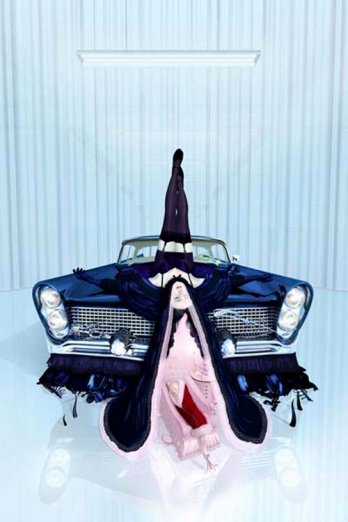 Ray Caesar/Eternity, 2008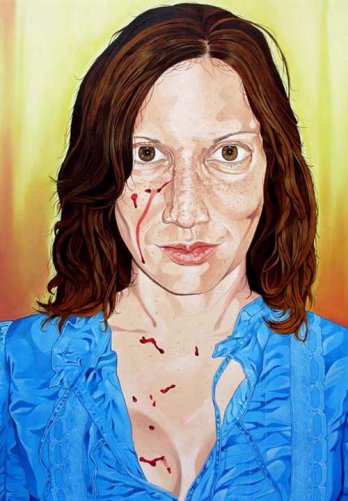 Kosta Kulundzic/Judith_2009
Kosta Kulundzic - Judith
Kosto Kulundzic is a young French artist of Serbian origin, who is already known for his powerful and expressive painting. After a year of hard work in France and abroad, with exhibits in art centers, at the Cultural Center in Serbia, and at the Cultural Center in Clamart, he will delight the gallery with his first individual exposition.

For this exhibit that is a project in it of itself, Kosta Kulundzic presents an exceptional interpretation of the myth of
Judith
. In the original excerpt in the Bible, Judith kills the general threatening her people but cutting his throat. Kosta takes History into his own hands: one theme, but several models. His models are young women he knows in Paris, which pull us out of the myth per se and draw our attention to the "absolute woman" that lives inside each of them.

In his usual style, Kosta Kulundzic combines astounding modernism and a biblical passage in his works, which reveal a definite feminine power, that appears liberating. Kosta's women play a difficult but honorable role.

The Kosta Kulundzic show is monothematic, enchanting, difficult, obsessive even, but that therefore becomes incredibly intriguing and interesting. Though the women's gesture is very rough, a certain gentleness transcends their violence, a gentleness that comes from the daily beauty of modern women. They manage to stay sensual even though they're committing an act of madness without hesitating.
This is how they represent the true "femme fatale", the "absolute woman" that arouses admiration and fear in men, who feel inferior to her yet seem to beg her in their last moments.

"My paintings represent women and the essential qualities of women, with their grace, their sensuality, their madness. Come to think of it, it's an exhibition for women ", says the artist. Kosta Kulundzic concentrates his work on belief and mysticism in our society. Modern society produces myths and heroes. It offers a priceless quantity of idols and images related to the worship. Kosta uses these images to paint very actual mystical characters, altered divinities, who seem closer to us. They come from our everyday life. Working on texts from the Bible, the artist underlines that the same old story always goes on, and nothing really changes.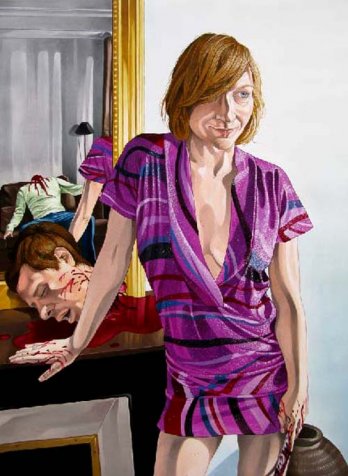 Kosta Kulundzic/Judith_2009
After (Born in 1972
Lives and works in Paris) he graduated from the Paris La Seine school of art and architecture, he quickly chose painting and attended the Velickovic workshop at the Paris Beaux-Arts (where he currently teaches). 
Kosta took part in many shows in Europe with the "Aqualta" group of artists. Famous for his large formats, Kosta has been invited to make wall paintings in New York in collaboration with the dance group Savion Glover. Kosta Kulundzic concentrates his work on belief and mysticism in our society. As the grandson of an orthodoxe pope and coming from a country torn by religious wars, Kosta was raised in Christian dogma and the weight of the martyr. As an impotant spectator of this old relation between blood and religions, he has always asked himself : Between belief and sacrifice, which of these serves more the other ? Religion seems to need victims to reinforce the devotion.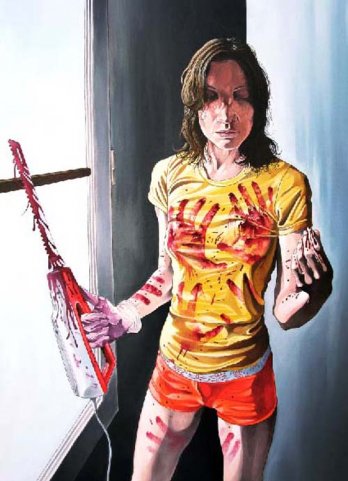 Kosta Kulundzic/Judith_2009
Modern society produces its myths and its heroes. It offers a priceless quantity of idols and images related to the worship. Kosta uses these images to paint very actual mystical characters, altered divinities, who seem closer to us. They come from our everyday life. Working on texts from the Bible, Kosta tries to give an optimistic and tender image of the religion deprived of any culpability. Inspired from the "quattrocento" and the scriptures, Kosta underlines that the same old story always goes on, and nothing really changes. Kosta has showed his works in Europe and in New York. He was invited to collaborate on Jean Jacques ANNAUD's movie "Its Majesty Minor", and in the Paris Nuit Blanche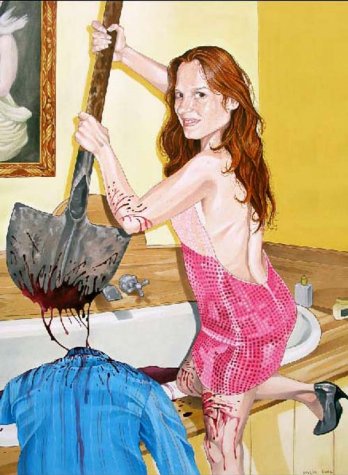 Kosta Kulundzic/Judith_2009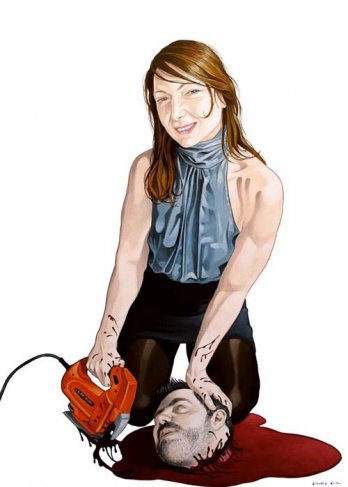 Kosta Kulundzic/Judith_2009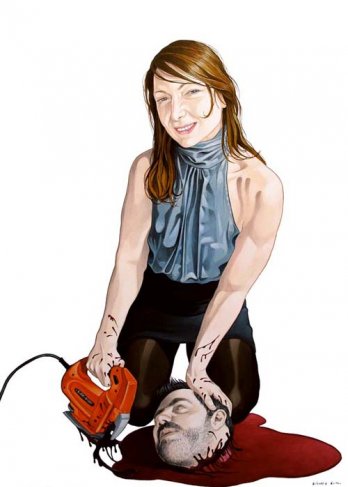 Kosta Kulundzic/Judith_2009
www.magda-gallery.com