Cities: "living space"
Street furniture
Brice Tual, August 6, 2018
Special Feature

Street furniture is the term for all the different elements that make up public amenities including benches and chairs, drinking fountains, public toilets, telephone boxes, bus shelters, billboards, street lighting, and children's play areas. They all form part of the services offered to city-dwellers to make their lives more comfortable.
It must be carefully planned at the design stage and carefully managed on a day-to-day basis. It contributes to a town's identity and plays a role in town planning. Councils sometimes even get into "arms races" to show which of them offers its inhabitants the most harmonious and practical living space. Each new addition should be meticulously studied so as to ensure that amenities are user-friendly and that they meet requirements in terms of safety and accessibility.
In this context, designers, architects and manufacturers design urban amenities to aid city-dwellers in their everyday lives, while also encouraging them to get to know each other, to get information and to look at architectural space in a different way.

As it is subjected to all kinds of wear and tear, street furniture has to be built to last, robust and secure. It has to have finishes and coatings suited to various different constraints including anti-sticker, anti-graffiti and anti-bacterial coatings.
As in most other sectors, these amenities now have to take account of environmental concerns. Eco-design is about considering a product's entire lifecycle, from the extraction of the raw materials to the end of its life.
It should also be stated that the production, installation and maintenance of street furniture all have to comply with regulations designed to guarantee their quality and safety to the people who use them. Some areas for which there are no standards yet, such as ergonomics, practicality and their suitability to their surroundings, would seem ideal areas for companies to develop innovative ideas about how street furniture could evolve in the future.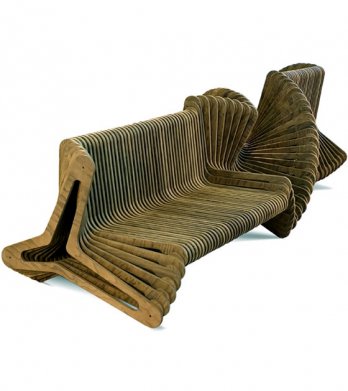 Mobilier Urbain/ création Alexandre Moronnoz
Local councils are gradually realising that providing street furniture that is well-integrated, well thought-out and long-lasting contributes to positive urban management, improves their image and makes everyday life more pleasant for their citizens. This is good news for architects, designers and manufacturers who realise that the prospects are good in this area that has already been tried out by a small number of specialised companies.
23rd September 2008, evening: Nathalie Kosciusko-Morizet, the Secretary of State for the Environment undertakes a much-publicised outing to the Paris Observatory in Meudon. This is not a particularly fun event, however, because her aim is to criticise light pollution – excess lighting in other words – which is one of the chapters in the Grenelle multi-stakeholder agreements on environmental protection made in October 2007. The light halos over European towns grow by about 5% per year and they now obscure 90% of the stars in the skies over our cities (*). Astronomers warn that night is disappearing and that the diminishing natural difference between day and night is disturbing plants and animals. The migration, reproductive and hunting habits, and pollination of numerous species are being affected by this phenomenon. The main culprit is public lighting, which accounts for 48% of councils' energy costs and produces 4% of greenhouse gas emissions in France (**).
This is food for thought for all those people from the outer suburbs who head for the countryside to make the most of the clean air and silence, to feel close to nature, to live their lives to the rhythm of the seasons and enjoy "real" human contact again. The idealised view of the countryside they construct from these values can however give way to disappointment, because society is also changing in rural areas.
Nevertheless, the fact is that 80% of humankind live – either by necessity or by choice - in cities.
Street furniture/Metro_Toulouse
In France, 90% of the population is concentrated on 20% of the land. Cities embody all of a civilisation's contradictions: faith in progress and modernity on the one hand, a melting pot of society's dilemmas and crises on the other. The civilisation of the machine age has produced cities that are almost inhuman. The living environment is often unbearable: unhealthy air, noise pollution, run-down areas of town, chronic law and order problems, the hectic rhythm of work and home life, bulimic consumer behaviour stoked by publicity, the overriding importance of appearance, the lure of pleasure, anonymity and loneliness… Although the anonymity of large cities protects the individual, it also considerably reduces the value of his citizenship. The situation in the new towns built on the edge of Paris seems to suggest that, although urban organisation appears to offer the people who live here vital autonomy, it cannot produce the same feeling of belonging that exists in generally smaller, historic towns. The more spread-out a town is, the less coherent it is and the less homogeneous are its inhabitants and its organisation.
This leads to the emergence of ghettos which bring with them communitarian conflict, racism and intolerance.
Yet, as Olivier Chadoin, a sociologist and lecturer at the Higher National School of Architecture at Paris-Villette reminds us, "cities are where individuals meet and exchange, and where urban life is organised." Street furniture helps to create such a bond, just as overall town planning is an element in a city's prestige. Monarchs and councillors have understood this for centuries. In 1258, Etienne Boileau, the provost of Paris, orders the first system of public lighting. In 1605, the first wooden public benches are installed on the Place Royale (now the Place des Vosges). In 1729, 5,772 lanterns are positioned around Paris. In 1853, Baron Georges Eugène Haussmann becomes prefect of Paris. In 1854, the first tramline comes into operation between Sèvres and Vincennes. Between 1854 and 1890, more than 80,000 trees are planted along the streets of the city and 24 squares are created. In 1857, the first lit-up newspaper stands are built. In 1865, Charles Garnier's lyre-shaped candelabras light up the Opera. In 1871, Richard Wallace donates 50 bronze-plated iron water fountains designed by Lebourg. Between 1900 and 1912, Guimard's decorative ironwork marks the entrances to lines 1 to 7 of the metro (***). These few selected examples from the rich list of Parisian amenities that have been installed over the centuries shows gives an idea of the history of this phenomenon and the relevance of certain decisions that are not only still with us but are part of the very fabric of the capital's identity.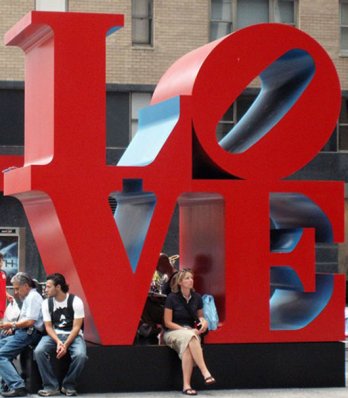 Love sculpture_New York.
The urban landscape seems always to have been a stage for an accumulation of more or less successful initiatives that have also often been limited to a small number of identical products. Jean-Claude Decaux put the idea to Lyons City Council in 1964 of installing free bus shelters and financing them entirely through advertising, and the idea quickly caught on. Paris adopted the same principle in 1972. France was riding on the wave of prosperity of the post-war years, and town planning was more than anything about adapting cities to cope with the boom in car ownership. Since 1967, courses in human and social sciences have formed part of architectural degrees. Nevertheless, the idea that there is a need to win back public spaces is a recent one. "Nowadays, there is less of a separation between how individual urban services are designed," says Olivier Chadoin. "A pedestrian can walk around close to a tramline without disrupting the traffic. It can be seen as a return to town planning in the 19th century when the wide avenues were places for people to take a stroll. What's even better is that empty spaces in cities are no longer regarded as spaces with a practical function, but rather as spaces where people can meet." Urban design is generating a virtuous circle in which all kinds of professionals are involved. "It is not a question of simply choosing something from a furniture catalogue; now it's about creating a sense of well-being. This involves architects, designers, engineers, landscape architects, lighting designers and even specialists in acoustics.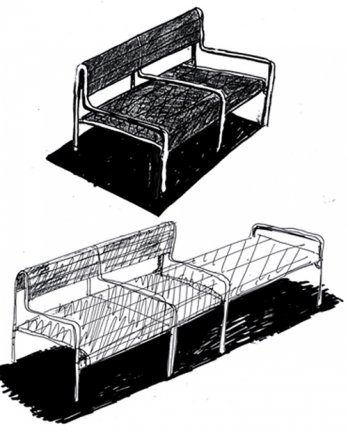 Mobilier Urbain/M.A Studio
Making the most of a city (and also, in the long term, contributing to higher house prices) depends on these interdisciplinary teams."
The architect Marc Aurel confirms that the attention that is now being paid to urban facilities is a relatively recent phenomenon. "It's pretty much by chance that I now specialise in urban design. I was working in Jean-Michel Wilmotte's office in 1989 when he was commissioned to design street furniture for Lyons, and I was put in charge of the project. When I opened a catalogue, there were only a very few products! We started with a blank page and we dreamed up everything ourselves!" This obviously became his vocation, because he now has his own agency - M.A. Studio - dedicated to urban design and works with ten people with a range of different talents: town planners, engineers, product designers (some of them trained abroad), artists, etc. He says that the different viewpoints they bring to a project are crucial. He admits that he is more interested in looking for materials more than shapes for public spaces where repetition leads to a certain humility in design. When he designed the street furniture for Paris, it had to have a link to what existed already as well as being light and vandal-proof. Designing this range brought him to people's attention. It is always a balancing act as can be seen from his 3EI Indalux lights for the Ikone range that were designed for use in problem areas of town. The terms of reference stated that the furniture should make the most of the site whilst also preventing vandalism using ad hoc structures. The agency is developing furniture for tram stations for the RATP with the aim of fitting it into the built environment, adapting it to each platform and protecting the people using the tram.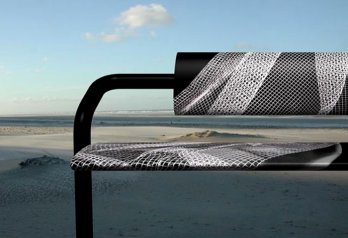 Mobilier Urbain/Fontaine à boire, création Cécile Planchais
Street furniture does have a very particular status. "The question of who owns it is not easy to answer; it is an object that you share and that you are subjected to whereas you choose most other products yourself," comments Noé Noviant. The young designer has been interested in this question ever since the beginning of his studies at the School of Decorative Arts in Reims. His concept for a chair called "Bougez les meubles" (Move the furniture/Shake things up) for use in urban spaces won a VIA Call for Projects in 2007. He is currently working on a project for temporary furniture used for council events - a festival for example.
The creativity of designers does not seem to be shackled by products being intended for public use. Indeed the opposite is true… Alexandre Moronnoz, who graduated from the Higher National School of Industrial Design/ Les Ateliers provides a novel solution in terms of materials (retified wood) and form (modular elements allowing many different combinations) with her "Y" chair. This furniture for parks and gardens won a VIA Project Grant in 2006.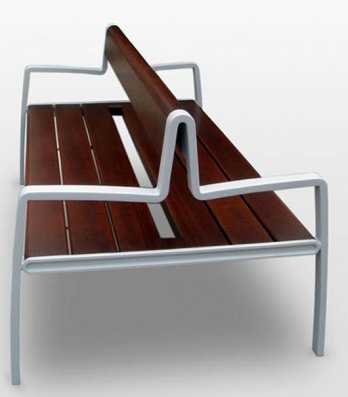 Mobilier Urbain/M.A Studio
Originally a sculptor, Cécile Planchais gravitated towards design after spending some time in textile painting… Over time, she became involved in town planning. She initiated a 12-year project at Fort Mahon in the Somme (06) and another one in La Baule. To work with councils, one obviously has to be flexible and pragmatic. "This means that you have to concentrate on the strength of the design: doing more with less!" she says with a smile. "The aim is to design products that will last for thirty years and are therefore completely out of synch with our modern consumer society." It is clear that the task is a delicate one, but such projects are hugely inspiring. In her work with the two seaside resorts, she was intent on designing lines that included furniture, lighting and signposts "to bind the town together". Over time, these designs became standards lines that could be marketed: Aldus with GHM in 2004, and Alde in 2008. Cécile Planchais has also developed a design concept that takes the form of kiosks and half-seated/half-standing posts to make it more comfortable for people with reduced mobility to wait at crossroads. Parisian markets are also indebted to her for their 200 hydrants that provide drinking water to wash and spray the stalls.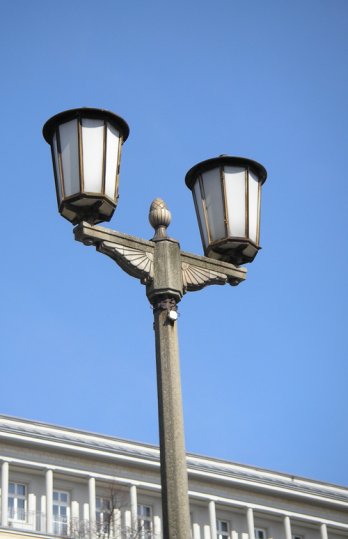 Mobilier Urbain/Reverbères_Berlin
She adapted this design to drinking fountains (08) that are due to be installed in January 2009. The aim was to provide access to drinking water "which sprays out for people to have a quick drink and falls back without splashing…" All passers-by are able to make use of these fountains because there is a place to drink from at the back that is at the right height for children and disabled people. Completely tailormade! These products are all meaningful and they were studied and developed with the Parisian water company from 2005 to 2008. Cécile Planchais is passionate about materials and doesn't agree that street furniture has to be discreet, as can be seen by the subtle shape of her polished stainless steel mirror bench.
It is not enough to think of street furniture only in terms of its aesthetic qualities. If they are to effective, solutions must also take account of the problems of our time. These may be sociological in nature, especially in terms of the flows of people and improving the quality of city life, for example by channelling these flows to make life more comfortable for pedestrians and users of public transport, and also improving waiting conditions.
They may also be practical to cope with new habits such as the boom in the use of bicycles, for which safe storage facilities are required. Recognising cultural diversity means that local identities and values can be explored and our cultural legacy can be highlighted through tourist walks. It is necessary to take environmental protection into account, whether this is by including it in the history and the décor of the town, integrating billboards and waste collection in a harmonious fashion, or promoting energy-saving measures.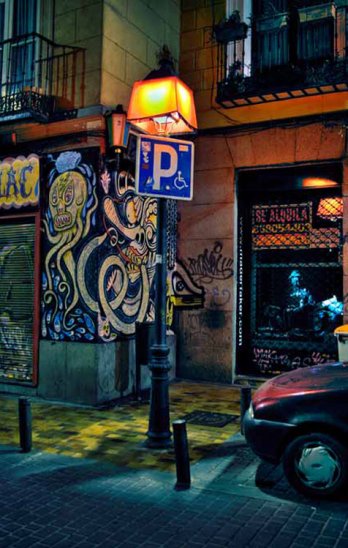 Mobilier Urbain/Luz Interruptus by Luzinterruptus
From now on, formal expression must combine practical and cultural functions. The role of the former is to provide a service; the latter provide meaning. Street furniture doesn't only attract designers; manufacturers are also getting into this market. After four generations of metallurgy, Buton Industries started to get into manufacturing equipment for public facilities in 1995, followed by street furniture. "We pioneered the use of wood-finish compact in France," Philippe Mandin-Diraison, the sales director, emphasises. "This material is made from recycled kraft paper and is long-lasting, easy to wash and impermeable to the inks used for graffiti." This company, which is based in Vendée in western France, likes to recruit young graduates from the Nantes Atlantique Design School. Nevertheless, "the ideal scenario is if you're dealing with a council that brings in its own ideas and has a well-defined project, sometimes because it wants to differentiate itself from a neighbouring council! Our structure, with fifty employees, allows us to do things other than just standardised products." Another new product they are starting to produce for councils are shelters for smokers. It contributes greatly to local employment, but the company is starting to be undercut by Chinese-made products. Local politicians find themselves at odds with their publicly stated objectives…
A desire for rational management is developing at the same time as this desire to provide people with an appealing and practical urban environment.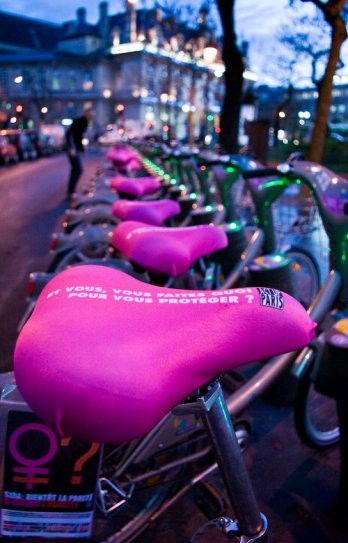 Mobilier Urbain/Vélib_France
One often finances the other. Angers has recently begun to build its first tramline, and this provides an ideal opportunity to take a good hard look at everything. Apart from redesigning the traffic system, the council also has to limit speculation with properties close to the line. "We are currently ordering special furniture designed by the tram project management team," says Pascal Gautier, the city architect. "We don't want to set off a process whereby designers just try and outdo each other; the furniture has to be discreet and useful. Rather than installing benches, we want to design amenities that people can also sit down on, as this is a crucial function. Granite and shale, besides being easy to maintain, have the advantage of being difficult to steal." The town has listed all the furniture that already exists and, at the same time, drawn up a charter of the city environment. The objective is clear: visually appealing items at less cost. There were 54 different types of bin up till now; only four of these will be kept as ones that have worn out are replaced. Ten years ago, there were eight different models of bike rack; now there is one. Solar-powered lighting has been used occasionally since last year "in places liable to flooding and in places where connecting to the grid is difficult." Lighting specialists and designers now also take part in town planning and try to encourage reasonable choices rather than some of the mistakes of the past.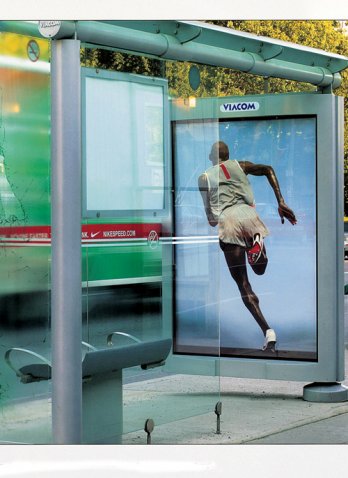 Viacom_Toronto_Canada
Ball lights, which used to be a must in the 1970s even though only 30% of the light they emitted was actually effective, still represent 11% of the total outdoor public lighting in France, according to the ADEME, the French energy-saving agency. Yves Feld, who directs the lighting department of ECOTRAL, a subsidiary of Electricité de Strasbourg, talks about the "right level of lighting". This is a subject for experts. "Light is important because it makes people feel safe, but you have to determine the correct amount of light, including how the human eye adapts to it. The amount of light needed in the evening can depend on a town's traffic system. If there is light-coloured concrete, it can reflect quite a lot of light." Most councils have never really thought very much about this type of criteria. It is not an easy task for the adviser to get a council to consider other parameters than their return on investment, especially since electric power is cheap in France. Although a return on better planning is clear after five to seven years in Germany, in France this is only the case after more than ten, longer than a councillor's term in office…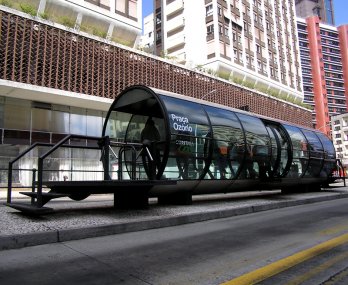 Mobilier Urbain/Bus Stops_Curitiba, Brazil
JCDecaux is the world leader in street furniture and has worked with about fifty different designers, many of them famous. They are experts on image as well as practical solutions. "We offer bus shelters that are fitted with recycling bins for batteries and glass. For the last two years, we have been installing hollow Morris columns so as to collect rainwater, which we then transfer for use in our cleaning vehicles," says Albert Asséraf, director general of strategy, research and marketing.
This furniture is dual-purpose, as are those facilities that are installed in natural areas that have to be protected from increasing numbers of visitors. "People have to be channelled; nature borrows from the strategies that have been developed to deal with flows of people in towns," Cécile Planchais comments.
"This type of equipment provides services and also adds to our quality of life," says Olivier Chadoin," but it can also help avoid disasters.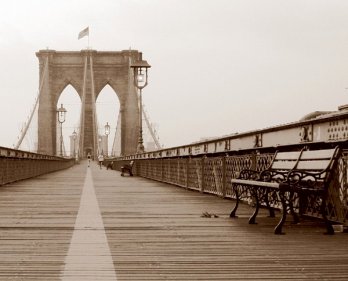 Mobilier Urbain/Brooklyn Bridge
First pioneered in the United States, situational prevention involves the use of furniture that dissuades people from staying in a place for too long and stops them from lying down. People can only sit down individually. Rest areas are always clear, so that social control is possible on a continuous basis. The principle can even be pushed as far as putting in plants that people can't get through or over."
Agadir in Morocco does not worry so much about such security questions, but the town did want to forge a global identity for itself. "This was part of the Azure plan to develop Moroccan tourism that was initiated by Kind Mohammed VI and the government," says Hicham Lahlou, the designer who designed and piloted the project. He is a graduate of the Académie Charpentier in Paris and chose to go back to his country to practise, where he is now seen as a pioneer. Street furniture, signs, harmonised shop fronts, coverings for vehicles… Overall, the project will take two years of design and execution, the latter in phases that, when added up, come to a total investment of one billion dirhams (87 million euros). This work at the scale of a whole town, which is unique in Morocco and possibly in Africa, could well be emulated by others. Tripoli (Libya) has just sought Marc Aurel's advice on how to boost its identity.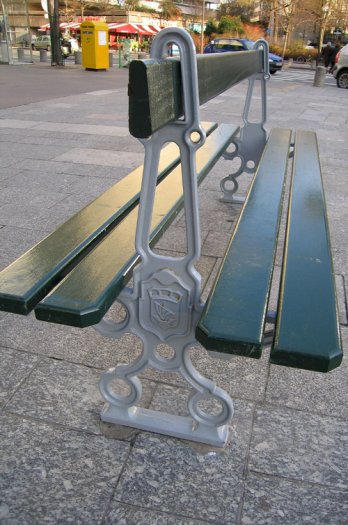 Mobilier Urbain/Mobilier urbain_Paris.
Further to the north, the new bench called "Space To Take Place" was inaugurated on 6th October 2008 on the shores of the IJsselmeer in the new IJburg area of Amsterdam. This product by Droog Design based on a design by Claudia Linders has two particularities: it is one hundred metres long, and it is jointly owned by a diverse international community. The Dutch Foreign Ministry dreamed it up and commissioned it so that, as it contains 100 virtual seating spaces, each could be an unusual diplomatic present! It's a nice way for each country to present a little piece of its territory! And of course everyone is invited to sit down and make the most of the pale Dutch sunshine.