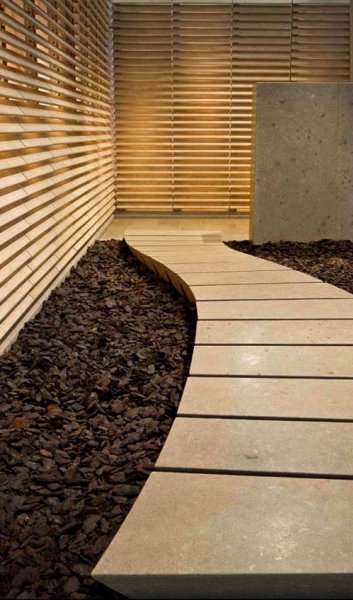 Aldo Cibic
Not an Archistar…
G.T., September 22, 2008
Aldo Cibic started working independently in 1989 with Cibic & Partners, working in Italy and abroad on interior and industrial design. He teaches at the Domus Academy, Milan Polytechnic and the Design Faculty of IUAV in Venice and is an Honorary Professor at Tongji University in Shanghai.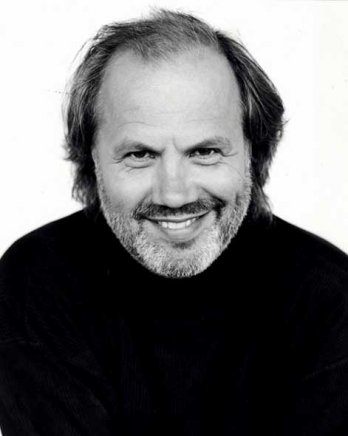 Aldo Cibic
Sharing a chair with Aldo CibicG.T.: I'd like to start with a question about the boundaries of design, of architecture, both typological and in terms of merit, meaning the questions and answers contemporary design manages to give... in a few words, please!

Aldo Cibic:
You know, personally, I must say that I have always done what I wanted to do. And I have always attempted to ensure that what we call the "client" fit with my dreams and desires. In the sense that I am always inspired by observation of reality. Not necessarily by reading the newspapers, but by attempting to read reality as an architect, a designer and an urban planner, to have the type of role that metabolise these processes and seeks to translate them into designs. In this sense, what I mean is, what interests me the most is understanding the contemporary age, the times we live in. Forming your own idea. But also understanding the future. At this time there is no inflation of thought, we are not submerged by visions of the future. But getting back on topic, what I think is that we are in a very fluid situation, and it's interesting to try and understand what kind of world we are heading towards, and then we can see what is different from the usual categories of design, as we were saying.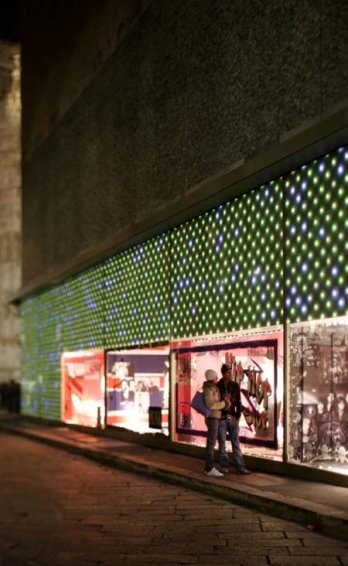 Aldo Cibic & Partners
G.T.: On the role of the Archistar. It's true, the architect needs to know what is going on. Photographing the contemporary, searching for answers, projecting them into the future wherever possible. At the recent UIA in Turin, people still had some very strong positions about the role of the Archistar as a sort of hero... Do you believe in this kind of role for the architect, or in sharing of responsibilities?

A.C.:
Personally, I don't believe in the role of the archistar at all. I travel a lot, and a see a lot. First of all, I'm not a star architect. And then I believe that the right approach is not attempting to understand how things are going, or rather, that we need a strategy upstream of this, a "political" and administrative strategy. A truly pluralistic, shared strategy. In our work for Microrealities, I work with plans for places and people, that is, the actions of the people who generate places. So this means we need someone who, when giving an architect a job to do, explains things, tells us what should happen in those places we are designing. We need to be able to predict a place's positive impact on the community. Or, even better, how we can improve our lives. You go to see them, attempt to understand them, analyse them, build a story around them, a strategy, and decide what you need to do to ensure that this will happen organically and harmoniously. And this is why the concept of the Archistar doesn't make sense, because in this case the sign of an object is more important than the condition that originated it.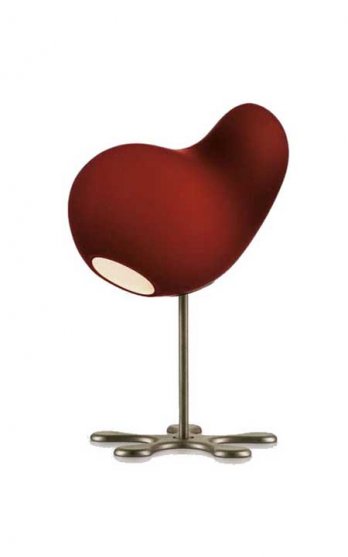 Coco Bordlampe_Foscarini by Aldo Cibic
G.T.: You're working on a big research project, a true research centre. How did you come up with this idea?

A.C.:
Just like Microrealities, which we presented four years ago at the Venice Biennial, a research project involving four projects – three about suburbia and one about leisure time, set amidst greenery, which attracted the attention of clients and institutions which then contacted us about implementing the projects – what we want to do is stand out for our provocation with models and projects. The research centre is not a school but an idea for setting up projects with a name and surname, around which we then build a project team.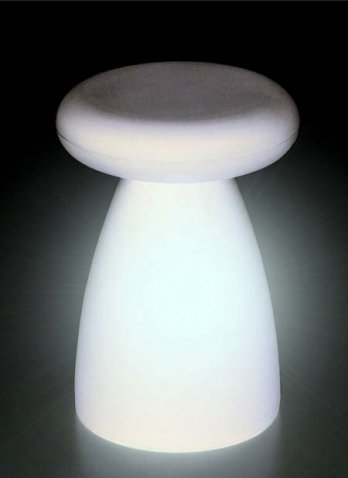 tabouret-lumineux-porcino-light-serralunga-aldo-cibic
G.T.: You mentioned two key words: team and school. Could you talk about your teaching work, and about teamwork. How do you manage to get people involved in work on projects?

A.C.:
To take one example, I just finished a course at IUAV in Venice focusing precisely on this kind of research. 30 instructors from all over the world, 2,000 students... we did this thing we called "Futurealities: a Campus amidst the fields". It is inspired by the idea of finding places where we can not only implement projects, but enhance the territory, link design with it, connect it with the architectural project, etc.What I'm interested in as my life's project is, like many important people, Wright above all, broadening the concept of design to mean the quality of one's life. The self-sufficiency you can make for yourself...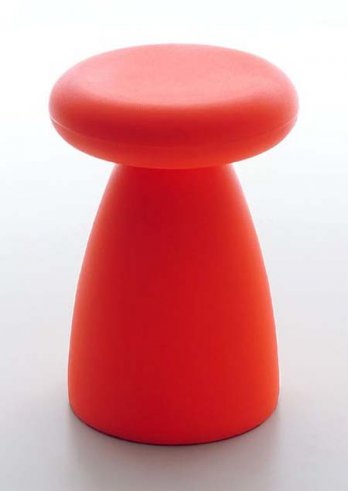 tabouret-lumineux-porcino-light-serralunga-aldo-cibic
G.T.: A return to the land...

A.C.:
Yes, but all of life is a matter of design, of planning. I like the idea of living in a community, of sharing experiences...



G.T.: And how do you manage to get so many people involved?

A.C.:
Interdisciplinarity! It interests me primarily as the starting point for setting out on projects which then become real. I'm no utopian. I'm happy just to get people to sit down together around a table. This morning there were 20 of us here for a competition.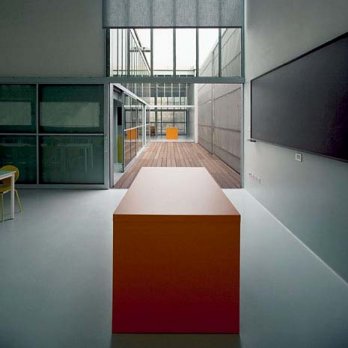 Aldo Cibic'in katkılarıyla
G.T.: And to finish up, a rather silly question... What does Aldo Cibic consider to be the most beautiful home?

A.C.:
I like my own home! I'm getting old. The most beautiful home is the condition you create for yourself. I rent a very beautiful house overlooking an Italian-style garden, with thousands of rose bushes. But sometimes I really like a very simple home, with a lawn and a tree. Having a place to sit down and write in the shade of a vine... it's a condition rather than a form of architecture.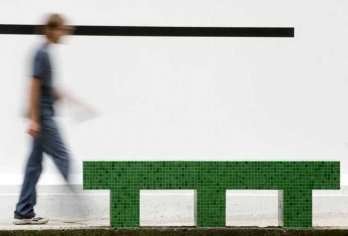 Bisazza by Aldo Cibic
G.T.: You know, I promised myself I wouldn't ask you this question, but I'm going to ask you it anyway. How has the vocabulary of architecture changed, in terms of materials, since you first started working in architecture? From plastic to agglomerates, there are lots of interesting high performance solutions to choose from these days...

A.C.:
If a client comes along today wanting to build a certain number of square metres, without abusing the word sustainability, you have to ask what kind of life the construction will have. If I'm the one to make the decisions in the project, it must be environmentally sustainable. It must produce a virtuous lifestyle. Because this is the challenge today: creating a virtuous lifestyle. There will be some people who will get rich out of it, but it won't be the majority. Our lives won't be that easy. We need to emphasise solidarity and sharing above all. And the materials of architecture must fit into this new scheme of things.
I think there is always a reason for everything.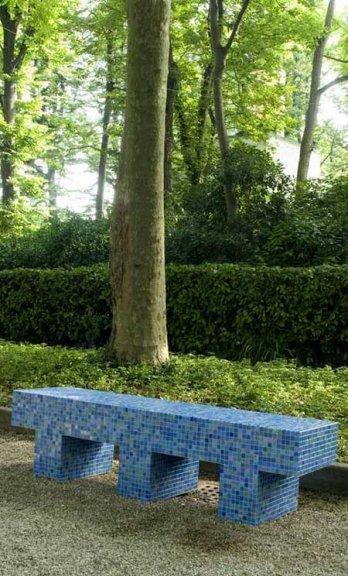 Bisazza Bench by Aldo Cibic
G.T.:Thank you.A.C.:
Thank you too.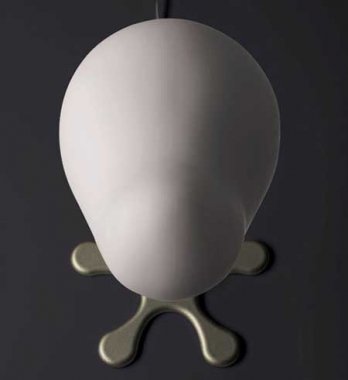 Coco Bordlampe_Foscarini by Aldo Cibic
Cibic & Partners
Cibic & Partners, one of the most well known Italian design studios, was established in Milan at the end of the eighties. For over ten years it has operated in many parts of the world.
The Studio is a composite reality that by choice and by calling has occupied itself with projects of different nature - ranging from architecture to interiors and from design to multimedia communications.
Cibic and Partners is guided by four partners: Aldo Cibic is the design nucleus of the Studio and along with Luigi Marchetti and Chuck Felton, is closely connected to the work groups that are dedicated to the various projects. Antonella Spiezio is the strategic core of the partnership and is responsible for the organisation, administration of financial and human resources.
 They are supported by a group of architects, interior designers, graphic artists, industrial designers, and a deep network of collaborating consultants of diverse professional and cultural backgrounds.
 The result is an environment where there is an intense exchange of stimulation and energy, and where the principal aim is the realisation of solid and innovative projects.
 The capacity for design and organisation are the two determining factors that make the Studio a creative and reliable partner for major business groups world-wide.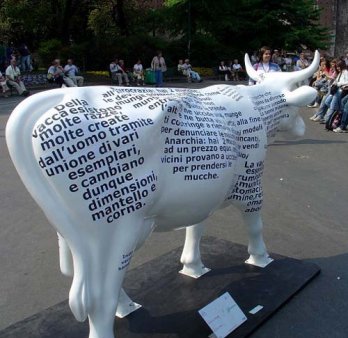 Aldo Cibic sculpture
ALDO CIBIC

_Architect and Designer, was born in Schio (Vi) in 1955.
In 1977 he moved to Milan to work with Ettore Sottsass, becoming his partner in 1980, together with Matteo Thun and Marco Zanini. That same year, 1980, marked the creation of Memphis, of which Cibic was one of the designers and founders, under the guidance of Sottsass. 
Today the main activities take place in Milan, with Cibic & Partners (www.cibicpartners.com) following urban, architecture and interior projects, and Vicenza with CibicWorkshop (www.cibicworkshop.com) involved in design and research, addressing the development of new design typologies. 
He also teaches at the Domus Academy, as part of the Industrial Design degree in the Faculty of Architecture at the Milan Polytechnic and as part of the Industrial Design degree in the Faculty of Design at the University of Architecture of Venice, as well as doing research on the relationship between design and society. He is Honorary Professor at Tongiji University, Shanghai.


ANTONELLA SPIEZIO
_Born in Torre Orsaia (Sa) in 1966. At the young age of 19 years, she embarked on two parallel roads that eventually met, transforming Antonella Spiezio into a versatile and well-rounded professional, as a result of her studies in Economics (she graduated in Milan in 1997) and her work at the Sottsass Associati Studio as Assistant to Aldo Cibic, where her organisational and managerial qualities immediately stood out.
 In 1989, she became founding partner and Managing Director of Cibic & Partners, a position she still holds today.
She is the strategic core of the Studio, handling the management of human resources and finances. Thanks to her unique brand of managing, having always grown within a highly creative environment, she guarantees the efficient organisation of work, following its development, management and day-by-day evolution.
 She is married and has two daughters.
LUIGI MARCHETTI

_Born in Livorno in 1967. He obtained a degree in Architecture at the University of Florence in 1992 and, until the end of 1993, was assistant professor of Architectural Design at the University of Florence. He later went on to private practice, carrying out numerous refurbishment works of both flats and offices. 

From Tuscany, he moved to Milan, where he began collaborating with Aldo Cibic on various projects in New York (Pepe Jeans, offices and showrooms), Turkey (Beymen Department Store and refurbishment of the Executive area of the Istanbul Stock Exchange) and England (Habitat Shops).
In 1995, he joined Cibic & Partners as Project Manager, signing off the main architecture projects realised by the Firm, consequently becoming partner in 2002. 
With the firm, he is currently responsible for the development of the project Milano Santa Giulia which is divided in an Hotel, offices and commercial areas.
Morover as interior designer he is restructuring two mansions in Rome and San Quirico d'Orcia (Si) and a conuntryhouse in Castiglione d'Orcia.
 He just terminated the exterior restyling of La Rinascente department store in Milan.


CHUCK FELTON

_Born in New York City in 1958. He received a Bachelors of Science degree from Yale University in 1980 and his Masters of Architecture from Columbia University School of Architecture and Urban Planning in 1984. During his graduate studies he worked for Steven Holl Architects and Robert Stern Architects.
 He started his practice in New York City working on public, commercial and residential architectural projects. He has worked as a design consultant in the high-tech and aerospace industry as well as working on projects for performing arts centers, theater design, and film sets.
 He taught as an Associate Professor at the College of the City of New York as well as serving as a guest critic and instructor at Columbia University, Pratt Institute and Parsons School of Design.
 Since 1997 he has been collaborating with Cibic & Partners as design architect. Architectural and interior projects include the exhibition Microrealities in Graz kunstadt, Positec headquarter and production facilities, Cisl new headquarter in Vicenza.
He also worked on Medusa Multicinemas, Selfridges & Co. Department Stores in Manchester e Birmingham, Spizzico Restaurants, Geox Shoe Stores, I.net British Telecom Headquarters / Web Farm Facilities in Milan and Move In Mixed-use Commercial Complex in Legnano. Graphic design projects include the Saatchi & Saatchi Corporate Web Site.
www.cibicpartners.com