Dirk Schrijvers
An avant-gardiste collector
Bernadette Deloose, June 9, 2008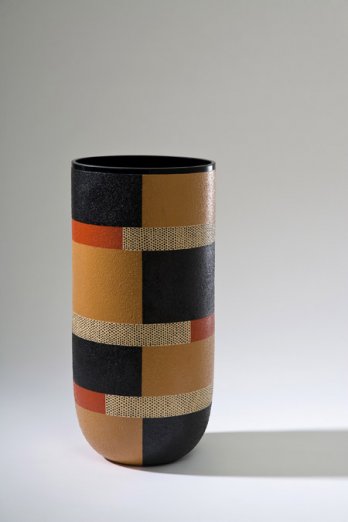 Vase_Mieke Groot (°1949, The Netherlands), 2007
"The goal of my collection is to introduce a wide audience with all things related to glass. Furthermore, I try to promote studio glass and stimulate young artists to explore the possibilities of the medium. By featuring my collection in the Design museum Gent, I hope to accomplish this goal."
Dirk Schrijvers was fascinated with contemporary art as early as his student years. He regularly visited galleries (Zeno X, the "Zwarte Panter" or Black Panther, Cintrik, etc.) and museums. He also started collecting contemporary art in his student years: graphic art and photography at first, later also paintings, mixed media and ceramics. During a temporary exhibition on Bengt Heintze, a Swedish glass blower, in the Berchem Cultural Centre, he discovered glass and its possibilities. Fascinated by the material he searched for other current aspects of glass. On one end of the spectrum he found the pâte-de-verre which was produced in editions by Daum according to designs by contemporary artists (among others Dali, l'Hoste) and on the other end were the artists who designed and produced studio glass themselves.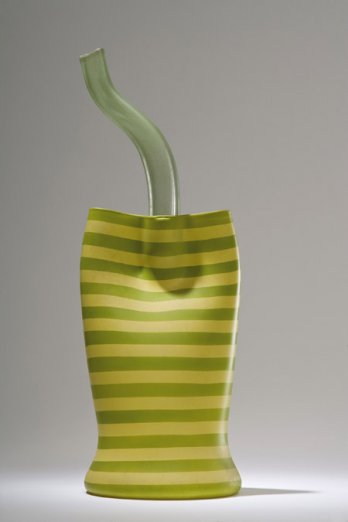 Tatlin_Richard Meitner (°1945, USA), 1995
Exhibitions featuring studio glass were rather rare in Belgium during the 80s, but Brussels had some galleries (La Main, Transparance) which regularly featured French, Dutch and Eastern European artists. This is where Dirk Schrijvers became acquainted with the work of Edward Leibovitz, whom he visited in his studio in Antwerp where he became even more enthralled with glass. Besides visiting galleries, he also developed his knowledge by reading magazines (Neues Glass) and by becoming a member of the Dutch Society "Vrienden van Modern Glas" (Friends of Modern Glass). He later became an editor for "Glasbulletin". By writing articles on glass events he entered into contact with a great deal of artists. He also travelled to England, France, the Czech Republic and Poland in order to visit glass artists. At the beginning of the 1980s, he discovered the galleries of Christiaan Braggiotti and Carla Koch in Amsterdam. Both galleries mainly featured people who had graduated from the Rietveld Academy as well as international glass artists. In the 90s Dirk Schrijvers took a year of Glass Art at the "Instituut voor Kunstambachten" (IKA, or Institute for Arts and Crafts) in Mechelen, which intensified his contact with the glass scene. At the beginning of 2002 he opened the "A&D gallery" in Antwerp with his sister, displaying mainly contemporary art.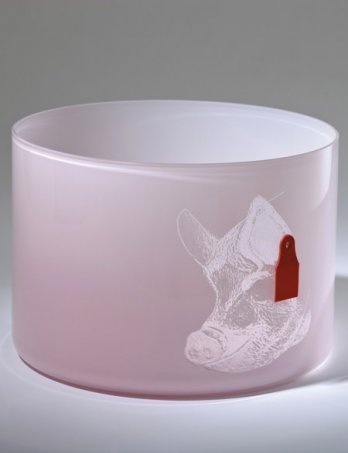 Container 'Oink Oink'_Gareth Noel Williams (°1970 , Wales), 2006
A bubble vase by Bengt Heintze was the First glass piece he ever purchased. The interaction of light and the material was the persuading factor in this first purchase. In it he saw that glass was more than just a dull material, but that by using air bubbles and colours, one can instil glass with a magic luminance. Subsequently he purchased a number of edition pieces by Daum. His graduation offered more breathing space for purchasing glass art, so he purchased work by Dutch artists such as Willem Heesen and Sybren Valkema. He kept track of the international trends of the time by purchasing optical glass from the Czech Republic and Poland as well as pieces from England (Steven Newell, Peter Layton) and the United States (Dale Chihuly). While initially he mainly purchased containers and vases, his purchasing policy evolved towards more sculptural glass, whereby the artist would use the material to create objects. On the other hand he discovered a number of glass artists in the 1980s of whom he has been keeping track ever since, and whose objects he regularly purchases (Richard Meitner, Mieke Groot, Richard Price, Vincent Van Ginneken, Simsa Cho, Gareth Williams). These are the two aspects which are featured in the exhibition "Glass from the Dirk Schrijvers collection".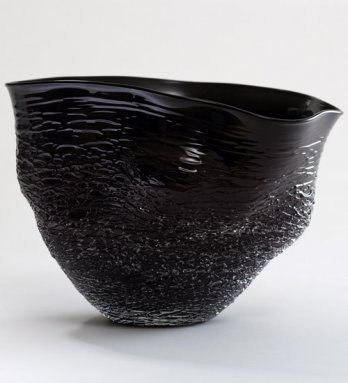 'Waterschaal'_Bibi Smit (°1965, The Netherlands), 2004
His collection grew steadily, enriched with work by graduates of the Rietveld Academy. Since the 1990s he has also been keeping abreast of the Belgian glass scene. The latter originated for the most part around the IKA education system led by Miloslava Svobodova, and has spawned currently well-known names such as Koen Vanderstukken, Sylvie Vandenhoucke and Carine Neutjens. Then there were still other Belgian artists such as Edward Leibovitz and Giampaolo Amoruso who had been creating studio glass as individual artists ever since the 1980s. Furthermore, Dirk Schrijvers purchases work by young artists in order to provide them with a platform and to stimulate their development. The Dirk Schrijvers collection is mainly composed of "studio glass" which wells up from the reclusiveness of the artist's workshop. The individual artist experiments freely and searches for new forms of expression and techniques within his studio.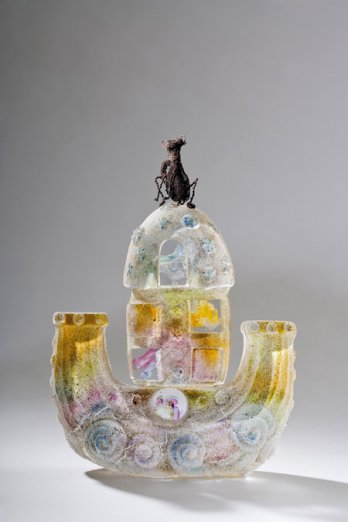 'Bon Voyage'_Tomoko Doi (°1975, Japan), 2005
From relatively early on, Dirk Schrijvers has shown an interest in the work of Richard Meitner (born 1949). When he saw his wooden shapes combined with glass at the Musée des Arts Décoratifs (Museum of Decorative Arts) in Paris, he was fascinated with his work. Meitner's work has undergone a substantial evolution over the years, and continues to blossom. One of the first pieces he purchased was a vase with flowers. This was later complemented with numerous other works. Until today, Schrijvers has been a close follower of Meitner. Besides unique pieces, Meitner has also demonstrated that he is capable of designing magnificent multiples which are elaborated and distributed by various factories or galleries. The work of Mieke Groot (born 1949) has evolved at a somewhat slower pace, but has undergone a more substantial transformation. Dirk Schrijvers was introduced to the work of Mieke Groot during a visit to the arts market in the Netherlands. The market had a stand which sold her designs. They were, however, too expensive to purchase at that time. He later learnt of her glass stone combinations. The first work he ever bought from her was a glass vase with white and black stones. He later purchased numerous containers covered with monochromatic or multicoloured enamels.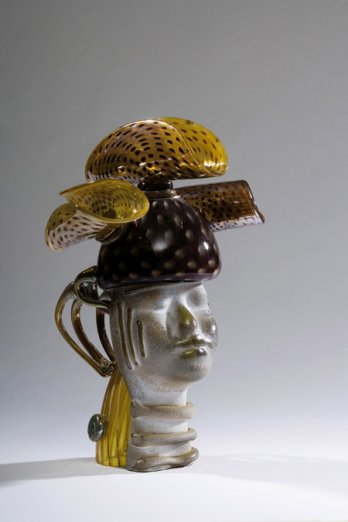 'Head with shells'_Richard Price (°1960, England), 2004
Vincent Van Ginneken works with cast glass, usually executed in white. He initially worked figuratively, wielding anthropomorphic shapes. Using his wheel shapes, however, he developed his very distinct abstract imagery. English glass artist Richard Price (born 1960) is a talented do-it-all. He is one of the most famous glass artists in the Netherlands. His work is highly coveted both domestically and abroad. Dirk Schrijvers grew to appreciate him through his series of stranded boats. He was fascinated by the materials and use of shapes. He later bought various items, more particularly "Nadia", "Head with Shells", "Jungle vase", "Rolling baby". The themes range from fanciful to even the bizarre, on occasion. To Price, glass is a passion! Price has a masterful command of the most varied techniques of shaping glass. These past few years, Dirk Schrijvers has been a very active follower of Simsa Cho (born 1962). His Japanese heritage has allowed for a subtle language of shapes which is rooted in Japanese traditions and which is evocative of a meditative mood. Simsa Cho creates surreal and figurative glass sculptures in a bright colour scheme. Tomoko Doi (born 1975) is a young Japanese glass artist who mainly experiments with glass casting, a technique which is relatively new and uncharted in Japan. Tomoko Doi conjures up a fairy-tale mood with her objects. "
I want to create things which make people happier"
she says.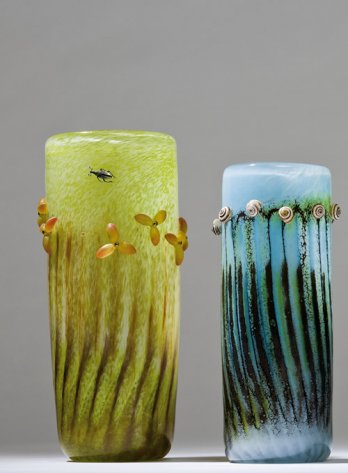 'Eté' and 'Printemps'_Pascale Riberolles (°1959, France), 2005
Gareth Noel Williams (born 1970) from Wales lives and works in Amsterdam at the moment. His work is an analysis of things he comes across on a daily basis: events that occur, that draw his attention, facts or problems which present themselves. His work is the result of a process in which he tries to arrange his thoughts. His work also relates to humankind and its intentions, feelings, failures and hope. He developed a series in which animal-like figures are the central element. Beings on glass pots which look like crosses between dogs and alien life forms. By combining soft leather and hard glass, the beings are instilled with a greater sense of physicality than they would be if they were entirely fashioned out of glass. Gareth Williams' most recent objects are human and as such recognizable. The bodies are made of leather, the heads of glass. They come in different varieties from babies to Siamese twins.
'Amphora'_Bernard Heesen (°1958, The Netherlands), 2006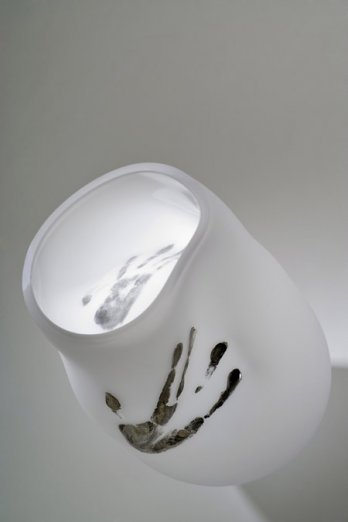 'Soft Caressess'_Elizabeth Swinburne (°1957, Scotland), 2005
design.museum.gent.be