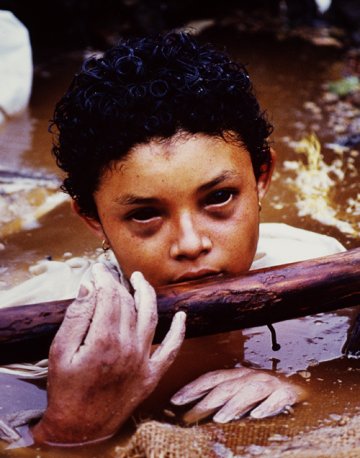 Controversies
A legal and ethical history of photography
Daniel Girardin + Christian Pirker, November 1, 2010
Lewis Carroll, Alice Liddell as a beggar child, 1859_© Graham Ovenden collection, courtesy Akehurst Creative Management
After Paris, Brussels and Vienna, the exhibition is presented at the Centre national de l'audiovisuel in Luxembourg where it displays new cases of controversy.

Since its invention in 1839, photography has provoked numerous controversies and sensational trials. The photographic image has been at the centre of important ethical debates and legal questions throughout the 19thth centuries. As a symbol of free expression and the rights of individuals, but also of power and money, it has frequently come into conflict with authority and has had to face censorship and manipulation. It has provoked impassioned debates in the worlds of art, science, politics, journalism, fashion and advertising that have often ended in court.
and 20
Most major photographers have been drawn into legal proceedings or controversies that have had important repercussions on their careers. The Musée de l'Elysée has brought together a wide range of photographs from the beginnings of photography to the present day that have been the focus of controversy or legal proceedings. Some of these are very well-known, others are less so. Taken together, these pictures give a better understanding of how a society or culture looks at itself, and thereby enable us to consider contemporary debates with a critical eye.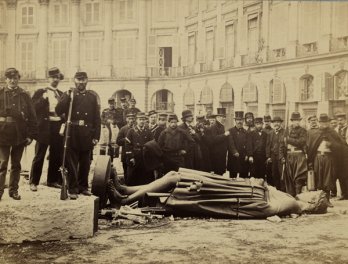 Bruno Braquehais, Commune de Paris, la colonne Vendôme à terre, 16 mai 1871_© BnF
The right to photograph
Placed at the intersection of private and public worlds, a photograph elicits an eminently subjective response. Photographs are therefore the source of endless debates and conflicts that often end up in court. Laws, attitudes and the limits of what is acceptable in terms of representation vary from one country or culture to another. This makes the question all the more complex but it is also what makes it so interesting. The numerous controversies associated with photography throughout its history highlight the diversity of possible interpretations and the insoluble paradox of freedom and constraint that is constitutive of photography itself. Photographers, whatever their field of activity, are bound by a series of laws whose limits are constantly being tested, with jurisprudence usually lagging behind the evolution of attitudes and techniques. Certain laws are not enforced since they no longer correspond to practice at a particular time whereas others evolve as a result of court decisions. Photographs that have been published for many years can suddenly be forbidden while others begin to circulate freely after a long period underground. It is all a question of how the pictures are interpreted, of the meaning that is read into them.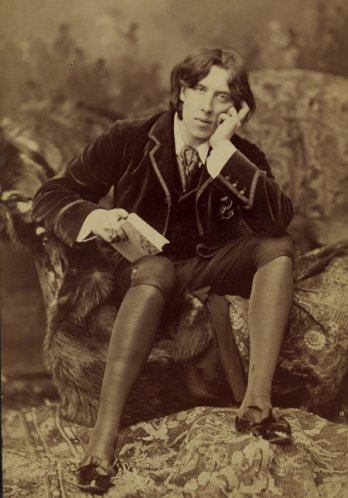 Napoléon Sarony, Portrait d'Oscar Wilde, 1882_© Library of Congress, Washington, D.C.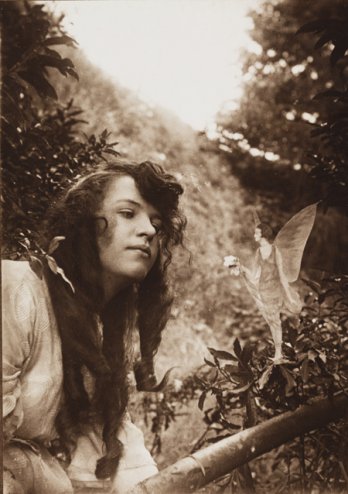 Elsie Wright et Frances Griffiths, Fairy Offering Flowers to Iris, 1920_© National Media Museum, Bradford
Ever since 1839, when photography is officially considered to have been invented, photographers have had to fight for their images to be acknowledged as artistic creations justifying protection by copyright. Recognition of their rights has developed gradually in Europe and the United States as a result of jurisprudence established after a wide-ranging debate on the status of the photographic image. This process was not easy at a time when photography was still new and when it became clear that it would drastically change artistic traditions and the distribution of images. With its unrivalled ability to reproduce reality and the production of multiple prints, photography raised a series of questions that were completely new.
From the mid 1850's on, several major philosophical and cultural issues were dealt with in courts of law. Judges found it difficult to relate photography to a legal framework since two distinct areas were involved in the process- that of the law and that of ethics. Considering photography from the point of view of the law or of ethics illustrates its extraordinary ability to represent reality and to create meaning, or meanings. A photograph is interpreted according to the cultural conventions associated with its creation or distribution. Reading an image in this way is something each individual does in accordance with his personal moral or philosophical convictions. It is also what society as a whole does by referring to the laws and ethics that form the foundations of a particular culture.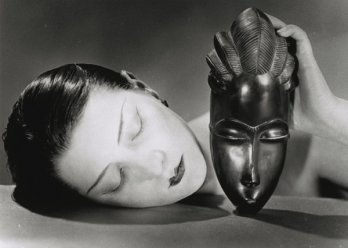 Man Ray, Noire et Blanche, 1926_© Man Ray Trust / 2007, ProLitteris, Zurich
Theconventions of representation change at the same time as the techniques used for the creation or the distribution of photographs. They also change by following the evolution of attitudes and ways of thought in a particular society. A review of the main cases that have seen photographers taken to court or that have lead to the censuring of images and their prohibition reveals that the issues involved are associated with money, politics, morality (both lay and religious), sexuality or the acknowledgement of the artistic status of the author.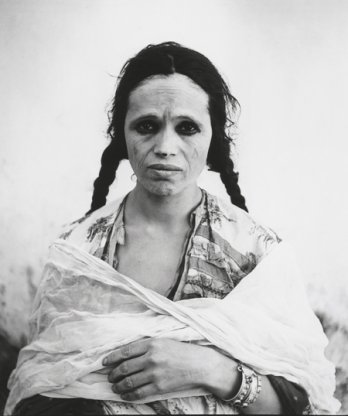 Marc Garanger, Portrait de Cherid Barkaoun, Algérie, 1960_© Photo Marc Garanger
At the end of the 1960's, Guy Debord, founder of the Situationist International, published The Society of Spectacle. In this book, he develops a critical analysis of how social relationships are increasingly determined by the images that have become the main means through which individuals relate to the world. He also denounces the cult of commerce in consumer society. Bill Gates, the owner of Corbis, echoes this analysis when he states that "Whoever controls images, controls minds". The political power of images influences our understanding of reality, providing a single and often uncritical point of view on what occurs in the world. This phenomenon, which generates feelings of guilt and repression, contributes to an acculturation of our perception of reality. The danger involved is that of visual conformism and ready-made beliefs.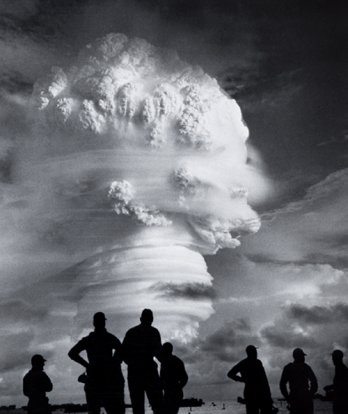 Michael Light, OAK / 8.9 Megatons / Enewetak Atoll / 1958, 2003_© 2003 Michael Light
Authority is also exercised through the control of reproduction rights. Nowadays, photographic collections and archives of 19
th
and 20
th
century work have become financial and historical treasure troves. First of all, this concerns the original prints bought by museums and private collectors that are part of a thriving market which has seen accusations of forgery brandished for the first time at public auctions. It also concerns archives and documentary collections that are often in the hands of powerful companies such as Corbis or Getty, or of a variety of public and private museums and institutions. These collections bring together millions of images that are financially exploited through the control of reproduction rights. For several years now, museums and institutions all over the world have tended to transform the photographs in their possession into commercial assets, thereby seriously affecting the laws and ethical principles that govern public policy.
Most museums demand payment for access to images in their collections even when these pictures are not protected by copyright. This practice has become wide-spread institutional policy. It is true that museums face
heavy financial burdens for the scanning and storage of their collections and that they suffer from the reduction of support from the State and local authorities. However, the high prices involved have become an obstacle for scientific and cultural publications. They make research difficult and have a direct influence on the cost of both books and access to culture. Surprisingly, prices are often higher for a photograph that is not protected by copyright than for contemporary work.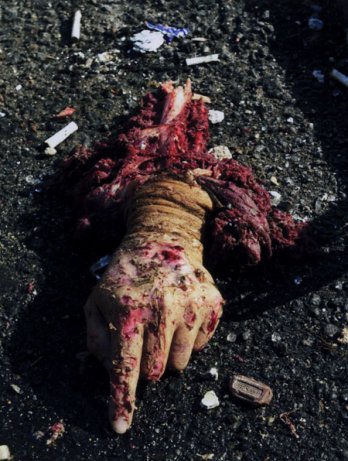 Todd Maisel, The Hand, 9/11, New York, 2001_© Todd Maisel
Leaving aside issues such as artists' rights, the right to exploit an image and political policies, why are certain images appreciated, or even venerated, while others are censored or prosecuted, freely distributed in certain circumstances but prohibited in others? This exhibition and the publication that accompanies it attempt to answer some of these questions. The exhibition and the book are the result of many years of research but neither is exclusively concerned with legal or ethical issues. Above all, the aim has been to confront a choice of photographs with a number of legal and ethical questions in order to show how a given society relates to images of itself at a particular historical moment. It is an attempt to grasp how these representations have been perceived, the interpretations they have been given, and finally to understand some of the issues associated with the photographic image. The examples that have been chosen give a clear understanding of the principles underlying photographic practice in a wide variety of fields, from the middle of the 19
th
century to the present day.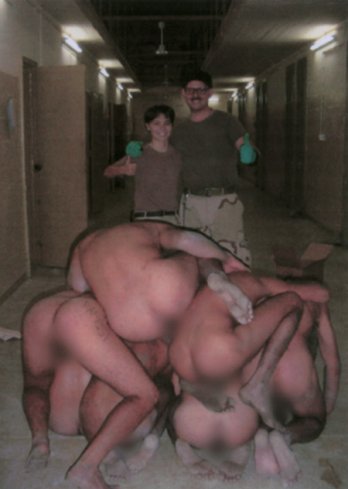 Anonyme, Abou Ghraïb, Irak, 2004 © DR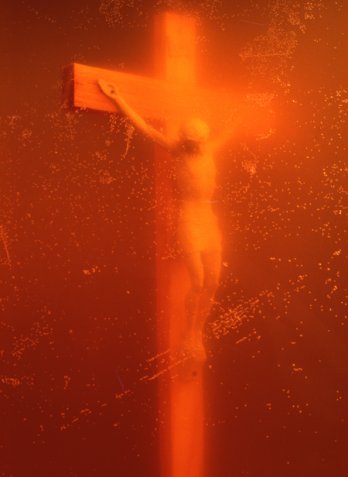 Andres Serrano, Piss Christ, 1987_© A. Serrano. Paula Cooper Gallery, New York
Beyond appearances
Faced with the atomization of knowledge and a flood of information, we are often called on to express an opinion about a subject for which we have neither access to primary sources (how many of us read a judgement before giving our opinion on the validity of a sanction?), nor the required scientific knowledge (who is able to give a considered opinion on the question of sexual maturity?). Nevertheless, in our "Conversation Society", people freely express their opinions, condemn, praise, vote and discuss a whole range of issues that affect everyday life. Moreover, when opposing points of view are involved, these discussions can develop into the sort of controversies dealt with in this book. Conflicts of this kind, therefore, often contain both objective facts and subjective elements that originate in the prejudices of a particular culture, period or group, or that are related to personal beliefs. For this reason, and in order to illustrate the wealth of opinion associated with these controversies, we have drawn our source material from a wide range of public discourse and from information that is easily accessible: on the one hand primary sources such as legal decisions and depositions; on the other (and more frequently), secondary sources such as press reports, readers' letters, blogs, websites and various syntheses.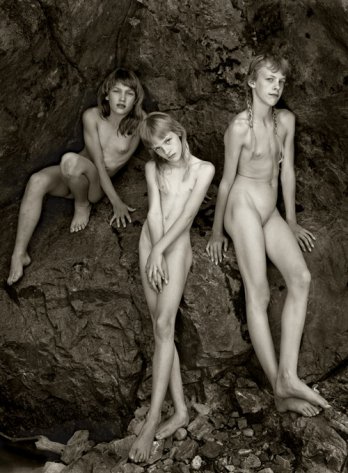 Jock Sturges, Christina, Misty and Alisa, North California, 1989_© Jock Sturges
As a result, if the treatment of these controversies contains inaccuracies or even errors in relation to the objective truth- if such a thing exists- it nevertheless attempts to illustrate as clearly as possible the public debate that interested us. Secondly, as Schopenhauer stated, we believe that "someone may be objectively right concerning the issue at hand while being wrong in the eyes of others and, sometimes, even in his own". Indeed, "how the objective truth of a statement and its relative importance are appreciated are two different things". This is certainly true when comparing public opinion with the decisions of a court of law. The party that wins a case is not necessarily in the right but manages to present arguments that prove to be more convincing. As a result, despite the authority of the decisions made in court or elsewhere, doubt and a critical attitude are an appropriate response to each of these controversies. Not only that, such a response is essential since although the battle may be over, the debate often is not.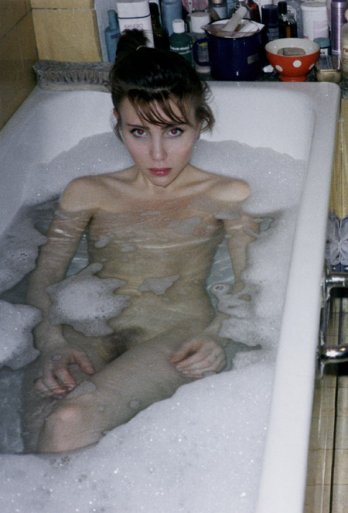 Annelies Strba, Sonja in her bath, 1986_© Courtesy Galerie Anton Meier
When a conflict becomes a controversy, it is an indication of attitudes and sources of tension in a society at a particular moment. A controversy is like a mirror in which the convictions of a community at that time become visible. Confronting a photograph with its historical context enables us to understand an epoch, a culture or a group of individuals. Moreover, while these controversies teach us something about the past, they also reveal something about the present. Indeed, a photograph in itself is always the same, fixed and unchanging whatever environment or period it is seen in. It may have provoked debate at a certain place and time, but what are our own reactions to it, here and now? When looking at such pictures, it is interesting to compare our reactions today with those of others in the past. We could also attempt to classify these controversies according to themes since certain issues arise regularly, reflecting age-old philosophical questions such as what is good, true and public as opposed to what is reprehensible (evil), deceptive (false) and egoistic (private)? Other pictures can be grouped together through their value as testimony or legal evidence. In the case studies we have dealt with, although some of the questions involved may seem minor or trivial, they are nevertheless exemplary since they allow us to examine the issues and discuss them in an unacademic and unsentimental way.
A brief overview of these themes shows that whatever the genre concerned (documentary, fashion, reportage, art or science), and irrespective of whether we are dealing with portraits, nudes, photomontage, interpretations or transgressions, every photograph conveys meaning. What interests us is how this meaning is perceived in changing historical circumstances. How a photograph is judged in a court of law depends primarily on the way it is read or interpreted and this reflects the dominant ideology of the moment.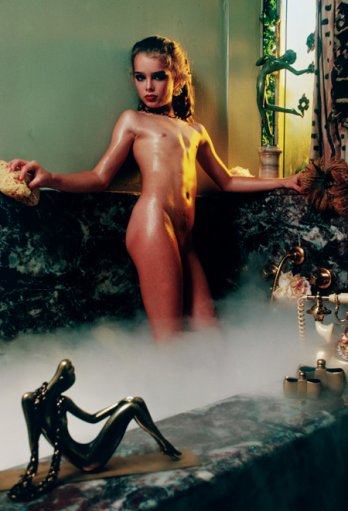 Garry Gross, Untitled, 1975_© Garry Gross
Three case studies: Garry Gross, Untitled, 1975
In July 1978, at the age of thirteen, Brooke Shields made front page news in Photo Magazine. The young American film prodigy was promoting the film Pretty Baby directed by Louis Malle. In the magazine, a ten-year old Brooke is shown wearing makeup, her glistening body posed naked in a bathtub. The picture comes from a series taken by Garry Gross, an advertising photographer from New York who was regularly employed by Brooke's mother to photograph her daughter, then a model with the Ford agency. At the time, Gross was working on a project for publication entitled The Woman in the Child, in which he wanted to reveal the femininity of prepubescent girls by comparing them to adult women. Brooke Shields therefore posed for him both as a normal young girl and in the nude, her body heavily made up and oiled. She received a fee of $450 from Playboy Press, Gross's partner in the project. Her mother signed a contract giving Gross full rights to exploit the images of her daughter. The series was first published in Little Women, and then in Sugar and Spice, a Playboy Press publication. Large prints were also exhibited by Charles Jourdan on 5th Avenue in New York.
In 1981, however, Brooke Shields wanted to prevent further use of these pictures and tried unsuccessfully to buy back the negatives. A legal battle then began between Shields and Gross with Gross being sued for a million dollars. Brooke Shields claimed that her mother had agreed to give up her rights for one publication only and that the photographs caused her embarrassment. In addition, they had been published, and would probably be published again, in revues of dubious morality. Her lawyers immediately obtained a provisional measure forbidding the use of the pictures until the end of the trial. The case was won by Gross with the court considering the contract signed by Brooke Shields' mother to be valid and binding on her daughter. Brooke Shields appealed and once again obtained a provisional ban on the use of the photographs.
Finally, after a procedure lasting for two years, the appeal court confirmed that Brooke could not invoke her right to annul the contract and that she was legally bound by her mother's signature. The court once again reaffirmed Gross's right to freely exploit the use of the pictures other than in a pornographic context. After the failure of their arguments concerning the validity of the contract, Brooke's lawyers decided on a new strategy, attacking Gross for violation of Brooke Shields' privacy. The actress claimed that the publication of the images caused her distress and embarrassment. Brooke Shields' acting career, however, weakened the credibility of this argument since it had clearly been built by projecting an explicitly sexual image of herself. Whatever the case, the court considered that "these photographs are not sexually suggestive, provocative or pornographic, nor do they imply sexual promiscuity. They are pictures of a prepubescent girl posing innocently in her bath". The court rejected all Brooke Shields' claims and decided in Gross's favour. The trial however, had ruined him financially and had tarnished his reputation. In addition, a change in attitudes towards the "politically correct" had sullied the photographs.
The story, nevertheless, had an unexpected development. In 1992, a contemporary artist called Richard Prince approached Gross about buying the rights to use and reproduce the image of Brooke Shields. In his artistic work, Prince appropriates pictures by rephotographing them, recontextualizing them and giving them a title. The picture of Brooke Shields, for example, is entitled Spiritual America. Gross was willing to retrocede his rights to Prince for a series of ten prints. Prince became a star of the contemporary art scene and his picture was sold at Christies in 1999 for $151,000.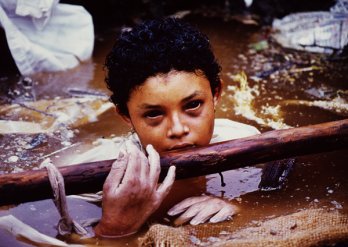 Frank Fournier, Omayra Sanchez, Armero, Colombie, 1985_© Frank Fournier / Contact Press Images
Frank Fournier, Omayra Sánchez, Armero, Columbia, 1985
This picture was taken by Frank Fournier in Columbia on Saturday 16 November 1985, a few days after the eruption of the Nevado Del Ruiz volcano. The landslide provoked by the eruption had already killed 24,000 people as the local authorities had taken no preventive measures despite the warnings of vulcanologists. In this natural catastrophe, the young Omayra Sánchez was caught in the town of Armero in debris transported by the mud. For two full days and three nights, rescue workers tried to free her with the whole world following her ordeal on TV or in the papers. The crane and the hydraulic pump that were needed to clear the debris didn't arrive in time. Omarya's hips had been injured by metal bars and her legs were trapped. She was exhausted and despite her impressive faith and calm, she died of a heart attack on 16 November.
For Frank Fournier, a member of the agency Contact Press Images and the author of documentaries published worldwide, the feeling of powerlessness was overwhelming. He was unable to save the victims who urgently needed medical aid and professional care. He realised that all he could do was record the suffering of the young girl in the hope that this would help mobilise international aid. Although he had considerable success in the media, winning the World Press Photo prize in 1986 for this portrait of Omarya, Frank Fournier was understandably gnawed by doubt. The agonising death of a young girl, surrounded by journalists and photographers, was followed live on television all over the world. Fournier's reactions show how deeply a photographer can be forced to question his work and to doubt its legitimacy. This case highlights the terrible dilemma of either showing reality as it is and running the risk of shocking the public, or of refusing to record such tragedies.
Fournier found himself at the centre of a major controversy: in such a situation, wouldn't it have been better to offer help rather than to take pictures? Is it possible to show the suffering of others without violating their right to have their privacy respected? For some people, broadcasting the drama of Omarya's death was obscene. The case illustrates the vicious commercial circle in which news programmes are trapped nowadays, their obligation not to be outdone by the competition and a coverage of events oscillating between the extremes of voyeurism and sensationalism. Confronted with these issues, many photographers insist on their ethical probity and their sense of personal responsibility. For them it is of the utmost importance that the public be informed.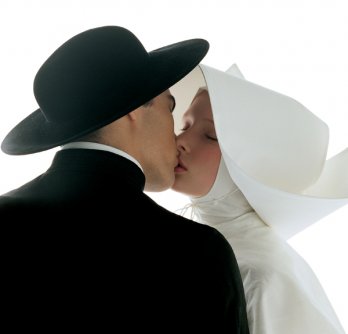 Oliviero Toscani, Kissing-nun, 1992_© Copyright 1991 Benetton Group S.p.A. - Photo: Oliviero Toscani
Oliviero Toscani, Kissing-nun, 1992
Oliviero Toscani
is a well-known fashion photographer whose work has appeared in magazines such as Elle, Vogue, Harper's Bazaar and Stern. However, it is his work for Benetton from 1982 to 2000 that made him world famous. Over a period of eighteen years, he created a very strong visual identity for the firm which helped establish its reputation. By the year 2000, Benetton had become one of the five most famous brand names in the world with stores in more than one hundred and twenty countries.
Toscani began the advertising campaign with a series of variations on the slogan The United Colors of Benetton, bringing together strongly contrasting opposites in the same image. In this way he created a direct, provocative message that conveyed a whole range of positive values such as the acceptance of differences, multiculturalism, the fight for equality and peace. He then began to move gradually away form the original intention of the advertisements, which was the presentation of Benetton clothes, with pictures of a black woman breastfeeding a white baby, of a white wolf and a black sheep or of a tiny black hand held in a large white one.
The themes became increasingly provocative, focusing on news and current affaires, and began to generate intense controversy that in some cases ended in court. In 2000, the Death Row campaign, using portraits of 26 American prisoners who had been condemned to death, created an outcry in the public but also amongst distributors of the clothes and the families of the prisoners. Benetton decided the time had come to end its collaboration with Toscani.
"Kissing-nun" deals with the theme of religion, contrasting a profane, sensual kiss with the sacred vows pronounced by men and women who enter religious orders. By challenging the principle of religious celibacy, the picture encourages viewers to refuse traditional constraints and thereby directly attacks the basic values of Catholicism. Inevitably, part of the public felt deeply offended and in Italy, bowing to pressure from the Pope and the Vatican, the use of the image was finally prohibited.
In France, the Office for the Surveillance of Advertising Practice demanded the withdrawal of the posters after receiving numerous complaints lodged by religious associations. The problem reoccurred, as it inevitably does whenever a picture challenges religious beliefs, with the poster for the film Amen (2002), also designed by Toscani, which shows a Christian cross transformed into a Nazi swastika. The demand for the prohibition of the poster was nevertheless refused by French law courts on the grounds of previous jurisprudence dealing with the issue.
Toscani succeeded in freeing advertising from its traditional codes rooted in consumerism by using of the power of images to add a social dimension to an activity that had previously been purely commercial. Infringing taboos with the use of forceful pictures, he provoked the intense debates which are the sign of a successful policy of communication in contemporary society.
Through February 6, 2011
www.cna.public.lu