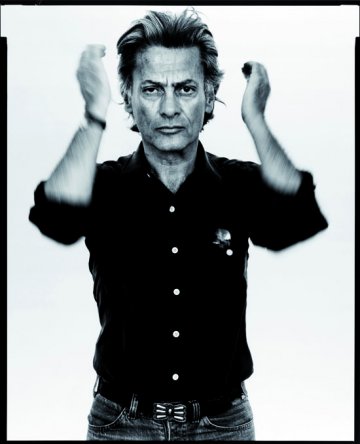 Richard Avedon
Photographs 1946 - 2004"
Helle Crenzien + Marta Gili, April 7, 2008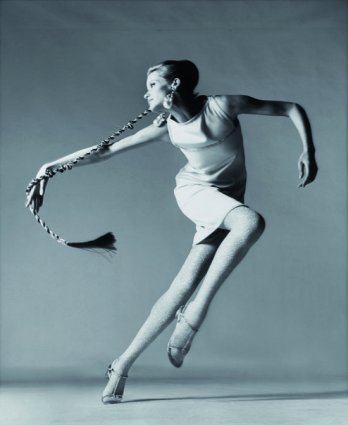 Richard Avedon_Veruschka, robe de Kimberly_New York, janvier 1967_© 2008 the Richard Avedon Foundation
The exhibition
"Photography 1946-2004"
is showing around 200 of Richard Avedon's photographs: all the way from the early ones of the forties, when he travelled to Rome and Sicily just after World War II and photographed the street scenes there, through the glamorous fashion world of the fifties in Paris, to the more psychological portraits of literati, actors, musicians and artists. A critic from The New Republic once wrote of an exhibition of Avedon's works: "Avedon puts in too much and pushes too hard. His work goes too many places" - but regardless of quantity or dating, there's one common denominator - the portrait. Whether Avedon photographed the street entertainer Zazi in the streets of Rome in 1946, Marilyn Monroe in 1957, Karen Blixen/Isak Dinesen in 1958, Veruschka in clothes designed by Kimberly in 1967 or the singer Björk in 2004, it is portraits he creates; not reportage, snapshots, fashion photography, but portraits. Thoughtful portraits, frozen elements of a performance, testifying to empathy and shared responsibility. The retrospective character of the exhibition makes this observation not only possible but inevitable: the whole multi-faceted œuvre can be circumscribed by one artistic arc that is about openness and complexity, lies and flattery in the portrait tradition.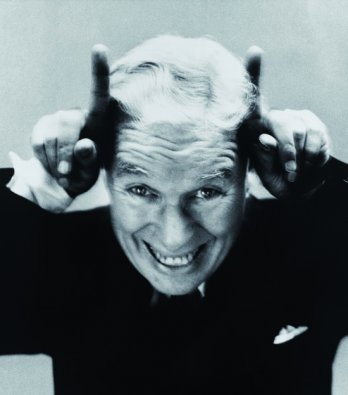 Richard Avedon_Charles Chaplin quittant l'Amérique_New York, 13 septembre 1952_© 2008 the Richard Avedon Foundation
Along with Irving Penn, Avedon changed portrait photography in the twentieth century. Penn is the last exponent of the aristocratic concept in photography: he is considerate and attentive in his pictures where Avedon is radical and brutal. Avedon ranges wide and his photographs exhibit a visible duality: they are photographs taken by a strong, complex personality, a photographer who possesses great humanity - and cold-bloodedness. Avedon tries to bring out more facets rather than just to reproduce his sitters from an arbitrary point of view; as when Picasso works for example with the portrait of Gertrude Stein. Like Picasso, Avedon is a co-creator - not just an observer. The photograph is by nature 'truthful', but Avedon shows that the photograph can show or reveal much more than the superficial truth.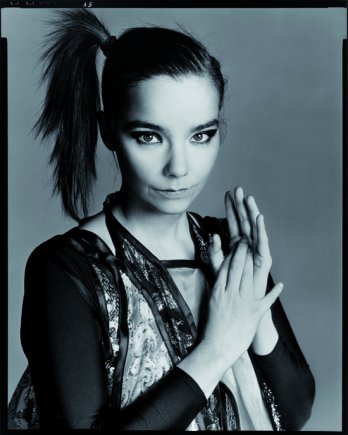 Richard Avedon_Björk, musicienne_New York, 2 juin 2004_© 2008 the Richard Avedon Foundation
Richard Avedon started working for Harper's Bazaar in 1945. He joined Vogue in 1966. His pictures metamorphosed fashion photography, which he found too static and stuffy, by emphasising movement and capturing his models in public spaces such as parks nightclubs and shops. Avedon set out to recreate everyday and social situations, and to give the impression that, as in photojournalism, his photographs were taken spontaneously, on the spur of the moment. After the Second World War the supremacy of New York meant that its fashion photographers were sent over to Paris to photograph the European collections. Avedon regularly photographed the designs of the major Parisian couture houses through to 1984. In the 1960s Avedon went back to the studio and the neutral background in order highlight the beauty and mobility of his subjects.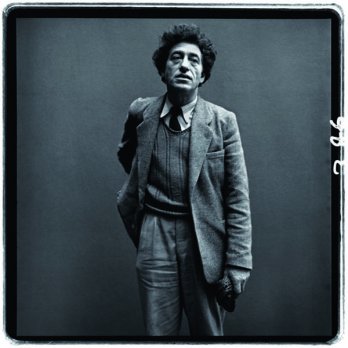 Richard Avedon_Alberto Giacometti_Paris, 6 mars 1958_© 2008 the Richard Avedon Foundation
In parallel to his fashion photographs, Richard Avedon made numerous portraits, radically transforming the codes of genre, as did that other great American photographer, Irving Penn. But Avedon went even further than Penn. He shattered the iconic images of the stars of show business, literature, the arts and the political elite in the United States. His portraits show all the facets of his models' personality, however great their mastery of the codes of representation. The use of white grounds, the bareness of the compositions, helped to bring a searching psychological dimension to each subject. Generally speaking, Avedon sought to capture the true nature of things rather than to reproduce them superficially. During his photography sessions, he sought out that very special moment when he could capture and set down the psychological intensity emanating from the sitter. For, to photograph someone "meant looking beyond the charm of the face and establishing a relation between the vital presence of the other and his own, that is to say, finding the moment when everything converged and happened.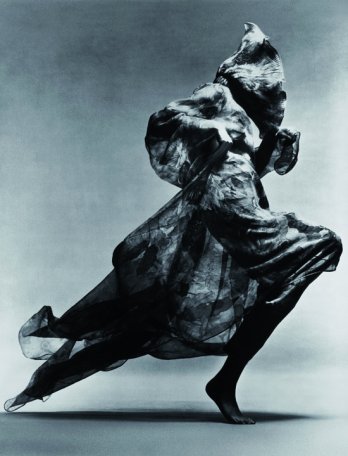 Richard Avedon_Jean Shrimpton, robe du soir de Cardin_studio de Paris, janvier 1970_© 2008 the Richard Avedon Foundation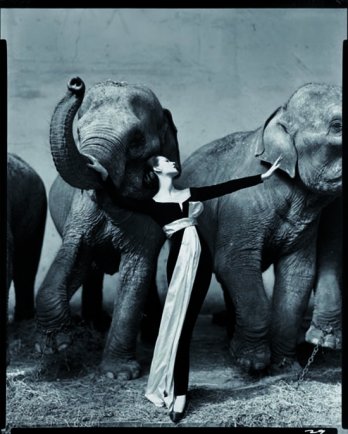 Richard Avedon_Dovima et les éléphants_Robe du soir de Dior, Cirque d'Hiver, Paris, 1955_© 2008 the Richard Avedon Foundation
In the American West
was the result of a commission from the Amon Carter Museum of Fort Worth, in Texas. From 1979 to 1984, Avedon photographed men and women in the American West, most of them working folk. In the process, he travelled across several states of the Great Plains and the Rockies, paying special attention to specific sites and events such as ranches, coalmines, cattle fairs, oil wells, slaughterhouses, truck stops, modest diners and offices. He photographed the homeless, housewives, cowboys, miners, prisoners and rodeo riders. His strategy was to build up a network of portraits, weaving a series of psychological, sociological, physical and familial connections between these individuals who had never met. All the photos in this series were taken in broad daylight and outdoors, looking for a certain quality of shadow, against a simple white paper backdrop hung on the side of a truck. The uncompromising photographs that resulted caused quite a controversy when they were first shown in Texas because of Avedon's "demystifying" vision of that Promised Land, the American West, that land of pioneers and conquerors."
Richard Avedon put his talent as a photographer at the service of the social causes and political evens that shook American society in the 1960s and 70s. He made several reports on the Civil Rights movements in the South (1963), the Ku Klux Klan, and psychiatric hospitals. A pacifist, he photographed hippies demonstrating against the Vietnam War in 1969, and travelled to the country in 1971 to make portraits of the army leaders and of napalm victims. For the French magazine Égoïste he covered the meeting of East and West Berliners at the Brandenburg Gates on 31 December 1989 and 1, January 1990, less than two months after the fall of the Wall.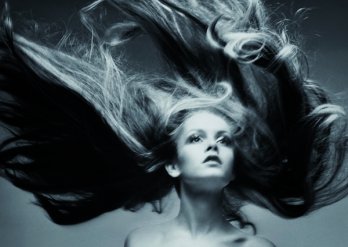 Richard Avedon_Twiggy, coiffure de Ara Gallant_studio de Paris, janvier 1968_© 2008 the Richard Avedon Foundation
Richard Avedon born in 1923 Born, New York City. 1929-41 Attended P.S. 6, De Witt Clinton High School, and Columbia University. 1937-40 Co-editor, with James Baldwin, of The Magpie, De Witt Clinton High School literary magazine.1942-44 Served in the U.S. Merchant Marines.
1944-50 Studied with Alexey Brodovitch at The Design Laboratory, New School for Social Research, New York City. 1945-65 Staff photographer for Harper's Bazaar. 1947-84 Photographed the French Collections in Paris. 1949-50 Theatre Arts, editor and photographer. 1950 Art Directors Club, New York, Highest Achievement award.
1957 Visual consultant for the film Funny Face, directed by Stanley Donen, with Fred Astaire and Audrey Hepburn, based on Avedon's career. 1958 Popular Photography magazine, One of the World's Ten Greatest Photographers. 1959 Publication: OBSERVATIONS, photographs by Richard Avedon, text by Truman Capote, designed by Alexey Brodovitch. Simon and Schuster 1959. 1962
Exhibition: "Richard Avedon", Smithsonian Institute, Washington, D. C.
1963 Photographed the Civil Rights Movement in America. 1964 Publication: NOTHING PERSONAL, photographs by Richard Avedon, text by James Baldwin, design by Marvin Israel. Atheneum 1964. 1966-90
Staff photographer for Vogue. 1967 Conducted Master Class in Photography at the Avedon Studio.
1969 Photographed the Anti-War Movement across America. 1970 Exhibition: "Richard Avedon", portrait retrospective 1945-1970 at The Minneapolis Institute of Arts, Minneapolis, Minnesota. 1971 Photographed in Vietnam. 1973 Publication: ALICE IN WONDERLAND: THE FORMING OF A COMPANY AND THE MAKING OF A PLAY, photographs by Richard Avedon, text by Doon Arbus, design by Ruth Ansel. E.P. Dutton 1973.
1974 Exhibition: "Jacob Israel Avedon", portraits of the photographer's father, The Museum of Modern Art, New York. 1976 Publication: PORTRAITS, photographs by Richard Avedon, introduction by Harold Rosenberg. Farrar, Straus & Giroux 1976 Publication: "THE FAMILY", Rolling Stone, October 21, special Bicentennial issue, photographed during the 1976 election campaign season. 1978 Exhibition: "Avedon: Photographs 1947-1977", fashion retrospective at the Metropolitan Museum of Art, New York.
Publication: AVEDON: PHOTOGRAPHS 1947-1977 by Richard Avedon, essay by Harold Brodkey. Farrar, Straus & Giroux 1978.
1980 Exhibition: "Avedon: 1946-1980", portraits, fashion, reportage, University Art Museum, Berkeley, CA. 1985 Exhibition: "In the American West", Amon Carter Museum, Fort Worth, Texas. Publication: IN THE AMERICAN WEST 1979-1984, photographs by Richard Avedon. Began working for the French publication Egoïste. American Society of Magazine Photographers, Photographer of the Year.
1989 Council of Fashion Designers of America (CFDA), Lifetime Achievement Award. Royal College of Art, London, Honorary Doctorate. 1991 Installation "Brandenburg Gate, East Berlin, New Year's Eve, December 31,1989 - January 1, 1990" at the Carnegie International 1991, Carnegie Museum of Art, Pittsburgh, Pennsylvania. Erna and Victor Hasselblad Foundation International Photography Prize. 1992 First staff photographer for The New Yorker.
1993 International Center of Photography Master of Photography Award. Kenyon College, Ohio, Honorary Doctorate. Publication: AN AUTOBIOGRAPHY RICHARD AVEDON, photographs by Richard Avedon, design by Mary Shanaham. Random House 1993. 1994 Exhibition and exhibition catalogue: "Richard Avedon Evidence 1944-1994", retrospective, Whitney Museum of American Art, New York. Parsons School of Design, New York, Honorary Doctorate. EVIDENCE is awarded the Prix Nadar by the Bibliotheque Nationale for the best photographic book of 1994. Publication: EVIDENCE: 1944-1994, photographs by Richard Avedon with essays by Jane Livingston and Adam Gropnik, design by Mary Shanaham. Random House 1994.
1995 American Masters Documentary, "Richard Avedon: Darkness and Light", produced for PBS, directed by Helen Whitney for PBS 1995. 1998 The Alliance for Young Artists & Writers Award for Lifetime Achievement in the Arts. 1999 Publication: AVEDON THE SIXTIES, Richard Avedon and Doon Arbus, design by Ruth Ansel and Gregory Wakabayashi. Random House 1999. Exhibition "Richard Avedon Early Portraits", Fraenkel Gallery, San Francisco.
2000 Exhibition "About Faces", including Richard Avedon portraiture, Fraenkel Gallery San Francisco. Deutsches Centrum für Photographie, Berlin Photography Prize 2000. 2001 Exhibition "Richard Avedon: Made in France", Fraenkel Gallery, San Francisco. Publication: RICHARD AVEDON: MADE IN FRANCE, essay by Judith Thurman, design by Mary Shanahan and Gregory Wakabayashi, Fraenkel Gallery, 2001.
2002 Exhibition: "Richard Avedon Portraits", portrait retrospective, The Metropolitan Museum of Art, New York, curated by Maria Morris Hambourg & Mia Fineman. Publication: RICHARD AVEDON PORTRAITS, photographs by Richard Avedon, essay by Maria Morris Hambourg and Mia Fineman, essay by Richard Avedon, foreword by Philippe de Montebello, design by Mary Shanahan. MMA and Harry Abrams 2002.
2003 Exhibition: "Richard Avedon", Fraenkel Gallery, San Francisco. Arts & Business Council, Award for Outstanding Achievement in the Visual Arts. Americans for the Arts, National Arts Award: Lifetime Achievement. 2004 Dies, 1 October, San Antonio, Texas, while on assignment for The New Yorker.
This exhibition is the first major retrospective of the artist's work since his death in 2004. After the Louisiana Museum (24 August 2007 to 13 January 2008), it is being presented this summer at the Jeu de Paume Concorde, where it will occupy the entire space. The exhibition brings together 270 works spanning Richard Avedon's career from 1946 to 2004. There are of course fashion photographs, but above all there are photographs of figures from the worlds of politics, literature, the arts and show business. In Paris, at the initiative of Marta Gili, director of the Jeu de Paume, this selection will be enriched by some forty large-format prints from In the American West, the series produced by Avedon from 1979 to 1984.
From July 1 to September 28, 2008
www.jeudepaume.org