Alec Soth
L'espace entre nous
M.G., March 31, 2008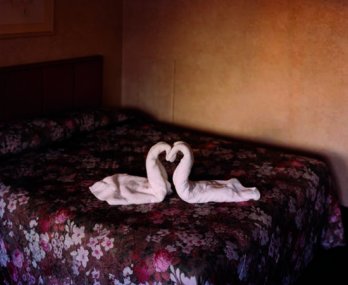 Alec Soth_Two Towels_série Niagara, 2004-2005_© Alec Soth / Magnum Photos
Dans chacune des pièces formant l'exposition "L'espace entre nous", Alec Soth contourne la notion de document social. À ses yeux, la photo ne peut raconter d'histoires, mais simplement les suggérer. À l'instar des mots qui défilent, un vers après l'autre, dans un poème, les images de Soth ne consignent aucun fait, ne témoignent d'aucun événement, mais exsudent des sons, des lumières et des formes qui peuvent faire monter au ciel, ou tomber au sol. C'est la raison pour laquelle Soth lui-même rapproche davantage son travail de la littérature que du cinéma. La séquence d'images de Niagara, le montre bien. Un cliché renvoie à un autre qui évoque le précédent, en une sorte de rythme immanent, présent aussi bien dans les replis impétueux des chutes du Niagara que dans les étreintes passionnées des jeunes mariés qui se retrouvent traditionnellement à cet endroit. Rapprochement entre l'énergie débordante de la nature et les passions débridées des humains ? Évocation de la marchandisation du bonheur ? Les images de Soth sont tout cela, et sûrement bien plus encore.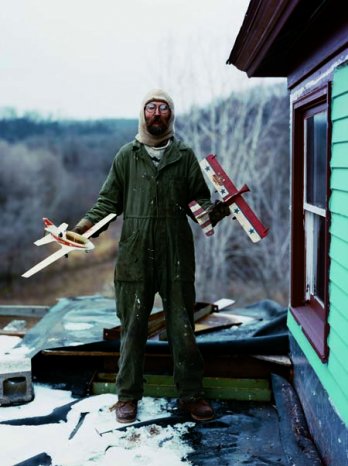 Alec Soth_Charles_Vasa, Minnesota 2002_série Sleeping by the Mississippi ,1999-2002_© Alec Soth / Magnum Photos
Comme c'est le cas chez la plupart des grands photographes de l'école américaine (Walker Evans, Robert Frank, William Eggleston, et même Richard Avedon), les photos d'Alec Soth effleurent la surface des choses, mais elles ne sont pas ces choses, et encore moins leur essence. C'est ainsi que de l'expérience quotidienne, d'une rencontre fortuite ou d'un contact permanent avec les apparences naît le plaisir sensuel de présenter le monde, de le montrer d'une manière laconique pour en fin de compte bâtir du sens. Ses voyages le long du Mississippi et la série qui en a résulté illustrent bien le fait - au même titre que ses rencontres aux chutes du Niagara – que toutes ces images sont d'abord des voix, des regards et des sons : des éléments piochés à droite et à gauche, des sensations s'articulant les unes aux autres, qui ne deviendront des documents qu'après avoir été respirées et éprouvées.

Marta Gili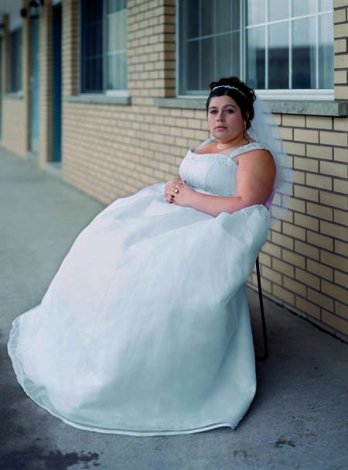 Alec Soth_Melissa_série Niagara, 2004-2005_© Alec Soth / Magnum Photos
Alec Soth's photography is firmly rooted in the tradition of Walker Evans, Robert Frank, and Stephen Shore. His depiction of the everyday confronts the ideals romanticized by American society; independence, freedom, religious devotion and individual expression. Through his 8 x 10 camera lens, Soth captures the extraordinary by exposing and utilizing the vernacular of the ordinary. The exhibition features 80 photographs: a selection from Alec Soth's two acclaimed bodies of work, Sleeping by the Mississippi (2004) and Niagara (2006) will be presented long with a selection of images from the series Dog Days, Bogotá (2007), and his ongoing project, Portraits. The exhibition features 80 photographs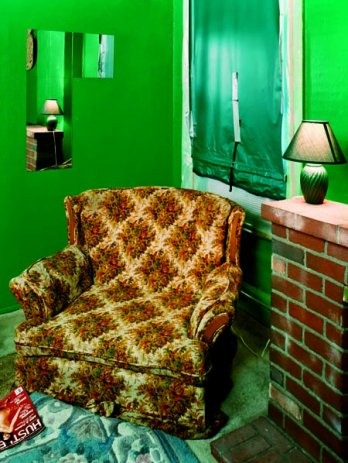 Alec Soth_Sugar's_Davenport, Iowa 2002_série Sleeping by the Mississippi, 1999-2002_© Alec Soth / Magnum Photos
Sleeping by the Mississippi

Evolving from a series of road trips along the Mississippi River in 2004, Alec Soth's Sleeping by the Mississippi captures America's iconic yet often neglected "third Coast ". Soth's richly descriptive, large format color photographs describe an eclectic mix of individuals, landscapes, and interiors. Sensuous in detail and raw in subject, this series evokes a consistent mood of loneliness, longing and reverie.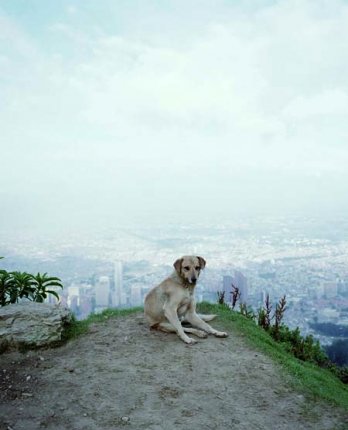 Alec Soth_Untitled 02, Bogotá_série Dog Days, Bogotŕ, 2002-200_© Alec Soth / Magnum Photos
Dog Days, Bogotá
After completing the shooting of Sleeping by the Mississippi in 2002, Alec Soth traveled to Bogotá, Colombia to adopt a baby girl. While the courts processed paperwork, he and his wife spent two months in the capital city waiting to take their new baby home. Beauty makes itself known through ramshackle architecture, the companionship of animals, and the perseverance of the human spirit. Yet, in Dog Days, Bogotá (2007), Soth's photographs transcend the simple description of beauty and poetically roam through a cast of strays, tough souls, and hints of hope.
Niagara
In the follow up to this critically acclaimed debut, Alec Soth turns his eye to another iconic body of water, Niagara Falls. But as with his photos of the Mississippi, Soth's pictures of Niagara are less about natural wonder than human desire. Working over the course of two years on both the American and Canadian sides of the Falls, Soth's richly detailed, and rigorously composed photographs depict newlyweds and naked lovers, motel parking lots and pawn shop wedding rings. Emphasizing various motifs associated with romance, he also includes a number of love letters from the subjects he photographed.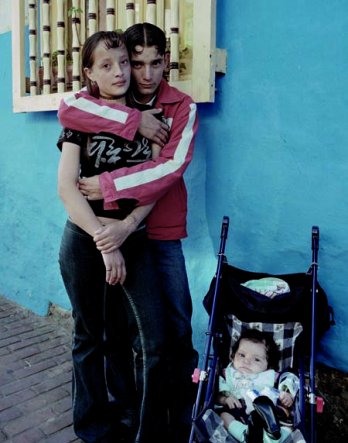 Alec Soth_Untitled 04, Bogotá_série Dog Days, Bogotŕ, 2002-2003_© Alec Soth / Magnum Photos
Portraits
"(...) Soth's latest work, a stunning array of color portraits, is drawn from all walks of Soth's artistic life — from Magnum editorial assignments, private commissions, personal projects including From Here to There and Sleeping by the Mississippi, and discrete images gathered during art-related travel. His subjects include everyday strangers and celebrated authors and artists, whom he encountered throughout the United States and on recent travels to Iceland, Germany, Canada, Brazil, China, and Britain. (...) Soth is most interested in shooting what is new to him. Rarely does he photograph friends, family, or familiar surroundings. His vision is driven by curiosity. (...) Because of Soth's remarkable ability to get a psychological read on his subjects, his pictures evoke interior landscapes - places filled with creative longing, determination, or brooding loneliness. (...)" (Cynde Randall)
About Niagara project

Alec Soth:
When I took pictures in Niagara or along the Mississippi, I wasn't really documenting those places. There is so much I left out. Niagara has millions of happy vacationing families and I didn't photograph a single one. Likewise, I refrained from photographing skyscrapers along the Mississippi. I created my own Niagara and my own Mississippi. I'm creating my own fashion world with this magazine.
I often say that when I am making a portrait, I'm not 'capturing' the other person. If the photograph documents anything, it is the space between the subject and myself. Something similar is at work with Fashion Magazine. I'm not really comfortable saying I know anything about Paris or its fashion world. And I suspect that most fashionable Parisians know just as little about Minnesota. What is interesting is the space between us. My favourite example of this involves Chanel. In Paris, I photographed Karl Lagerfeld at the Grand Palais. In Minnesota, I photographed a girl with a Chanel shopping bag in front of Sally's Beauty Shop. With this magazine, I'm trying to explore the distance between those two places.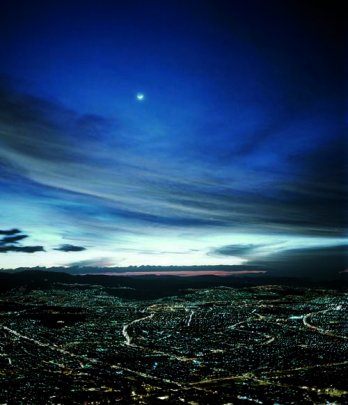 Alec Soth_Untitled 49, Bogotá_série Dog Days, Bogotŕ, 2002-2003_© Alec Soth / Magnum Photos
Marta Gili: Would you make a distinction between a documentary photographer and a document maker?A.S.:
'Documentary photographer' seems a bit loaded - and a bit limiting. It suggests purity. I'm not pure. 'Document maker' is less loaded, but I still wouldn't say this is my ultimate goal. I just want to make something beautiful. And the most profound beauty is grounded in something real.
M.G.: Look at fashion, and the representation of fashion, for instance. Beauty in this case is a concept with strong political, social and cultural implications. The search of beauty is never innocent. I think that your images are not innocent either. Behind their indisputable beauty, they also breathe in a melancholic way to present the human condition. Do you agree?A.S.:
I have a hard time separating my sensibility from the inherent characteristics of the medium. Most photographs are made out of the desire to stop time. It is hard not to find something melancholic about this longing to possess and preserve the world. The act of photography strikes me as both desperate and utterly human. This relates to what I said previously about portraiture and the idea of photographing the space between the subject and myself. As an acknowledgement of that space, a photograph can't help but be a small marker of alienation. But let's not go overboard with the moody philosophizing. In the end, I'm trying to have fun and make something pretty. That must be some kind of affirmation.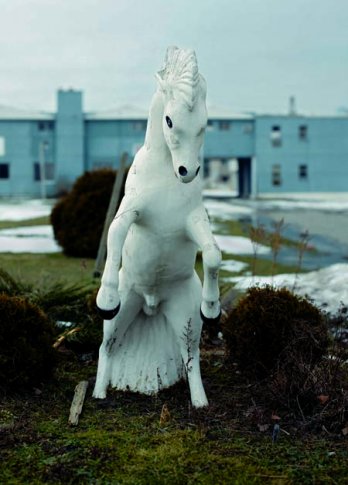 Alec Soth_Impala_série Niagara, 2004-2005_© Alec Soth / Magnum Photos
M.G.: Which writers, photographers and filmmakers inspire you?
A.S.:
The list is endless, but lately I draw more from poetry than anything else. For me it is the medium most similar to photography. I'm particularly drawn to 20
th
century American poetry. I learn a lot from the way these poets assemble images, incorporate vernacular and invent rhythm.
Alec Soth (born in 1969) is a photographer born and based in Minneapolis, Minnesota. He is the recipient of several major fellowships from the McKnight and Jerome Foundations and was awarded the 2003 Santa Fe Prize for Photography. His work is represented in major public and private collections, including the San Francisco Museum of Modern Art, the Museum of Fine Arts Houston and the Walker Art Center in Minneapolis. Soth's photographs have been featured in numerous solo and group exhibitions, including the 2004 Whitney and São Paulo Biennials.
His first monograph, Sleeping by the Mississippi, was published by Steidl in 2004; his follow up, Niagara, was also published by Steidl and released in 2006. Soth is represented by the Gagosian Gallery in New York, the Weinstein Gallery in Minneapolis. Alec Soth became a nominee of Magnum Photos in 2004 and an associate in 2006.
Alec Soth : l'espace entre nous
From April 15 to June 15, 2008
www.jeudepaume.org