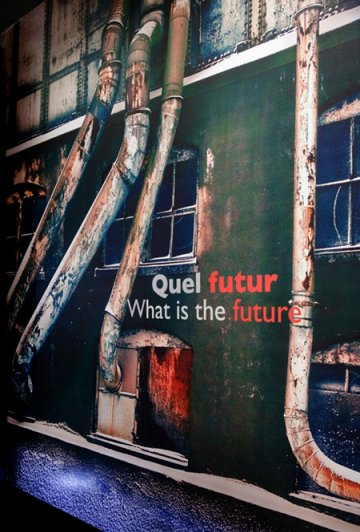 Urbanopolis
What is the future of our urban planet?
Serge Poulin, March 3, 2008
Urbanopolis_Corridor_Idra Labrie
How will the future growth of cities affect us? - Air, water, soil, forests, climate - What are the future needs of our cities? - Housing, transportation, energy, drinking water, services - Who will live in the cities of the future? - A third of the world's population lives in shantytowns - What does the future look like for urban societies? - Equity, social contact, aging, the economy.
Around 479 BC, Hippodamos redesigned the city of Milet in Ancient Greece. He invented geometric street patterns with the idea that one could transpose the order and harmony of the universe on to the city. A functional urban planner before his time, he believed in zoning, formal layout, and adapting to geography. To this day, the site chosen, the street plan, the land divisions, and how buildings are distributed determine the shape of the city. Each city has its own unique layout and distinguishing characteristics. The urbanization of Mesopotamia began in the fourth millennium BC, and its expansion in the third millennium BC coincided with the advent of writing. Cities began to evolve on every level: cultural, religious, administrative and economic. Contracts for the construction of temples and other buildings were engraved on clay or stone tablets to make sure that royal proclamations relating to construction would be observed in perpetuity.
Founded in about 8000 BC, Jericho is one of the oldest cities in the world. The remains of an old brick building in the city, situated on the present-day West Bank, are signs of urban activities in the distant past.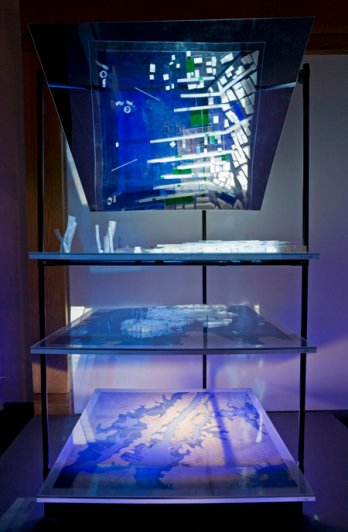 Urbanopolis_New York in 100 years_Idra Labrie
How do cities move? How does a megalopolis work? How are cities planned and how to they take root? How do cities innovate? Why build new cities? What's it like to live in a city? What kinds of energy do cities need? What is nature's place in the city? What does the future hold for our urban planet? As Musée de la civilisation's first official event during Québec City's 400
th
anniversary year, the
Urbanopolis
exhibition straddles fantasy and reality to showcase the universal themes of movement, nature, and our built heritage and their direct connection with the urban environments we live in.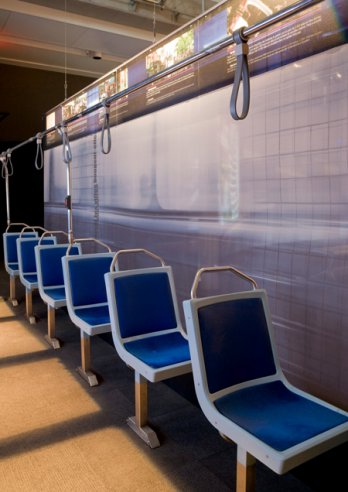 Urbanopolis_Tramways_Idra Labrie
Rethinking the city for Québec's 400th anniversary
"Québec City's 400th anniversary is a marvellous opportunity to reflect upon what lies ahead for today's urban societies. And who better than Musée de la civilisation to help the public imagine cities in the 21st century? Four hundred years after Samuel de Champlain, the city that he founded marches on. It is up to us to pursue the dream, and to understand the challenges facing our increasingly urbanized planet," explained Musée de la civilisation executive director Claire Simard. "We have taken a look at the city from a borderless perspective. To showcase contemporary urban realities, we turned to young local talents. Using images and light, they have designed a bold environment that evokes the vibrancy and dynamism of urban life,"
concluded Ms. Simard.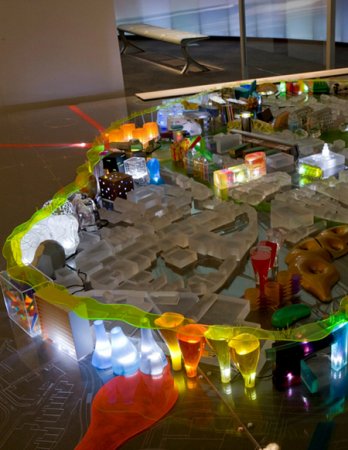 Urbanopolis_Maquette_Rethinking Barnsley_Will Aslop, Architecture, 2002_Idra Labrie
Cities: A place where anything is possible!
Throughout history, the evolution of urban societies has been driven by human creativity. Across the Americas, Europe, Asia, Africa, and Oceania - whether in Jericho, Athens, Rome, Jerusalem, New York, Cairo, Mumbai, Mexico, Shanghai, London, Rome, Seoul, Sao Paulo, or Québec - cities past and present have always been and always will be works in progress, ongoing endeavors in a perpetual process of construction, visualization, and reinvention. Symbols of hope for humankind, they inspire passions and raise major challenges for the 21
st
century.
Urbanopolis
provides an opportunity to discover the myriad ties that link city dwellers to their urban environment. This interdependence is a unifying theme running throughout the exhibition.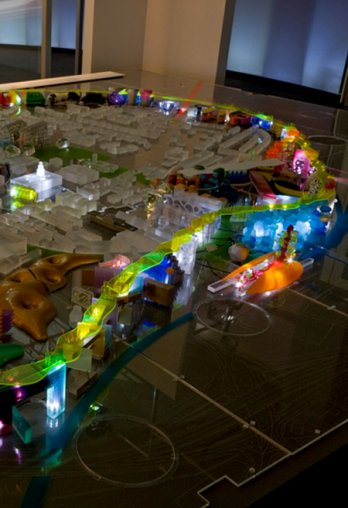 Urbanopolis_Maquette_Rethinking Barnsley_Will Aslop, Architecture, 2002_Idra Labrie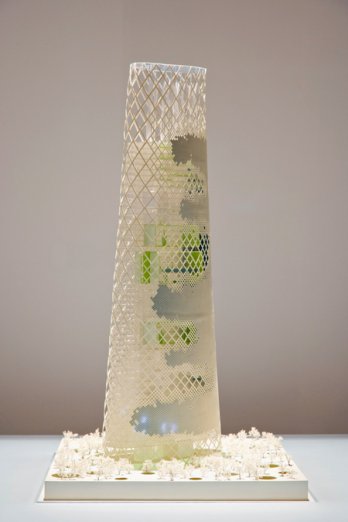 Urbanopolis_Hypergreen_Jacques Ferrier Architecture, 2002
The exhibition is divided into three main themes, each showcased in a way that is fresh, lively, and resolutely modern. The exhibition's interactive features and design (audiovisual, sound and light) are the work of technology wizard Philippe Jean and multidisciplinary artist Bernard White.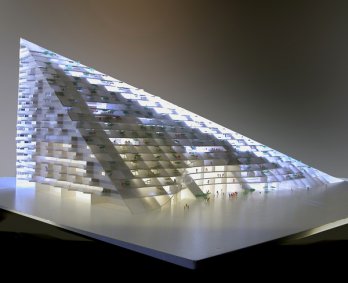 Urbanopolis_Little Denmark_Bjarke Ingels Group_BIG, 2004
Cities in motion
Right from the start, the tone is set! Visitors enter the exhibition through a corridor that evokes urban flux and interconnectedness. A gigantic mural asks questions on the impact of urban growth, urban populations, the needs of cities in the future, and what tomorrow holds in store for urban societies and our urban planet. Then comes a multimedia tramway where the themes of urban transport and future mobility are explored. A little further on, an interactive bus shelter allows visitors to animate their surroundings with large-scale images of urbanites coming and going at typical city meeting places and public spaces. This space also features models of the Ford Volante Tri-Athodyne (1961), an air cushion vehicle of the future (circa 1935), the Bombardier Embrio electric monocycle (2003), and Massachusetts Institute of Technology's concept City Car (2007).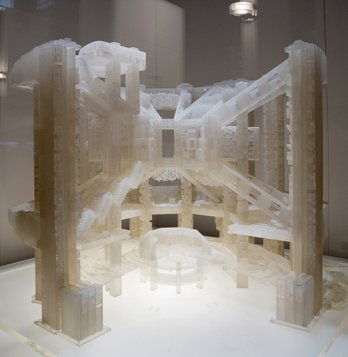 Urbanopolis_Babel Canyon_Paolo Soleri, 1969_Consenti Foundation
Cities reinventing themselves
The next zone evokes an urban theater with a backdrop of streets and monochromatic buildings where day cycles into night against the lights and sounds of the city. Here, a collection of carefully selected large-scale models (Little Denmark, Babel Canyon, One-North in Singapore, Barnsley in England, the Hypergreen Tower, and Garbage City) serve as a pretext for examining the changing urban environment, urban planning and innovation, new trends in urban design, energy efficiency, new technologies, and sustainable, ecofriendly solutions for cities. A mural depicting a building with numerous windows hints at the more private human dimension of cities. Right next to it is a resolutely green space with two interactive models. The first provides an opportunity to explore the impact of geography on city shapes and design, and the second allows visitors to play with city forms to try to resolve infrastructure and network challenges.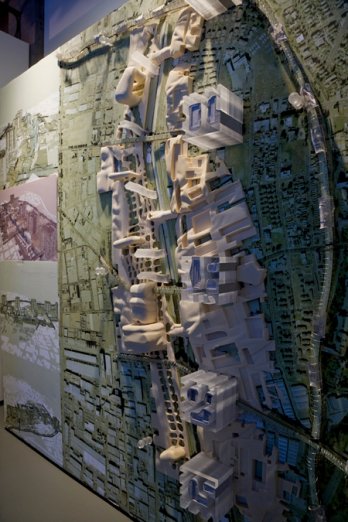 Urbanopolis_Los Angeles in 100 years_Idra Labrie
Cities in the future?
In the final section, the exhibition looks at urban utopias of the future and how we imagine and envision the cities of tomorrow. It addresses the crucial issues of climate and technological change. Here, models simulating how New York, Chicago, Los Angeles, and Québec City will look 100 years from now point to major changes ahead. The model of Québec City was produced by a team of students from the Université Laval Master's program in architecture that won the "Quebec in 100 Years competition". All around, circular projections on the walls depict how future cities have been envisaged and idealized at different periods in history, translating our desires and fears for tomorrow. And at the very end, we find the words of the Brazilian architect Jaime Lerner:
"A city is a collective dream. To build this dream is vital."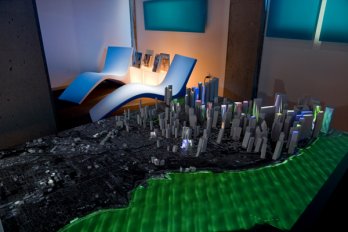 Urbanopolis_Quebec in 100 years_Idra Labrie
A fresh and dynamic design
Images and light play a key role in this exhibition, with its remarkable interplay of large-scale visuals, small and large-screen projections, and display modules designed to evoke urban cityscapes. Movement, sound effects, and the cycle of day and night further contribute to the urban feel and atmosphere, and historic vignettes and relevant anecdotes help complete the visitor experience.
Urbanopolis
is a meaningful reflection on the important issues that will define our urban future.
At Musée de la civilisation through April 19, 2009

www.mcq.org