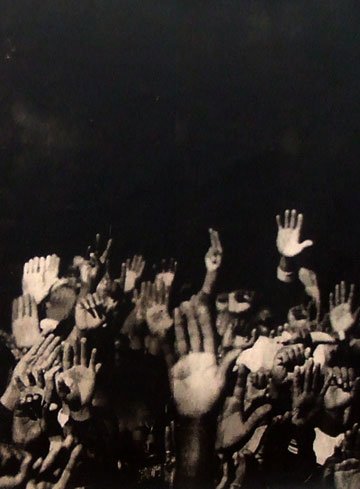 Glenn Ligon
I Am A Man
Wayne Baerwaldt + Thelma Golden, February 11, 2008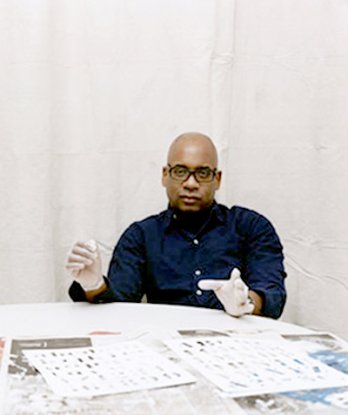 Glenn Ligon_Schmidt
Born in 1960 in the Bronx, New York, Glenn Ligon belongs to a generation of artists who came to prominence at the end of the 1980s and the beginning of the 1990s for paintings and photo-texts which explore aesthetic questions related to society, linguistics, racial and gender politics and sexuality. Ligon's work employs various artistic forms including painting, printmaking, sculpture, installation and video - each chosen for its special aptitude to treat complex subjects that defy normal categorisation. Integrating diverse sources such as texts by James Baldwin, found and subverted imagery and sketches by the comedian Richard Pryor. His work is an informed meditation on quotation and the invading presence of the past as well as the representation of the self in relation to culture and history.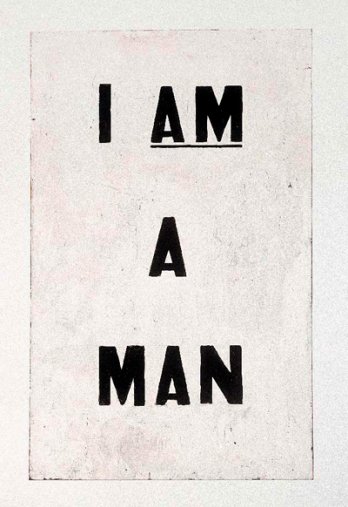 Glenn Ligon_Artwork
Glenn Ligon : Some Changes explores the idea of "revision", stressing Ligon's tendancy to modify the subjects and themes of previous works in order to produce new ones in different media. It presents more than fifty works from the last twenty years of the artist's career including Untitled (I Am a Man) (1988); Runaways (1993); the Richard Pryor paintings (1993-2004); the award-winning web-based project, Annotations (2003); the installation The Orange and Blue Feelings (2003) and a new series of drawings originating from Ligon's humorous appropriation of 1960s African-American coloring books.
I Am A Man
Glenn Ligon is an American born, black artist who followed his studies at the Rhode Island Design school (1980-1982), received his B.A. from the Wesleyan University in 1982 and participated in 1985 at the Whitney Museum of American Art's Independent Study program. His growing up in the 1960s makes him a child of the civil rights movement, confronted early with the quest of black emancipation and the struggle to achieve it. He is a multidisciplinary artist, using mediums as diverse as painting, installation, print work, photograph and video. The content of his art is as widespread as his working range.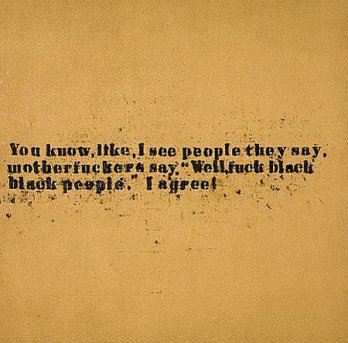 Glenn Ligon_Artwork
Ligon is certainly an intellectual artist, somebody that not only questions himself while creating, but also explores the essence of art itself. Ligon works on various topics, including gender, race and sexuality. Identity can be understood as a leitmotif in his work. Putting not only his own self in the foreground, but raising questions about minorities, like black and gay people, and their representation in art as well as in society. What drives Ligon is the stigmatization of black artists that still happens nowadays. Some art critics talk about Ligon's work as being autobiographic; it is a reflection on himself and his beliefs.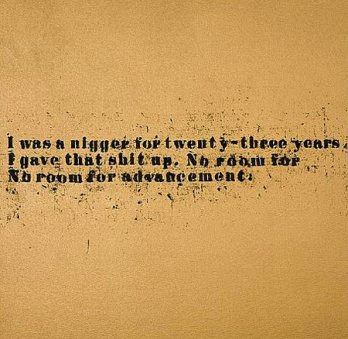 Glenn Ligon_Artwork
He started with abstract painting, following the lines of abstract expressionism. But soon his work became more specific. He started to use text and photos, for example motives of his fellow artist Robert Mapplethorpe. One encounters in Ligon's art the effect of superimposition and intertextuality, a phenomenon that helps him to constantly create something new and unique plus reconsidering already existing, "God given" ideas and associations. Although Ligon declares that he does not precisely look for metaphors, his work is full of them, often related to the search of selfhood. Ligon's artistic influences are various. He cites Andy Warhol, Jaspar Johns, Anselm Kiefer as his inspirations, but maybe even more important then the painters who have preceded him, are the likes of famous black writers, comedians and political activists.
Glenn Ligon_We can't have love...
People like Ralph Ellison, Zora Neal Hurston, Malcolm X and Richard Pryor are quintessential for Ligon. Their ideas, their works, their significance are the foundation of the artist oeuvre. It is through them that he tries to define the boundaries of his own personal identity and the one of black culture, knowing that for being able to describe black culture, he first needs to consider the different manifestations of black art. Ligon tries to build up dialogues through his composition, always finding new opportunities and connotations through the principle of intertextuality. He stresses the visual, supposing that the first boundaries are created by appearance.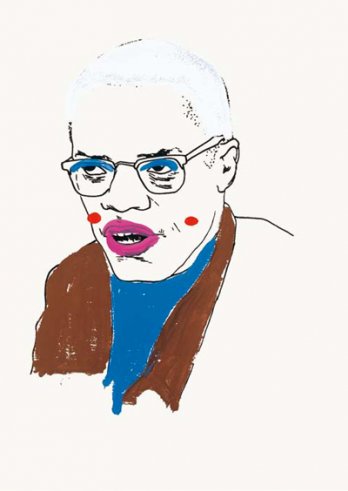 Glenn Ligon_Malcolm X, 2005
Ligon's choice of colour is a pedagogical one. Most of his pieces do not shine in bright colours. They are kept dark, monochrome. This can be interpreted as a statement, as bright, vivid colours are often associated with gaiety, happiness and sometimes vulgarity. But colour has not disappeared completely in Ligon's work; his iconic portrait of Malcolm X is a proof of that. This masterpiece resulted out of a very special collaboration with a group of young school kids. The idea behind this project was to give children old images of famous black people, that they would need to colour. After that the artist himself would work on the pupil's ideas. Putting lipstick on Malcolm X, is a courageous step, but it is also a cut: a new age of understanding and representation has started; nothing is stable, identity and recognition are floating concepts.
Glenn Ligon_Boy on Tire, 2005
A make-uped Malcolm X defies ordinary categories of belief. It scrutinizes a certain attitude towards race and historical positioning. This painting illustrates Ligon's idea that everything is a patchwork: things evolve, mentalities change and new allusions are born. Objects as well as persons can be perceived in different ways. Like Ralph Ellison, the famous American author of The Invisible Man, Glenn Ligon believes that the search of identity is an ongoing process in the United States, and that the history of Afro-Americans is the record of America. The artist historicizes his context, his language. Everything needs to be seen from the perspective of the past, at the same time you always have to speak to a contemporary crowd. This makes the viewer's position an important aspect in Ligon's work. As Adolf Gottlieb has once suggested that abstraction would be the realism of our time, Ligon is convinced that people will be able to demystify certain facets of his works, understanding his complex structures.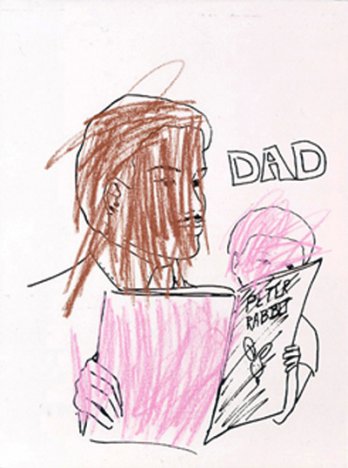 Glenn Ligon_Dad
Ligon cannot be placed in a fixed category, neither his style nor his choice of technique. He chooses whatever method that appears to be the most suitable. The only constant in his work is his own identity, plus the use of letters. The painting I Am a Man strikes by its simplicity and its content. The colour scheme is uniform, two colours collide, black and white, but the sentence does not need any specific adorations. It is a declaration, inspired by a photograph by Earnest C.Whiters, an assertion, both literally as well as figuratively. The force and the power of Ligon's art can be resumed with a quotation from Zora Neal Hurston: "
I feel most coloured when I am thrown against a sharp white background."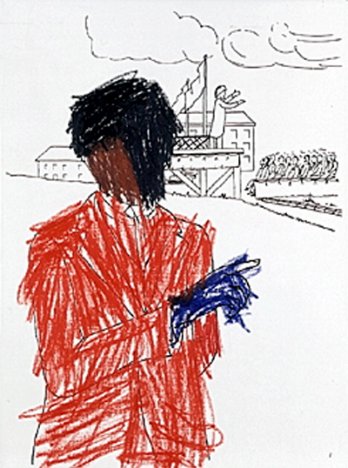 Glenn Ligon_Frederick Douglas, 2000
Introduction from the exhibition catalog
Glenn Ligon is at the forefront of a generation of artists who came to prominence in the late 1980s on the strength of conceptually based paintings and phototext work whose subjects investigate the social, linguistic and political constructions of race, gender and sexuality. Glenn Ligon's practice, which incorporates sources as diverse as James Baldwin's literary texts and Richard Pryor's stand-up comedy routines, encompasses painting, printmaking, sculpture, installation, and video. The touring exhibition Glenn Ligon: Some Changes surveys his oeuvre over the past seventeen years and explores the idea of "revision" highlighting how Ligon's practice of modifying and layering past subjects and themes has resulted in a unique new body of work.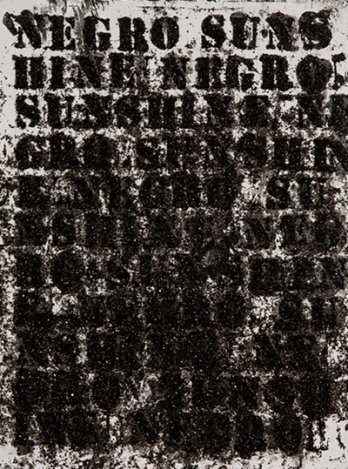 Glenn Ligon_Artwork
Glenn Ligon's art is a sustained meditation on issues of quotation, the presence of the past in the present, and the representation of self in relation to culture and history. Painting is the key tool for Ligon's trade in ideas, especially those informed by modernist aesthetics and the inconsistencies of comprehending society's and the media's take on the black body politic. Ligon's appropriated historical fragments are transferred repeatedly and poignantly between works produced in different media, but invariably find themselves reconstituted and trans- formed again in Ligon's painting. Clearly, the development of ideas around artmaking is central to his aspirations as an artist, both as the conceptual underpinning for his art and as a critique of the society in which we live. Painting is but one of his self-declared "touchstones", and Ligon's choice of medium is based entirely on his ability to extract resonance from his subjects and materials.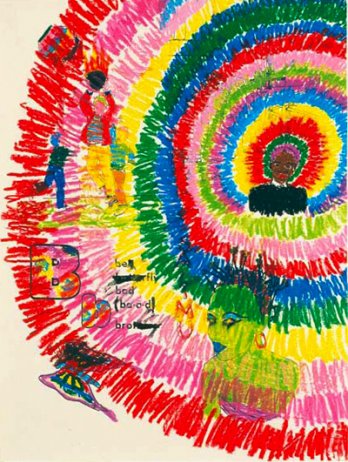 Glenn Ligon_Boys with Basketball, 2001
Glenn Ligon: Some Changes provides a rare opportunity to view a significant body of the artist's works, spanning the period from 1988 to the present. These include Untitled (I Am a Man) (1988); Runaways (1993); the Richard Pryor paintings (1993-2004); the awardwinning web-based project, Annotations (2003); and the installation The Orange and Blue Feelings (2003). The exhibition also includes a new series of drawings originating from Ligon's humorous appropriation of 1960s African-American coloring books. All of the works are important parts of Ligon's oeuvre, and some of his best-known paintings permit speculation on the significance of painting vis-à-vis his pieces in other media.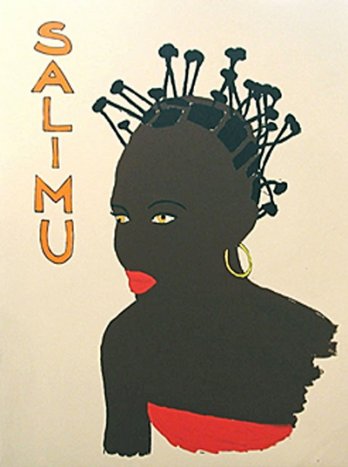 Glenn Ligon_Salimu, 2001
Each painting is intensely complex : in form, materials and subject matter, and collectively, as part of an ongoing body of work. Ligon's process of "revisioning" enriches the work and facilitates a dynamic meditation. It is a deliberately circuitous artmaking process whose forms and subject matter double back on themselves, re-informed and re-energized. It is also a self-reflective artmaking that engages a variety of forms, including moving images, installations, found photographs, large-scale photo transfers and other media and techniques. Each foray into another medium triggers a reaction in Ligon's painting, providing unsettling reminders that modernist practice can remain open-ended and receptive to new information without abandoning its dual ideals of universality and timelessness.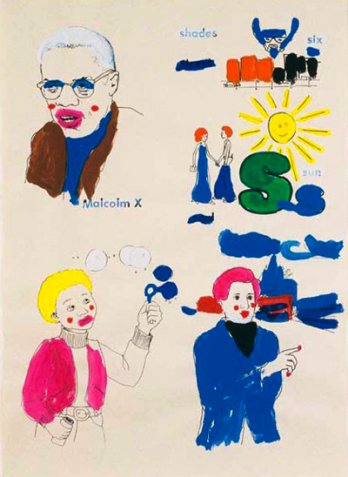 Glenn Ligon_Malcolm X, Sun, Frederick Douglas, Boys with Bubbles, 2001
Ligon's strategies are further complicated by the way his artistic concerns are maligned by a dominant white culture that often sees as less legitimate work that falls outside prescribed or authorized subjects for art making. The mantra of "authorized" subjects would include issues such as North American race relations in the twentieth century, lingering questions of black identity, the shifting applications of language to acknowledge or subordinate such questions, and the quest to authenticate the voice of one's own race. Ligon applies and manipulates these prescribed subjects (but also sexuality, class, gender and other identities) within an inconclusive, abstract form of painting that still sustains a connection to the realities embodied within his sources. This sense of a pervasive, gritty reality underlying his repetition and manipulation of the appropriated material sustains another, more emotional reading of Ligon's textbased work, one that evokes both inspiration and despair.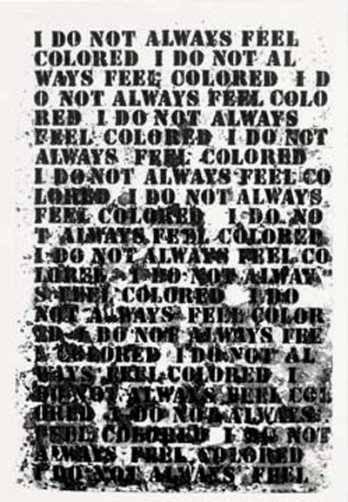 Glenn Ligon_Four Etchings, 1992
Ligon's consistent and meticulously considered world-view is deeply concerned with the practical politics of how the personal voice can speak for the experience of many. What is unique in Ligon's work is his ability to shift visual and literary meaning, by making personal the exploration of what may be considered historically weighted texts and images. His appropriated narrative forms and literary subject matter, for example, can be both personal and enduring. It is an interdisciplinary, intergenerational approach to a visual-literary reading of black identity through the zoom lens of twentieth-century African-American culture.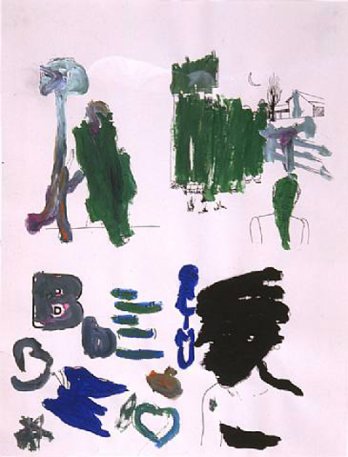 Glenn Ligon_Boys with Basketball, 2001
Ligon repeatedly engages subject matter that pulls historically specific literary narrative into contemporary focus by asking viewers to revisit, for example, influential texts by American authors such as James Baldwin, Zora Neale Hurston and Ralph Ellison, resulting in text paintings that are politically and racially charged personal statements. In particular, Zora Neale Hurston's words from 1928 stand out: "I feel most colored when I am thrown against a sharp white background." Ligon thus adopts the single individual voice and body - the implied autobiographical voice and body - to stand in for the collective voice of generations. This approach challenges in every way the assumptions of a mainstream white culture that seeks to define and mold reality. To comprehend the personal voice as social force in Ligon's paintings, one must decipher his entwined working processes, reading and rereading these nuanced works with shifting conceptual parameters in mind.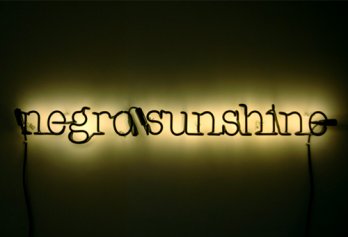 Glenn Ligon_Negro Sunshine
As a curator, one is often asked by artists to "read" or interpret their work with particular consideration given to aesthetic guidelines - a selfdefined vocabulary for appreciating the artwork. This process of "reading" creates conditions that may encompass artistic and historical precedents, and the relation of form to materials (technique), but rarely addresses the amending of vocabularies to contextualize the impact of technology (i.e., photographic snapshots, video, television) on perception. On the most basic level of engagement with abstract paintings, for example, one may examine the nature of reality in the relation of figurative to abstract forms and subjects.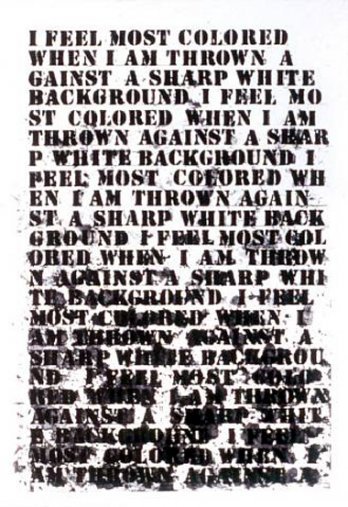 Glenn Ligon_Artwork
The influential American abstract expressionist painter Adolf Gottlieb once said, "
To my mind certain so-called abstraction is not abstraction at all. On the contrary, it is the realism of our time 1."
In many ways this sense of realism as a fluid, constantly redefining perspective, informs Ligon's idiosyncratic approach to painting and facilitates his shifts between media. His is an abstract investigation of ideas, not all of which can be examined and digested in one medium. It is also a process that opens up possibilities for accommodating style, content, media, and other concerns that then return to the personal freedom of painting.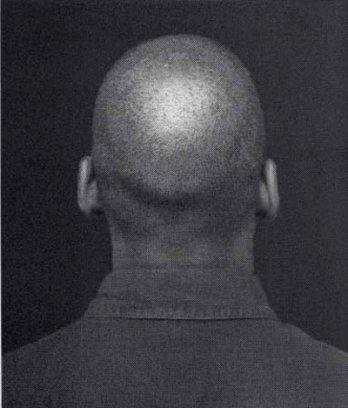 Glenn Ligon_Portrait
His line, the primary motion to be observed, is an inconsistent, hand-wrought stenciled text in oilstick: inconsistent in that it breaks down and becomes inceasingly obscure or less visible as it is repeated, line by line, from the top to the bottom of the support surface, suspended against the generally monochromatic backgrounds. His formal restraint and tight emotional control give way on occasion (e.g., in the anti patterning, hallucinatory Richard Pryor joke paintings) to multiple shapes. During the execution of each work, as the recurring stenciled letters/words slowly start to group and to touch each other, populating more and more of the compositions, their meaning is transformed. On some sections of the canvas, letters and layered paint overlap and the result is more constructed and more painterly.
The stenciled forms achieve a certain critical mass -a thought pattern of familiarity - as sedimentation, sliding, displacement, and convulsion successively colonize the same territory. Like overlaid spirals of meaning, they are less iconic than intimate: bunched markers of the passage of time that seal each painting as a capsule, with and without metaphors (as in the shiny, resilient coal dust), signs, or symbols of something else. The condensed weaving of forms across a broad background of muted grey or black establishes a sense of place, much like Jean Tinguely's curlicue leitmotifs through and across a page. Ligon's paintings suggest a difficult, participatory reading that sets up a one-to-one relationship between artist and reader.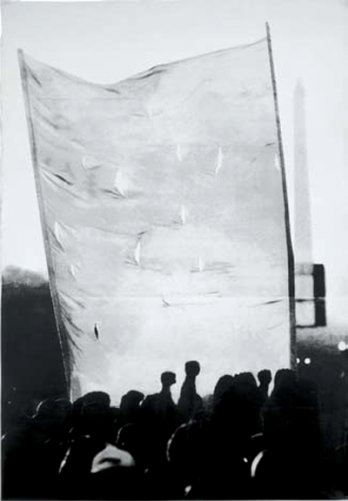 Glenn Ligon_We're Black and Strong, 1996
They are further complicated by their non-linearity: the paintings must be viewed like a patchwork, a circuitous rendering of human experience mapped against evolving cultural constraints and the reader's life experiences, and perhaps also in relation to other media. The twists and turns of a critical and contemporary revisioning process, based on a fundamental change in the viewer's perception, open up the curatorial premise for the exhibition, offering other entry points for Ligon's oeuvre. One may navigate the paintings while speculating that the painting process consists of accumulated changes in perception.
His is an investigation that transfers the representation of perception and the meaning from other media back into his involvement with painting. Ligon thereby redefines the rhetoric of painting, not only in relation to contested concepts of black culture and impurities in artmaking (for example, his chance addition of coal dust to paint), but also with regard to the formal concerns of painting. The works in Glenn Ligon : Some Changes confront a complex and often contradictory relationship with dominant modernist paradigms for seeing, and the artist's vocabulary for painting and mixed-media work alike. Ligon's self-imposed parameters for interpreting his visual languaging - as an extended action - are admirable in their idealism.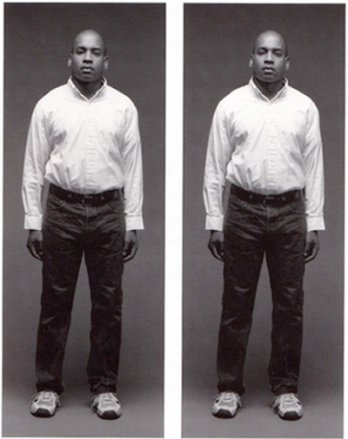 Glenn Ligon_Portrait
Ligon is quick to establish guidelines for his visual vocabulary and his technique when he states, "There is always that push/pull in the work, of the desire for legibility and disappearance of the text".2 His technique is obviously highly self-referential: a technique that magnifies, animates, avoids, removes, reveals and extends the self-referential. If the artist's parameters for technique are accepted, then what is it that defines Ligon's evolving vocabulary - a vocabulary that investigates space and politics between the legible and the invisible self ?
What about the rhetoric of images : the specific temporal, topical, personal, and socio-political conditions that shape the work? How are Ligon's vocabulary, his techniques, and his concerns, reworked over time, from one medium to another? These are some of the questions that inform the curatorial directions of Glenn Ligon : Some Changes. Catalog essayists Huey Copeland and Darby English interpret the development of Ligon's oeuvre as a continuum of public and private constructions of identity. Ligon's work reflects a performative investigation of appearances, and the gaze that links disparate appearances to form a critical representation of reality.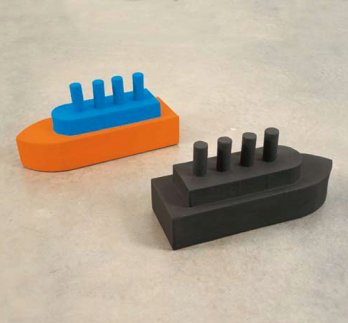 Glenn Ligon_The Story of The Orange and The Black Boats, 2003
Copeland and English plot the necessary of intentional inconsistencies of his production as a painter and mixed-media artist, as well as the incongruities of his liberal upbringing. English's biographical notes describe Ligon's early sense of otherness growing up black and poor in the Bronx, and his path of social integration, which are reflected in Ligon's artistic investigation. Each author brings forward the contradictions of an artist who has invested considerable energy in questioning what is essential to his artmaking by asking himself, "What isn't possible ?" It is a loaded question that does not come as neatly packaged as might be (mis)read in a modernist's reductive process, which invariably culminates in an endgame of surface qualities.
Mark Nash and Wayne Koestenbaum reflect on selected works that exemplify Ligon's ongoing process of revisioning by pulling apart and probing the layered complexities of race, sexuality and representation. As English and Copeland also note, this revisioning process continues to unfold in myriad ways, from one generation of artists to the next, and in various media. Using an example of Ligon's exploration of other media, Mark Nash provides an analysis of The Orange and the Blue Feelings, Ligon's video installation focused on an encounter between a client (Ligon) and a therapist. In the video Ligon and the therapist discuss issues associated with creativity and being gay, but the video installation format itself, as it relates to Ligon's oeuvre, also becomes the object of analysis by Nash. Koesenbaum's "Color me Glenn" critiques the artist's production of paintings realized, in part, with the creative assistance of schoolchildren between the ages of four and eight.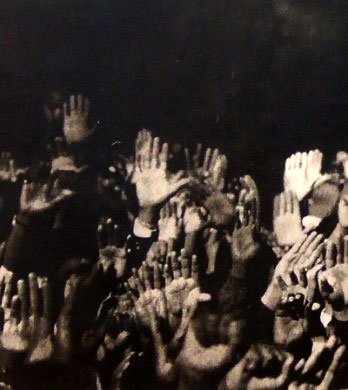 Glenn Ligon_Artwork
Through the Walker Art Center's educational outreach department, Ligon organized coloring sessions with Minneapolis/St. Paul children who were asked to apply crayons to a range of 1960s coloring-book images that in their day sought to reaffirm an emerging, contemporary black culture. By coloring in offset reproductions of period images (of, for instance, Malcom X) the students produced a new twist on the iconic images of identity that circulated in the 1960s and into the '70s. From this body of children's work Ligon appropriated selected pieces (The Letter C, Dad, Frederick Douglass) to be reformatted and enlarged as paintings. The Coloring investigation is a rare and and unique abstactive process that begins with the impartiality of a child's eye, a color blindness that, in Ligon's hands, reveals surprising coherence, penetration, lucidity and (above all) a challenge to one's preconceptions of an era of public consumption of black culture.
As a part of the public programming for this exhibition, a group of Toronto-region four-toeight- year-olds were given the opportunity, in May of 2005, to "revision" the red-and-white national flag of Canada as well as the stars and stripes of the Unites States. Participants were asked to use their imaginations to color in the outline of each flag. Needless to say, the inspired coloring of both icons produced markedly different results from one child's imagination to another.
Glenn Ligon's work was included in Documenta XI in Kassel (2002), the São Paolo Biennale in 1998 and the Venice Biennale in 1997. He has had several solo shows including those at the Walker Art Center in Minneapolis (2000), San Francisco Museum of Modern Art (1996) and the Hirshhorn Museum in Washington (1993).