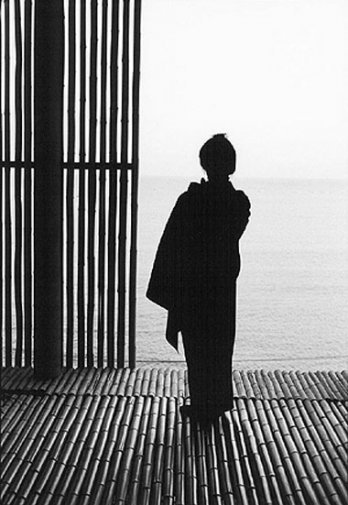 Kengo Kuma
Afternoon with an ecologist and poet architect
Marco Casamonti, October 8, 2007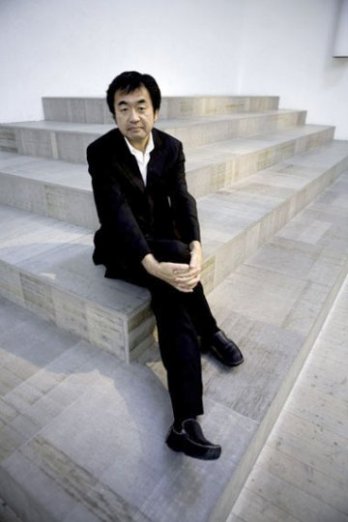 Kengo Kuma
Kengo Kuma was born in 1954, and set up his own agency in Tokyo in 1990 (Kengo Kuma & Associates). He teaches in several universities, and has won many prizes both in Japan and abroad (Finland, Italy). Today, he has some 50 buildings to his credit in Japan (houses, housing units, museums, shops, etc), putting him among the major architects of his generation. His leitmotiv is "to erase architecture", and calls for the virtual disappearance of architecture in its environment, natural and urban alike, thanks to buildings coming across like open structures and changing with external variations, as attested to by the Kitakami Canal Museum (Miyagi, 1996-99). For his so-called "weak" buildings, Kuma uses vernacular materials, earth, wood, bamboo, and stone, but above all conceives of them as innovative constructive assemblies. Whence his use of "washi", Japanese paper, for the Ando Hiroshige Museum (Bato, 1998-2000), and stone for the Stone Museum (Nasu, 1996-2000), whose façadeturns into an openwork structure through the linear repetition of thin stone blocks. The One Omotesando building (Tokyo, 2001-03) consists of a series of wooden strips, perpendicular to the façade: with its continuous skin, when seen obliquely, the façade, head on, becomes completely transparent, punctuated by voids and solids. For Kengo Kuma the material is thus always a construction principle, giving rise to the architecture's aesthetics and symbolism.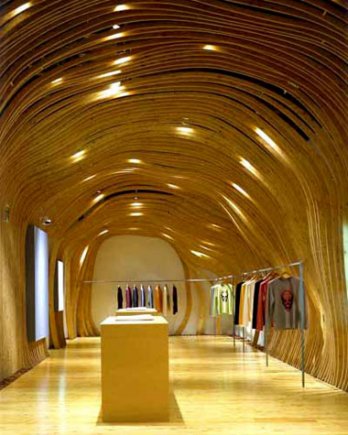 Kengo Kuma_B. Boutique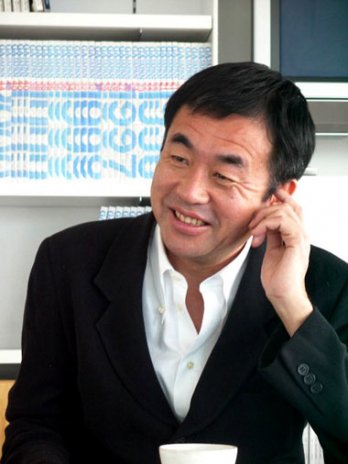 Kengo Kuma
Marco Casamonti interviews Kengo Kuma in Padua's Palazzo della Ragione during an inspection for design of the installation of the exhibition dedicated to the Japanese architect. An opportunity to look at Kengo Kuma's work and understand how he works, experimenting with materials.
Marco Casamonti: First of all, something about your personal history, it's interesting for our public.Kengo Kuma:
Yes, I was born in Yokohama in 1954, I graduated from the University of Tokyo and after that I went to New York to attend the Columbia University and after coming back from New York I started my practice, it was 1986.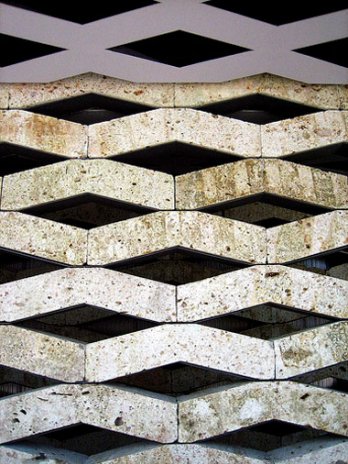 Kengo Kuma_Chokkura Plaza
M.C.: In Tokyo?Kengo Kuma:
In Tokyo. It was a good time for me to start, because economy in Tokyo in the '80s was very active. I was very lucky.
M.C.: You have many projects under construction in different areas of the world, can you explain what's the situation of your work around the world?Kengo Kuma:
I have some projects in Europe, some projects in the States and some in China. Now there's a real globalization, the borders of the countries have been disappearing in the last five years and we have many projects. Moreover, people have developed some sympathy, some people feel the sympathy for my architectural philosophy and many people ask me to design something for their place.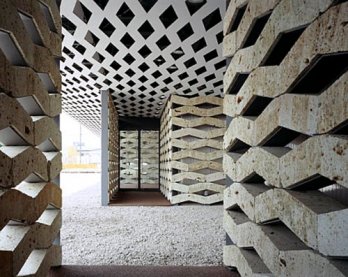 Kengo Kuma_Chokkura Plaza
Kengo Kuma_Bamboo house
M.C.: But your most important buildings are in Japan, the ones that you have built! If I look at your works I can find different situations because you use and you work very much with the landscape, with the site, I think with geography. What is important so important about geography, topography and landscape in your architecture?Kengo Kuma:
Yes, I've learned that attitude from traditional Japanese architects. In Japan we have such beautiful landscapes and so the basic idea for architects is not to design isolated objects, the basic idea is "how to respond" to the landscape. I've been studying that method and I tried to apply that method to the modern context of the landscape.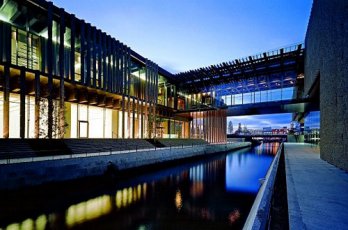 Kengo Kuma_Nagasaki Prefecture Art Museum
M.C.: If we look at all your projects, we can understand that you are a Japanese architect, so I think it's very clear that your identity is very important for you. You are recognizable in the way you use the materials, I think that there is so much modernity in your projects but also there are very strong images of the tradition. Can you talk about your relationship with tradition?Kengo Kuma:
Tradition is very important but I'm not sticking to the details of tradition, I like to pick up the philosophy of the tradition, and the most important thing in Japanese tradition is the respect of the environment. It's different from Chinese architecture. Chinese architecture always tries to build strong monuments contrasting with the environment, in Japan we have a very beautiful landscape and we don't like to establish a strong monument, we always try to combine environment and architecture. Architecture becomes very quiet.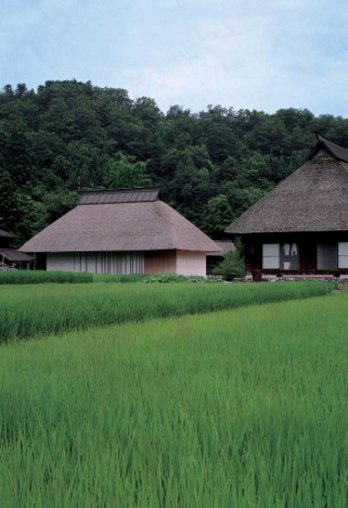 Kengo Kuma_Takayanagi Community Center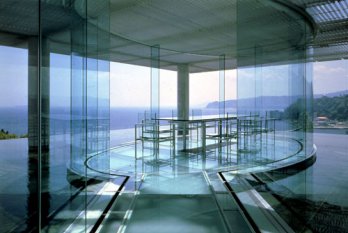 Kengo Kuma_Water Glass
M.C.: You know, in a project materials and details are very important. I think that in Japan is very easy to use materials in a very good way but what happens in other parts of the world for example?Kengo Kuma:
In every part of the world, people have been using a local material, for example in Italy there's stone, wood and brick and this kind of...is a terrazzo?
M.C.: Terrazzo alla veneziana...Kengo Kuma:
Those kind of local materials have been playing an important role in architecture design. Of course the shape and the form of architecture is very important too but I think material is more important than the shape of the building. In every place I believe I can find the local good material that can be appropriate for the design, for the situation.
M.C.: I'm interested in this because you use every material in a "soft way"; you work with stone without gravity and you use transparencies, and so I think when you use a material there is your personal interpretation. 


Kengo Kuma:
Yes. For me material is not a tool of nostalgia. A material can be a new tool to combine with the environment and then I like to use stone in a different way as usual; I don't like to use it in a nostalgic way. If I can create the transparent detail by stone, I can combine the environment and the building together by that transparency and then ...so transparency is always a very important idea.
Kengo Kuma_Water Glass
M.C.: I know it's not easy but how much time do you spend studying details in a project? Do you visit the factory that produces the detail? Do you spend a lot of time or is it easier than this?Kengo Kuma:
It's not so easy. My method is I think of the detail from the beginning of the project. Usually, most of the architects try to find a detail at the end of the project, after finishing every plan, after designing everything, finally they come to detail design but if so, the time is very limited, we don't have enough time. My approach is to find the detail from the beginning and then we have plenty of time to get to our idea.

M.C.: So we say that landscape and material are the first ideas...the first thing that you think of?Kengo Kuma:
Yes, yes. If you cannot find the detail you cannot combine the landscape and the building, but if we can find the good detail, this can solve every problem.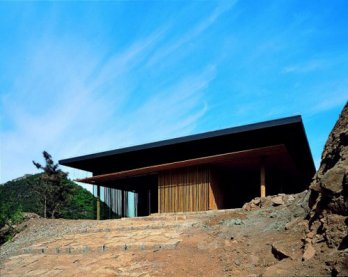 Kengo Kuma_Great Bamboo Wall_Pechina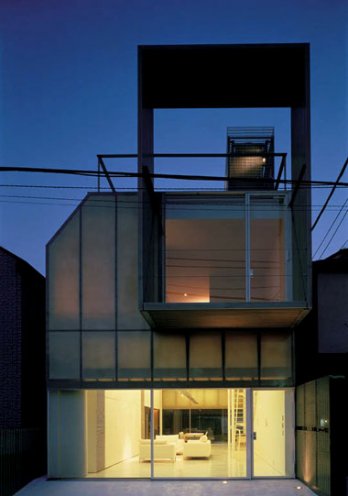 Kengo Kuma_House of Plastic_Tokyo
M.C.: Sure. If we take a look at your life, at your work, we can find many museums. You have done many museums: art, history museum, what can you say about this typology?Kengo Kuma:
I think the museum is not a museum of the 20
th
century, I think the museum is a kind of communication space for the community in 21
st
century. It's like a living room of the community and people can come to the museum and can communicate with each other. Museums can be that kind of space in the 21
st
century that's why I like to design museums.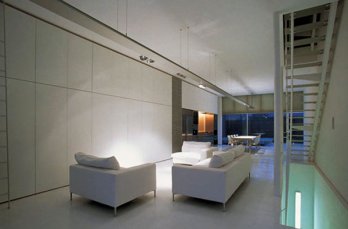 Kengo Kuma_House of Plastic_Mitsumasa Fujitsuka_Tokyo
M.C.: In this moment in your life, what typology interests you the most. What would you like to design? If you had a dream, for example about a typology...a church, a new museum, a residential apartment...what do you want to carry on research on in this moment?Kengo Kuma:
I'm interested in designing a religious building as a church or a temple, that kind of buildings, because people believe we are living in the age of the material but I think people would like to live some kind of religious experience.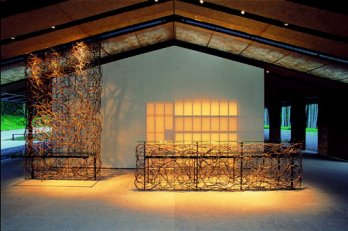 Kengo Kuma_Nasu History Museum_Prefecture of Tochigi_Mitsumasa Fujitsuka
M.C.: Yes, museums and temples have a mystic atmosphere, so it's interesting...but you've done many projects in the urban dimension too, how would you describe your attitude towards the city? Kengo Kuma:
Yes, even in an urban situation I like to try to find the identity of the space, the identity of the site. People say that most of the city is equal, that cities lost their difference but I don't think so, still each city has an identity. We can find the identity from the space, in Italy each town has a different culture and different designs or characters, I believe I can pick up some characters from that place. Even big cities as Tokyo or New York are different: Tokyo and Milan are different...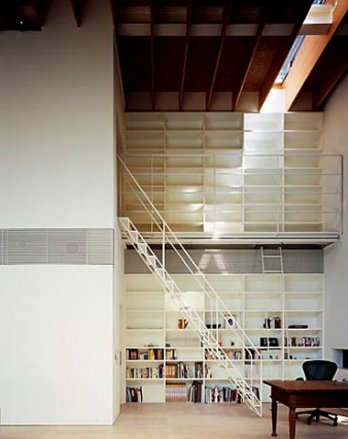 Kengo Kuma_Lotus House
M.C.: Very interesting. You don't have projects in Italy in this moment, do you?

Kengo Kuma:
No...



M.C.: But you have a project in Spain, can you tell us something about this project in Spain?

Kengo Kuma:
Yes I have projects in the Canary Islands, it's in Tenerife. It has a beautiful landscape, as the site is a big slope to the Atlantic ocean. It is a housing project, so people can live in this kind of landscape...this is my basic idea.



M.C.: Is the situation similar, you have glass water architecture or is it different?


Kengo Kuma:
Not so different.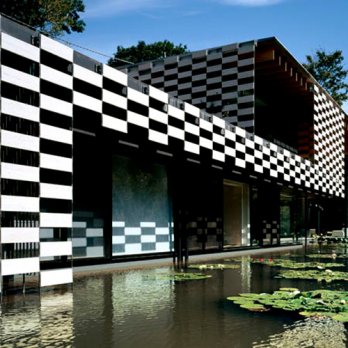 Kengo Kuma_Lotus House
M.C.: A last question. In this moment, do you teach in a school or is your activity completely dedicated to architecture and to your professional activity?

Kengo Kuma:
I'm teaching in a school as well and I want to teach students...



M.C.: In Japan?

Kengo Kuma:
In Japan and in the States...I want to teach them the essence of architecture, my teachers didn't teach me how to make architecture but I like to teach them how to make architecture, how to use wood, how to use a stone, how to use paper, in so doing young students can find out what architecture is, what a city and landscape are.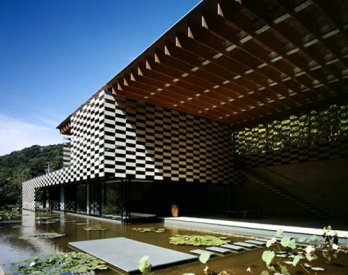 Kengo Kuma_Lotus House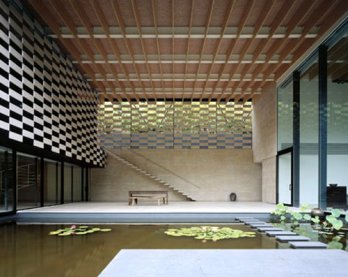 Kengo Kuma_Lotus House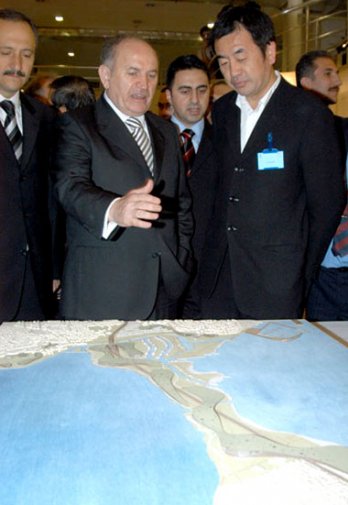 Kengo Kuma_Mimar Project
M.C.: Which architects in the 20th century are very important for your work? What is the architect that is most important for you? Your relationship with Kenzo Tange, your relationship with Le Corbusier, why not?Kengo Kuma:
Le Corbusier is important but my mentor is Frank Lloyd Wright, because he came to Japan very often and he picked up the essence of Japanese culture and he created the transparent space that is the base of Japanese architecture and his method still is very helpful for my practice I think he's very important.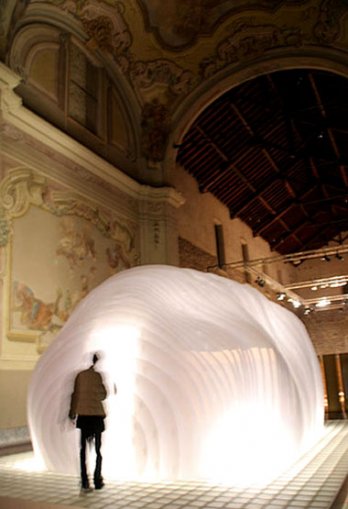 Kengo Kuma_Pavilion Oribe_Italy
M.C.: Let's try to play a simple game. I read the title, the name of some of your important projects and you explain something about the material and the construction details.Kengo Kuma:
Ok.
M.C.: For example, I'm interested in The Great (Bamboo) Wall. What kind of technology and construction method you used?
Kengo Kuma:
For the Great (Bamboo) wall the site is very close to the famous great wall, as the landscape was something like that our starting point was to preserve the original landscape. Usually people cuts around to create a flat land, but in my case as we are following the landscape and then the bottom of the building is like that shape. As for bamboo, bamboo is not a strong material that is the reason why we put a steel core into the bamboo and also we burned bamboo to make it yellow as green bamboo is very weak but if we burn it in the proper way we can create a strong bamboo, and that's the secret.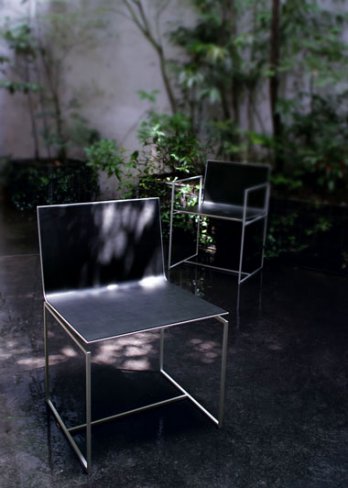 Kengo Kuma_Sen chair designed by Kengo Kuma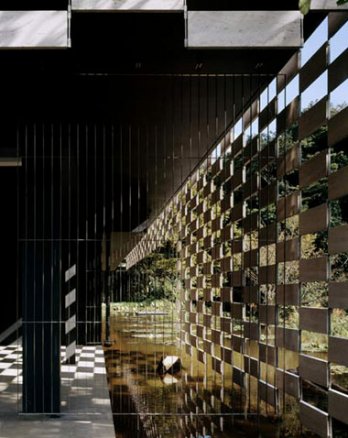 Kengo Kuma_Lotus House
M.C.: Another project, that is interesting for the material you used, is the Plastic House, it's a urban dimension, why using plastic, what's the basic idea?
Kengo Kuma:
The site is in the centre of Tokyo, it's a very condensed area and in that kind of site I don't want to create a concrete box, because a concrete box shuts communication with this environment, my idea is to use plastic to create a communication with the environment. The material which I used for this project is FRP, it's fibre reinforced plastic, there is a glass fibre in the plastic and I liked the colour, very light green. The most difficult point was insulation so we had double walls of plastic and translucent insulation in the double walls.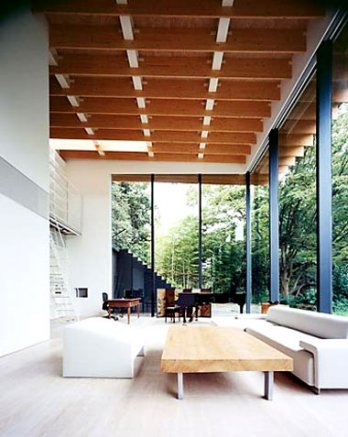 Kengo Kuma_Lotus House
M.C.: You had two layers...Kengo Kuma:
Yes.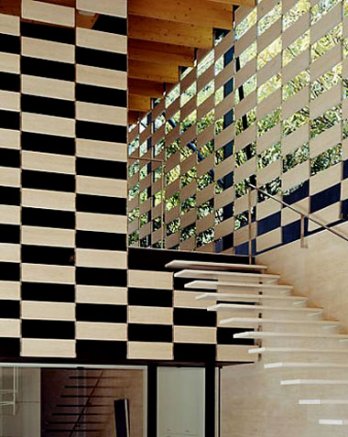 Kengo Kuma_Lotus House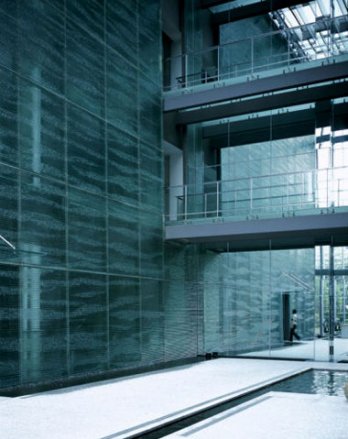 Kengo Kuma_Z58 Building_Shanghaï
M.C.: Two different projects, in the one in Osaka you used an incredible stone and in Hanging garden you used plastic again, what's the difference between alabaster, onyx and plastic?
Kengo Kuma:
LVMH in Osaka is facing the main street in Osaka like many fashion buildings, I decided to use a gorgeous material like onyx, but in a different way as usual. My method was to cut onyx up to 4 mm thickness and to put it into two glasses, so we can create a translucent material and during night time the building itself is lit fromthe inside.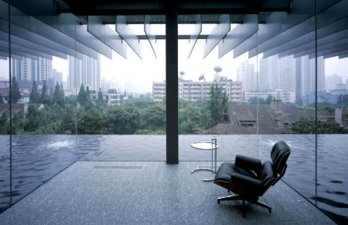 Kengo Kuma_Z58 Building_Shanghaï
M.C.: And the same transparency you had in the Hanging Garden but is a completely different material, not so expensive.Kengo Kuma:
The site is a water front area, is a very rough environment, the factory and the storey, it's a very dodgy area, that building is a place for the kids, so that kids can play in this place and also kids can have some kind of concert in that space so my idea is to use a cheap material like the plastic film, that usually it is used for the entrance of the factory. Probably you are using the same material for the entrance of the factory... we fixed that material by using wires and the building itself is very soft and also the building is a temporary building, his life is also ten years then it will be removed to a different open place and the structure itself is kind of prefabricated structure, it has glues and any fix joint so every joint is very flexible and we can demolish it in one day and we can move it to another site.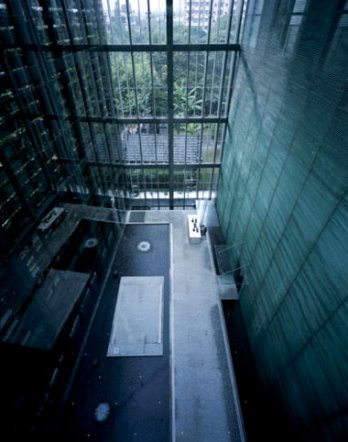 Kengo Kuma_Z58 Building_Shanghaï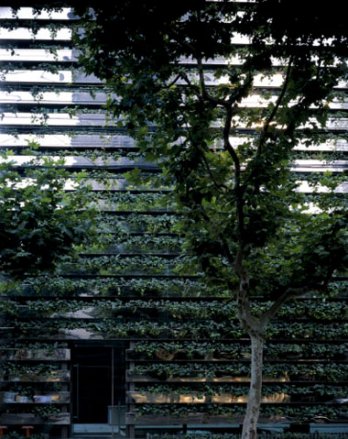 Kengo Kuma_Z58 Building_Shanghaï
M.C.: There is another very interesting project, the Paper Snake, this project is very interesting because you used a form to create an abstraction and so...can you speak about this project because the material is also interesting.Kengo Kuma:
This project was for Korea in the forest of Korea the material is paper honeycomb, this is a very inexpensive material but very strong and the wall has a 4 cm thickness but still can support the building. And the wall is as a spiral and the spiral itself has a very strong flexure system. In Japan we cannot do it because Japanese regulation is some kind conservative but in Korea I can do this and I could use paper for the building.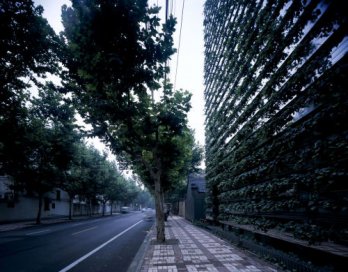 Kengo Kuma_Z58 Building_Shanghaï
M.C.: The last one, you used the green wall in Z58 project in Shanghai why you decided to use the green wall for this building?Kengo Kuma:
Shanghai is a very big city and there is many traffic and many people, it is very noisy and streets are not clean and I like to create some kind of quiet atmosphere in the building and this green is a filter between the noisy street and quiet ...and still it's not blocking the space, people can feel the street but still can create a quiet green space in the building.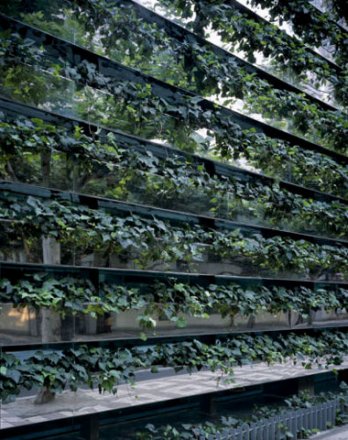 Kengo Kuma_Z58 Building_Shanghaï
www.kkaa.co.jp