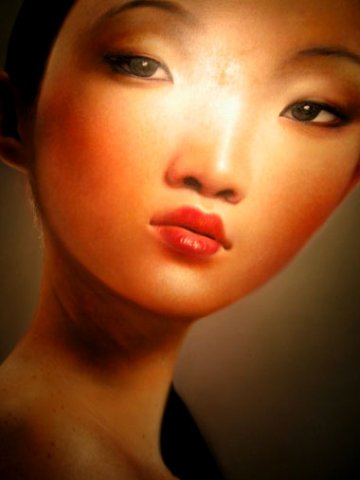 BEIJING
China's new revolution
Amanda Ross + Robert Lemermeyer + EnRoute Magazine, September 10, 2007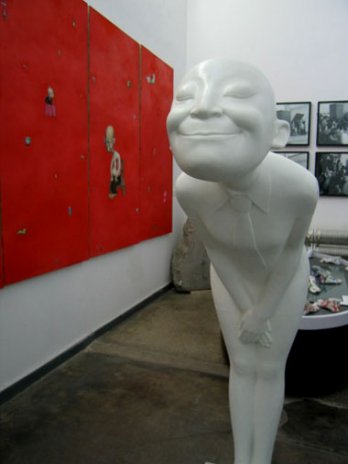 798 Zone Art District_Beijing
If you were to swap building permits for cowboys and Louis Vuitton for the local sheriff, you'd come up with Beijing, the new Wild East
In the old days, pioneers and fortune seekers would endure harsh country, painstaking travel and rudimentary meals for the promise of the riches of the frontier in the Wild West. A new gold rush has emerged, and while the allure of fast money still draws people from far and wide, the only hardship is a 12-hour flight from Vancouver to Beijing - the new Dodge City. The city has been on a crash course to reinvent itself, since landing the 2008 Olympics, from foreboding communist bulwark to cutting-edge cultural capital. Even before touchdown, I'm introduced to the scale of this rebirth through an eruption of construction abutting the tarmac. The new airport terminal is a labyrinth of steel beams and scaffolding sprawling to infinity in each direction. There are, by my count, 35 cranes at work. The site is so large that I wonder whether the runways will be located indoors.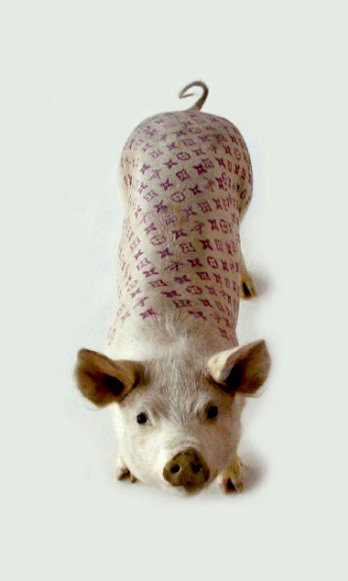 Delvoye Art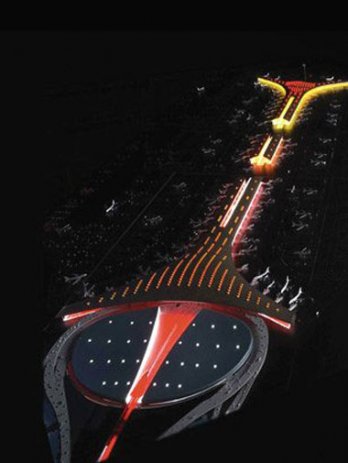 Beijing Capital Airport_Foster & Partner_Arup
Welcome to the gateway of Beijing's future, a vision that com­bines international expertise (Britain's Lord Norman Foster, the architect) and homegrown flavour (a dragon-shaped design and red and yellow colour scheme) with cutting-edge futurism. Once it's operating pre-2008 Olympics, the airport will not only be the world's largest, handling 60 million passengers a year, but one of the globe's most sustainable, with southeast-facing skylights maximizing morning heat and design features that lower energy consumption and carbon emissions.
At the moment, my husband and I are mired in Beijing's present, a scenario in which epic gridlocked traffic features prominently. An explosive economy and 15 million people starved for consumer goods have given rise to roads teeming with shiny new cars, most of them on the way to shopping centres. The delay gives me time to take stock of the army of cranes cramming the skyline and buildings mushrooming roadside. China's ravenous construction appetite accounts for 56 percent of the world's concrete production and 36 percent of its steel (sending our basement reno costs into the stratosphere). An amazing 300 new buildings are slated for or are under construction in the new downtown.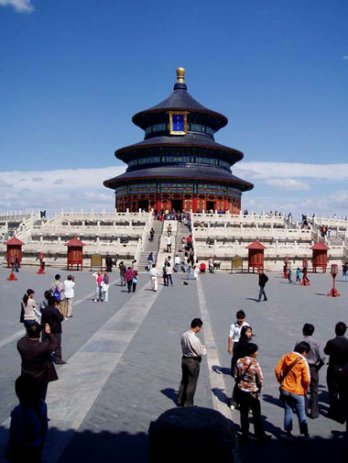 Imperial City_Pekin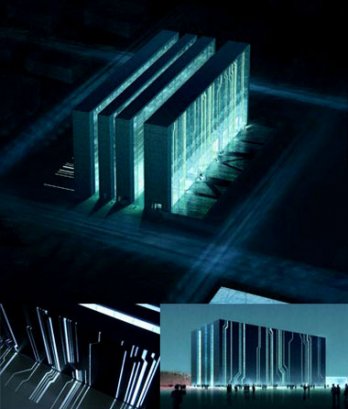 Digital Building_Beijing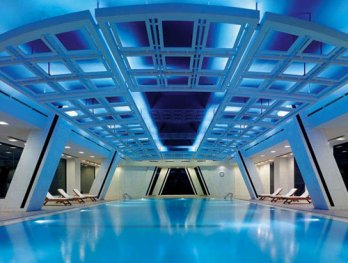 China World Hotel_Shangri-La Group
Lord Foster is only one of the cadre of international architectural superstars building a modern city on a radically abridged pre-Olympic timeline. Dutch master Rem Koolhaas and current It girl Zaha Hadid are accounted for. Architectural Record has even launched a Chinese-language edition. But I assume these luminaries didn't have a hand in the design of Shangri-La's China World when our cab finally surfaces in the Central Business District. Still, you can't judge a hotel by its dull, uninspiring cover, which conceals an interior so opulent that the Last Emperor would have felt comfortable riding his bicycle around the marble expanse.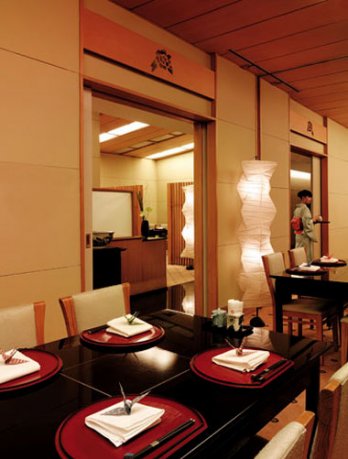 China World Hotel_Shangri-La Group
Capitalism and communism thrive as passionate – and unlikely – bedmates in Beijing. The hotel's subterranean luxury mall of designer boutiques would shame Rodeo Drive. Even the Starbucks just off the lobby serves my usual grande lattes but with "duck chest" sandwiches instead of, say, cranberry scones. While Shanghai has been anointed with a Jean-Georges, Beijing's restaurant scene is still playing catch-up, though a few bold pioneers are introducing avant-garde design and cuisine. Situated by the trendy Worker's Stadium area, Green Tea House (now with a second location in Shunyi) was the first to capture the hip new wave four years ago. It draws both foreign and local cognoscenti for its cheeky neoclassic Chinese food served at sleek communal mess tables and benches. We opt for a white cushion-piled banquette for cross-legged eating over Lucite lap tables. I love the vibe, from the regionally influenced food to the campy English on the menu.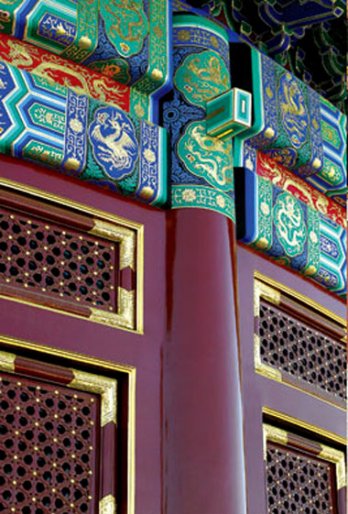 Robert Lemermeyer
Paul Andreu_National Grand Theater
Whimsy on a restaurant menu may be small potatoes (or "cute little purple potatoes," one of my favourite menu translations), but the logistics of navigating Beijing as a non-Mandarin speaker are less amusing. Miscommunication thwarts my plan to visit some of the high-concept examples of Olympic architecture, like the new National Aquatics Center. Nicknamed Water Cube, it has a radical translucent exterior, where fantastically crystallized translucent bubbles form a greenhouse-like canopy over the pool. I also miss out on the National Stadium, Swiss superstars Herzog & de Meuron's creation. Dubbed Bird's Nest, it has 36 kilometres of intricate steel latticework that look like randomly criss-crossing twigs.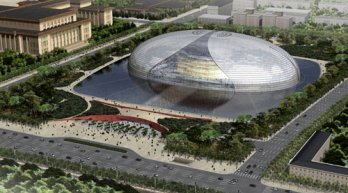 Paul Andreu_National Grand Theater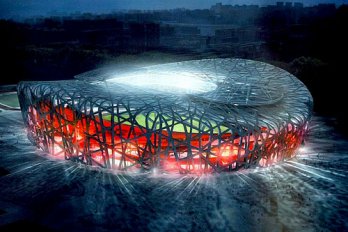 Herzog & Meuron_Stade Olympique National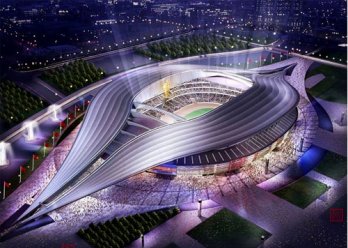 Beijing Olympic Stadium
Robert Lemermeyer
To understand my frustration with the language barrier, imagine hailing a cab from a major Toronto hotel to take you to the Air Canada Centre and then stopping at every outdoor skating rink along the way. A quarter of Beijing's population is officially fluent in English; as the Games roll around, the government assures that every Beijing citizen will know 100 words of English. Even if they don't, TV sets are to be installed in all taxis, so you can sit back and enjoy the ride. Standard procedure, for the time being, is to have hotel personnel write your destination in Chinese characters for the cabbie.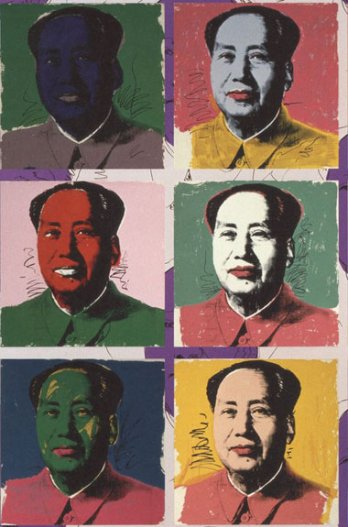 Andy Warhol_Mao Sedong
The next day, we're thrilled to successfully make our way to the Dashanzi Art District. Also known as Factory 798, after its previous incarnation as a bleak East German-designed factory complex, the area has been reclaimed by Beijing's thriving modern art community. A tattoo gallery, stark video and conceptual art installations and trendy cafés now imbue this former industrial wasteland with an exciting and even slightly political energy. One sign reads "Picture taking is forbidden." I'm not sure if it's a caveat for current visitors, a vestige of the compound's former life or a postmodern art effect. I sheathe my camera just in case, but I'm struck by how much the red envelope is pushed by some of the communist-kitsch art exhibits.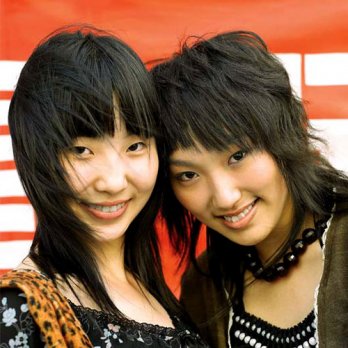 Robert Lemermeyer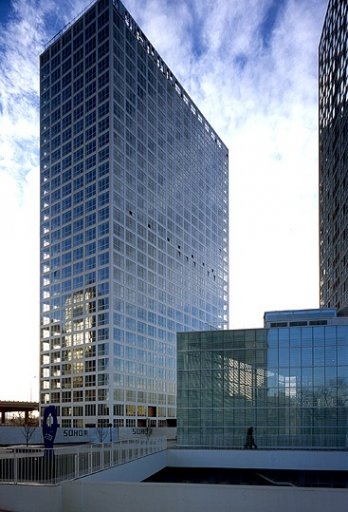 Icecap_Jianwai Soho
The SOHO China developers embody that exuberant artistic sensibility on a wildly larger scale. The East-West powerhouse couple of Wall Street banker Zhang Xin and her developer husband Pan Shiyi have created some of Beijing's most bold and dramatic residential, retail and office towers. Their latest venture, the 20-tower Jianwai SOHO in the Central Business District, is set in a checkerboard pattern and turned at 25-degree angles. This is both to capture natural light and to signal a dramatic departure from traditional Chinese architecture (in which feng shui dictates a strict east-west orientation). This subtle nose-thumbing at tradition has been a big hit with Beijing's young entrepreneurial crowd.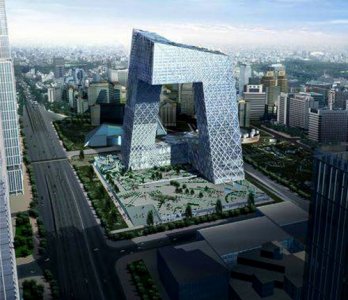 Rem Koolhaas_Central Chinese Television
That's just the tip of the revolutionary iceberg. Rem Koolhaas' CCTV building is a radical off-kilter looplike structure that gives metaphoric fluidity to the occupants and the space. I'm trying to imagine this vast area as the decaying industrial hinterland that it apparently was mere years ago. But all I see are tall, shiny buildings and those busy cranes.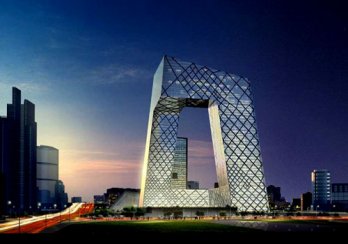 Rem Koolhaas_Central Chinese Television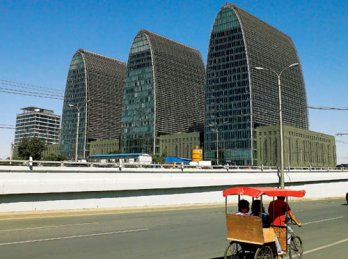 Robert Lemermeyer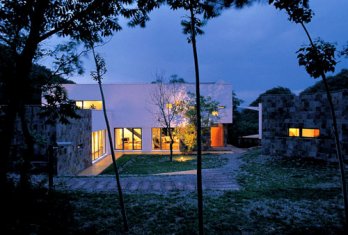 La Commune by the Great Wall
Beijing's constant cacophony of construction, traffic and crowds has us ready for a welcome dose of tranquility. The antidote is a 45-minute drive away at Commune by the Great Wall, the most daring project I've seen yet. China's first concept hotel is a novel gallery of postmodern houses set in a "live museum." Winner of the Special Prize at the 2002 Venice Biennale, the project came about with a simple but daring proposition: Give 12 of Asia's most prominent architects $1-million each to create Modernist masterpieces. Hong Kong architect Gary Chang crafted Suitcase House, where the floorboards lift up to reveal bedrooms, bathrooms and a kitchen. Airport House, by Taiwanese Chien Hsueh-Yi, is made of steel, concrete and the same stone as the Great Wall.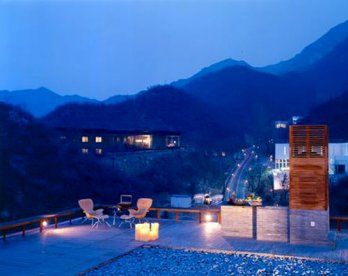 La Commune by the Great Wall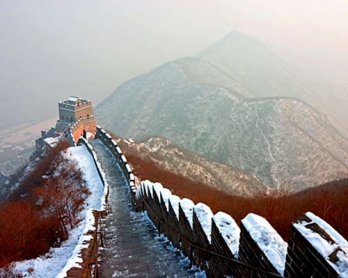 Grande Muraille_La Commune by the Great Wall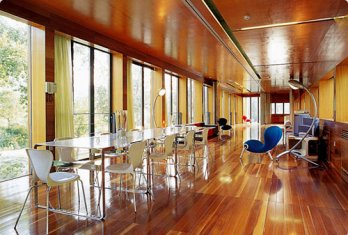 La Commune by the Great Wall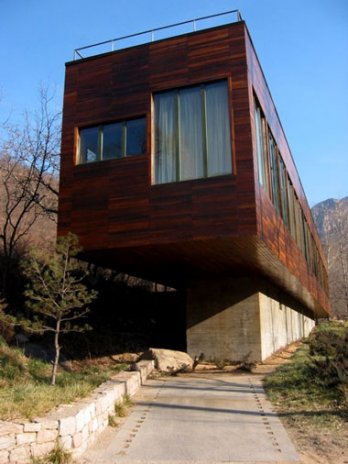 Antonio Ochoa_La Commune by the great Wall
Nestled next to the Wall, Commune is a bold and defiant metaphor for China's modern renewal. Holed up in our luxe abode, 5,200-square-foot Cantilever House by Chinese architect Antonio Ochoa, my husband and I set about exploring our own personal architectural playground. The building juts dramatically from the mountainside in a very virile yang way; inside, yin is achieved through warm colours, sensual fabrics and a rational layout of more bedrooms, bathrooms and leisure rooms than I can shake an elegant chopstick at. After breakfast, we take a short hike up a private path for Commune's guests, with a unique vista of the Great Wall in all its wending, deteriorating glory and of the public access at Badaling several kilometres away, teeming with thousands of visitors, a chairlift and a luge-type slide. Contrasting the scene with our peaceful, private solo experience, I think, If this is the new China, sign me up for the deluxe membership.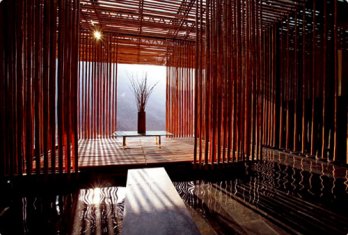 Antonio Ochoa_Cantilever House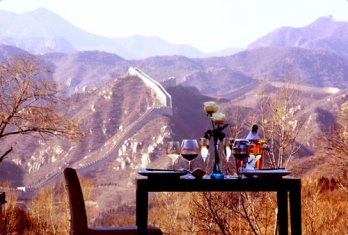 Antonio Ochoa_Cantilever House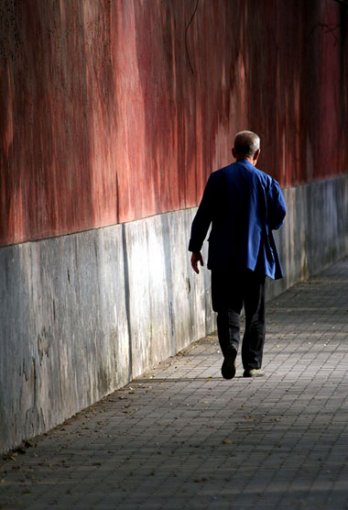 Old man walking in the street
Back in Beijing the next day, we're caught up in more contradictions of the city's transformation. Across from Tian'anmen Square, under the watchful gaze of Mao himself, hulks a massive futuristic egglike dome made of titanium and glass: the new National Grand Theater, designed by French architect Paul Andreu. Many Beijingers have found it too alien and untraditional for their tastes. What would the Chairman himself think of this audacious, controversial structure, set in an arti­ficial lake? - Come to think of it, it's not so different from the Imperial Summer Palace, still a magnet for thousands of tourists and boat-paddling, day-tripping Chinese.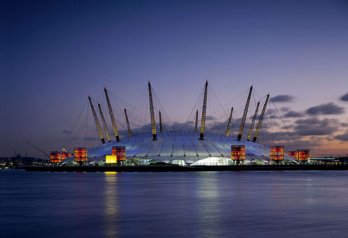 Paul Andreu_National Grand Theater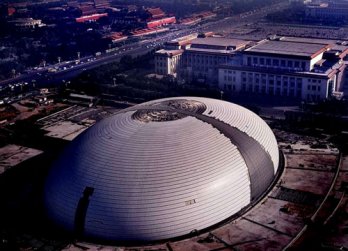 Paul Andreu_National Grand Theater
Brazen new projects like this one will define the Beijing landscape of the future in the same way the Forbidden City defined the Chinese capital for centuries. The coming of the Olympic Games transforms cities, but to my eye, far from being a defining event in today's Beijing, they'll be the crown jewel marking the ongoing surge of a city, and a country, that is assuming a greater presence in the world arena.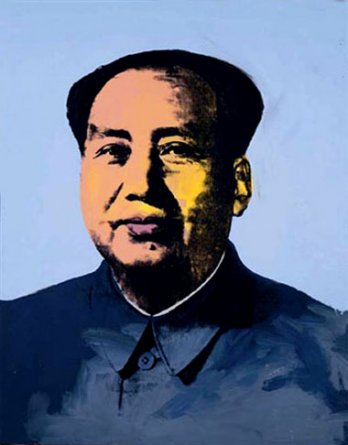 Andy Warhol_Mao Sedong
I can't help wondering if the city's dizzying, rapid transformation and influx of foreign influences will be good for the Chinese. It's true that for every fancy building, there's a razed hutong, or local neighbourhood – a little piece of Beijing history sacrificed for its new future, regarded locally with a mixture of awe and sadness. It's for them to decide. From Marco Polo to the Manchus, China has withstood invaders for thousands of centuries and has always emerged triumphant. This new army will be no exception