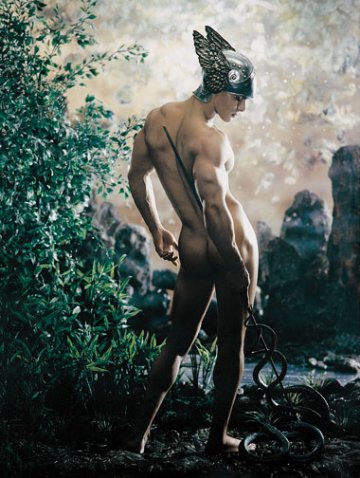 Pierre and Gilles
Double Je (1976 - 2007)
Jade Lobato de Faria, July 30, 2007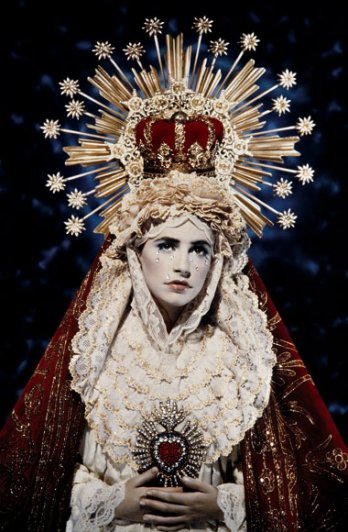 Pierre and Gilles_La Madone au coeur blessé, 1991_Galerie Jérôme de Noirmont_Paris
This retrospective exhibition celebrate Pierre et Gilles' 30 years of collaboration, with more than 120 works including a lot of creations from the last ten years and, for the first time, the collection of their self-portraits. The Pierre et Gilles style has known nothing but success since their first meeting and the beginning of their collaboration in 1976. Their photographs embellished with paint (these are unique works) have imposed this singular iconography inspired by images of pop, mythological, enchanting, burlesque, religious and erotic natures. Many of these themes addressed in their work structure this exhibition.
Their original aesthetic finds its source as much in the history of art (baroque, 19th century…) as in popular culture and in contemporary imagery. Their sources of inspiration are multiple: travel, music, pop songs, cinema and television, childhood, religious art of all origins, myths, current topical images…
The two artists explore these recurrent themes which are inscribed in the collective imagination as the years go by and reinvent images with no boundaries or taboos.
Essentially Pierre et Gilles create portraits and self-portraits which they address with provocation, irony, tenderness or gravity. "Self-portraits have determined our work from the start. It is a ritual, which allows to double ourselves like looking in a mirror; they reflect us and show us such as we are. They are also experiments, very personal research that we can only create with ourselves."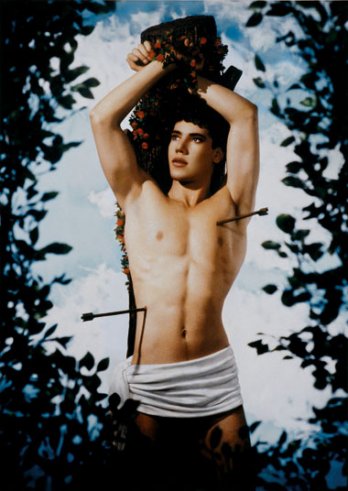 Pierre and Gilles_Saint Sébastien, 1991_Galerie Jérôme de Noirmont_Paris
They have photographed pop and rock stars, icons from fashion, art, cinema, and nightlife as well as unknowns they have met throughout their lives. Their creations are the fruits of these specific meetings. They are always realised according to the same process, which the artists have mastered entirely: once the model and scene has been chosen they do a preliminary drawing and discuss the creation of the decor, costumes, and make up. The photography takes place in the studio, where the model comes to pose amongst the decor. This creates a unique print, which is then painted over. The work is only complete after the creation of a specifically made frame, conceived by the artists as an extension of the image.

"One big family. An aesthetics of reconciliation"
Extracts from the text by Paul Ardenne, published in the new catalogue edited by Taschen, about Pierre et Gilles, June 2007.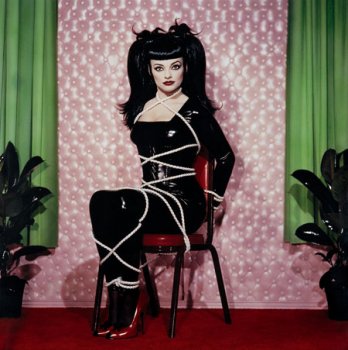 Pierre and Gilles_Nina Hagen, 1993_Galerie Jérôme de Noirmont_Paris
"Where Pierre et Gilles are concerned, there's no need for introductions. Their work is known worldwide and their unique style has spawned imitators all over, especially in advertising and the vast field of fashion photography. (…) Dazzlement, of course, is precisely what the work of Pierre et Gilles, overflowing with superlative beauty, has provided with unmatched constancy for thirty years now (Iggy Pop, 1977). But not only that. Drawing its taste for seductive visual formulas from popular aesthetics, the archetypal Pierre et Gilles image - an enhanced portrait - is also characterised by its deliberately protean and ambiguous excess. Not only is the composition beautiful, but the image is staged in a deliberately exaggerated way. The colour is extremely refined, but also over the top. The rendering is extremely precise, but also smoothed and beautified, with a turbo-charged and slightly louche kitsch spirit. The models are referred to by their first names in the titles but at the same time wrested from their concrete reality by a sartorial transfiguration and style of presentation that makes them emblems more than humans. Ambiguity is everywhere. Even in the plastic celebration of the human body. However transparent this is, in Pierre et Gilles it is inevitably equivocal. (…)
Ever since they began working together, in 1976, Pierre has been the one who takes the photographs and Gilles the one who paints. That is the hallowed formula. Since then there have been no changes to this practice by four hands (…)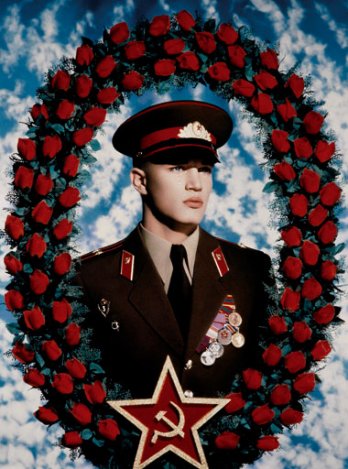 Pierre and Gilles_Le petit communiste, 1990_Galerie Jérôme de Noirmont_Paris
Usually, a single figure is blazoned across their images, the exception being combatants bonded by battle, united lovers and the couple formed by Pierre et Gilles themselves - as, for example, in Les Jardins du Paradis, Adam et Ève, Les Amants criminels, Les Cosmonautes and Les Mariés. The finish of Pierre et Gilles' portraits, too, is immutable: there have been no significant changes in three decades of indefatigable work or in any of the seven hundred-odd pieces thus produced.
With the exception of the very occasional realist portrait (Les enfants des voyages photographed in the Maldives in 1982), the typical Pierre et Gilles portrait is arranged and staged. The subject is dressed up and disguised, wearing not his or her own clothes or status but those of another, be it a figure from classical mythology (Ganymède, Mercure, Méduse, etc.) or religious history (Saint Sébastien, Sainte Monique et Saint Augustin, Bouddha), a sailor, a thug or a femme fatale, a hero from cinema (Anakin Skywalker) or literature (Le Capitaine Nemo, Le Dahlia noir), or a ruler (Le Jeune Pharaon), or perhaps an allegory of something (La Mort, L'Innocence). The artists are utterly relaxed about building their canon around borrowings from popular art forms, poster imagery and the Parisian folklore of street urchins and rascals, but also from fashion imagery, which is invoked and used to saturation point, and also, finally, the world of the soft-porn gay pinup, half-way between glamour and the more hardcore style of Tom of Finland. (…)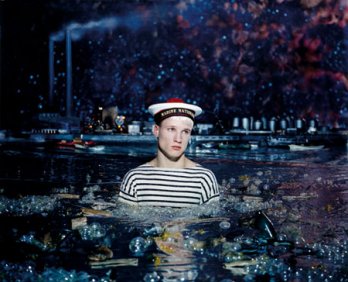 Pierre and Gilles_Dans le port du Havre, 1998_Galerie Jérôme de Noirmont_Paris
Every one of Pierre et Gilles' images is the joint expression of an affirmation and a doubt. What are they about? Man in general, men in particular; your average model, his or her personal fantasies, perhaps tacitly confessed by the nature of their disguise? Between Pop poster and holy icon for the mantelpiece, the portraits fashioned by Pierre et Gilles operate halfway between identification and parable. The models who pose for the artists are usually named in the title and can thus be identified. Disguise and make-up at the same time endow them with a new identity that is theirs and not theirs, that removes their reality and propels them into the domain of mythic figures. (…)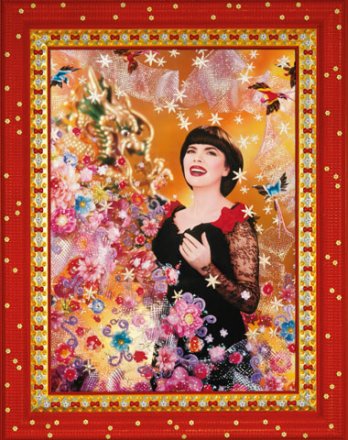 Pierre and Gilles_Fleurs de Shanghai, 2005_Galerie Jérôme de Noirmont_Paris
If we look at the total range of figures that it presents, beyond the world of homosexuality (with which it is not coterminous), the work of Pierre et Gilles comes across as a digest of humanity. A humanity that is something of a family, where individuals and ages differ and themes diverge, but where everything nevertheless seems to have a unity. This aggregative feat, the effect of an indefinitely repeated homogeneity of style, cements the tribe of Pierre et Gilles bodies, unifying it in spite of its discrepancies. (…)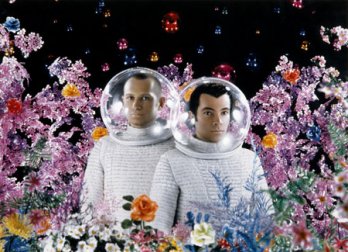 Pierre and Gilles_Les Cosmonautes, 1991_Galerie Jérôme de Noirmont_Paris
A superb declaration of love in favour of humanism, this body of work asks us to forget our anguished conception of humanity, that depressed vision inherited from the traumas of the twentieth century, from the depersonalisation engendered by mass society and instrumentalising technology, and to let ourselves imagine the possibility of another humankind: a humankind in which the ugly have become beautiful, where martyrdom would be without pain, where horror would be bearable, if not pretty, where death would not kill - in a word, where love reigned supreme. Yes, it's a total utopia, but we ought to hold on to its subliminal message, which is quite concrete and could even serve to inspire some kind of engagement: that of eroticism as a major social binding agent. The image, with Pierre et Gilles, is a fundamentally erotic, even erogenous vector: we cast our eyes on it only to love the figure of our fellows and, by ricochet, our fellows themselves, and in the end our own selves, as respectable members of the great human family."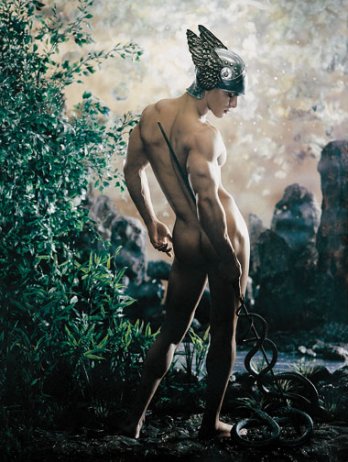 Pierre and Gilles_Mercure, 2001_Galerie Jérôme de Noirmont_Paris
For thirty years many personal and group exhibitions have been organised around the world, amongst which are worth mentioning :
- the Pierre et Gilles exhibition in the Méjan Chapel in 1994 at the Rencontre d'Arles,
- the exhibition at the European House of Photography, Paris 1996 : Pierre et Gilles, vingt ans d'amour (1976-1996),
- the touring exhibition of 2000 organised by Dan Cameron at the New Museum of New York and in San Francisco.
And more recently :
- in the autumn of 2005, the retrospective organised for the opening of the MOCA - Museum of Contemporary Art of Shanghai,
- at the end of 2006, the exhibition Pierre et Gilles - Un Monde Parfait, put on at the Galerie Jérôme de Noirmont in Paris,
- an installation of La Mort d'Abel, for the "Correspondances de Musée d'Orsay", from February until May 2007,
- from February until May 2007, the retrospective organised in Russia, at the Moscow Manege and then at the Marble Palace of the Russian Museum in Saint Petersburg.
Pierre et Gilles are represented by the Galerie Jérôme de Noirmont, Paris.
Through September 23, 2007-07-26
www.jeudepaume.org