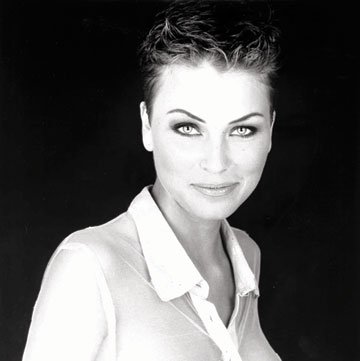 Eva Harlou
Twenty things you should know about Eva Harlou...
Nargisse Rafik, July 9, 2007
It was soon after graduating from the Aarhus School of Architecture in 2003 that Eva Harlou found herself playing a key role at Copenhagen architects 3XN, where she managed competition entries and gained a vital understanding of how the architecture world functions. After working on potential schemes all over Europe, she set up her own studio in 2006, focusing on small-scale residential work as well as giant masterplans with the ambition of working on every aspect of the built environment. In Eva Harlou's mind architecture is both handcraft and art. Most of all architecture is framing human life. With architecture comes a great responsibility of trying to understand the human nature.
Especially Eva Harlou's housing-projects have lately drawn a lot of attention. The architecture projects are innovative, genuine and very recognizable with her interpretation of classical geometrical shapes. The design magazine Wallpaper has chosen Danish architect Eva Harlou to be "Best Breakthrough Designer 2007".
E.D.: Who are you / how would you describe yourself?
E.H. :
I've always been creative and being very interested in architecture I decided to study architecture at the Architect School in Aarhus, Denmark. Straight after graduation, I began working at the well known Danish architect company, 3XN. At 3XN I worked with several different projects both Danish projects and projects abroad. The last couple of years I've been in charge of the 3XN competition department. Now at the age of 29 I've started an architect company -
Eva Harlou
- of my own and luckily I've already succeeded in making several housing projects. I've always been hard working and very ambitious. I love being an architect and find myself very privileged.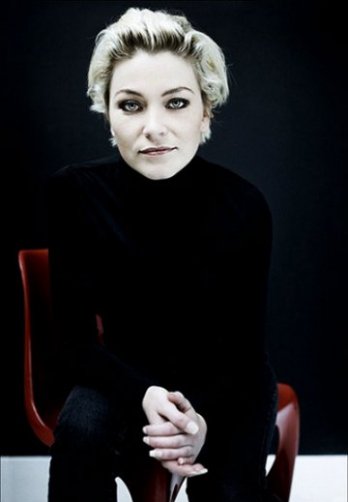 Eva Harlou
Eva Harlou_Star House
E.D.: How would you explain architecture?
E.H.: Architecture is handcraft. Architecture is art. Most of all architecture is framing human life. With architecture comes a great responsibility of trying to understand the human nature.
E.D.: Is there a philosophy behind your work?
E.H.: I'm convinced that architecture has to be functional, durable and beautiful. Furthermore it's very important to me that my architecture reveals a clear and understandable concept – tells a simple story. I don't believe that "less is more", but I enjoy when simple and beautiful geometrical shapes solve all challenges in a project. Architecture doesn't have to be difficult and I don't think that innovative architecture has to look like something exploded.
E.D.: What do you consider your influences, what inspires you?
E.H.: I'm influenced by both past and present architecture - the modernism's architecture is a constant inspiration in my unconscious mind and I adsorb all new trends from contemporary architecture – newly built projects, projects published in magazines and books. I get very inspired while playing and experimenting with simple classical and geometrical shapes. I enjoy the discovery of new shapes and great spatial qualities - just by giving the well-known shape the right twist.
Most of all I find the inspiration in the daily work on a specific project - listing to the clients needs, studying the site, discussing constructions with engineers etc. I'm strongly convinced that architecture is nothing, if not only aesthetics but also functionality and durability is equally present.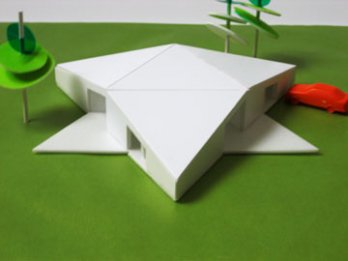 Eva Harlou_Star House
E.D.: Tell us more about The Z-House, Moon-House projects, and your last creation / works?
E.H. : Z-House
Description: Family housing
The 700 sqm house, located by the eastern coastline of Jutland, Denmark, is designed to enhance the great view towards the sea. The minimalistic Z-shape of the house includes 3 floor-plans and creates outdoor terraces in different levels. Ramps lead from the surrounding garden to the indoor areas. The basement includes a large indoor swimmingpool with direct access to the garden and in the central part of the house a large water-wall underlines a 3 floor high entrance-hall creating a vertical connection through the house.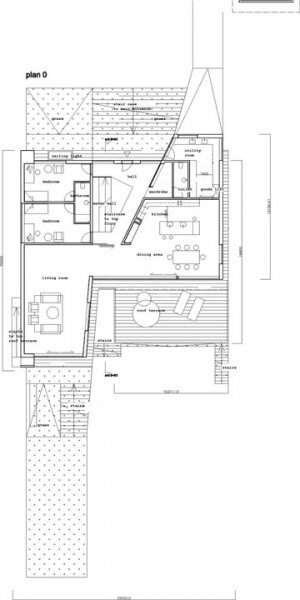 Eva Harlou_Z House_Floorplan
Star House
Description: Family housing / holiday housing
Being shaped like a star the house is a great icon and it is very easy to recognize. The triangled floorplan of the house is very simple and understandable and yet the house is designed to have several spatial qualities. In the middle of the house there is a large livingroom witn celing light and with great views to the outside areas in all directions. The smaller and more intimate private rooms, bathrooms, storage rooms etc. are located in the perimeter of the house. The simple shape of the house makes it easy to fitt into almost every building site.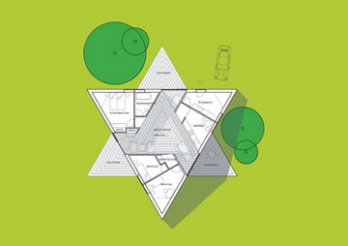 Eva Harlou_Star House_Floorplan
Frame House
Description : Family housing / holiday housing
The house, located by the eastern coastline of Jutland, Denmark, is designed as a summer residence for a Danish married couple. The cross-shape layout creates four "wings". In the wings all bedrooms and livingrooms are located with easy access to the surrounding outdoor terraces and nature. The floorplan creates a central and easy accessible area containing storage, bathrooms and kitchen. The idea is to create a simple and understandable design - and yet - by pulling the shape a bit in plan and section - creating a special architectural appearance. As an example both exterior and interior reveals a unique sloping wall. The visible wooden frame construction of the house also contributes to a unique appearance as well as the facades covered with cor-ten steel.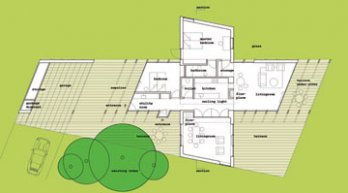 Eva Harlou_Frame House_Floorplan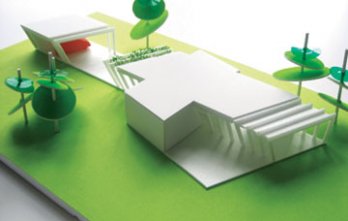 Eva Harlou_Frame House_01
E.D.: Which artist / architect / designer do you admire most?
E.H.: I admire Le Corbusier's work and methods very much. The simple beauty and functionality of his buildings shows his outspoken talent. Even though her architectural language is very different from my own I admire Zaha Hadid very much. And I like that she has a recognizable architectural language.
E.D.: What is your favourite example of the use of light in architecture?
E.H. : Notre-Dame du Haut, Ronchamp, church by Le Corbusier. The daylight penetrates through small window holes and gives the church a breathtaking atmosphere. Times Square, New York - I'm fascinated by many artificial neon lights in one place.
E.D.: Your favourite materials in architecture, and why?
E.H.: Glass brings daylight and weather into the building. Glass makes a building shine at night. Glass is viewing the outdoor together with the indoor. Using glass in architecture is an exiting challenge - you should not use too much and where you choose to place the glass is very important - not only to the beauty of the house but also to the beauty of the life that has to take place in the house.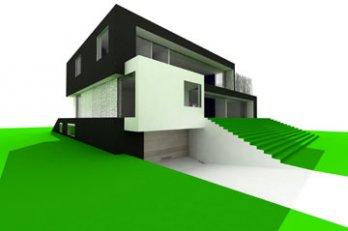 Eva Harlou_Z-House_North
E.D.: Can you describe the evolution of your work from your first projects to the present day?
E.H.: My earlier work was more complicated. Now my design is much more simple and I rely much more on my intuition when I make architecture.
E.D.: What is your dream project?
E.H.: Designer-hotels, top class family housing, international airports.
Bottom line - many projects have the potential of making my dreams come true, and I'm looking forward to all future challenges as a small-scale-designer and XXL-scale-architect.
E.D.: What is your favourite building (in Danemark or in other cities)?
E.H.: My favourite building in Denmark is the Danish National Bank in Copenhagen by Danish architect Arne Jacobsen.
E.D.: What building would you never design, and why?
E.H.: I would never design a building that contradicts my political and religious conviction
E.D.: What means for you the word ecology?
E.H.: I find ecology very important. We have to take care of our environment. New ecological materials and production methods are very interesting and I would like to make more ecological buildings.
E.D.: What do you hope your current work will bring to people?
E.H.: I hope that I'll be able to make more people enjoy great architecture.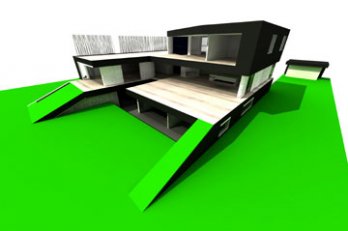 Eva Harlou_Z-House_South
E.D.: And chic, what do you feel it is?
E.H.: Chic is when a building stands out very clearly in simple elegance.
E.D.: What are currently your favourite brands or objects, and why?
E.H.: My favourite object is my black Moleskine notebook. It follows me where ever I go and it contains all my ideas and work-related thoughts.
E.D.: Which city resembles you the most, and why?
E.H.: Even though I'm Danish I think Paris resembles me the most. The city has a durability of noisy mess and quiet elegance, high-tech living and strong tradition. That's the way I am.
E.D.: What invention would best improve your life?
E.H.: I don't like the combination of stress and waiting hours at airports - so an invention making it possible to get from one country to another in no time - would definitely make me happy.
E.D.: What couldn't you live without?
E.H.: Besides family and friends I couldn't live without my work. I make no distinction between work- and spare time and I "think and live as an architect".
E.D.: Finally, which 20th century architects/designers would you invite to a dream dinner?
E.H. : Le Corbusier, Verner Panton, Arne Jacobsen, Alvar Aalto and Philip Starck.