Basquiat
SAMO the shooting star.
P.O., February 27, 2019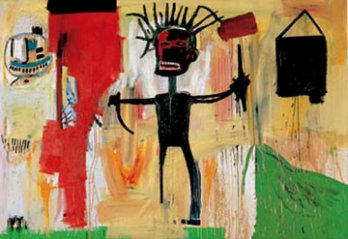 Jean-Michel Basquiat, Auto portrait_New York_USA
The Grafitti Movement of New York would lose their two leaders in less than two years: Jean-Michel Basquiat died from a drug overdose in 1988 (August 12, several days before what would have been Basquiat's second trip to the Cote d'Ivoire), and; Keith Haring, who died of complications from AIDS on February 16, 1990. Never had an artist
experienced such a fast success. At 25 years of age, Basquiat had been painting for only five years, and had already made the cover of New York magazine. Two European museums devoted a retrospective exhibition
to him; fantastic! Jean-Michel Basquiat now belongs to the Pantheon of the famous blacks along with his two idols, the boxer Sugar Ray Robinson and the saxophonist Charlie Parker, whom he named, "King Charles". Jean-Michel remains not only a legend, but also an emblematic figure of the 1980's. He would have celebrated his 50
th
birthday this year.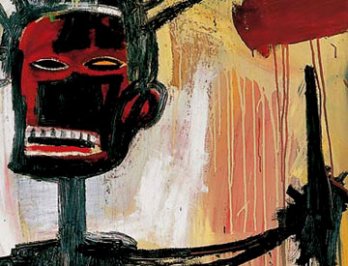 Jean-Michel Basquiat_Tsheng Kwong Chi, 1987_New York_USA
Some majors works:
Cadillac Moon (1981, coll. part.)
Crowns (1981, coll. part.)
Six Crimee (1982, Los Angeles, Museum of Contemporary Art)
Baptism (1982, coll. part.)
50c Piece (1982-1983, coll. part.)
Sienna (1984, coll. part.)
Because it Hurts the Lungs (1986, coll. part.)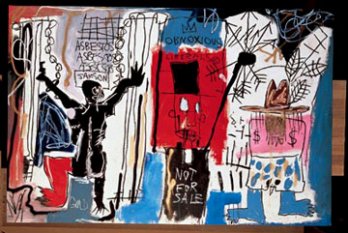 Jean-Michel Basquiat, Obnoxious Liberals, 1982_New York_USA