JARDINS DE MÉTIS
From the barely audible to the highly melodic sound resonates in the contemporary garden
Lesley Johnstone, April 23, 2007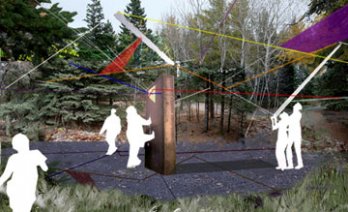 Cat's Cradle, Catalyse Urbaine_Juliette Patterson, Michel Langlois, Gerard Leckey_Québec_Canada
Cat's Cradle
by
Catalyse Urbaine
(
Juliette Patterson
and
Michel Langlois
) with
Gerard Leckey,
from Québec, is a garden-sized aeolian harp, in which a lattice of piano strings, objects, and plantings combine to transform the site into a veritable musical instrument.
In addition, a special environmental project by
5.5 designers
(
Jean-Sébastien Blanc,
Anthony Lebossé
,
Vincent Baranger
, and
Claire Renard
), from France, will be presented.
Fleur de pot
consists of biodegradable oversized flower pots that gradually become miniature gardens.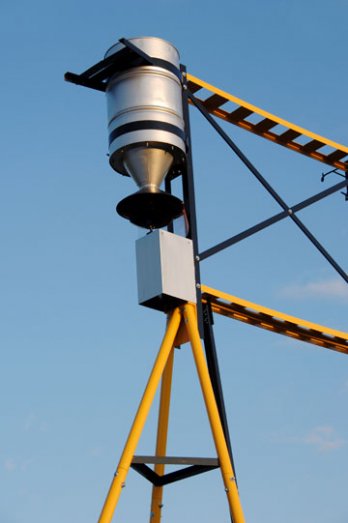 Sous-terrain de jeu_Cédule 40_Quebec_Canada
Reflections on the Landscape


In keeping with a recent tradition, the Festival has invited six teams of designers to revisit their gardens created last year. These thoughtful and playful reinterpretations of the landscapes of the Gaspé region, as well as far-off lands, will enchant and delight visitors anew.
CÉDULE 40
(Québec) evokes vernacular rural, agricultural, and playground vocabularies in
Sous-terrain de jeu,
an interactive garden in which visitors participate in the planting the garden, but the earth is not as collaborative.
In
Bois de biais,
Atelier le balto
(Germany) reaffirms the force of vegetation alone to transform a space and advocates the garden as a place of movement and evolution.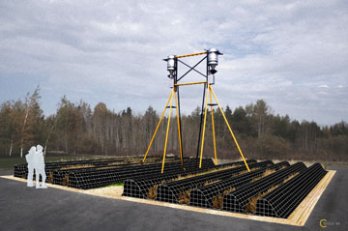 Sous-terrain de jeu_Cédule 40_Quebec_Canada