Alter Architecture
Here, there & differently
Christine de Schaetzen, April 2, 2007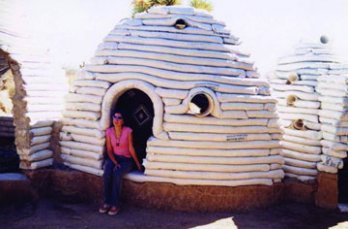 Nader Khalili_Sandbag shelters
Les « Sandbag Shelters» de Nader Khalili Julian Faulkner, Janos Bozo, Hooman Fazny
American architect Nader Khalili (originally from Iran) is one of the rare architects concerned of the billion human without shelter. For Nader Khalili, founder of the Cal-Earth Institute (1991) in the desert of Mojave in California, the solution is simple: he use a material which one finds everywhere, the ground. Khalili developed a technique called Super Adobe to design " Sandbag shelter" (shelter of sandbags), also called "Emergency shelter" (emergency shelter) whose construction requires neither particular qualification, nor expensive transportation, only a minimum requires of raw materials and is built quickly by a team from 3 to 5 people.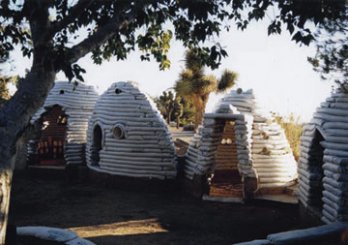 Nader Khalili_Sandbag shelters
It sort of igloo made up of bags filled with sand, piled up the ones on the others. Two materials of war are recycled for peaceful purposes: bags or long tubes filled with sand and barbed wire. These "Eco domes" resist the earthquakes, the hurricanes, the floods and isolate from the cold, of heat and of the noise…. A house of five rooms (34m2) can offer to a family a sustainable dwell. The technique of Super Adobe can be used for to build silos, schools, of the hospitals, or others infrastructures such as dams, roads, bridges or to stabilize rivers. In addition, these structures are biodegradable. The system proved reliable with large scale in Iran in 1994, when the country had to accomodate thousands of Iraqi refugees. In 2004, the structure of Nader Khalili obtained the triennial price Aga Khan. Recently, the Institute Cal-Earth acquired a ground in Spain in order to build the first European center Cal-Earth.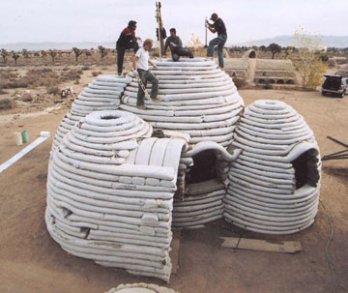 Nader Khalili_Sandbag shelters