The Kitchen, a way of life
From shadow to light
Christine de Schaetzen, March 19, 2007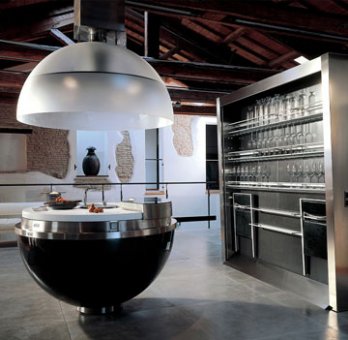 Sheer_Machine à cuisiner_Italy
The kitchen as an "Art of living"
The 60's saw the abandonment of the laboratory-kitchen which favoured hygiene. The austerity of lines and the white uniforms gave place to curves and colour combinations. Then, the 80's were marked by the "kitchen-pleasure" concept. They became a real entertainment area. Some kitchens are equipped of a chimney which could be used for barbecues. The most wanted models were those in rustic oak. Evolution is approved of, concepts and models are diversified: open-kitchens, minilalist-kitchens, removable compartments, a come-back to the old family kitchen, with manufactured elements in kit forms ready to be used ... The appearence of the freezer, with frozen food, followed by the micro-wave has been a real revolution for large families but also for bachelors, busy people, or working couples,...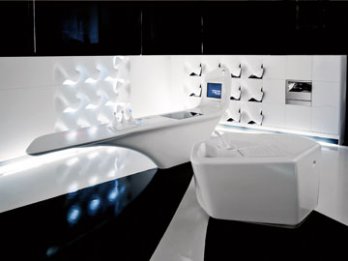 Zaha Hadid_Kitchen-Island, 2006_Leo Torri_Dupont Corian
The kitchen of the future
The kitchen of the future hesitates between the sophisticated technology and a return to basics. A recent inquiry realised by Ikea shows that in 2006, the kitchen became the most important place in the house, after the dining-room. It dethrones the living-room's ambitions. According to the people questioned, more than 52% of them eat in their kitchen, 35% have family discussions, 19% received their guests, 14% of them watch the TV set. If, on one hand the elements which form the kitchen became more and more sophisticated (as a freezer with a plasma tv screen integrated in the door) the actual trend shows a come-back of the kitchen as an all purpose practical place. Nowadays, we used to prefer eclecticism to an united aesthetic. We then come full circle, with the concret re-birth of our grandparents' convivial kitchen, with comfort as a priority. Some architects pushing the love of gastronomy and the automobiles to extrems, proposed habitations where the kitchen is separated from the garage by a simple glass partition.

www.civa.be