The Kitchen, a way of life
From shadow to light
Christine de Schaetzen, March 19, 2007
Kitchen Cubex, 1956_AAM
The "belle époque" kitchen located in the basement, is followed by the "Lady-Maid Cabinet" of the 1920's kitchen. The laboratory-kitchen of the 1930's leads to the standardized "Cubex" elements. After the war and the boom of household equipments, the American kitchen appears. Beautiful contemporary creations – panoramic, opened, adjustable, flexible, designed for large families – and other views on the futur are displayed in this exhibition.
Le Corbusier, 1950_Marseille_France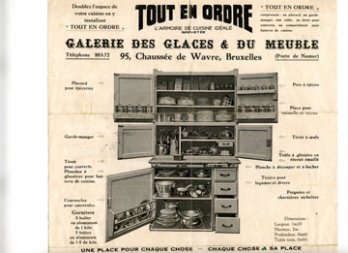 Kitchen Tout-en-Ordre_Circa
Appart from Belgium, many foreign examples are illustrated, including the reconstitution of an appartment of the Marseille's "Cité Radieuse" (1949) whose kitchen is signed Le Corbusier and Charlotte Perriand. Four more kitchens are restored in life-size: the great-grandparents' kitchen, the 1930's Cubex kitchen, the American kitchen and the futurist kitchen. The exhibition is completed by a Portrait Gallery of 55 famous or anonymous Belgian personnalities, pictured in their kitchens. A children's room is foreseen, with miniature kitchens and workshops.