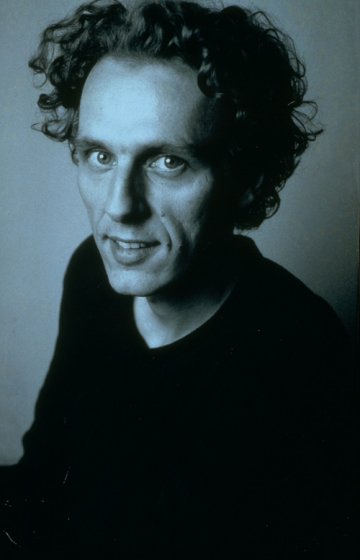 Richard Hutten
18 years of playing
DMG, March 8, 2010
Rotterdam-born Richard Hutten (born 1967) is one of the Netherlands' internationally successful designers. He graduated in 1991 at the Design Academy in Eindhoven. In his design studio he creates designs for furniture, products, interior design and exhibitions. Hutten takes a conceptual approach, but each and every one of his designs is highly functional. Often the object will even have multiple functions. His level-headed designs are playful and humorous, but they are still well-thought-out, down to the smallest detail. Accordingly, Richard Hutten's principal tenet is No Sign of Design. Design museum Gent offered Hutten the assignment of designing his own exhibition entitled "Richard Hutten, 18 years of playing". Those who know Hutten will know that something special is in the making.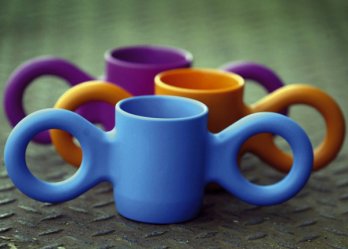 Richard Hutten/Dombo, 2001_Richard Hutten B.V.
TableChair concept
Born in Zwollerkerspel to a working-class family, where he grew up without any art or design, Hutten took to the Design Academy in Eindhoven. He graduated with his TableChair concept, a rectangular table from whose tabletop a square has been cut from one of the far ends. The designer then lowered the cut-out surface to seating height and placed four legs underneath it. Those who have a seat are surrounded by the u-shaped remainder of the table, which is used as armrests and back. This is a typical example of what he calls his "No Sign of Design" furniture, functional furniture with a conceptual and humorous style. In 1993 Hutten began designing for Droog Design (Dry Design), the label founded by Renny Ramakers and Gijs Bakker. "Dutch Design" is renowned around the world for its idiosyncrasy, its level-headed and humorous designs. Small wonder that Hutten was picked up immediately following his studies by design platform Droog Design, along with Hella Jongerius and Marcel Wanders.
Dumbo is highly popular
Hutten's most popular design is the Dumbo, the drinking cup with the two large ears. Hutten wanted to make a drinking cup which enhances the drinking gesture children make. An idiosyncratic mug was thus created which, besides being visually appealing, fits particularly well in the hands of young children and handicapped persons. Ears, says Hutten, are the only part of our body which will keep growing during our entire lives. Just look at your grandfather's or grandmother's ears. The drinking cup's large ears are as large as the cup itself, making it instantly recognizable. The drinking cup is unbreakable and suitable for use in a dishwasher. Hutten, father of two sons himself, drew inspiration for his children's products from his own family life. Hutten feels that one can teach children fine taste after all. "That with which you occupy yourself will infect you" he recounts.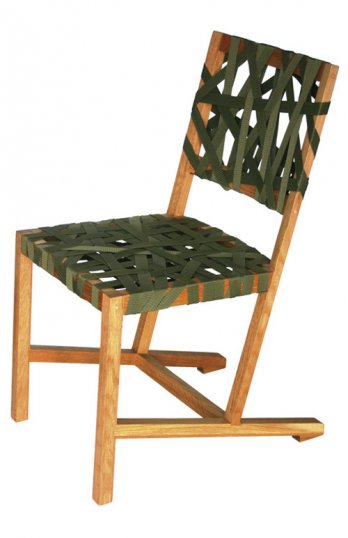 Richard Hutten/Berlage Chair, 2004_Richard Hutten B.V.
The Bronto children's chair has the flowing shapes of a brontosaurus. Children find the sturdy legs so funny that they cannot help falling for this chair. They can immediately tell that this chair is not like those used by parents. Hutten even applied the Bronto's design to an adult edition, only with different dimensions. Thus he created the Centraal Museum Chair for the museum of the same name in Utrecht. It was later put into production to accommodate design aficionados. It is this very museum chair which was selected as the chair on which Prince Willem-Alexander was to wed Máxima.
For the CMU (Centraal Museum Utrecht) Hutten designed the restaurant as well as the book store and the garden furniture. The garden chairs, the Zzzidt objects, are large spheres of coloured plastic with two flattened sides and a handle. The kangaroo balls are very handy and are highly versatile. You can carry the garden chair to wherever you want using a side handle. Zzzidt can be used as a stool, a side table or as a playful object.
A contemporary Berlage chair
Once upon a time Hutten thought of a pair of jeans with a stool sewn into the back. The assignment was to design a milking stool. His contemporary version of the Berlage chair also presented a challenge. The Municipal Museum of The hague was designed by famous architect H.P. Berlage. At the end of the 19th and the beginning of the 20th century he initiated a new architectural style which yielded him world fame. The Museum in The Hague and the Amsterdam Stock Exchange are two of his most famous creations.
Berlage's extensive furniture collection was Richard Hutten's source of inspiration for creating a new chair. Even though he had to search through the entire collection, he succeeded in creating a contemporary Hutten creation which clearly shows Berlage's influences. The chair from which Hutten eventually drew his inspiration was a rather unusual chair for the van Hengel family. Unusual in that it had no straight legs, but the back was a linear continuation of the legs. The recognizable, clear Hutten line was a perfect fit. The original chair was covered using straps (bands with which the cover is attached to the underside) which were further enhanced by Hutten.