The Heroic Africa
Philippe Bordas, The Essence Photographic
P.B., December 9, 2013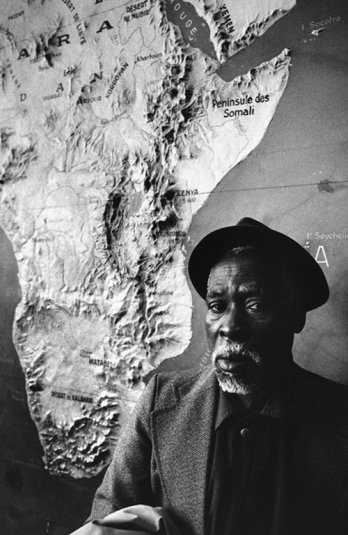 Philippe Bordas/Frédéric Bruly Bouabré, 2003
Frédéric Bruly Bouabré
A poor child from the primeval forest of Daloa in the centre of Ivory Coast, he fled the work imposed by the country's colonial rulers. A brilliant self-taught scholar, he lied his way into a White school and fell under the spell of Western poets and writers. In a Black continent deprived of an alphabet and dominated by oral traditions, Frédéric Bruly Bouabré received the divine revelation of a mission to invent an authentic writing system for Africa in order to preserve the memory of its culture.
Bruly Bouabré invented a specifically African writing system, taking inspiration from the patterns drawn on sacred volcanic rocks in his native region. He invented pictograms and developed a coherent syllabic system that was immediately praised by the great humanist thinker Théodore Monod. Bruly Bouabré built up a vast encyclopedic treasury of tales, legends and drawings, written in school exercise books or on the backs of little pieces of cardboard the same size as tarot cards - none other than the packaging for Darling brand false hairpieces salvaged from hairdressers' dustbins in Abidjan. Today Bruly Bouabré is the greatest living African artist, and his works are exhibited all over the world. His poetic artworks form a manifesto for the disenfranchised: people whose only politics is verbal genius and the printing of names.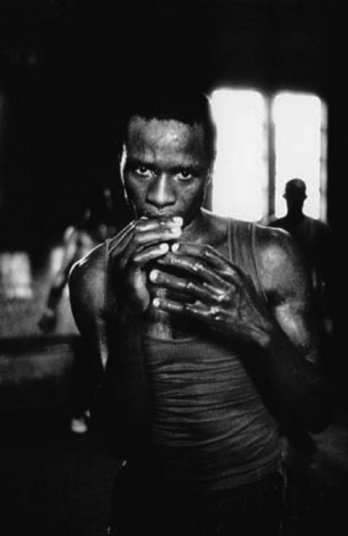 Philippe Bordas/Les boxeurs du Kenya & L'Afrique à poings nus
Africa With Bare Fists
It's not about sport.
There's no winner.
There's no loser.
It's just about a ritual between men who have been chosen to fight.
In these no man's lands annihilated by globalization and roasted by the IMF, landless men still survive. The violent protocols of boxing and bare-fisted wrestling make these men into heroes.
On the far eastern side of Africa : Nairobi, Kenya.
On the far western side: Dakar, Senegal.
On one side, English boxing.
Fifty boxers hidden away in a Sunday school meeting room in the heart of the giant slum of Mathare Valley. Sweating bodies in a room deliberately starved of oxygen, like flayed figures blurred under a faltering neon light, galvanized by the ghost of Mohammed Ali, their minds burning with the noble ascetic pursuits of the White world : boxing and Christian mysticism.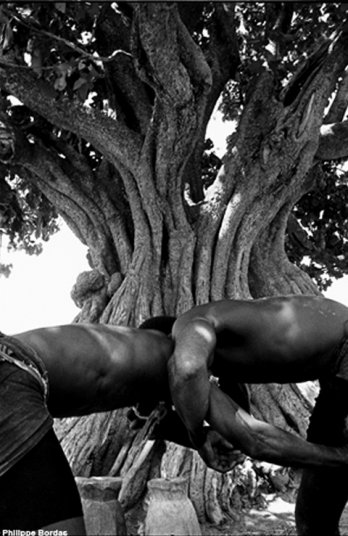 Philippe Bordas/Lutteurs du Sénégal, 1995
On the other side, Senegalese wrestling.
Replete, rested bodies. An open-air confrontation in arenas of Senegal sand. A ritual jousting match in the heart of the towns and villages. A socialized, musical duel, unviolated by the influence of the Whites. Wrestlers rooted in their own land, not dreaming of America. Wrestlers untrammelled by the magical words of marabouts or the song of the drums, protected from the world by the chorus of women and the warrior poems born in the roots of their land.
On one side of Africa, boxing in a cell.
Fighting as a dizzying form of self-destruction. Fighting against oneself.
On the other side, open-air wrestling.
Fighting as a poetic unfolding and a link to invisible forces.