Robert Rauschenberg
Gluts
Susan Davidson, March 1, 2010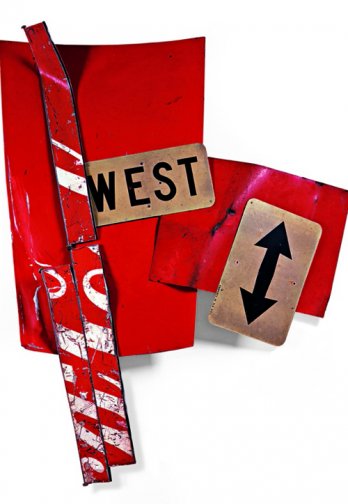 West-Ho Glut, 1986_Estate of the Rauschenberg-licensed by VAGA, New York, NY
In the 1980s, Rauschenberg's artistic attention shifted toward the exploration of the visual properties of metal, and the Gluts was his first body of work in this new material. Susan Davidson, Senior Curator for Collections and Exhibitions at the Guggenheim Museum New York, points out in the exhibition catalogue: "Whether assembling found metal objects or experimenting with his own photographic images screen-printed onto aluminum, stainless steel, bronze, brass or copper, Rauschenberg sought to capture the reflective, textural, sculptural and thematic possibilities of the material ."
The Gluts were inspired by a visit to his home state of Texas on the occasion of the exhibition Robert Rauschenberg, Work from Four Series: A Sesquicentennial Exhibition at the Contemporary Arts Museum Houston, which was organized to celebrate the sesquicentennial (150th anniversary) of Texas's independence from Mexico. In the mid-1980s, the Texas economy, which depended heavily on the oil industry, was in the throes of an economic recession due to a glut (or surplus of supply) in the oil market. Rauschenberg was surprised that this "glut" was responsible for the economic devastation of this Gulf Coast region, turning the rural landscape into a wasteland of dereliction strewn with failed gas stations, abandoned cars, and rusting oil barrels.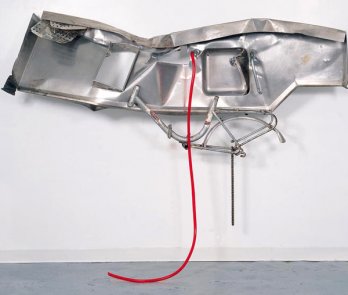 Mobile Cluster Glut, 1987_Peppe Avallone
Upon returning to his home in Florida, Rauschenberg headed to the local junkyard outside Fort Myers and began to collect detritus like that he had seen scattered across the desolate Texas countryside, the image of which had been seared into his brain: road signs, exhaust pipes, radiator grills, metal blinds, etc. At his Captiva studio, he transformed this apparently useless junk into wall reliefs and free-standing sculptures that he titled Gluts . The series recalls his famous Combines of the 1950s in which he brought three dimensional found objects into the realm of painting.
Yellow Moby Glut, 1986_2009, Estate of Robert Rauschenberg - licensed by VAGA, New York, NY_Thomas Bühler
When the Leo Castelli Gallery in New York organized the first public showing of this series in 1986, Rauschenberg commented on their meaning:
"It's a time of glut. Greed is rampant. I'm just exposing it, trying to wake people up. I simply want to present people with their ruins […] I think of the Gluts as souvenirs without nostalgia. What they are really meant to do is give people an experience of looking at everything in terms of what its many possibilities might be."
Rauschenberg chose these objects not only for their everydayness but also for their formal properties. Individually and collectively, materials such as these are the very foundation of his artistic vocabulary. Over the next four years, the Gluts were exhibited at numerous galleries in the United States and around the world, and critics regularly commented: "The old Rauschenberg is back ".
www.guggenheim-bilbao.es