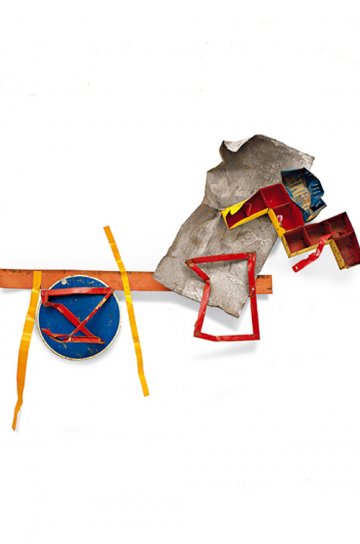 Robert Rauschenberg
Gluts
Susan Davidson, March 1, 2010
Eighteen months after Robert Rauschenberg's death on May 12, 2008, the Guggenheim Museum Bilbao is organizing a posthumous tribute to this great American artist with the exhibition
Robert Rauschenberg: Gluts.
Through September 12, 2010, this show will display nearly sixty artworks that reveal a relatively unknown facet of his work in metal, made possible by generous loans from the Rauschenberg Estate and private collections and institutions in several different countries.
In November 1998, the Guggenheim Museum Bilbao hosted the most comprehensive retrospective to date dedicated to this gifted artist. The show was a highlight of the international exhibition calendar given the high quantity and quality of the works displayed. Eleven years after the retrospective, the Guggenheim Museum Bilbao has now come full circle with Gluts , the last series of sculptures that the artist produced.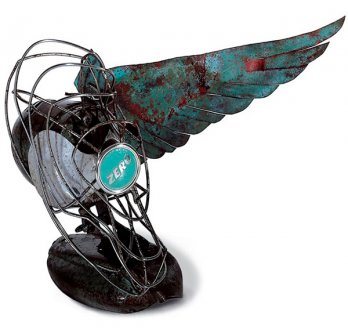 Mercury Zero Summer Glut, 1987_2009, Estate of Robert Rauschenberg - licensed by VAGA, New York, NY_Glenn Steigelman
Referring to this first temporary exhibition on the museum's calendar for 2010, Juan Ignacio Vidarte, Director General of the Guggenheim Museum Bilbao, has remarked: "
Bringing Rauschenberg's work back to Bilbao, especially his Gluts, after more than a decade, is not just a privilege for our visitors; it is also a chance for the Guggenheim Museums—with which Rauschenberg always enjoyed a very close relationship. We are honored to pay tribute to the artist, who passed away in 2008."
During a career that spanned over fifty years, Robert Rauschenberg (b. 1925, Texas–d. 2008, Florida) redefined the art of our time and earned a reputation as one of the most prominent artists of the 20
th
century. He was the defining force in contemporary art for nearly sixty years, creating art in a range of materials, media, and techniques more varied than that of any artist of the twentieth or twenty-first centuries. For him, painting entailed not only using a brush, but also silkscreening, collaging, transferring, and imprinting, and he did so on the widest array of materials from canvas, board, silk, and nylon, to sheet metal, Plexiglas, plaster, and paper. He has been called a forerunner of virtually every postwar American art movement since Abstract Expressionism, however, he remained fiercely independent from any particular affiliation throughout his protean life.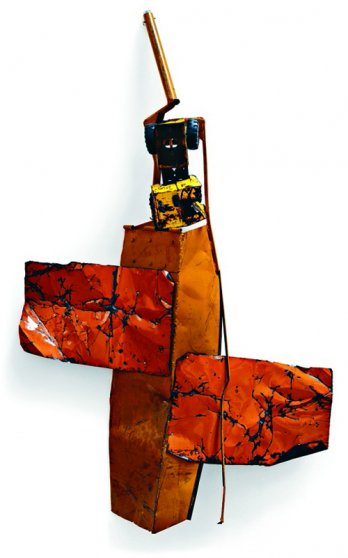 Blood Orange Summer Glut, 1987_Estate of the Rauschenberg_Dorothy Zeidman
From the early days of his career, Rauschenberg exhibited a boundless enthusiasm for using all kinds of materials in which to make his art. He was extraordinarily fond of discovering objects that others had thrown away and finding new and often improved uses for them. In doing so, he reinvigorated these items and gave them new life. Rauschenberg himself often spoke of his special fondness for waste materials: "Well, I have sympathy for abandoned objects, so I always try to rescue them as much as I can ."
In 1964, at the age of 38, Rauschenberg received the Grand Prix for Painting at the 32nd Venice Biennale, which cemented his international reputation. It also brought into sharp focus the rivalry between New York and Paris as they vied for leadership in the visual arts field. In winning this prize, Rauschenberg marked a departure from the unbroken line of pre-war European masters who had consistently won the Grand Prix since the end of World War II. Alan Solomon, curator of the U.S. Pavilion, took 22 works by Rauschenberg to Venice, including some of his iconic silkscreened paintings and his Combines.