The Architecture of Humeurs
New modes of architectural structuring and transaction
David Edwards + Valérie Abrial, May 3, 2010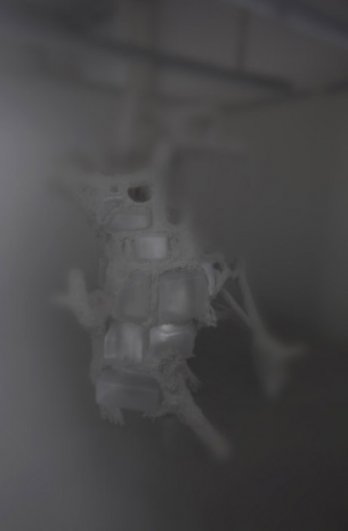 Architecture des Humeurs/R&Sie(n) - Matthieu Kavyrchine
D.E.: Delivering drugs and vaccines across human skin, which is after all a protective membrane, requires that you at least temporarily weaken the protective barrier function of the skin. Can this be done safely, reproducibly, and, if so, where will do we see this kind of medical treatment today? Where will we see it tomorrow?MK:
Yes, our outer layer of skin, called the stratum corneum is a fascinating barrier that we need to breach for successful delivery. Breaching this barrier is happening already: for example, Nicotine patches deliver the nicotine by diffusing it through the SC. This works because nicotine is so small (below the 500 Da molecular weight threshold). However many other drugs, including vaccines do not work by passive diffusion alone, because they are much larger in molecular weight. So, alternative approaches are being developed (e.g. microneedles), which have been demonstrated to deliver drugs/vaccines reproducibly and safely. Very few of these devices are currently on the market, but are expected to be soon. I think, tomorrow, we will see them in many medical treatment applications, including improved and cheap vaccine delivery in the developing world – which I care deeply about.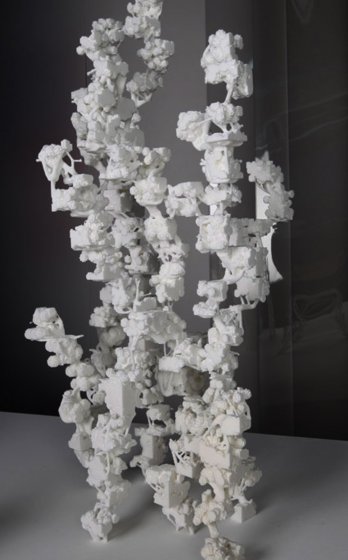 Architecture des Humeurs/R&Sie(n) - Matthieu Kavyrchine
D.E.: Why are microneedles a particularly good approach to biomolecular extraction across the skin? What are the obstacles to seeing this technology in practice? Where do you think we will see it first (for which application)?M.K.:
I think they work so well because they 'tap into' the skin's rich reservoir of biomarkers residing so close to the surface (often less than a hair's width in depth). And the microneedles are pain-free. Also, with selective surface coatings we can extract only the biomarkers we want to, thereby removing/reducing post processing outside of the body. This is a radical change from the current approach of removing blood or taking a tissue biopsy. As with all platform technologies, a challenge is achieving the right 'fi t' between technical capability and medical application. We are still determining the right fi t: I think there is great potential with fi rst utility in disease detection (e.g. do you have a virus). In the long term, improved early detection of cancer would have a huge impact.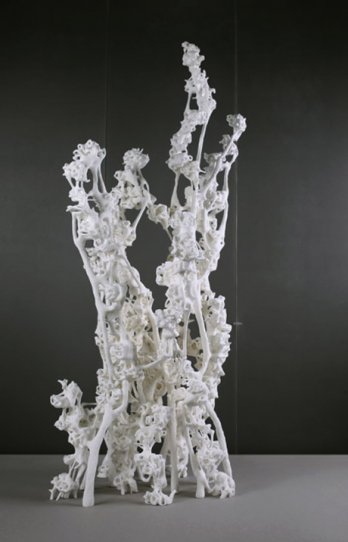 Architecture des Humeurs/R&Sie(n) - Matthieu Kavyrchine
D.E.: You have a busy scientific career? What made you interested to collaborate with Francois Roche on this project?
M.K.:
I am interested in the creative process, which unifies good scientists are artists. And being creative is like oxygen to us – and by working with Francois, all manner of new creative sparks are already fl ying.
Mark Kendall_Bio
Professor Mark Kendall, has more than 12 years of experience researching the field of needle-free gene and drug delivery to skin with micro-nanostructures, authoring over 110 refereed journal and conference papers. In addition, Mark has been an inventor on more than 25 patents and has worked closely with industrial partners in the technology transfer from concept to commercialization. He has delivered 60 invited, keynote or plenary lectures in seven countries. His Biolistics technology has been successfully commercialised with PowderMed (the technology transfer company) purchased by Pfi zer for $400 M in 2006. Mark joined the University of Queensland for a Professorial position after 8 years at the University of Oxford, where he was Associate Director of the PowderJect Centre for Gene and Drug Delivery Research, a University Research Lecturer and College Lecturer (Magdalen College). In addition to research at UQ, Mark lectures undergraduate students in biomedical fluid mechanics.

www.lelaboratoire.org
www.new-territories.com