The urban oasis
Timeless Spaces
Delphine Bailly, February 14, 2007
Every city in North America seems to have a park at its heart. Both Mount Royal Park in Montréal and Central Park in New York are leading examples of urban green space as the defining characteristic of a city.
Try to imagine Montréal without its ''mountain'' and right away we see that the logic of how Montréal is organized disappears. As the focus of the city, the mountain sets the visual rules for the development of our urban architecture, as well as allowing for sinuous roads rather than strictly traffic thoroughfares. The park coincides with the space and time continuum adopted by Montrealers, as well as offering the opportunity to either wander in a natural setting or simply rediscover themselves with the changing seasons.
Central Park offers New Yorkers a similar experience, an island of real nature squeezed into the hustle and bustle of a major metropolis. People go there to relax, play sports, admire an installation, listen to a concert….Twenty million visitors a year define Central Park as one of Manhattan's major tourist destinations.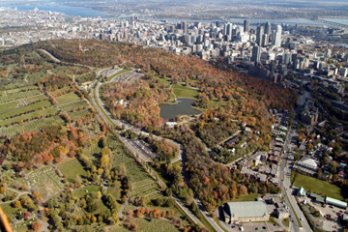 Central Park, New York - NYC. gov. Parks