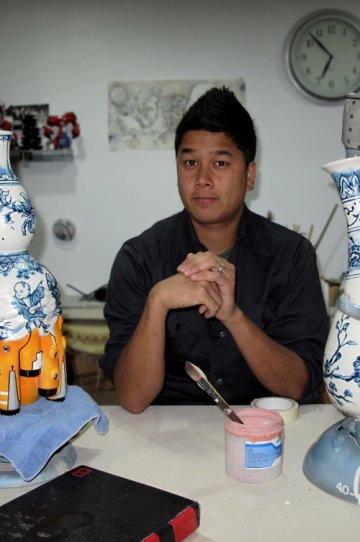 Brendan Lee Satish Tang
Remix Generation
Z.C., March 11, 2011
Bio_ExpressBrendan Lee Satish Tang was born in Dublin, Ireland of Trinidadian parents, and is a naturalized citizen of Canada. His education includes the Master of Fine Arts degree from Southern Illinois University Edwardsville, and the Bachelor of Fine Arts degree from Nova Scotia College of Art and Design. Tang has exhibited in juried and invitational shows in Canada and the US, including at the Vancouver Art Gallery, the Ottawa Art Gallery, and the Kentucky Museum of Art and Craft. He has lectured at conferences and academic institutions across Canada. Tang has been recognized as an emerging artist in the periodical Ceramics Monthly, and his work has been featured in publications such as Hi-Fructose and FUSE. Recently, Tang completed a residency at the Archie Bray Foundation for the Ceramic Arts (Helena, Montana). He currently resides in Kamloops, British Columbia, Canada.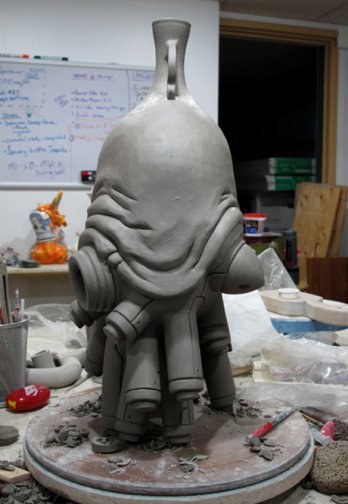 Brendan Lee Satish Tang/Work in progress_Sneak Peek
Statement of Practice
My artistic practice embodies the influences, tensions and contradictions that define the postmodern world. At once, my works exhibit the paradoxical tendency to be irreverent, frivolous, and playful, as well as thoroughly engaged in critical reflection. Admittedly, my aesthetic is driven by a hedonistic engagement with visual culture, yet I remain apprehensive about the all-encompassing diversions of contemporary society. Although my works are nonfunctional, I often employ vessel forms, or otherwise allude to incongruous functionality (e.g., "wiring" of non-electronic parts). These apparent tensions may be particularly salient to my chosen field of ceramics, where discussions of "art" versus "craft" still occupy practitioners.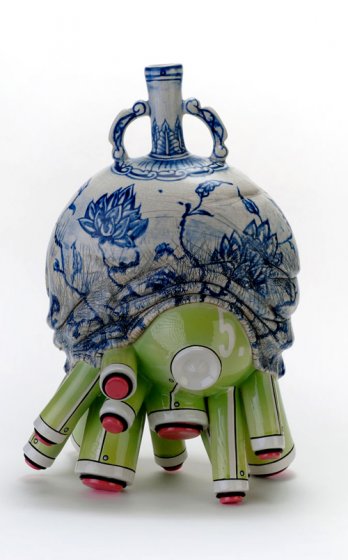 Brendan Lee Tang_ Manga Ormolu, hybrid sculptures